A Tarot cloth is used to both wrap your Tarot cards when you're not using them, and to place on the surface in front of you during a reading.
Within this article, we will talk about:
The many different uses of Tarot cloth
What to look out for in a cloth
The best material for Tarot cloth
Where to purchase Tarot cloth
How to clean Tarot cloth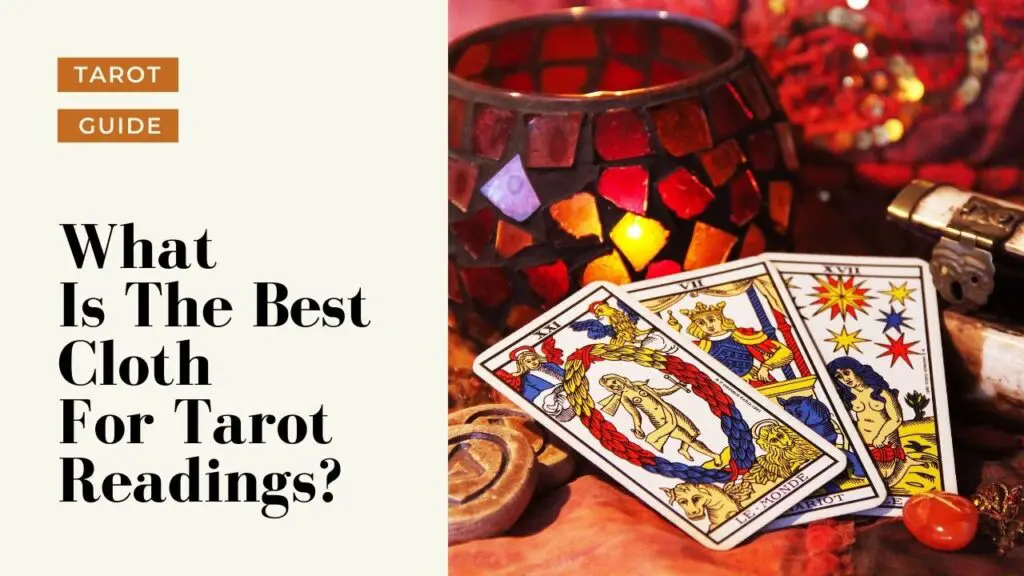 Why to Use a Tarot Cloth
There are many reasons why you might use a Tarot cloth. These are:
To keep your cards protected against micro-abrasions during a reading
To use as a 'base' to stop the cards from moving around a surface
For symbolic purposes
To wrap the cards in when not in use, protecting them from bad energy and general wear and tear
As decoration upon a wooden tray or altar
To create a neutral background for distraction-free readings
Alternatively, you might want a cloth just because the background makes your cards 'pop'!
What to Look Out For in Tarot Cloth
The idea is that your Tarot cloth will be with you for many years as the canvas behind your readings, so it is important to get the right one!
When looking for a cloth for your Tarot readings, you should first begin your search for something which reflects your personality and personal energy. Choose something with patterns or imagery which brings you joy, and heightens the vibes during a reading.
Then, you should make sure that it is the right size. Ideally, the cloth should be big enough to hold a Celtic Cross, with extra space at the sides. Aim for something around 24in x 24in.
What Material is Best for Tarot Cloth?
Then, think about the sort of material you would like. Would you like something soft and silky? Or would you prefer a cloth with a little more grip, like velvet?
You should then consider where you will primarily be using the deck. If you will be doing readings inside your house, then a light, satin cloth could be a good option. However, if you plan on taking it outside, then something a little heavier (like velvet) might work better.
Then, how do you want the cloth to feel? For something soft, heavy, and smooth, consider a material like suede. Or if you're looking for something a little lighter which is super easy to wash, then why not consider cotton?
You may want to purchase several cloths, for different readings.
Where to Purchase Tarot Cloth
You can purchase Tarot cloth from almost any spiritualist shop both in-person and online. Talking to someone face-to-face about their products ensures that you will get the one which most fits your needs.
Alternatively, you can search for normal, rather than Tarot-specific, fabrics – so long as it meets your requirements, you should be good to go! Even short, silky scarves could work perfectly.
Or perhaps you would prefer to make your own? To do this, simply head over to your local haberdashery and pick out a fabric you like, or order it online. Depending on how thick you would like it, you may want to consider purchasing twice as much fabric to double the pattern.
Then, you simply sew it together, adding any fun accessories that might catch your eye (such as bells, pompoms, or tiny mirrors).
How to Clean Tarot Cloth
Depending on how often you spill tea on it, you might want to throw your cloth in the wash. If you do this, you should first place it in a laundry bag and then wash it on a cold cycle. 
To iron it, you should keep the iron at the lowest heat setting and turn the fabric inside out (if possible) and upside down. However, you might want to reach out to your cloth seller for more specialist advice.
Conclusion
There are many different purposes for Tarot cloth, with the best being that it can bring a little extra joy to your Tarot experience!
There's nothing better than the ceremony of unwrapping a deck from silk, or laying out your favourite cards on a soft velvet covering. If you have as many different cloths as you have Tarot decks, then you're doing well!
Still struggling with your readings? Try one of Kasamba's top rated readers.
Try them out today for FREE with 3 free minutes plus 50% off your first reading!