To discover your Tarot year card, you simply add the month and the day of your birth to the current year. Easy as!
Within this article, we will talk about how to calculate your Tarot year card, what your number means, and what to do once you know it.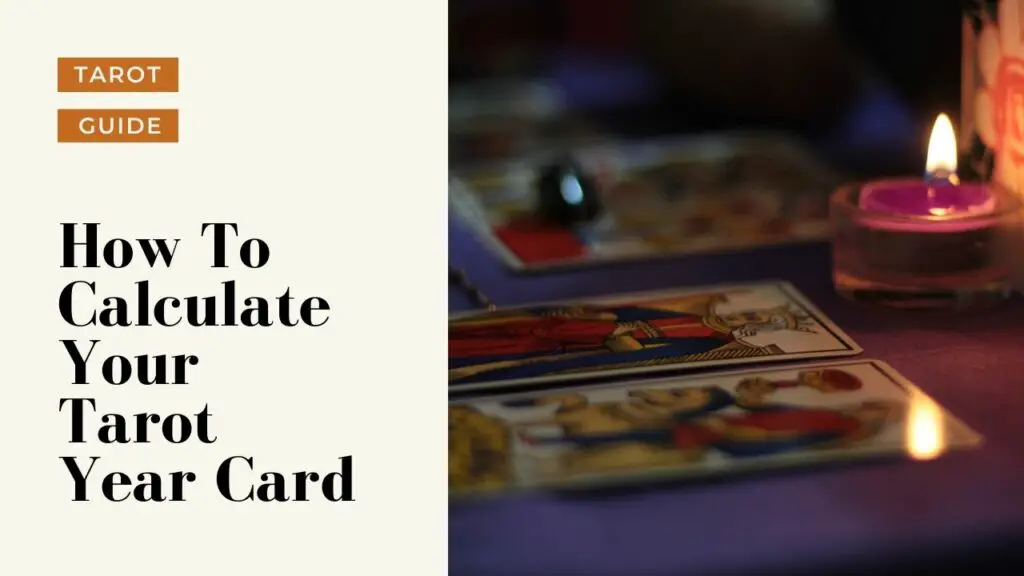 How to Calculate Your Tarot Year Card
It can be a great idea to calculate your Tarot year card at the beginning of the year, so that you may take that insight forward. Alternatively, other people may do so starting on Lunar New Year, or on their birthdays.
Plus, this is an exercise that can be done year-long, constantly providing you with insight.
To calculate your Tarot year card, add the date and month of your birth to the current year. For example, if you were born on the 30th December and you are calculating your card in 2022, then you would do the following sum:
3 + 0 + 1 + 2 + 2 + 0 + 2 + 2
= 12
Then, you would look at the Major Arcana card that corresponds with that number. 
What Does My Tarot Year Card Mean?
Calculating your Tarot year card can  offer profound insight into the energies that will be entering your life. The card can then offer guidance and advice.
To understand your Tarot year card, you should refer to the Major Arcana:
1: The Magician
Represents hope. You should tap into your full potential and not hold back.
2: The High Priestess
Represents stillness. You should trust your inner instincts, retreat, and reflect.
3: The Empress
Represents divine feminine energy. You should be softer with yourself and your loved ones, and tune into your more nurturing side.
4: The Emperor
Represents stability and security. You are in charge of your own life, and as such, you should run by your own rules and boundaries.
5: The Hierophant
Represents tradition. You should find your own truth, or allow yourself to be guided by the truth.
6: The Lovers
Represents both inner and outer relationships. May be related to an existing relationship, or duality, in the form of making a major choice.
7: The Chariot
Represents overcoming obstacles. Good things are coming, but only because of your hard work.
8: Strength
Represents strength. You should use your heart and mind to stand against foes and overcome the odds.
9: The Hermit
Represents introspection. You will soon need to rely on your inner strength and higher wisdom.
10: The Wheel of Fortune
Represents chance, choice, and responsibility. Opportunity is heading your way.
11: Justice
Represents balance. You get back what you give to the world, for better or worse.
12: The Hanged Man
Represents surrender and sacrifice. You need to make the right choice, and must understand the consequences that come with choice.
13: Death
Represents transformations.You should allow for the transition of one chapter closing and another opening in order to grow.
14: Temperance
Represents balance and peace. You should use your ability to "practice the pause".
15: The Devil
Represents facing the truth, even if you don't want to. You should deal with the consequences of your own actions.
16: The Tower
Represents destruction. You are heading towards a major life change which may feel out of control.
17: The Star
Represents optimism and higher learning. The message of the card is renewed hope.
18: The Moon
Represents illusion. You should trust your gut.
19: The Sun
Represents good fortune and happiness. You are on the cusp of experiencing great success, and that you have the blessing of the universe.
20: Judgement
Represents resurrection. You should clear your mind to make a sound decision, before jumping right in.
21: The World
Represents trust. You are on the right path.
22: The Fool
Represents new beginnings and adventure. You should accept inexperience.
What To Do Once You Know Your Tarot Year Card
Once you know your year card, you should spend some time getting better acquainted with it. 
You could meditate on the image, imagine a conversation you would have with the figure depicted in it, and journal about your connection. You may then want to delve into what you like about the cards, what you don't, and any challenges that you think may be present in it. 
You could then call upon the image when you need strength, inspiration, and guidance, knowing that you have a powerful ally right beside you.
Conclusion
Tarot can be incredibly important in helping you to understand yourself and the outer world.
Starting with calculating your Tarot year card, you can start a long, fulfilling journey of self-understanding and discovery.
Still struggling with your readings? Try one of Kasamba's top rated readers.
Try them out today for FREE with 3 free minutes plus 50% off your first reading!