There are many ways to get rid of your Tarot cards safely, from burning them to giving them away.
Within this article, we will discuss the best ways to get rid of your old Tarot cards, along with how to cleanse them before doing so.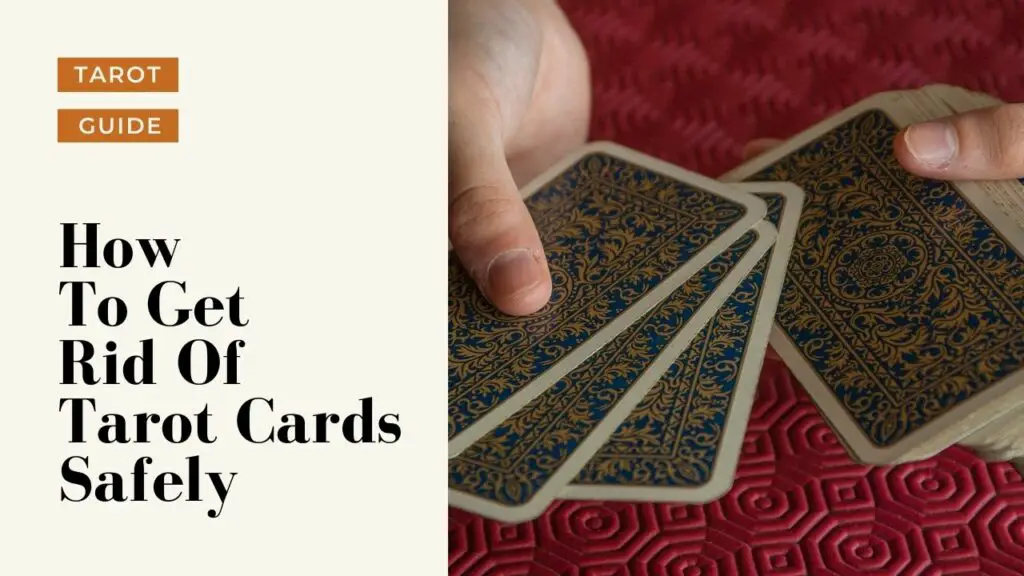 How Do I Get Rid of Old Tarot Cards?
For many of us, it may feel wrong to throw away old Tarot cards. Some believe that it can attract bad energy, whilst others feel that is disrespectful to the divine nature of the cards. 
However, if you find that your current deck simply no longer has a place in your divination, then  there are several things that you can do to ensure that you get rid of them safely.
Burn Them
One of the most popular ways of getting rid of old Tarot cards is by burning them. This is because fire is a purifying element, and as such, is used in many different cleansing rituals. 
The method of starting the fire doesn't really matter – you can burn them in a fireplace, in a brazier, or even on a barbecue. 
Whilst you burn your cards, you may consider building a pyre for them, saying a small prayer, and burning incense.
As you burn the cards, you should voice your intentions and ensure that your energy is balanced.
Bury Them
Another way to get rid of old Tarot cards is by returning them to the earth. 
To do this, you should first find the perfect spot for buying them, and then wrap them in a piece of black silk, say your intentions, and bury them.
This is a good method if you are worried about any energy being exchanged, due to the fact that the earth absorbs and cleans all energy.
Give Them Away
For a method that doesn't involve destroying the cards, giving them away is a great option.
You could give them to a friend who is interested in Tarot,  to charity, or leave the deck somewhere you think someone else may want it, such as in a coffee shop or in a book. Writing a little note such as "Please adopt me!" will ensure that the finder does not try to return the deck to you.
Sell Them
Whilst some people believe that selling Tarot cards can bring bad luck, this depends on your own beliefs. 
If you find that this is not an issue for you, then you could post a listing on Facebook Marketplace or eBay, take them to a second-hand book shop, or post them for sale in online Tarot forums and communities.
Rest assured that when you sell an old deck of Tarot cards, you're giving someone else the opportunity to learn from the cards, just as you did.
Trade Them
If you don't believe in receiving monetary gains for your Tarot cards, but you would still like to get something in exchange for them, then trading your cards might be a good idea.
You could write a post in Facebook groups and other online Tarot communities and ask if someone would like to swap their deck for yours. 
Alternatively, you could go to a local spiritual fair and ask there to trade with people.
Repurpose Them
One of the most fun ways of getting rid of old Tarot cards is by repurposing them. Some examples of ways to do this are:
Use them in artwork
Make talismans out of them
Use them as bookmarks
Have them be the centrepiece for a vision board
Use them in spells 
Use them in other energy work, such as meditations and visualizations
Recycle Them
Recycling your old Tarot cards accomplishes two things. 
Firstly, you can rest assured that your cards and their subsequent energy will be going back into the earth.
Secondly, recycling old Tarot cards is good for the environment.
Cleanse the Tarot Cards Before Getting Rid of Them
Cleansing your cards of energy before you get rid of them is incredibly important. 
There are many ways to do this, although one of the most practical is by smudging them with sage or incense, wrapping them in a black silk cloth, and leaving them until the energy has left them.
You may then want to say your goodbyes to your cards and wish them luck on their journey forward.
Conclusion
At the end of the day, you should get rid of your Tarot cards in whichever way feels appropriate. 
There is no right or wrong way of disposing of them – rather, this is a great time to listen to your intuition in order to decide the best way of action for you.
Still struggling with your readings? Try one of Kasamba's top rated readers.
Try them out today for FREE with 3 free minutes plus 50% off your first reading!