Blessing your tarot cards is a great way to connect, to welcome, or to further the connection with your deck.
We recommend that you regularly bless your deck to ensure you maintain the strongest relationship with it.
Within this article, we will talk about the following:
Why it is important to bless your Tarot cards
How to cleanse your deck
How to bless your deck
Other ways to connect to your Tarot cards
Along with that, we will also share a blessing which you are free to use to bless your Tarot cards.
Should I Bless My Tarot Cards?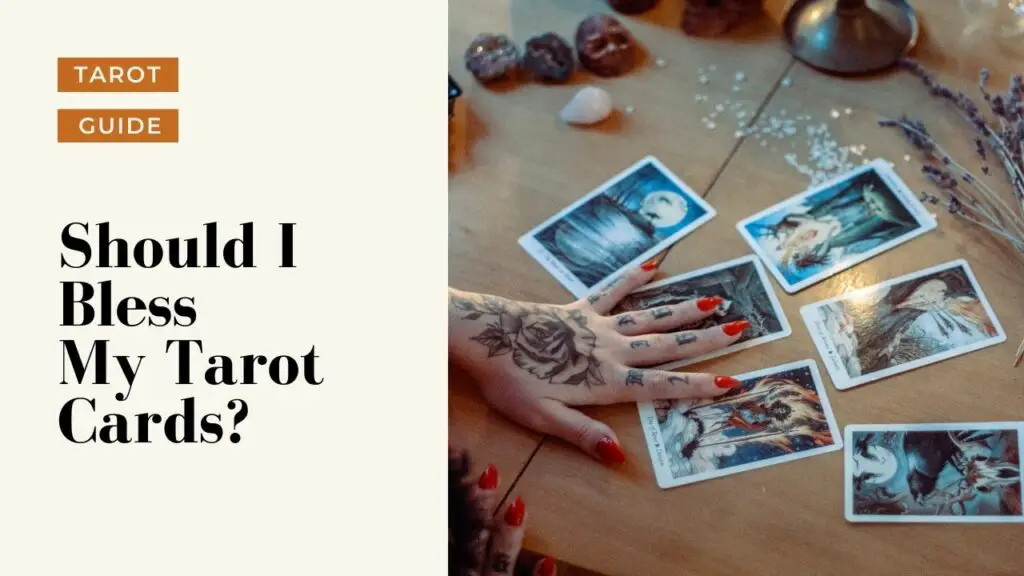 It is important to bless your Tarot cards in order to build the strongest connection with them. You can bless a deck at any time, whether it recently came to you as a gift, or has been at the forefront of your readings for years.
The main reason why you should bless your Tarot cards is to open up the energy between you, and clarify your intentions. By blessing a deck, you are able to surround yourself with love and knowledge, and ensure that the following readings will be true.
How Do I Cleanse My Tarot Cards?
The first thing you should do before you bless your Tarot cards is cleanse them. The best way to do this is by burning incense made from cedar, juniper, bay, or ethically-sourced white sage.
To cleanse a deck, all you need to do is pass the cards one-by-one through the incense smoke, welcoming the cards and the relationship you are going to form. Make sure to do this with purpose and clarity, in order to ensure the right intentions are coming across.
How Do I Bless My Tarot Cards?
Once you have cleansed your Tarot cards, you will be able to bless them. You can easily do this by creating your own personal blessing based on your wishes and goals, or alternatively, you can follow the blessing below which we have composed. You can adjust this to your own motivations.
"I ask for these cards to be blessed with love, wisdom, and intention.
I ask for Love so that I may become more kind, compassionate, and gentle, and attract the same back to me. Allow me to be surrounded by Love.
I ask for Wisdom, so that I am able to understand the true messages of the cards, and give them the chance to guide me. Allow me to be surrounded by Wisdom.
I ask for Intention so that I may be clear and transparent in everything I say, do, and show. Allow me to be surrounded by Intention."
Following the blessing, you should place the cards in the space which will be their permanent home, and sprinkle lavender, sage, or rose petals over them. Additionally, you can place crystals that you feel a particular affinity for with them.
Other Ways to Bond With Your Tarot Cards
Over time, the bond you can form with a Tarot deck can become increasingly beautiful and strong.  There are many ways to increase this bond, starting with the following:
Look through the deck
Whenever you get a new Tarot deck, or feel as though you would like to better communicate with your current deck, the first thing you should do is set the cards aside and have a closer look at them. It may be a good idea to pick up a notebook and write down your initial thoughts on the deck and how it makes you feel. Ask yourself the following questions: What is my favorite card? Which artwork stands out to me? Do any of them feel familiar?
Talk to the deck
Take the time to talk to your deck. Make your intentions clear: What kind of relationship do you want to build with your Tarot cards? What would you like to achieve with them? How can they help guide you towards your hopes and purpose?
Listen to the deck
Once you have introduced yourself to the deck and you understand your own intentions, you could deepen your bond by asking your Tarot deck questions. You could ask the following: What are your strengths/ limits as a deck? What are you able to teach me? What can I do to learn the most from you?
Initiate a daily draw
One of the best ways to form a closer bond with your Tarot deck is by initiating a daily draw. Each morning, begin with a short meditation before pulling out your cards. Then, focus on what you would like to know, or the type of guidance you would like to experience. You should then record this in a Tarot journal, which you can refer back to as your connection to the deck grows.
Conclusion
In conclusion, you should bless your Tarot cards. Not only does it improve the energy around you, but it marks the beginning of a long relationship with your cards. What could be better than that?
Still struggling with your readings? Try one of Kasamba's top rated readers.
Try them out today for FREE with 3 free minutes plus 50% off your first reading!