When you begin a search for a new Tarot deck, you may feel overwhelmed by the amount of options on the market. Largely, the answer to which Tarot deck is the most authentic comes down to what specifically you're looking for.
If you are searching for a Tarot deck which relates to the early history of Tarot reading, and as such, has more traditionally authentic imagery and symbolism, then we would recommend the Tarot de Marseille or Rider-Waite deck. Alternatively, if you are looking for a deck which many professional Tarot readers use, then we would suggest the Thoth or Original Tarot deck.
However, if you are looking for a deck which simply feels "right" for you, then we can help to guide you on your way.
Within this article, we will talk about:
The best traditional Tarot decks
The most popular Tarot decks, recommended by professionals
How you can choose a Tarot deck which feels authentic for you
What is the Most Authentic Tarot Deck?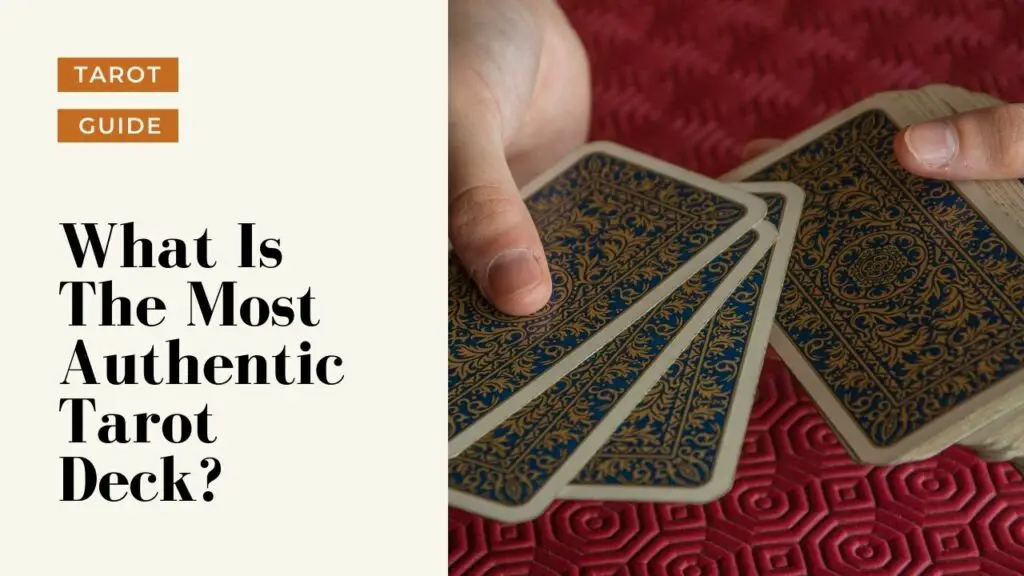 The first "Tarot" deck was originally created as a game deck, and as such, was similar to the typical card deck that we see today.
Following that, Tarot decks were created solely for the wealthy and often depicted their family and friends on them.
Nowadays, there are plenty of options for Tarot decks, which makes finding your perfect deck even the more likely. 
Best Traditional Tarot Decks
If you are looking for a Tarot card which is authentic to the history and origin of Tarot reading, then we have some great recommendations!
To begin with, we recommend the Tarot de Marseille deck. This is based on the 1751 Swiss deck created by Claude Burdel, and as such, features symbolism and intentions which would have been similar to the first Tarot decks. This deck style has been popular in Europe for centuries, which makes it perfect for more traditional-based readings.
Following that, the "gold standard" of Tarot is often considered to be the Rider-Waite deck. This was first drawn in 1909 by Pamela Colman Smith, and depicts classic interpretations of the major and minor arcana cards. The majority of Tarot card meanings found today are based on this Tarot deck.
If you are looking for a Tarot deck which is authentic to the very first roots of Tarot, we couldn't recommend anything better than the Tarot Nefertari deck. This is based on the origin of the Tarot, which was first believed to have come from ancient Egyptian priests. Whilst this origin has since been dispelled due to not having enough evidence, the deck recreates the symbolism much loved by Nefertari, and is a nod to the roots of Tarot. 
Alternatively, the Fountain Tarot deck is a modern take on the classic Tarot deck, which offers detailed interpretations which are great for first-time and experienced readers alike. It brings the traditional symbolism of the classic Tarot into a contemporary context, ensuring that it is more accurate for the events of today.
Best Tarot Decks Used by Professional Tarot Readers
If you are more inclined to go for a Tarot deck which is used by authentic readers all around the world, then there are plenty of options.
To begin with, Sarah Potter, a Tarot reader and witch based in New York City, uses the Miss Cleo Tarot Power Deck whenever she conducts a reading. This is because it is easy to use and sets the right energy for the reading. 
The Thoth Tarot Deck is greatly recommended by NY-based astrologer Lisa Stardust. She says that it is the perfect deck to truly learn Tarot, as the connection between Tarot and astrology is especially deep and can help with clarity.
The Original Tarot deck is much-loved around the world, and Roya Backlund, the love and career horoscope writer for Astrology.com, says that "this is the only deck you will need." The deck is full of so much symbolism, you should spend hours analyzing even just one card.
How to Choose the Right Tarot Deck
Of course, the most authentic Tarot deck is the deck which feels the best for you. 
Whenever you consider purchasing a new deck, ask yourself the following questions:
Does this deck feel right for me?
What could I learn from this deck?
Does this deck feel authentic?
Spend some time considering the deck before committing to it, trying to understand whether or not it suits your individual needs. If it does, great! You are now able to learn alongside your wonderful new deck.
If the deck does not feel authentic to you, then you should consider why it doesn't feel right to you. What specific features are you looking for in a deck that this one does not have?
From there, you should allow yourself to be guided by your intentions to find the perfect Tarot deck.
Conclusion
It is important to choose a deck which feels authentic to you, and which you will be able to learn from and grow alongside for many years. 
After all, one of the best bits about Tarot is having a beautiful, abundant deck!
Still struggling with your readings? Try one of Kasamba's top rated readers.
Try them out today for FREE with 3 free minutes plus 50% off your first reading!