If you have more than on tarot deck, or you like to display your cards when you're not reading them, you have a couple of options. You can choose a simple display stand, or a framed collection.
This article explores different display methods, and the pros and cons of each method.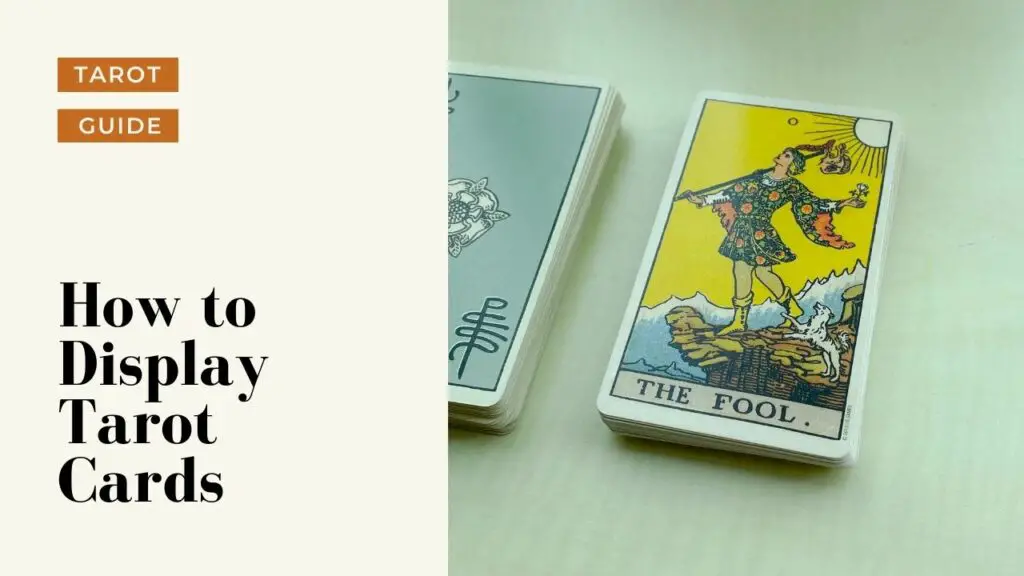 A Simple Box Stand
Simple box stands are an easily customizable option for display. They can come in a variety of colors and designs, or plain for you to decorate.
The most common box stands come in one of two forms.
The first is a small, thin, hollow box in which you can place your deck upright.This is a common preference for a single deck
The second is a larger, often sectioned, box that can hold the deck laid flat on the bottom. This is a better choice if you're considering displaying them with other objects, such as crystals.
The Pros:
If you want an understated way to place your cards in plain sight, this can work for you.
This a better method for showng a boxed deck, rather than single cards.
It's a good option for those who have a single deck that they use often.
It doesn't take a lot of space, if you don't have a large area dedicated to tarot.
They don't really take a lot of work to set up.
The Cons:
You can't really display individual cards.
If your goal is to show off the artwork in your deck, it doesn't really work.
It's a bit understated, so it won't really catch attention.
Decorative Card Stand
Decorative card stands can be very diverse. They can be single card holders, or hold multiple cards, depending on design.
The most common design is a flat surface with slits cut to position the cards.
The second most common is similar to a book display stand in a store, with an upright or tilted back to lean the card against.
As a choice for displaying one or two important cards, this could be ideal. It's also a good choice to use practically if you don't like laying your cards flat for some reason.
The Pros:
They can be understated and sombre, or they can be extremely ornate.
They can be customized to suit the deck you want to display.
They can be purely for display, or they can be practical and incorporated into your readings.
Multiple card stands can be arranged in several ways to suit your mood and your preferences.
They don't take up much space, unless they're very large or ornate.
You can use them to display a few key or 'special' cards in strategic locations.
The Cons:
Most card stands are meant for single cards.
You can't display an entire deck unless you're willing to invest a lot of money and energy into purchase and setup.
If used practically or changed out often, it can result in wear on your cards.
If used purely for display, it doesn't provide a lot of protection for your cards, meaning your deck could be damaged.
Staggered Shelf Display:
A set of shelves arranged in a step-like construction. These can come in a variety of sizes, depths, number of steps…etc.
Thes can have wide steps to brace a deck box, or a tilted construction for more stability.
Variations in design allow a bookshelf style, a stair-step style, or a shadow-box construction.
The Pros:
This is an excellent option for people who have multiple decks that they want to showcase.
Can be very visually appealing without being very ornate.
Can be as large or as small as you want
They can be fairly diverse and provide an eye-catching display.
The Cons:
This display choice is meant more for boxed decks. It won't really showcase different cards or artwork.
If your collection expands, you might have to purchase more than one.
They do take up a bit more space than other options.
Framed Photo Display:
For displaying cards and artwork, this is an excellent and stunning choice.
The frames can be as large, or as small as you like, and the choices for design can be endless.
For single cards, a small photo display will work. For larger displays, consider a poster frame.
The Pros:
Creates the option for a backdrop to offest your cards to their greatest advantage.
Several opportunities for stylistic representations.
Highly diverse display.
The cards are generally well protected behind glass and framework
The Cons:
Cards displayed in this manner can't be readily accessed for reading. If you only have one deck, this isn't a great choice.
You can't display a whole deck without a lot of time and energy invested. There aren't many frames large enough to accomodate a whole deck.
If you want to show a full deck, you'll likely need multiple frames, which can be costly.
Requires more work to design your layout and arrange in place.
Other Options:
There are endless display options for the creative mind. These may be the most common options used, but they're by no means the only options out there.
If you're looking for the perfect display, take a look at different sites and see what speaks to you.
Still struggling with your readings? Try one of Kasamba's top rated readers.
Try them out today for FREE with 3 free minutes plus 50% off your first reading!