When you're choosing a tarot card spread for your next reading, you already know that you have numerous choices to choose from, including 1- to 10-card spreads that each has its own advantages.
Using six cards in a spread is popular with readers who want deeper insight but not so in-depth that they can cover past lives or manage some very involved future projection.
In fact, many tarot card readers consider a 6-card tarot spread to be the "middle of the road" when it comes to choosing the number of cards you'd like to work with. You can easily create your own 6-card spreads and provide a reading that results in great insight without going overboard or becoming too complicated for both the reader and the client.
Types of 6-Card Tarot Spreads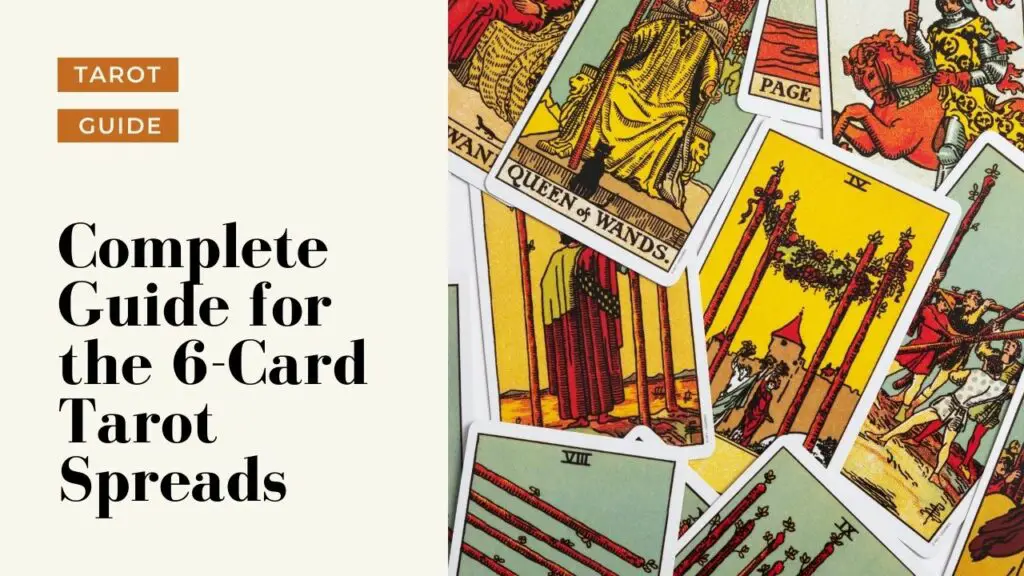 The good news about 6-card tarot spreads is that you can create your own if you like. Unlike a few other spreads that dictate exactly how the cards have to be laid out, you can choose how you want these six cards laid out on the table. The only thing you have to remember is which card represents which trait you are trying to read for so that both you and the client can experience a productive and fulfilling reading.
Keep in mind that the number six offers lots of harmonic energy, which is why the spread you choose should always be balanced and even. You should also include an "outcome" position to provide you with a clear summary of all of your readings.
Let's take a look at the six key positions you'll want to include in your readings by examining a spread that consists of a card on top, a card on the bottom, and four cards lined up in the center of the spread, which consist of three stacks and two cards in the second stack instead of one:
You card. Use this position in the very center of your layout. It is meant to represent the client (or you, if you're conducting a reading on yourself) and the present energy you're experiencing.
Issue card. This has to do with any issue the client is dealing with at the moment. It might be some type of conflict or a simple issue such as an upcoming vacation or party.
Limitation card. The limitation card sits at the far left of the spread and signals any type of issue that has tripped up the client on more than one occasion. It's something that makes life a little more challenging than it should be.
Conscious card. This card represents things the client may feel they have control over in a certain situation, and it sits at the very top of the spread.
Unconscious card. These are things the client may be unaware that they're doing, but once you tell them about it, they can change their behavior and start getting better results in life.
Outcome card. This card is a recap of the story that is told in your spread. It sums up everything you've been able to reveal so far. This card is on the far right in the middle section.
The Supernova Spread
In addition to the spread described earlier, there is also one called a supernova spread. With this one, there is an Outcome card at the top row; three cards in the middle row for Logical, Concept, and Creative; and two cards on the last row: Physical and Spiritual.
This is a good spread for clients who feel they are on the brink of something exciting and need to take care of a few details to put these things into action. Here are a few details about the cards in this setup.
First of all, the Concept card is in the second position of the middle row, in between the Logical card and the Creative card. This card represents an idea, goal, or any other type of concept the client has. Think of it as a shining star waiting to be seized upon so that life can be better.
The Logical action card, which sits to the left of the Concept card in the middle row, symbolizes the next step the client needs to develop their concept. It appeals to their left brain, which is more analytical and uses common sense to make decisions.
The Creative action card to the right of the Concept card is just the opposite of the Logical card. It appeals to the more artistic right side of the brain. It is less practical than the Logical card, but often the two cards work together to create the perfect solution for the client.
In fact, the Logical and Creative cards often balance one another out so that the solution is a lot easier to understand and to act upon.
The lower-left Physical guide card and the lower-right Spiritual guide card also work together. The former refers to a person in the client's life who can influence their concept, while the latter represents a spirit guide or guardian angel who can also help in the area of their concept.
The Spiritual guide card clarifies how the spirit guide will influence their concept or idea.
Finally, there is the Outcome card at the very top, which brings everything together and provides the client with a basic recap of the reading so they can figure out what to do next. In practical terms, this is a "summary" card.
Conclusion
Since the 6-card tarot spread isn't difficult to learn but does far more than just a 1- or 3-card spread does, it can quickly become one of your favourites. Just like any other spread you use, you might want to study this one so that it can become more valuable to you over time.
Regardless of which spread you decide to use in the end, you can quickly become an expert in it if you work with it long enough.
Tarot card spreads are just as valuable as the skill of the reader, and it's up to you to decide which one you like best in your practice.
Still struggling with your readings? Try one of Kasamba's top rated readers.
Try them out today for FREE with 3 free minutes plus 50% off your first reading!
Get the Ultimate Tarot Card Combinations Pack
The Tarot Happy eBook Pack is available now for instant download.
With 78 eBooks covering all tarot pair meanings, this pack is a comprehensive guide on using tarot for introspection, self-understanding and inner growth.
$1.99 $24.99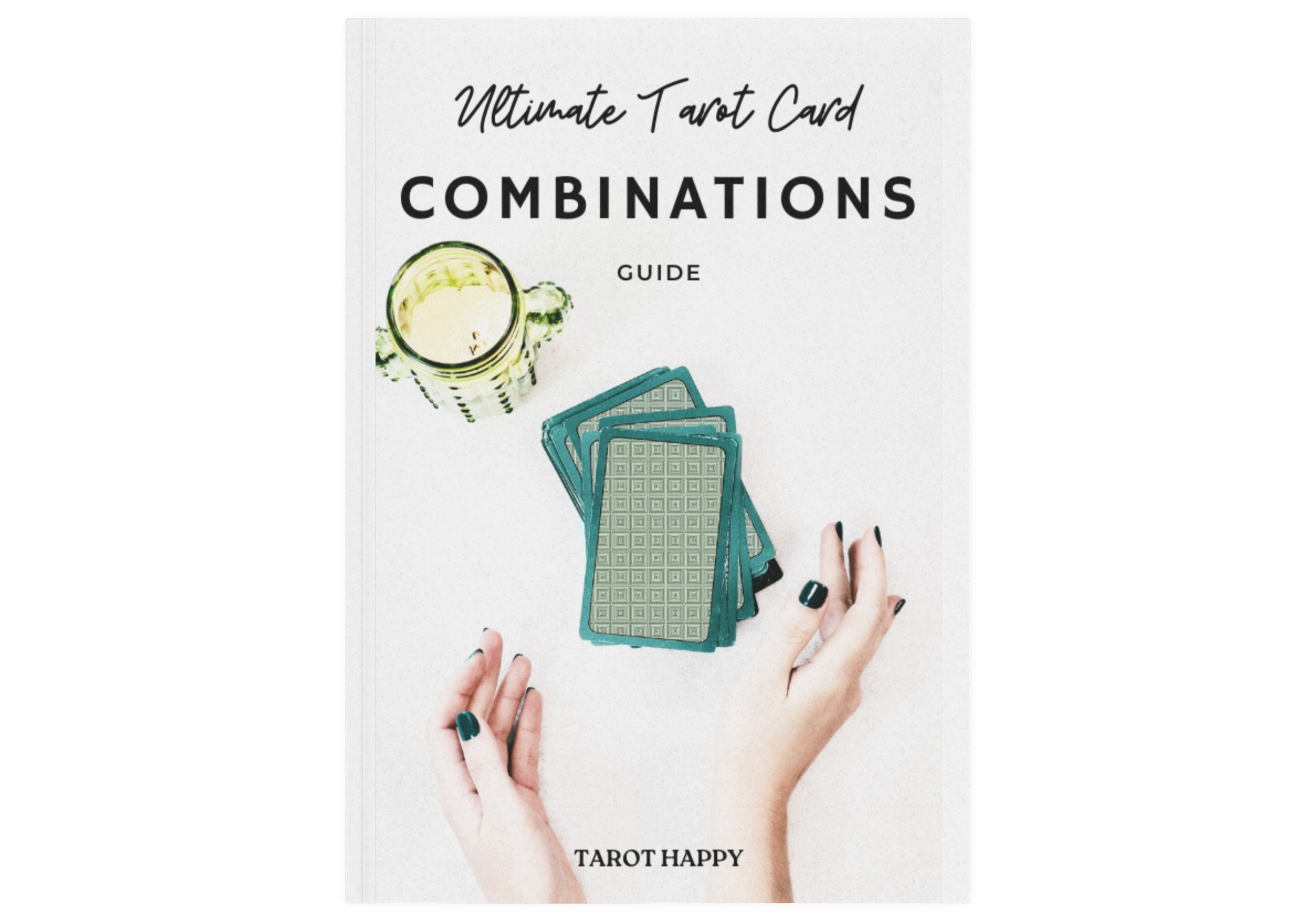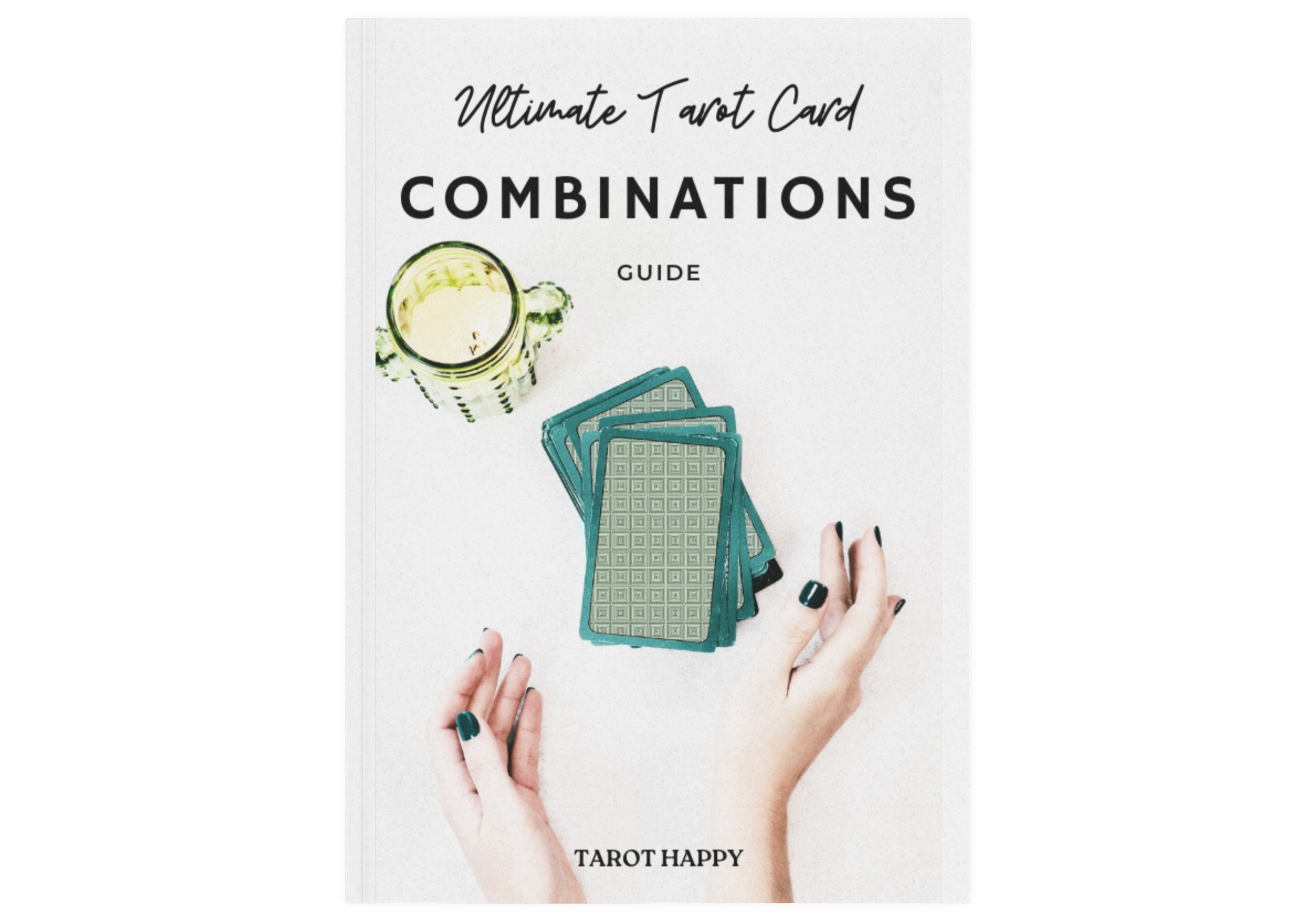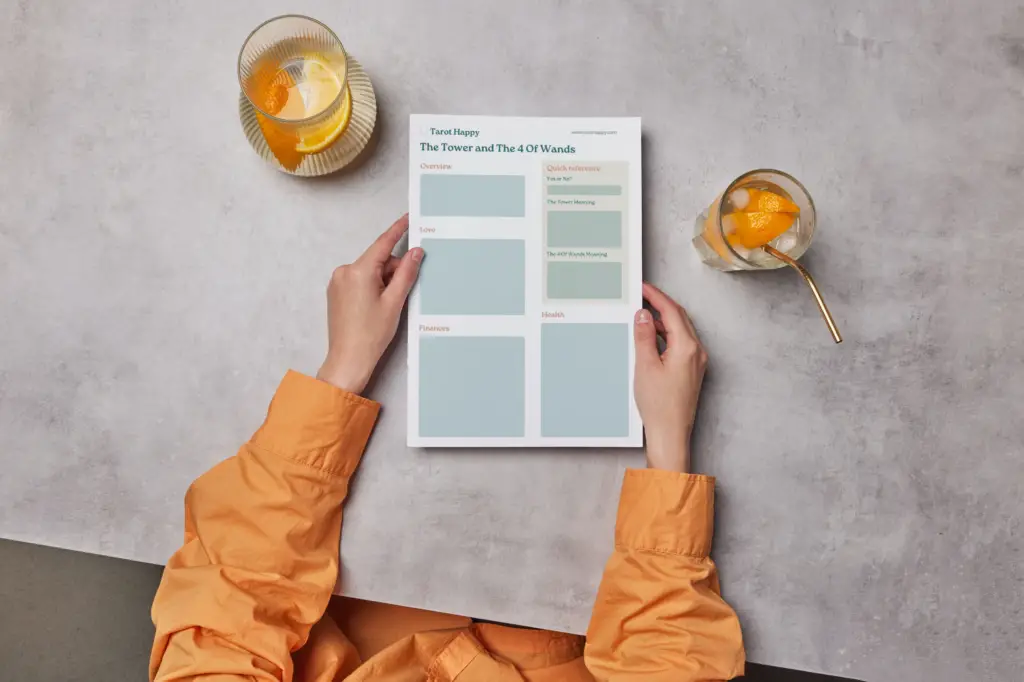 The pack contains an eBook for each of the 78 cards in a tarot pack.
Each eBook focuses on all the combinations for a single card, with overview of meanings for:
"Yes or No"
Key words and phrases that describe the combination
Meaning for Love
Meaning for Finance
Meaning for Health and Relationships
Unlock the Mysteries of Tarot with Our Comprehensive 78 eBook Pack
Are you ready to take your Tarot reading abilities to the next level? It's time to upgrade your spiritual toolbox with our extensive 78 eBook Pack. Each eBook is crafted to detail the meaning of every single Tarot card combination!
Venture beyond the basic meanings of the cards and delve into the intricate, layered symbolism each combination offers.
From beginner enthusiasts to advanced practitioners, this ultimate Tarot eBook pack will enhance your understanding, foster deeper connections with the cards, and improve your readings in a way that no other guide can.
Save over $20 if you buy today!
$1.99 $24.99