There are times in everyone's life when they need a little guidance and clarity. When things feel fuzzy or uncertain, a good tarot card reading can be a huge help. If you're a tarot card reader and conducting a reading either for yourself or for a client, it is good to know how to go about making sure it reveals ways to get more clarity in that person's life.
These are card spreads that have been known to give the client — whoever that may be — the clarity they need to move forward with their life.
The good news about tarot spreads for clarity is that there are so many of them, it is possible to find one that isn't that difficult to do. Beginners especially often prefer 1- to 3-card spreads because they are easier to learn. And while there are certainly a lot of spreads that use a lot of cards for this purpose, there are plenty of others that you can learn using just a few cards. Below are two spreads that are perfect for clarity. One uses four cards and the second one uses eight.
A 4-Card Spread for Clarity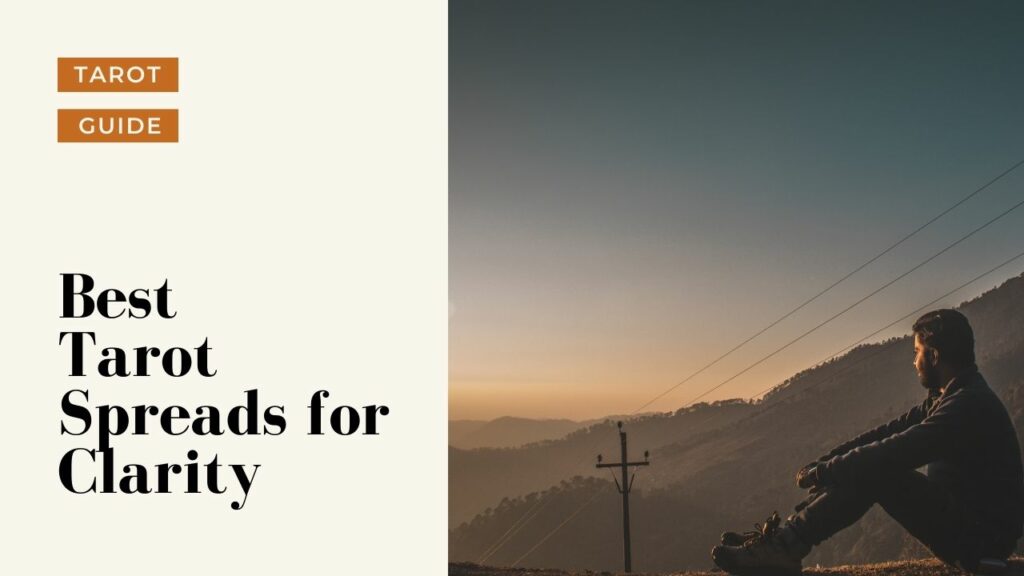 This one is super-easy because you simply line up four cards in a neat row. The first card answers the question, what is it that the client is thinking about frequently? The second card answers the question, what should the client do to help move themself along? The third card answers the question, what is the actual challenge occurring in the client's life? And finally, the fourth card answers the question, what is the client's secret weapon to help them get what they want?
This one sounds a little oversimplified, but it works. It uses only four cards and answers some very basic questions, but they are good revelations to know for those people who need guidance and clarity in their lives.
An 8-Card Spread for Clarity
This one is a little more detailed but not that difficult. The cards are set up this way:
Row 1: Card 8 (in the center)
Row 2: Three groups of two cards each — cards 3 and 4, cards 1 and 2, and cards 5 and 6
Row 3: Card 7 (in the center)
Here are the traits to assign to each of the eight cards:
Card 1: The client's biggest distraction or biggest fear, which is usually what's holding them back or taking away their focus
Card 2: Where the client needs to start focusing so that they can accomplish what they need to do
Card 3: Past experiences the client needs to let go of because they are blocking them from achieving what they desire the most
Card 4: Useful past experiences that the client can draw on in order to focus and go after their goals
Card 5: The area that the client should work on cultivating or developing; this is usually a skill, career path, or even a relationship
Card 6: The next step that the client needs to take, making this an extremely important card for this type of reading
Card 7: The client's inner strength; i.e., an attitude or personality trait that will work in the client's favor when attempting to accomplish goals
Card 8: An outside influence, such as an advisor or someone they look up to, that can help clients get the guidance and help they need for clarity
How About Another One?
Finally, if you'd like one more spread that is great for gaining clarity and guidance, here it is. This one only requires five cards, so it's relatively easy. You'll start by placing the first three cards (1, 2, and 3) right next to each other in that order. The fourth card is placed on the top of these three cards between the first and second cards, while the fifth card is also placed on the top row but in between the second and third cards.
Here is what the cards mean:
Card 1: The client's past
Card 2: The client's present
Card 3: The client's future
Card 4: Inspiration for the client
Card 5: The action that the client needs to take next
This one is simple to learn and provides some great insight into what the client should do and what is already going on in their lives. And since it uses only five cards and a simple layout, you can learn it in no time.
Conclusion
Tarot card spreads for clarity and guidance can be conducted with one card, 10 cards, or anything in between these two numbers. Most are very simple to learn and cover the basics when it comes to what the client needs to do in order to accomplish everything they deserve. You'll likely find that conducting these types of readings frequently is the norm after a while, so the sooner you can learn them, the sooner you can start using them to help people.
Still struggling with your readings? Try one of Kasamba's top rated readers.
Try them out today for FREE with 3 free minutes plus 50% off your first reading!