Finding meaning in your tarot readings can be tricky. This is especially true for love. Understanding what The Empress card means in regards to your love can be hard to decipher, however there are some interpretations that you may need to be aware of.
In this guide I hope to show you some of the common interpretations of The Empress, in a variety of settings and subjects!
The meaning of a card can change depending on whether you drew it upright, or reversed, so I will cover both instances, as the meanings can vary wildly!
Lets take a closer look at The Empress.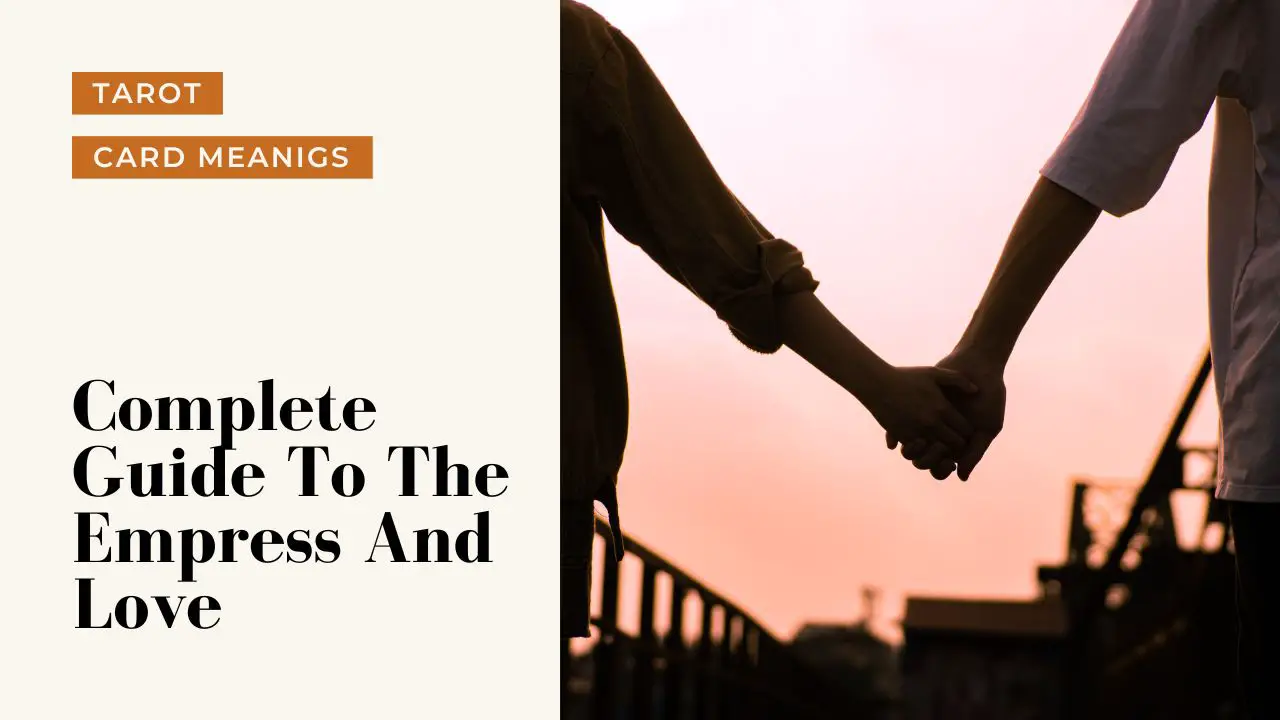 The Empress And Love – An Overview
The Empress tarot card symbolizes the health of creation and fertility.
It represents the idea of abundance and the potential for good parenting.
This card encourages us to focus on our physical, mental and emotional health, as well as our spiritual wellbeing.
It reminds us to nurture ourselves, nourish our bodies, and practice self-care.
It also encourages us to take the time to connect with nature, to practice mindfulness and to be mindful of our own health needs.
The Empress reminds us that good health is a foundation for success, and that our health is worth investing in.
Upright Meanings For The Empress And Love
What It Means For Me
The Empress tarot card is a symbol of fertility, abundance, and creation, and can be a powerful sign of love.
It can represent the potential of a new relationship, or the blossoming of an existing one.
It encourages us to nurture our relationships, to appreciate the beauty and growth of our connection, and to take joy in the moments of tenderness and intimacy we share with our beloved.
The Empress's message of love is that it is a creative and ever-evolving process, and always full of possibility if we nurture it with care.
What It Means For The Future
The Empress tarot card is a sign of beautiful things to come in terms of love and relationships.
It suggests that abundance, fertility, and good parenting are on the horizon.
This could mean that you are likely to find yourself in a loving and nurturing relationship with the potential to create something beautiful together.
It could also signify that you are in a place where you are ready to start a family and have the resources to do so.
It is a positive sign that you will find a supportive and caring partner who will help you to achieve your goals and support you in your endeavors.
The Empress tarot card is a sign of good things to come and a reminder to stay open to the possibilities of love.
What It Means For Those Close To You
The Empress tarot card is a reminder of the abundance of love that can be found and shared with those close to me.
It emphasizes the importance of nurturing relationships, encouraging growth, and providing security and stability.
It speaks of the joy and pride that comes from the creation of a loving home and the joy of parenthood.
The Empress encourages us to find ways to show our appreciation and love for those around us, and to use our own creativity to make our relationships even stronger.
The Empress reminds us that the love of those closest to us is something that should be cherished and celebrated.
Reversed Meanings For The Empress And Love
What It Means For Me
When The Empress is reversed, it can indicate a lack of emotional or physical fertility.
This can be seen as a warning against giving too much too soon in a relationship, as it may lead to heartbreak or a lack of fulfillment.
In love, the reversed Empress may symbolize a lack of passion or a failure to nurture the connection.
It may also signify a lack of commitment, resisting a deeper connection or pushing away potential partners.
On a more positive note, the reversed Empress can be seen as a sign of self-reliance.
It may indicate that one is taking the time to step back, reflect and take care of themselves, allowing for a more balanced and healthy relationship to develop.
It can also signify a new beginning, where someone is taking the time to rebuild and reset their expectations.
In this case, the reversed Empress may be pointing to a more mature, patient, and sustainable relationship that grows over time.
What It Means For The Future
When the reversed Empress tarot card appears in a reading, it can indicate a period of personal growth and healing.
You may be feeling lonely and searching for a true connection with someone special.
This card warns you to be aware of your boundaries and to avoid getting too attached to someone who is not ready to commit.
You may feel as though you are being taken advantage of in your relationships, and it's time to take a step back and reassess what you really want from a partner.
The reversed Empress can also be a sign that you are ready to take your relationships to the next level.
It can indicate the beginning of a new relationship, or a rekindling of an old flame.
You may be feeling that you are ready to move forward with someone who you feel is a good fit for you.
This card is also a reminder to stay hopeful and open to the possibilities that are out there for you in the realm of love.
You may be ready to find the one who you can truly make a life with.
What It Means For Those Close To You
When The Empress tarot card is reversed, it can mean that there is a lack of love and acceptance from those closest to me.
This can indicate a feeling of disconnection in my relationships and could be a sign of a lack of nurturing and support.
It may also signal a need for more communication and understanding from those I care about.
I may also be struggling to give and receive love, leading to feelings of loneliness and abandonment.
The reversed Empress card can also indicate a lack of trust in relationships, which can prevent me from being able to open up and express my feelings.
This can lead to hurt, resentment, and distance between me and my loved ones.
I may need to take the time to evaluate how I am giving and receiving love in my relationships and work on building more trust and connection.
With a little bit of effort, I can create strong and lasting bonds with the people I love.
Conclusion
As you can see there many interpretations of The Empress depending on how it was draw, and what you were asking your tarot deck.
I hope you have found something that calls to you, and that you can take forward with your practice