Finding meaning in your tarot readings can be tricky. This is especially true for love. Understanding what The 9 Of Pentacles card means in regards to your love can be hard to decipher, however there are some interpretations that you may need to be aware of.
In this guide I hope to show you some of the common interpretations of The 9 Of Pentacles, in a variety of settings and subjects!
The meaning of a card can change depending on whether you drew it upright, or reversed, so I will cover both instances, as the meanings can vary wildly!
Lets take a closer look at The 9 Of Pentacles.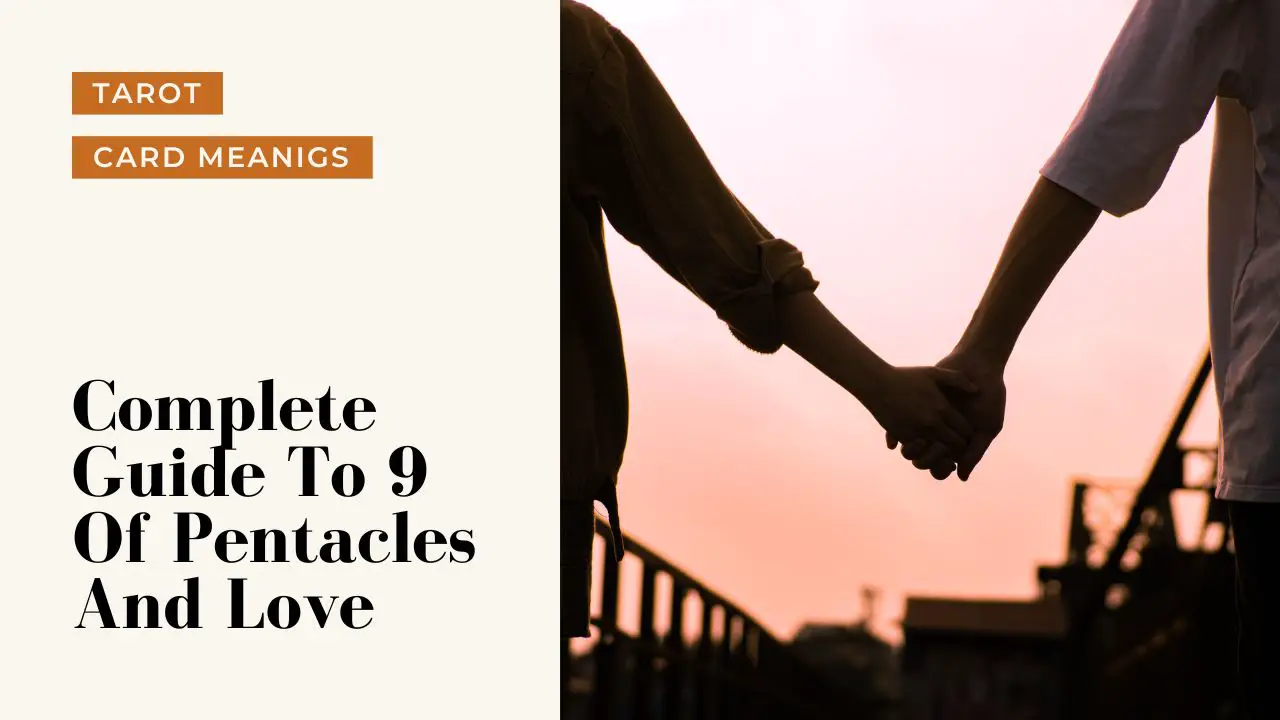 9 Of Pentacles And Love – An Overview
The 9 Of Pentacles tarot card can symbolize having a healthy lifestyle that is focused on self-care and self-sufficiency.
It can be a reminder to be mindful of taking the time to nurture and treat yourself with respect.
This can be anything from taking a luxurious bubble bath to investing in yourself financially by taking a class or buying something that brings you joy.
Taking pleasure in solo activities is important, as it helps to foster a level of self-love and appreciation that can be difficult to find in other places.
Making health and wellness choices that bring you joy, pleasure, and financial gain is an important part of staying on the path to achieving your goals and maintaining a healthy lifestyle.
Upright Meanings For 9 Of Pentacles And Love
What It Means For Me
The 9 of Pentacles tarot card speaks to the idea of self-love.
In love, it suggests that one should be able to provide for themselves and enjoy the luxury of being independent and financially secure.
When it comes to relationships, it can suggest that one should not rely on a partner for financial security, but instead strive to build a secure foundation for oneself.
The emphasis is on enjoying the solo pleasures that life can offer and learning to stand on one's own two feet.
It reminds us that with financial security comes a sense of independence and freedom that can be a great source of joy in life.
What It Means For The Future
The 9 of Pentacles tarot card is a sign that you are ready to receive a love that is luxurious, independent and rewarding.
You are prepared to enjoy solo pleasures and enjoy the freedom of financial success.
You have worked hard to establish your secure and comfortable lifestyle and you are now ready to receive the love that you deserve.
You have the confidence to attract a partner who is equally ambitious, secure and successful.
Your future love will be a luxurious and rewarding experience that you have worked for, and it will be worth all the effort.
What It Means For Those Close To You
The 9 of Pentacles speaks to the love of those close to us in a few different ways.
It is a reminder of the value of self-sufficiency and independence in our lives, as well as financial gain.
It also speaks to the importance of indulging in solo pleasures – whether it's a simple walk in the park or a luxurious shopping trip.
Most importantly, it reminds us that the love of those closest to us isn't always about lavish gifts or expensive dates – it can be as simple as a shared experience or a listening ear.
The 9 of Pentacles is a reminder to be mindful of our own needs and the needs of those around us, and to show our love and appreciation through actions as well as words.
Reversed Meanings For 9 Of Pentacles And Love
What It Means For Me
When the reversed Nine of Pentacles appears in a love Tarot reading, it can indicate that a relationship has become stagnant and is in need of a major shakeup.
This card warns that a lack of focus on the relationship can lead to feelings of isolation and disconnection.
It can be an indication that the relationship has become too focused on material matters, with little attention paid to the emotional and spiritual components.
The reversed Nine of Pentacles can also be an indication of possessiveness and insecurity in a relationship.
There may be a feeling that the other person is too focused on themselves and not putting enough effort into the relationship.
This card can serve as a warning that if these issues are not addressed, the relationship may become unhealthy and unbalanced.
It is important to take the time to nurture and nourish the relationship, with an emphasis on the emotional and spiritual aspects.
By working together to find a balance between the material and the spiritual, the relationship can be a source of joy and passion for both parties.
What It Means For The Future
The reversed 9 of Pentacles tarot card indicates a period of loneliness, insecurity, and financial turmoil in your future love life.
You may feel disconnected from your partner, or experience difficulty trusting them.
The card suggests that it may be difficult to find stability with your partner, and that it could be a struggle to keep your relationship healthy.
You may also be worried about your financial situation and lack of security.
This could lead to feelings of anxiety and fear, making it difficult to relax and trust your partner.
It may be difficult to enjoy the pleasures of your relationship when you feel like everything is uncertain.
However, the reversed 9 of Pentacles also suggests that you will eventually find stability and security in your relationship.
Through hard work and dedication, you and your partner will eventually find a way to make your relationship work.
Once you have built up a solid foundation of trust and financial stability, you will be able to enjoy a loving and healthy relationship.
What It Means For Those Close To You
The reversed Nine of Pentacles tarot card is a warning that if one is too focused on their own individual comforts and financial gain, the love of those close to them may suffer.
This can mean that one may be placing too much emphasis on their own individual goals and needs and not enough on maintaining relationships and connections with those around them.
This can mean that one may be so focused on their own financial success and self-sufficiency that they are neglecting the emotional needs of their loved ones, who may be feeling neglected or abandoned.
This card can be seen as a reminder to take a step back and evaluate how one's focus on their own goals and ambitions is affecting the people they care about in their life.
It can be easy to get lost in the hustle and bustle of life and forget to prioritize the relationships closest to us.
It is important to maintain balance between our individual goals and the needs of those we care about, so that we can continue to share our love and appreciation with those around us.
Conclusion
As you can see there many interpretations of The 9 Of Pentacles depending on how it was draw, and what you were asking your tarot deck.
I hope you have found something that calls to you, and that you can take forward with your practice