Finding meaning in your tarot readings can be tricky. This is especially true for love. Understanding what The 9 Of Cups card means in regards to your love can be hard to decipher, however there are some interpretations that you may need to be aware of.
In this guide I hope to show you some of the common interpretations of The 9 Of Cups, in a variety of settings and subjects!
The meaning of a card can change depending on whether you drew it upright, or reversed, so I will cover both instances, as the meanings can vary wildly!
Lets take a closer look at The 9 Of Cups.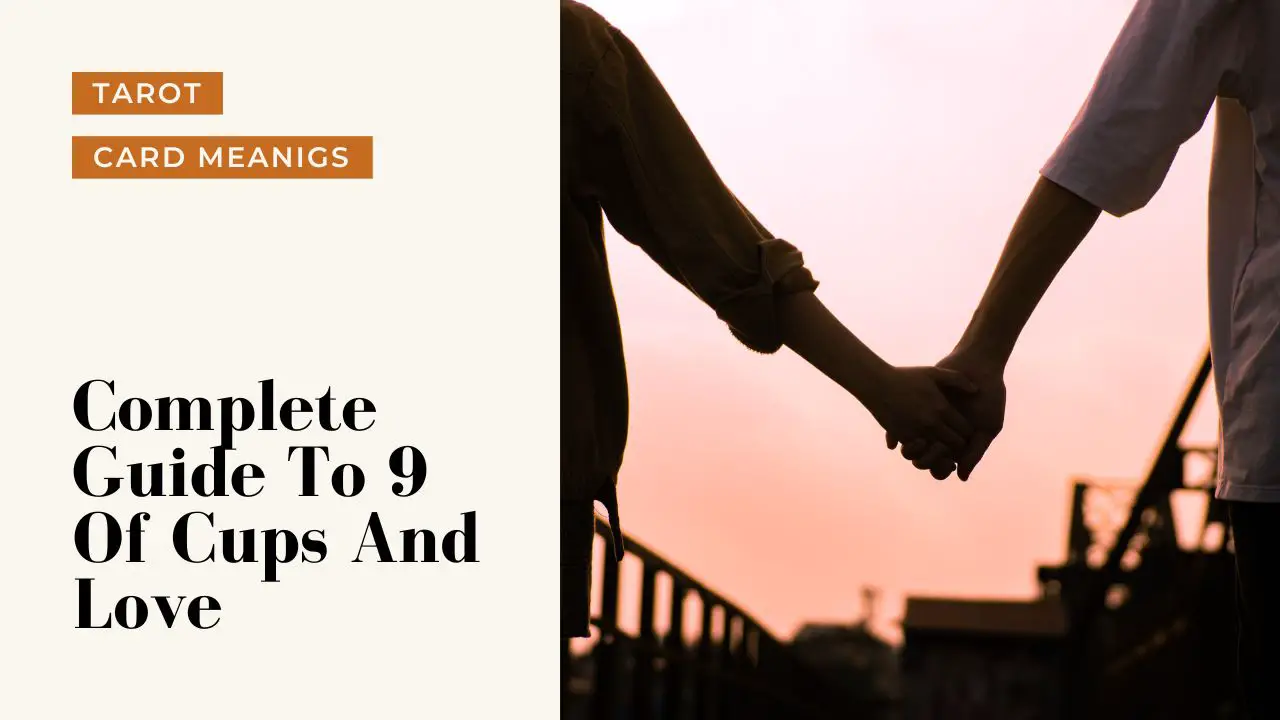 9 Of Cups And Love – An Overview
The 9 Of Cups tarot card represents good health and material abundance.
It is a sign of wishes coming true and that one's health is in a state of overall balance and well-being.
It is a reminder to take care of one's physical, mental, and emotional health and to maintain a healthy lifestyle.
The card can also signify the end of a difficult period in one's life and the beginning of a more peaceful one.
It is a reminder that with a little effort, one can achieve a greater level of overall health and well-being.
Upright Meanings For 9 Of Cups And Love
What It Means For Me
The 9 Of Cups is a symbol of wish fulfillment, abundance, and good health, and in a love context, it can signify the realization of a romantic desire.
It suggests that a deep, meaningful connection has been made and that true love has been found.
This card could also indicate contentment in an existing relationship, or that pleasant surprises are on the horizon.
In whatever manner it appears, the 9 of Cups is a reminder to be open to the happy endings that life can bring.
What It Means For The Future
The 9 of Cups is a sign that your wishes for love could be coming true soon.
It indicates a period of material abundance, which will make it easier to pursue the relationships you desire.
It also means that you are in good health and have a strong sense of self which will make you a strong, resilient partner.
You may find yourself in a situation of having your choice of potential partners, so be sure to take your time and choose the one that resonates with you the most.
With the 9 of Cups in your future, you can be sure that your dreams of finding love are coming true.
What It Means For Those Close To You
The 9 of Cups is a card of wishes fulfilled and material abundance, which can be interpreted as a sign of contentment and joy in relationships.
It speaks to the power of love, whether it is within a family, between friends, or between romantic partners.
It reminds us that when we are surrounded by those we love and cherish, we can experience a sense of joy and satisfaction that goes beyond just material wealth.
The 9 of Cups encourages us to take care of and nurture our relationships so they can be a source of comfort and security in our lives.
Reversed Meanings For 9 Of Cups And Love
What It Means For Me
When the 9 of Cups appears in a reversed position, it can indicate that your wishes and dreams are not likely to come true in the near future.
In terms of love, this could mean that your relationship has hit a rough patch or that a past relationship ended on a sour note.
It may not be a very positive time for you in terms of romance, and you may be feeling as though you are not receiving the love you desire or deserve.
The reversed 9 of Cups can also suggest that there may be some excesses or indulgences in your life that are preventing you from getting the love you want.
It could suggest that you are allowing yourself to become too attached to material things and seeking pleasure from them, rather than being open to the idea of a meaningful connection with someone.
Taking a step back and assessing your current situation and taking a break from indulging in excesses can be beneficial in helping you to move forward and find true love.
What It Means For The Future
When The 9 Of Cups tarot card appears in its reversed position, it can indicate that there may be some difficulties in the realm of love.
This card suggests that there can be a feeling of disappointment and unfulfilled desires when it comes to love.
It is possible that any expectations or hopes that you have for a relationship will not be met and it is wise to manage your expectations at this time and be mindful of your choices.
The reversed 9 of Cups may also indicate that there are obstacles standing in the way of happiness in love, such as trust issues, communication problems, and misunderstandings.
It can be a warning to take some time to assess the situation and figure out what needs to be done to move forward.
With this card, it is important to look within and evaluate if there are any deep-seated issues that need to be addressed that could be preventing you from having a healthy relationship.
It is likely that even after the obstacles are addressed, there could be some difficulty in finding a compatible partner.
The key is to remain open and be patient, and to never give up on finding love.
What It Means For Those Close To You
When the 9 of Cups is reversed in a love reading, it can mean that someone close to you may be a bit too focused on material abundance or on their own wishes and desires.
They may be neglecting your relationship, or putting their own needs before yours.
It can also mean that the person has become too comfortable in the relationship and is no longer striving to make it better.
This can lead to stagnation and a lack of joy and connection.
The reversed 9 of Cups can also be a warning that your own wishes and desires could be getting in the way of your relationships.
You may be too focused on achieving your own goals and not allowing for any flexibility in the relationship, or you may be expecting too much from your partner without giving anything in return.
It is important to remember to balance your needs and desires with the needs of your partner.
Learning to compromise and understand each other's needs is essential for a healthy and happy relationship.
Conclusion
As you can see there many interpretations of The 9 Of Cups depending on how it was draw, and what you were asking your tarot deck.
I hope you have found something that calls to you, and that you can take forward with your practice