A key aspect of reading your own tarot is interpreting cards. For a beginner interpreting a single card can be fine, as there are plenty of resources to help you out, however interpreting two or more can be very tricky.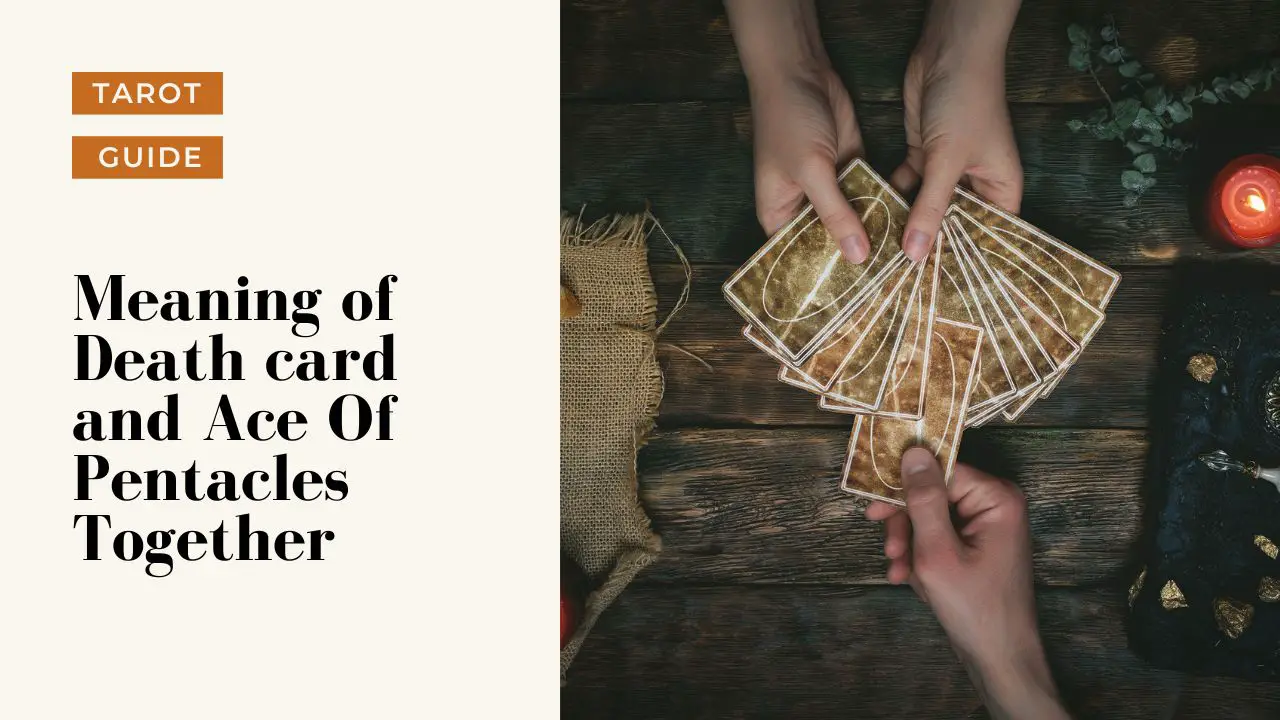 However, if you have been practising single card readings for a while a 2 card spread will be a great introduction into reading multiple cards.
As you've found this page, you're probably wondering how to interpret the Death card and Ace Of Pentacles card together in particular.
The Death card and Ace Of Pentacles have unique qualities and will interact with each other in different ways depending on what kind of reading you are doing.
What does Death and Ace Of Pentacles mean together?
The Death tarot card and the Ace Of Pentacles tarot card together represent big changes on the horizon, heralding the end of something but also the start of something new. This could represent leaving a job and starting a new one, or investing in something that will bring you new income. It could also mean that something is ending only for you to be reborn and transformed in a way that you never imagined. This card combination could also refer to letting go of something that is no longer beneficial to you, so that you can make a new start with plenty of opportunities for promotion and new income.
The meaning may differ depending on what you are asking. Here are some common questions and their possible meanings
What does Death and Ace Of Pentacles mean together for your love life?
The Death tarot card and the Ace of Pentacles tarot card together can indicate a major change and transformation in your love life. This could be a sign that it is time to move on from a stale or unhealthy relationship and embrace a new opportunity for personal growth and change. Perhaps the current relationship has come to a natural end, or it is time to break free from the gravitational pull of an old flame that keeps you rooted in the past.
On the other hand, the Ace of Pentacles tarot card may represent a new chapter that is beginning in your love life. It could be a sign of a new job or a promotion in your career that will provide financial stability and emotional security. Perhaps a marriage proposal or a new romantic relationship is in the works, or maybe a physical move that will take you to a new place with a fresh start.
Whatever the change or transformation is, it's important to remember that the Death tarot card does not necessarily mean death, but a transformation in your love life. It is a call to action to be proactive and embrace the opportunities in front of you, while undertaking the difficult work of letting go of the past and opening yourself to a new and exciting future. As with any major change, the journey will not be without its struggles and challenges, but it will be well worth the effort in the end.
What does Death and Ace Of Pentacles mean together for your finances?
When the Death and Ace of Pentacles tarot cards are drawn together in a reading, they indicate major changes and transformations related to your finances and job. On one hand, the Death card suggests the end of an old situation and, on the other, the Ace of Pentacles suggests the beginning of something new. It could mean that a job opportunity you've been hoping for has finally come to fruition, or that it's time to move on from an old job and seek something new and better.
In this combination, the Death card symbolizes a risk you must take in order to reap the rewards associated with the Ace of Pentacles. Even though death can seem intimidating or scary, it also offers an opportunity to start fresh and pursue the financial freedom you've been dreaming of. This combination serves as a reminder that sometimes in life it's necessary to take a leap of faith and trust that the outcome will be positive.
The best advice this card combination has to offer is to be open-minded and patient. There could be some delays and frustrations along the way but if you persevere, you will eventually reach a place where you're able to gain the stability, freedom and success you've been striving for. Whether it's a new job, a raise, an investment, or a new income, this combination promises that something big is coming your way.
What does Death and Ace Of Pentacles mean together for your health?
The Death tarot card and The Ace of Pentacles tarot card together suggest significant changes and new beginnings in your health. This could mean it's time to transform and let go of unhealthy habits or routines that don't serve you any longer. Now is the time for you to start anew and begin taking steps towards a healthier lifestyle.
The Ace of Pentacles tarot card emphasizes the importance of making necessary investments into your physical health. With a newfound abundance of energy and motivation, you can begin to focus on treating your body better. Consider looking into different supplements, better eating habits, regular exercise, and other healthy changes that can benefit your overall well-being.
The Death tarot card also speaks to the idea of self-care and taking time out of your day to just relax and be mindful. This could be through things like yoga, self-reflection, mediation, or even just taking a few deep breaths throughout the day. In addition, you could begin to establish healthier boundaries with the people around you, making sure they are respectful and supportive of your own health goals.
Ultimately, when the Death tarot card and the Ace of Pentacles tarot card come together it is all about taking the time and effort to create a healthier lifestyle for yourself. Invest in yourself and make the necessary changes that will bring you closer to a healthy and whole version of yourself.
The meaning of the cards will depend on what kind of reading you are doing and the question you asked the deck. This is a guide covering the general meanings of the cards and how they relate to each other.
Common 2-card spreads
Whilst it's great to know who these two cards interact with each other, it's important to note that the meaning will depend on the context of your spread
The most common 2 card spreads I recommend to newer readers are:
The 2 card cross (otherwise known as "The Fool's Journey")
The 2 card "Yes or No"
"The Fool's Journey"
Setup: The two card cross is where you place two cards face up, one placed vertically and with one laying horizontally over
Interpretation: The 2 cards represent a "situation" and a "challenge". The first card will describe the situation you are in with the second horizontal card being the "challenge" crossing you (literally crossing you in this case!)
Reading: Using the overviews in this guide is a great way to start. First, look at the meanings of the 2 cards, and see how they might relate either as your "situation" or "challenge". Once you have that you can look at the general overview for how the two cards interact with each other.
The benefit of this spread is that it can give clarity when you're feeling uncertain or anxious. Once you have clarity of thought, and a strong idea of what your challenge is you can find solutions to help your situation
The 2 card "Yes or No"
Setup: The 2 card "Yes or No" is where you place two cards face up side by side, whilst asking your deck a "yes or no" question.
Interpretation: Each card in a tarot deck has a "yes" or a "no" meaning. Look at the meanings of each card, and you will have your answer.
The benefit of this is you get a stronger yes or no compared to a single card draw. You may find you often get a mix of "yes or no", and this is fine. It simply means there is doubt, or things are not yet clear.
Yes or No meaning
Things are a bit tricky for this combination, as Death and Ace Of Pentacles mean different things. The cards are unsure about your question, or the answer to the question has not yet been decided.
The "Yes" and "No" meanings can differ from reader to reader. The meanings here are based on what I believe are the generally accepted definitions.
What does Death mean?
Health: The Death tarot card can signify a significant, life-altering illness or health issue. It can point to getting a serious diagnosis or condition, and the stages of grieving that come with it. It may also point to the physical or emotional death of someone close to you, and the ensuing healing process. It can also represent the death of old patterns or habits, such as smoking or eating poorly, and the beginning of new and healthier ones.
Finances: The Death tarot card has a potent meaning when it comes to money and the financial realm. It can point to the end of a job or career, a financial loss, or a significant investment failure. It can also symbolize the death of a debt, a loan or other financial burden being lifted. This card can also represent the death of unsustainable spending habits, and the rebirth of a financially savvy, healthy lifestyle.
Relationships: The Death tarot card can indicate a death of a relationship, whether it be romantic, familial, or platonic. It can also signify the passing of a long-held dream or goal, such as marriage or having children. It can even point to the death of a negative habit or behavior, such as codependency or possessiveness. As painful as these endings may be, the Death card points to the powerful healing that comes along with endings and rebirth. It can also represent the termination of unhealthy patterns or behaviors, and the emergence of healthier ones.
What does Ace Of Pentacles mean?
The Ace of Pentacles tarot card is associated with wealth, abundance, and financial stability. It often signifies an imminent influx of funds, either from a career, a project, or an investment opportunity. The meaning behind this card is that of a strong foundation for financial and material security.
When it comes to health, this card encourages focus on overall wellness and emphasizes the importance of taking care of one's body. It suggests that we should look at our health and fitness goals with a long-term approach in order to achieve long-term results. The message is to take care of our physical, mental, and emotional health if we want to be financially secure in the future.
On the financial front, the Ace of Pentacles is a great omen of financial success. It encourages us to put aside money for an emergency fund, save for long-term goals, and explore investments options. There is potential for the opportunity to double one's money, or at least make a significant return on investments. It also encourages us to be generous with our finances, and to think of others when making investments.
Finally, when it comes to relationships, this card indicates that one can expect strong and stable connections with people, financial security for families, and generosity among partners. The Ace of Pentacles suggests that one needs to invest in relationships in order for them to last for the long term. It encourages partners to be honest with one another, to look out for each other, and to plan for their financial future together.
Conclusion
Understanding how the meaning of a reading changes once you start involving more than one card can be tricky. This will come with time and practice, however I hope this guide on what your cards might be telling you when you draw Death and Ace Of Pentacles has helped you.
Get the Ultimate Tarot Card Combinations Pack
The Tarot Happy eBook Pack is available now for instant download.
With 78 eBooks covering all tarot pair meanings, this pack is a comprehensive guide on using tarot for introspection, self-understanding and inner growth.
$1.99 $24.99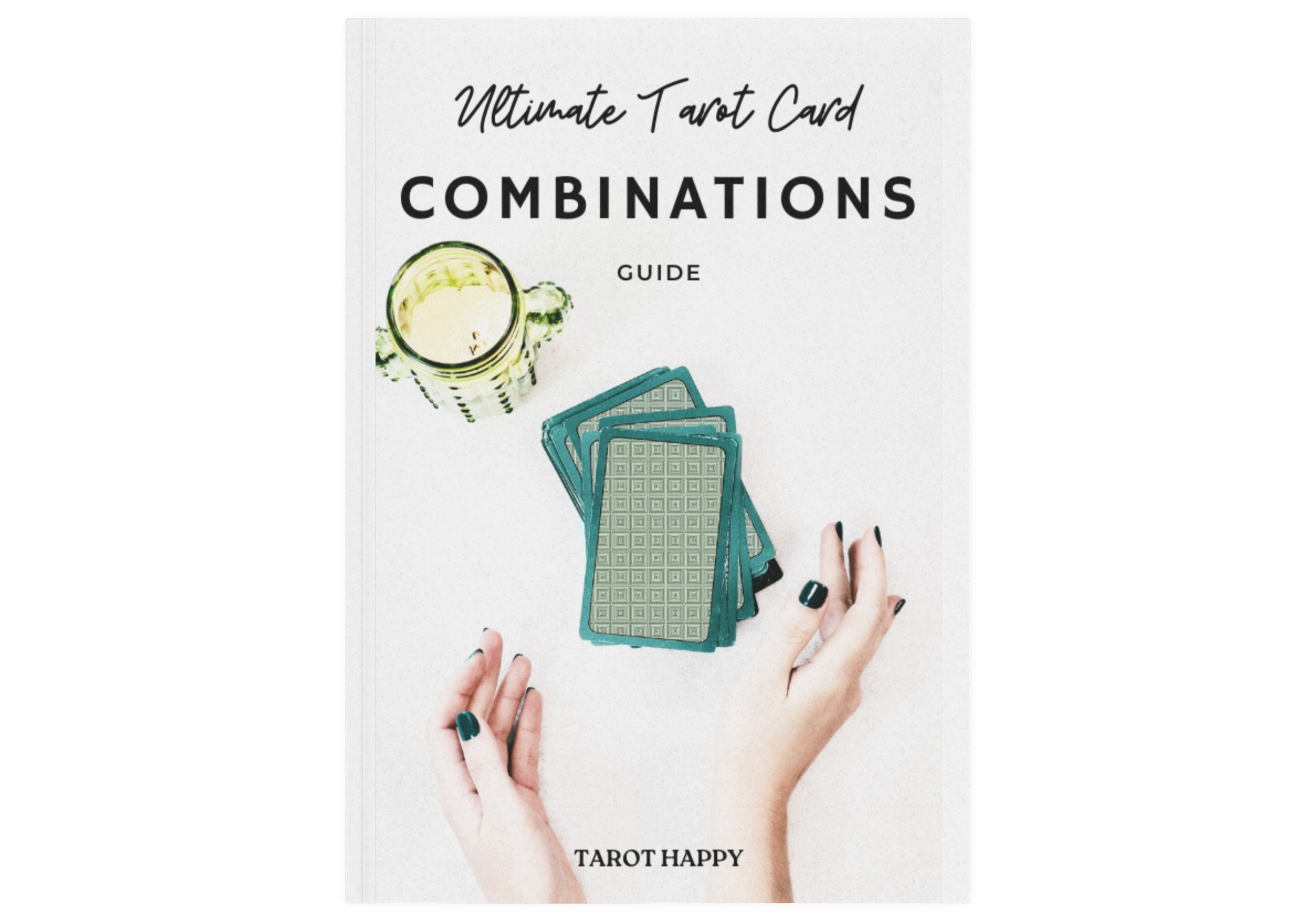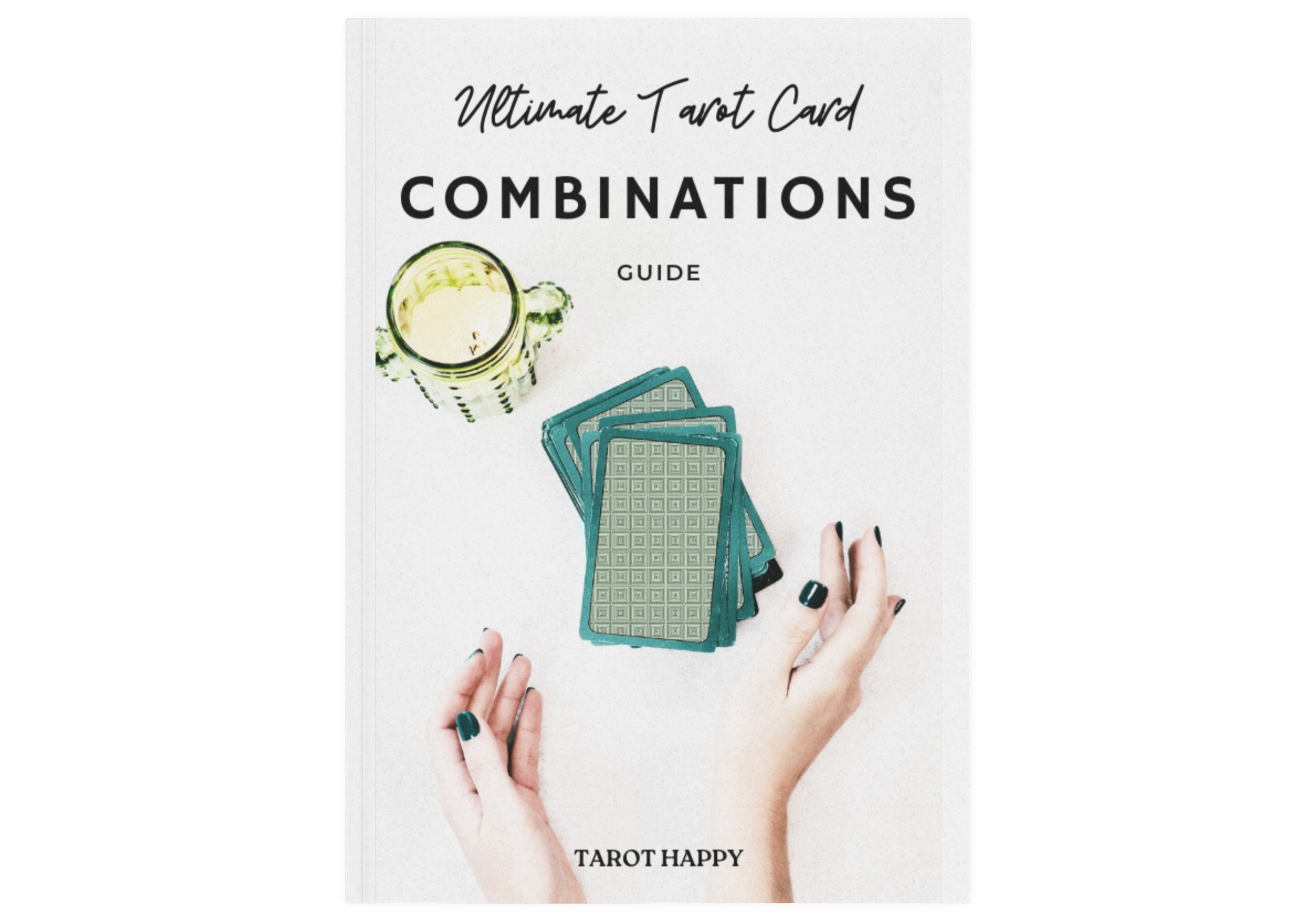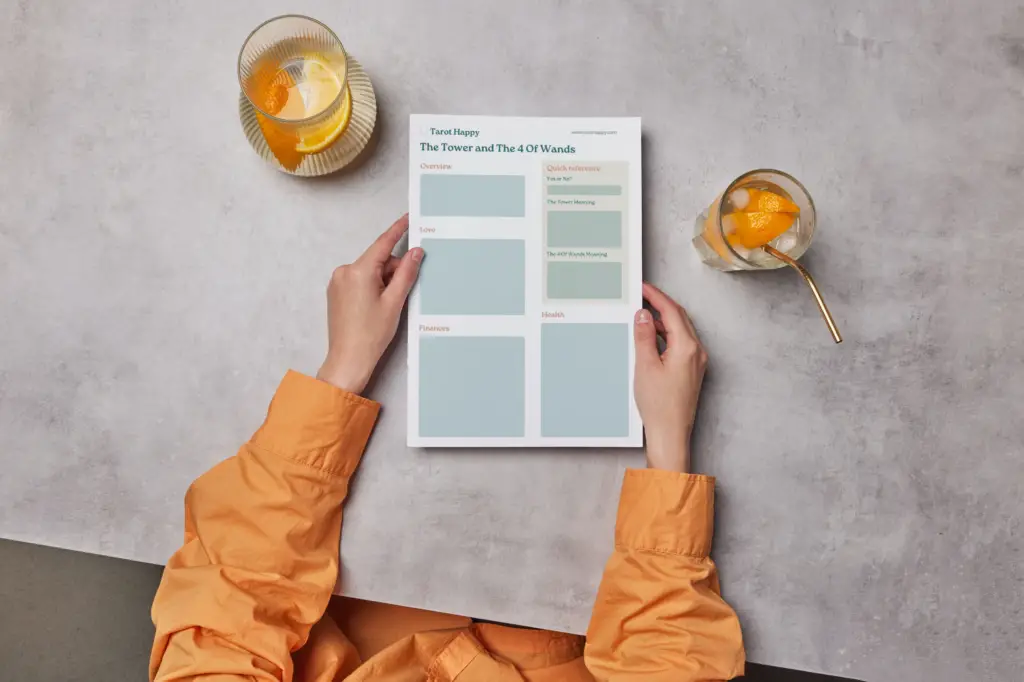 The pack contains an eBook for each of the 78 cards in a tarot pack.
Each eBook focuses on all the combinations for a single card, with overview of meanings for:
"Yes or No"
Key words and phrases that describe the combination
Meaning for Love
Meaning for Finance
Meaning for Health and Relationships
Unlock the Mysteries of Tarot with Our Comprehensive 78 eBook Pack
Are you ready to take your Tarot reading abilities to the next level? It's time to upgrade your spiritual toolbox with our extensive 78 eBook Pack. Each eBook is crafted to detail the meaning of every single Tarot card combination!
Venture beyond the basic meanings of the cards and delve into the intricate, layered symbolism each combination offers.
From beginner enthusiasts to advanced practitioners, this ultimate Tarot eBook pack will enhance your understanding, foster deeper connections with the cards, and improve your readings in a way that no other guide can.
Save over $20 if you buy today!
$1.99 $24.99