A key aspect of reading your own tarot is interpreting cards. For a beginner interpreting a single card can be fine, as there are plenty of resources to help you out, however interpreting two or more can be very tricky.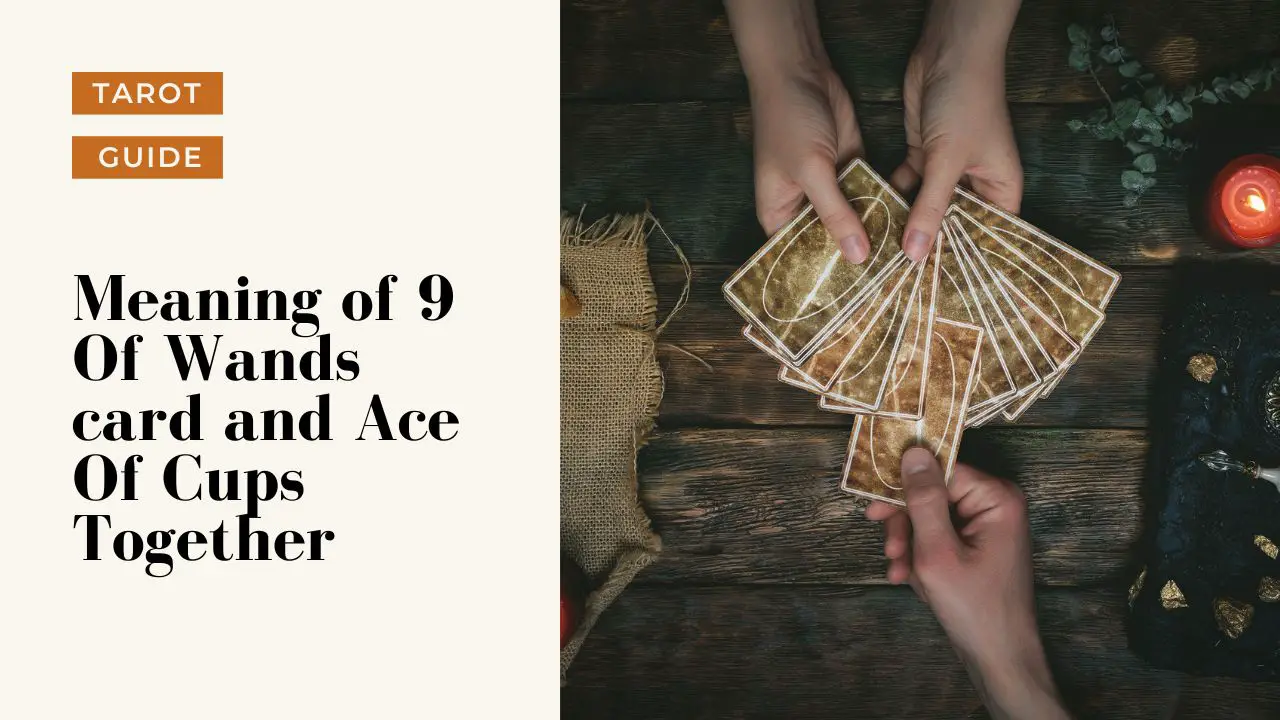 However, if you have been practising single card readings for a while a 2 card spread will be a great introduction into reading multiple cards.
As you've found this page, you're probably wondering how to interpret the 9 Of Wands card and Ace Of Cups card together in particular.
The 9 Of Wands card and Ace Of Cups have unique qualities and will interact with each other in different ways depending on what kind of reading you are doing.
What does 9 Of Wands and Ace Of Cups mean together?
The 9 of Wands and The Ace of Cups together might suggest that while you must keep and maintain boundaries, you may be presented with the opportunity to start a new positive relationship in the form of a marriage or the start of new family. It could be a sign that you need to stay strong and firm in your beliefs and dedication to yourself in order to make this relationship successful. There is a deep need for persistence and loyalty to ensure that this union is a successful one in the long term. Perhaps it is time to renew your commitments to a loved one and make sure your relationship is on solid ground.
The meaning may differ depending on what you are asking. Here are some common questions and their possible meanings
What does 9 Of Wands and Ace Of Cups mean together for your love life?
The combination of the 9 of Wands and the Ace of Cups tarot cards is an interesting one when it comes to love. On the one hand, the 9 of Wands suggests that we maintain healthy boundaries in our relationships and that we remain persistent in our efforts to get what we want. With this card in play, it is important to communicate our needs to our partners, because this will help to ensure that our boundaries are respected. We may also need to be mindful of our commitment levels and be willing to persist despite any obstacles that may arise.
On the other hand, the Ace of Cups tarot card suggests the possibility of a new relationship or a union such as a marriage or a proposal. While it is true that the 9 of Wands encourages us to maintain boundaries, it also hints at the importance of openness and connection. Unlike the 9 of Wands, the Ace of Cups tarot card creates a space for heightened feelings and emotions, and it encourages us to reach out and explore the depths of our relationships.
When the 9 of Wands and the Ace of Cups tarot cards combine to influence a person's love life, it suggests that the person will be willing to work hard and make sure their boundaries are respected while, at the same time, they are open to exploring new relationships and deepening their existing ones. It is a fusion of setting boundaries while allowing ourselves to let new connections, in. In other words, it is a combination of caution and hope.
What does 9 Of Wands and Ace Of Cups mean together for your finances?
When The 9 Of Wands tarot card and The Ace Of Cups tarot card come up together in relation to your finances and job, it is a complex combination. It is a reminder to maintain boundaries and persist in your career goals and financial intentions, while simultaneously being open to the potential of new opportunities and creative solutions.
The 9 Of Wands tarot card suggests that it is important to have established structures and boundaries in order to ensure the security of your finances and your career. This could mean developing a financial plan that is based on understanding costs, setting budgets, and minimizing spending so that you can save money for the future. In terms of your job, it could be about maintaining clear parameters, setting boundaries, and taking on responsibilities with focus and commitment.
The Ace Of Cups tarot card indicates that even in times of stability and structure, there is an opportunity to explore new possibilities and create innovative solutions. This could manifest in your finances in the form of investing in new business ideas or taking risks in the stock market, or even considering creative financial solutions such as non-traditional lending sources. In terms of your job, it could mean recognizing the potential in new opportunities and taking on different roles or exploring different directions to expand your career.
The 9 Of Wands tarot card and The Ace Of Cups tarot card together remind us that it is possible to maintain structure and boundaries while being open to future possibilities. We can be mindful of our responsibilities while also giving ourselves the room to explore creative solutions and exciting opportunities that can bring positive changes to our finances and career.
What does 9 Of Wands and Ace Of Cups mean together for your health?
The nine of wands and the Ace of Cups tarot card together suggest a time of personal growth and renewal. In this combination, the nine of wands is an indicator of personal boundaries that are necessary for health and protection. This card can serve as a reminder of the importance of creating healthy boundaries and adhering to them. It reminds us to be mindful of our limits and to stay aware of our physical, emotional, and mental states.
The Ace of Cups card, on the other hand, symbolizes a time of new beginnings, relationships, and a deepening of emotional understanding. This card indicates a time to open up to new possibilities and experience a rejuvenation of the heart, mind, and soul. This is a time to nurture yourself and others and build a strong foundation of trust and acceptance.
When the nine of wands and the Ace of Cups are combined, it suggests a period of growth and transformation. It is a time for us to explore new ways of being in our relationships and in our life, while maintaining energy boundaries for protection. This combination reinforces the importance of understanding our limits and boundaries, while opening ourselves up to the possibilities of what else life can offer. We can use this combination to learn more about our needs, desires, and limitations–while also understanding the power of vulnerability. This can lead to a healthier lifestyle as we become more in touch with ourselves and our relationships.
The meaning of the cards will depend on what kind of reading you are doing and the question you asked the deck. This is a guide covering the general meanings of the cards and how they relate to each other.
Common 2-card spreads
Whilst it's great to know who these two cards interact with each other, it's important to note that the meaning will depend on the context of your spread
The most common 2 card spreads I recommend to newer readers are:
The 2 card cross (otherwise known as "The Fool's Journey")
The 2 card "Yes or No"
"The Fool's Journey"
Setup: The two card cross is where you place two cards face up, one placed vertically and with one laying horizontally over
Interpretation: The 2 cards represent a "situation" and a "challenge". The first card will describe the situation you are in with the second horizontal card being the "challenge" crossing you (literally crossing you in this case!)
Reading: Using the overviews in this guide is a great way to start. First, look at the meanings of the 2 cards, and see how they might relate either as your "situation" or "challenge". Once you have that you can look at the general overview for how the two cards interact with each other.
The benefit of this spread is that it can give clarity when you're feeling uncertain or anxious. Once you have clarity of thought, and a strong idea of what your challenge is you can find solutions to help your situation
The 2 card "Yes or No"
Setup: The 2 card "Yes or No" is where you place two cards face up side by side, whilst asking your deck a "yes or no" question.
Interpretation: Each card in a tarot deck has a "yes" or a "no" meaning. Look at the meanings of each card, and you will have your answer.
The benefit of this is you get a stronger yes or no compared to a single card draw. You may find you often get a mix of "yes or no", and this is fine. It simply means there is doubt, or things are not yet clear.
Yes or No meaning
Things are a bit tricky for this combination, as 9 Of Wands and Ace Of Cups mean different things. The cards are unsure about your question, or the answer to the question has not yet been decided.
The "Yes" and "No" meanings can differ from reader to reader. The meanings here are based on what I believe are the generally accepted definitions.
What does 9 Of Wands mean?
When it comes to health, The 9 of Wands Tarot card speaks of the need to maintain personal boundaries and persevere in spite of unforeseeable events. It is a reminder to persist through tough times and keep a positive attitude even when the journey seems to be a long and difficult one. The card can be seen as a warning against making unhealthy decisions out of desperation or fear. It encourages us to stay mindful and take all necessary precautions to ensure our physical and mental wellbeing.
When it comes to finances, The 9 of Wands Tarot card speaks of the importance of maintaining and balancing boundaries in our financial lives. It reminds us to be mindful of our spending and suggests to stay on top of our finances, as well as to be diligent in keeping our expenses within our budget. It promises that as we remain disciplined and consistent in our fiscal habits, we will eventually reap the rewards.
Finally, when it comes to relationships, The 9 of Wands Tarot card speaks of the importance of setting and keeping firm boundaries. It encourages us to be clear and upfront about our needs, wants and desires, so that all involved can feel safe and respected. It warns of the need to protect ourselves from those who might try to take advantage of our vulnerability and suggests to stay mindful and trust our instincts when it comes to interpersonal matters. In order to have healthy and fulfilling relationships, we must know how to both give and receive in equal measure.
What does Ace Of Cups mean?
Health: The Ace of Cups Tarot card speaks of emotional and spiritual well-being. It is a card of abundance, joy, and compassion. In terms of physical health, it represents the beginnings of a journey to a healthier lifestyle. The card is symbolic of good health habits such as proper nutrition, regular exercise, and relaxation. It also speaks of the importance of relationships and how good interpersonal relationships can positively affect a person's state of mind and physical health.
Finances: The Ace of Cups Tarot card asks the querent to examine their current financial situation and to make sound financial decisions that will help build their future. It may be a reflection of the need to make wise investments, budget and save. The Ace of Cups can also be a sign of an impending financial windfall, or the beginnings of a new source of income.
Relationships: The Ace of Cups Tarot card is associated with new and upcoming relationships, such as a proposal or marriage. This card encourages individuals to be open to new experiences, because it suggests the potential for lasting love and joy. It is also symbolic of love, romance, and deep emotional connections. In business and professional relationships, the Ace of Cups may indicate the forming of beneficial alliances, the development of a mutual understanding, and the potential of a positive outcome.
Conclusion
Understanding how the meaning of a reading changes once you start involving more than one card can be tricky. This will come with time and practice, however I hope this guide on what your cards might be telling you when you draw 9 Of Wands and Ace Of Cups has helped you.
Get the Ultimate Tarot Card Combinations Pack
The Tarot Happy eBook Pack is available now for instant download.
With 78 eBooks covering all tarot pair meanings, this pack is a comprehensive guide on using tarot for introspection, self-understanding and inner growth.
$1.99 $24.99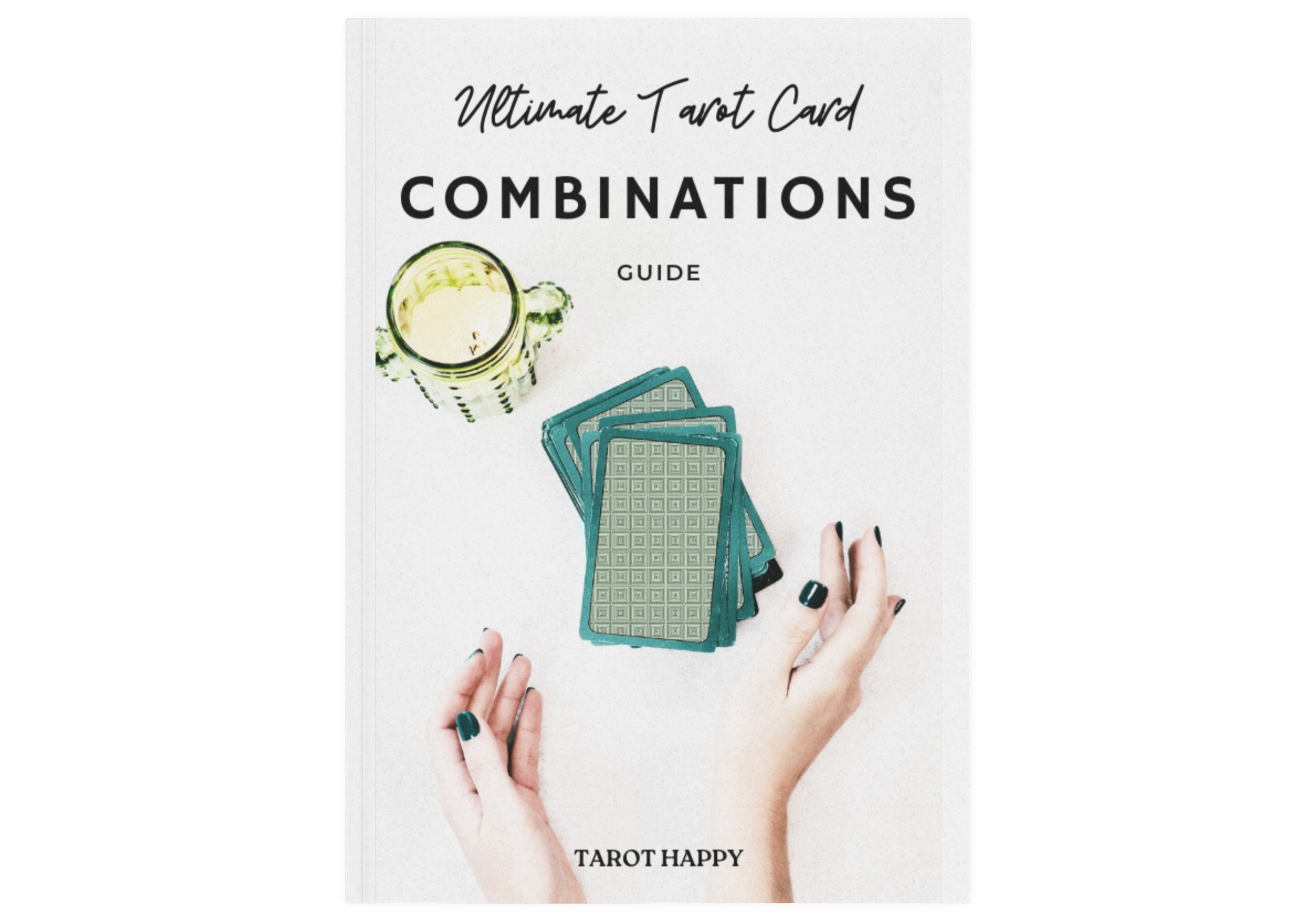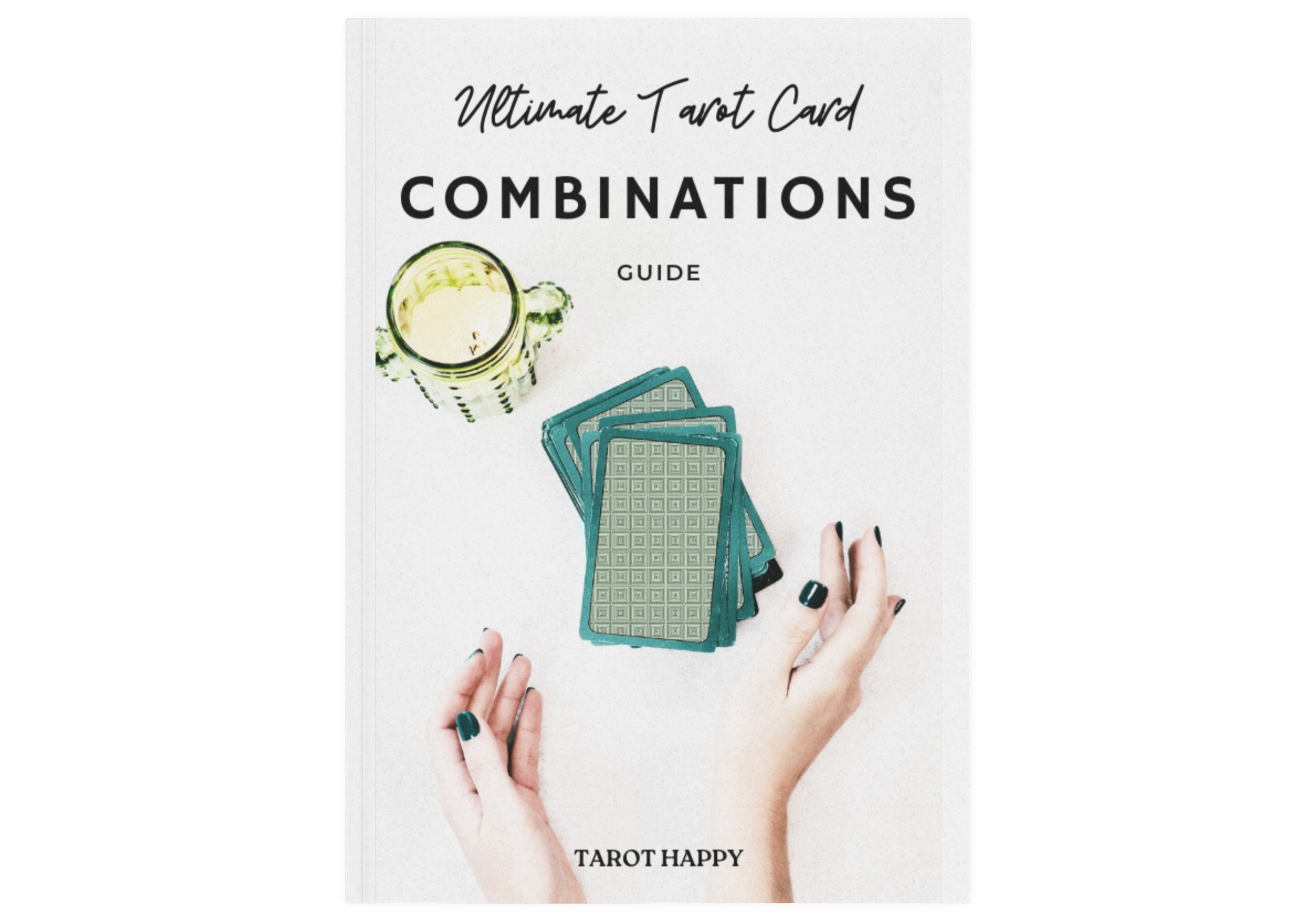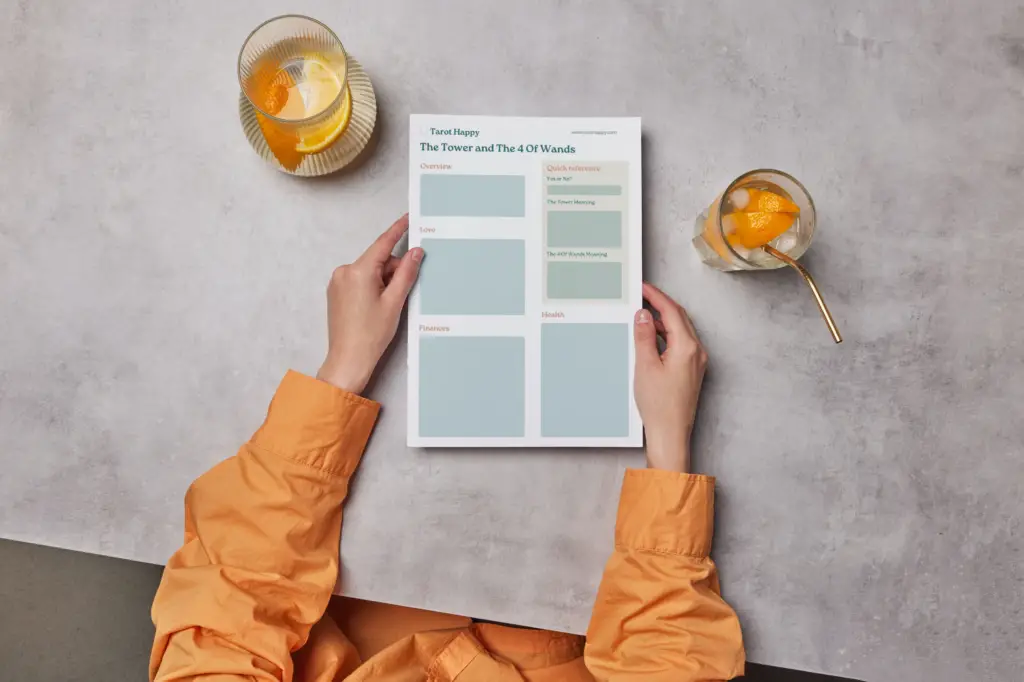 The pack contains an eBook for each of the 78 cards in a tarot pack.
Each eBook focuses on all the combinations for a single card, with overview of meanings for:
"Yes or No"
Key words and phrases that describe the combination
Meaning for Love
Meaning for Finance
Meaning for Health and Relationships
Unlock the Mysteries of Tarot with Our Comprehensive 78 eBook Pack
Are you ready to take your Tarot reading abilities to the next level? It's time to upgrade your spiritual toolbox with our extensive 78 eBook Pack. Each eBook is crafted to detail the meaning of every single Tarot card combination!
Venture beyond the basic meanings of the cards and delve into the intricate, layered symbolism each combination offers.
From beginner enthusiasts to advanced practitioners, this ultimate Tarot eBook pack will enhance your understanding, foster deeper connections with the cards, and improve your readings in a way that no other guide can.
Save over $20 if you buy today!
$1.99 $24.99