A key aspect of reading your own tarot is interpreting cards. For a beginner interpreting a single card can be fine, as there are plenty of resources to help you out, however interpreting two or more can be very tricky.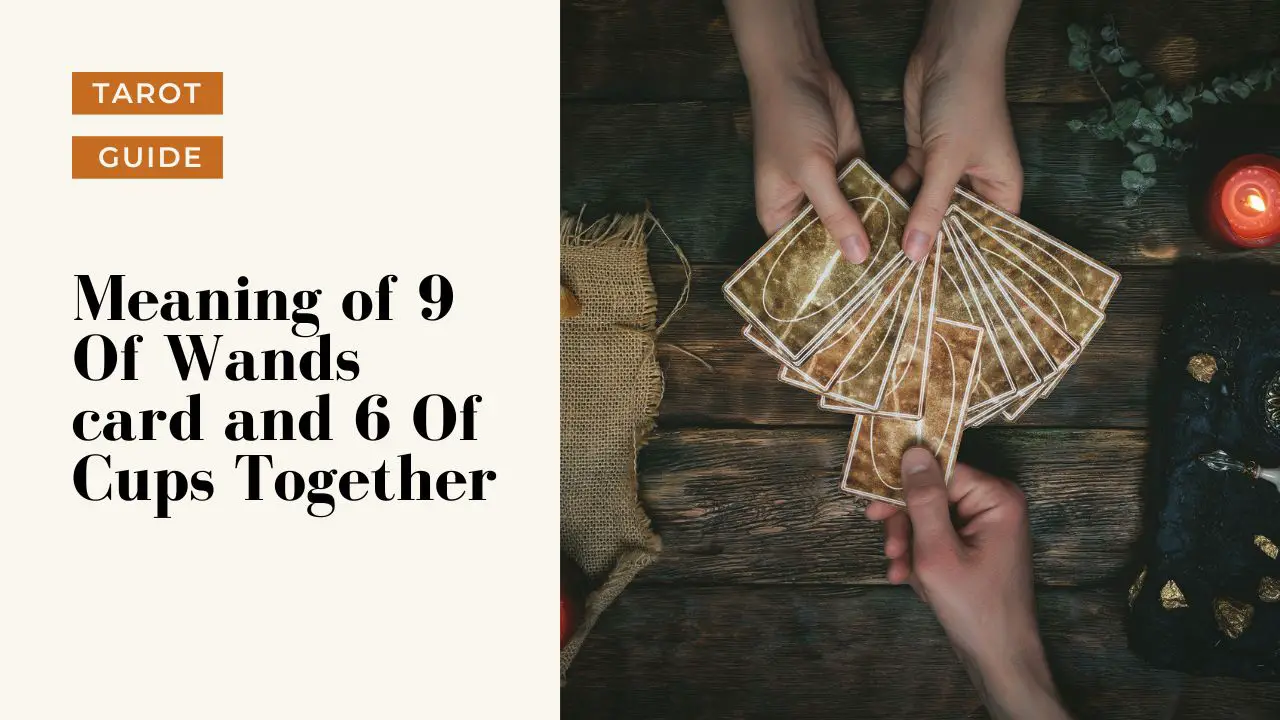 However, if you have been practising single card readings for a while a 2 card spread will be a great introduction into reading multiple cards.
As you've found this page, you're probably wondering how to interpret the 9 Of Wands card and 6 Of Cups card together in particular.
The 9 Of Wands card and 6 Of Cups have unique qualities and will interact with each other in different ways depending on what kind of reading you are doing.
What does 9 Of Wands and 6 Of Cups mean together?
The 9 of Wands and the 6 of Cups together mean that nostalgia and memories are important and can be a source of strength and boundaries. Embrace the feeling of nostalgia, while being aware of the boundaries you have set and are keeping in place. It is important to maintain boundaries, even when reuniting with loved ones and receiving gifts. In times of difficulty, rely on the strength of nostalgia to help you persist and to keep the boundaries you have set.
The meaning may differ depending on what you are asking. Here are some common questions and their possible meanings
What does 9 Of Wands and 6 Of Cups mean together for your love life?
The 9 Of Wands and The 6 Of Cups tarot cards together can represent a reunion of sorts where boundaries will be necessary. The 9 Of Wands is all about learning to protect and maintain your boundaries, as well as your sense of self-sufficiency. This is especially important if you are looking at reuniting with an old flame or a potentially toxic person from your past. Even if you encounter someone with whom you have a deep connection, maintaining a healthy distance is essential. Allowing yourself to have space to process your own emotions and grow as a person rather than relying on another is essential to making any relationship work.
The 6 Of Cups is the card of nostalgia and reunions. It can mean a chance to rekindle a connection that once was or to start anew with someone you have known for a while. The card represents the innocent and pure moments when romance first blossoms and love can be felt in the air. Although these flowers often wither away with time, it doesn't mean we can't revisit them.
The combination of these two cards tells us that when it comes to love, we must be mindful of our boundaries and be aware of our own needs. Even when revisiting old flames or reconnecting with those from our past, we must protect our hearts and our sense of self. Enjoy the nostalgia, the gifts, and the innocence. But also be mindful that some of these connections may not last, so make sure you make the most out of the present moment.
What does 9 Of Wands and 6 Of Cups mean together for your finances?
The 9 of Wands and The 6 of Cups tarot card signify that it is important to take a step back in order to keep and maintain healthy boundaries. If you find yourself feeling overwhelmed or exhausted by a situation, it is time to pause and reassess. This is especially true when it comes to your finances and job. It can be easy to get caught up in the hustle and bustle of our lives and careers and lose sight of our overall wellbeing. Taking a moment to pause and reflect will help you to better assess whether or not a situation or action is truly beneficial for you.
The 6 of Cups also speaks of nostalgia and reunions. In your finances and job, perhaps it is time to look back and remember the things that led you to where you are today. Taking the time to reflect on past experiences, successes and failures will provide perspective and insight into your current situation. Recognizing and celebrating the journey that has gotten you to this point can be a powerful source of motivation and direction.
Overall, the 9 of Wands and the 6 of Cups tarot card signify that now is the time to take stock of your situation and make sure you are creating healthy boundaries and are not overextending yourself. Reflecting on the past and considering the nostalgia of your journey will also be beneficial, as it can provide assistance in understanding where you are and help to move you forward.
What does 9 Of Wands and 6 Of Cups mean together for your health?
The 9 Of Wands and The 6 Of Cups tarot card can be a powerful combination when it comes to health. For starters, the combination speaks to our ability to stay healthy and maintain boundaries. The 9 Of Wands encourages us to take charge of our physical and mental well-being. We should strive to be persistent in our efforts to protect ourselves from harm or illness. This can mean anything from eating a balanced diet to avoiding toxic people and situations.
The 6 Of Cups, on the other hand, reminds us of the importance of nostalgia and the gift of innocence. It urges us to let go of toxicity and reconnect with our true selves. We should take time to look back fondly on the moments of our lives that bring us joy and peace. This can include taking up a hobby that is deeply meaningful to us, spending time with people who understand us, or engaging in activities that allow us to express our creativity.
Overall, the combination of The 9 Of Wands and The 6 Of Cups tarot card suggests that for optimal health, we need to strike a balance between taking care of ourselves and nurturing our inner joy. We must ensure that we are setting proper boundaries and remaining persistent in our efforts to maintain our physical and mental health, while also taking time to be nostalgic and enjoy the gifts life has to offer.
The meaning of the cards will depend on what kind of reading you are doing and the question you asked the deck. This is a guide covering the general meanings of the cards and how they relate to each other.
Common 2-card spreads
Whilst it's great to know who these two cards interact with each other, it's important to note that the meaning will depend on the context of your spread
The most common 2 card spreads I recommend to newer readers are:
The 2 card cross (otherwise known as "The Fool's Journey")
The 2 card "Yes or No"
"The Fool's Journey"
Setup: The two card cross is where you place two cards face up, one placed vertically and with one laying horizontally over
Interpretation: The 2 cards represent a "situation" and a "challenge". The first card will describe the situation you are in with the second horizontal card being the "challenge" crossing you (literally crossing you in this case!)
Reading: Using the overviews in this guide is a great way to start. First, look at the meanings of the 2 cards, and see how they might relate either as your "situation" or "challenge". Once you have that you can look at the general overview for how the two cards interact with each other.
The benefit of this spread is that it can give clarity when you're feeling uncertain or anxious. Once you have clarity of thought, and a strong idea of what your challenge is you can find solutions to help your situation
The 2 card "Yes or No"
Setup: The 2 card "Yes or No" is where you place two cards face up side by side, whilst asking your deck a "yes or no" question.
Interpretation: Each card in a tarot deck has a "yes" or a "no" meaning. Look at the meanings of each card, and you will have your answer.
The benefit of this is you get a stronger yes or no compared to a single card draw. You may find you often get a mix of "yes or no", and this is fine. It simply means there is doubt, or things are not yet clear.
Yes or No meaning
Things are a bit tricky for this combination, as 9 Of Wands and 6 Of Cups mean different things. The cards are unsure about your question, or the answer to the question has not yet been decided.
The "Yes" and "No" meanings can differ from reader to reader. The meanings here are based on what I believe are the generally accepted definitions.
What does 9 Of Wands mean?
Health
The Nine of Wands tarot card is all about having the strength and determination to persevere, even when the odds are stacked against you. In terms of health, this card can represent having the will to keep fighting and push through when your body may be trying to tell you to stop. It can represent utilizing the power of your will to keep going, no matter what physical or mental health issues you may be facing. It is a card of resilience and determination, and can serve as a reminder that no matter what you're going through you have the strength to keep going and power through it.
Finances
The Nine of Wands tarot card is a great reminder to keep pushing through difficult times, even when it seems like things are not going your way. In terms of finances, this card can mean to stay focused and keep up with your financial goals. It can be a sign of persevering through obstacles and keeping boundaries with your finances. It can represent being conscious of your spending and being mindful of your boundaries and limits with your budget.
Relationships
When it comes to relationships, the Nine of Wands tarot card is all about understanding the importance of keeping healthy boundaries. This card can represent the importance of being assertive and understanding the boundaries of your relationships. It can be a reminder to stay true to yourself and your values, but also be respectful towards others and their boundaries as well. It can be a sign of having the strength to stand up for yourself, even when things get tough, and being able to set limits in order to maintain a healthy relationship.
What does 6 Of Cups mean?
Health
The 6 of Cups Tarot card can indicate a desire to find harmony within our physical self and our environment. It means that it is time to give ourselves a break and to focus on restoring balance in our lives. It also represents looking back to our past and letting go of any unhealthy habits that we may have picked up along the way. The 6 of Cups can remind us to take care of our bodies, to make time for self-care and reconnect with our inner wisdom. It can be a signal to practice forgiveness, both of ourselves and of others, in order to move forward.
Finances
The 6 of Cups Tarot card is associated with abundance and good luck. It can be a message to pause, reflect on our finances, and reassess where our money is going. It can encourage us to make positive and healthy financial decisions, such as setting financial goals and sticking to a budget. Additionally, the 6 of Cups can remind us to be thankful and generous with those around us. This can include donating to charitable causes or helping out those in need. Making good financial decisions now can pave the way for a more secure financial future.
Relationships
The 6 of Cups Tarot card symbolizes the return of old friends, reunions and romance. If you are looking for a new start in a relationship, this card is a reminder to reconnect with people from your past. It is a reminder to look back and to cherish the old relationships that were formed. The 6 of Cups encourages us to move forward with forgiveness and open hearts. It can also be a sign to seek out the advice of trusted friends who will provide insight and understanding. It is a sign of true friendship, showing that we can rely on those closest to us and trust in the strong bonds we have with them.
Conclusion
Understanding how the meaning of a reading changes once you start involving more than one card can be tricky. This will come with time and practice, however I hope this guide on what your cards might be telling you when you draw 9 Of Wands and 6 Of Cups has helped you.
Get the Ultimate Tarot Card Combinations Pack
The Tarot Happy eBook Pack is available now for instant download.
With 78 eBooks covering all tarot pair meanings, this pack is a comprehensive guide on using tarot for introspection, self-understanding and inner growth.
$1.99 $24.99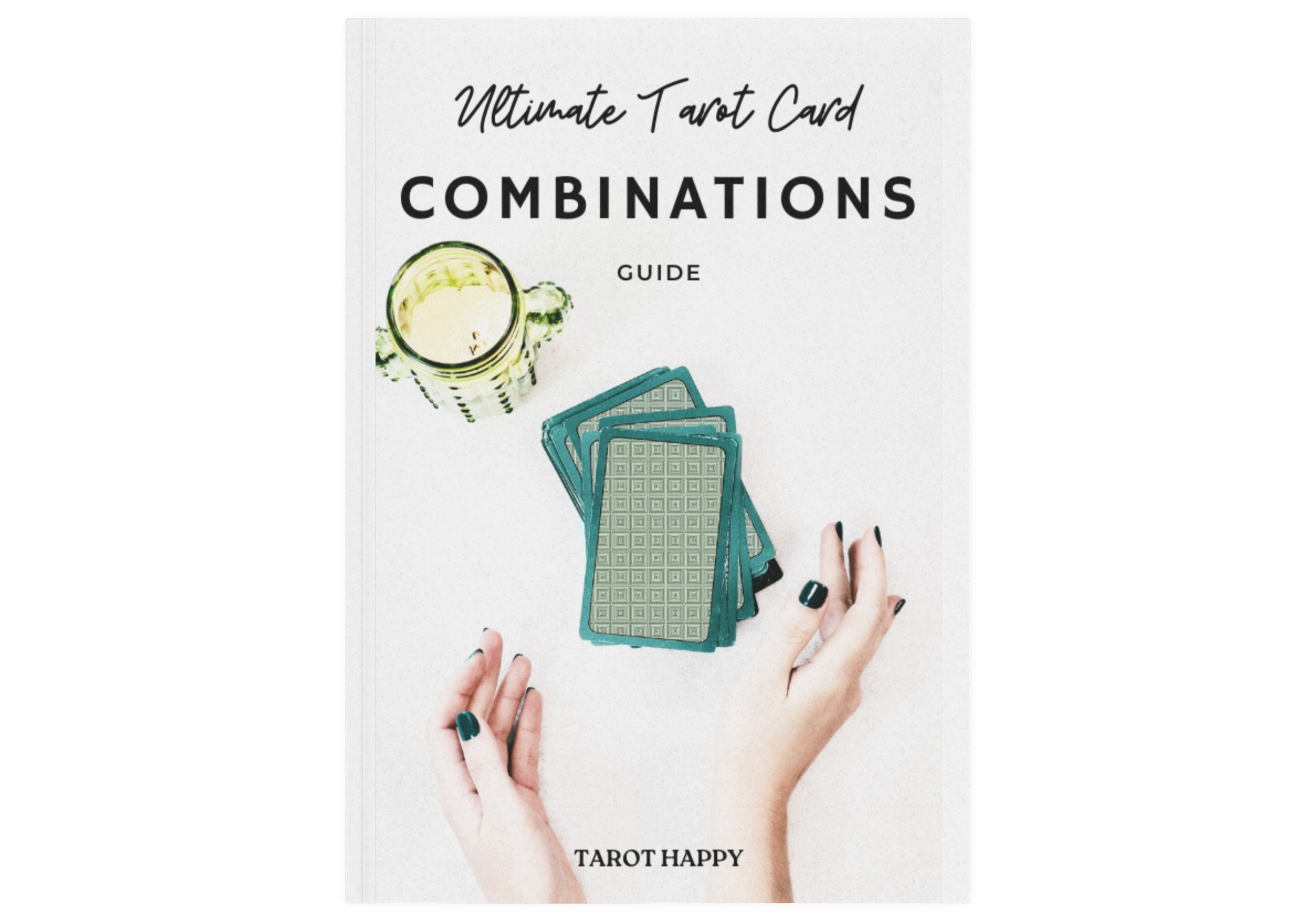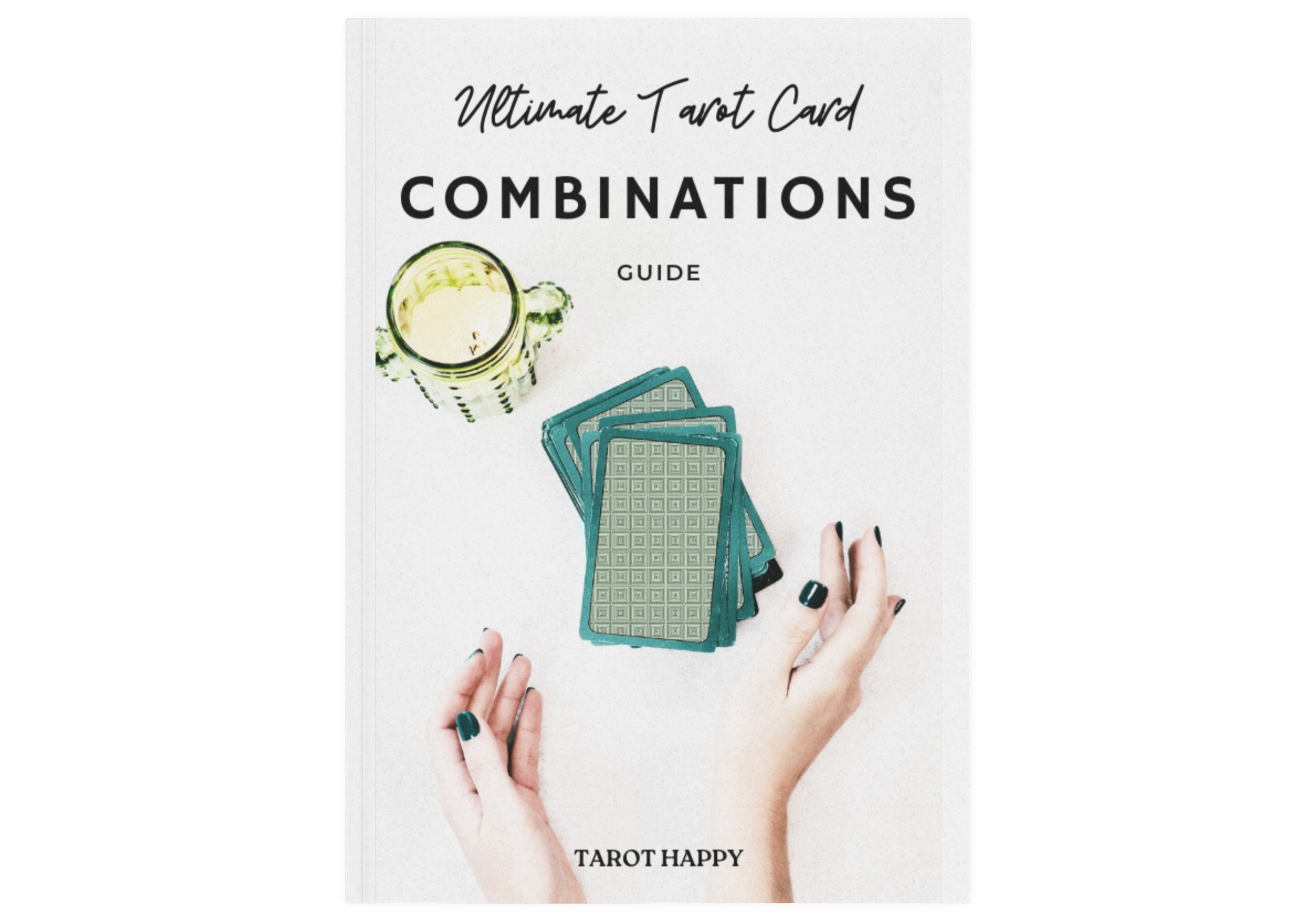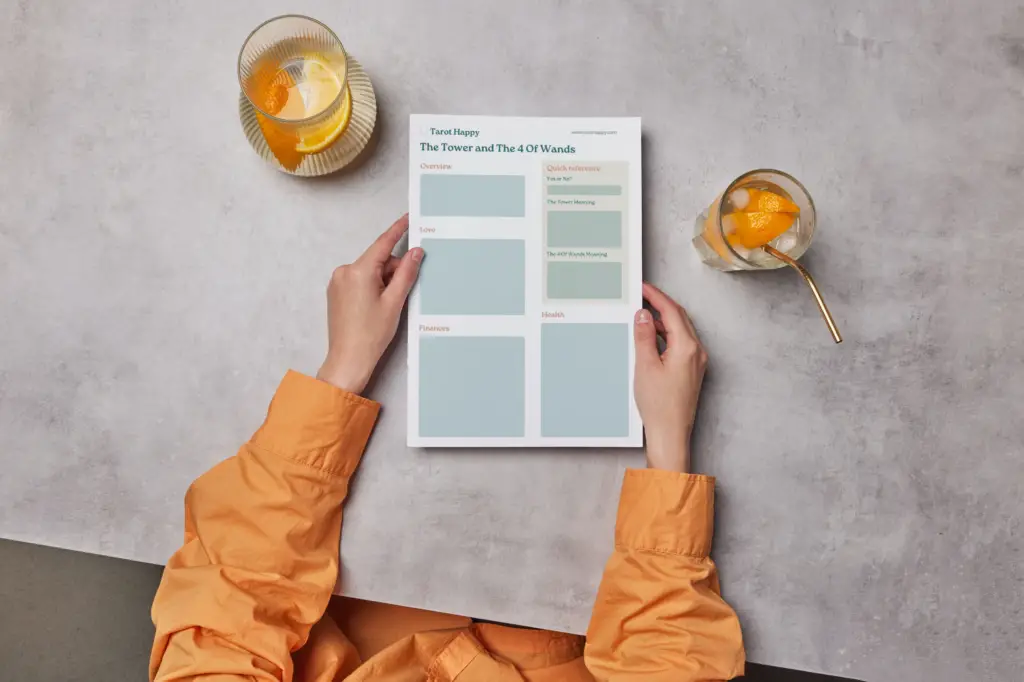 The pack contains an eBook for each of the 78 cards in a tarot pack.
Each eBook focuses on all the combinations for a single card, with overview of meanings for:
"Yes or No"
Key words and phrases that describe the combination
Meaning for Love
Meaning for Finance
Meaning for Health and Relationships
Unlock the Mysteries of Tarot with Our Comprehensive 78 eBook Pack
Are you ready to take your Tarot reading abilities to the next level? It's time to upgrade your spiritual toolbox with our extensive 78 eBook Pack. Each eBook is crafted to detail the meaning of every single Tarot card combination!
Venture beyond the basic meanings of the cards and delve into the intricate, layered symbolism each combination offers.
From beginner enthusiasts to advanced practitioners, this ultimate Tarot eBook pack will enhance your understanding, foster deeper connections with the cards, and improve your readings in a way that no other guide can.
Save over $20 if you buy today!
$1.99 $24.99