A key aspect of reading your own tarot is interpreting cards. For a beginner interpreting a single card can be fine, as there are plenty of resources to help you out, however interpreting two or more can be very tricky.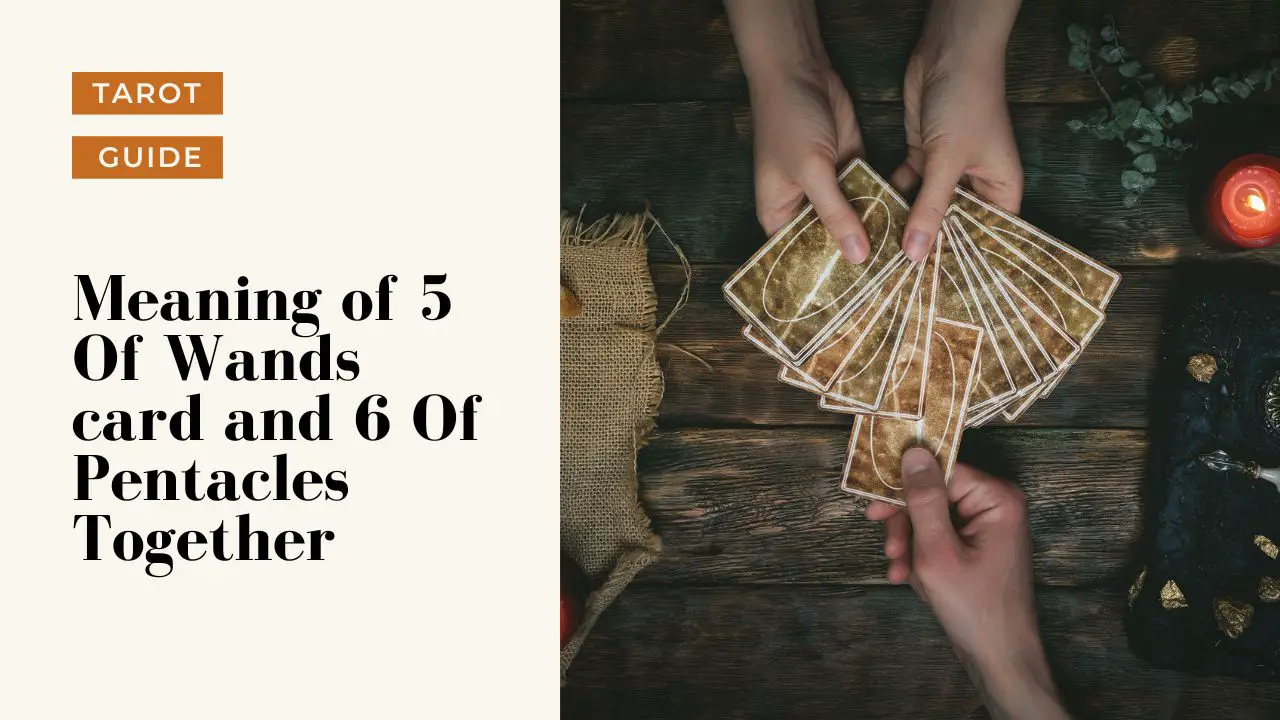 However, if you have been practising single card readings for a while a 2 card spread will be a great introduction into reading multiple cards.
As you've found this page, you're probably wondering how to interpret the 5 Of Wands card and 6 Of Pentacles card together in particular.
The 5 Of Wands card and 6 Of Pentacles have unique qualities and will interact with each other in different ways depending on what kind of reading you are doing.
What does 5 Of Wands and 6 Of Pentacles mean together?
When these two cards come together in a reading it can signify an atmosphere of healthy competition and generosity. On the one hand, The 5 of Wands tarot card indicates rivalry, challenges and obstacles, suggesting that you are in a situation where you must strive to come out on top. However, The 6 of Pentacles tarot card also suggests that there is help to be had, that generosity is in the air and that it is possible to reach your goals even with the right assistance. So, in a reading, these two cards signify that you should strive to stay competitive and that there is also opportunity to receive help if you need it.
The meaning may differ depending on what you are asking. Here are some common questions and their possible meanings
What does 5 Of Wands and 6 Of Pentacles mean together for your love life?
When it comes to love life, the pairing of The 5 of Wands and The 6 of Pentacles suggests a potentially conflicting balance between competition and charity. On one hand, it could be interpreted as a reminder to stay competitive in the arena of love to ensure you don't miss out on the best opportunities. Relationships require work and effort, and if you don't actively pursue what you want, someone else may beat you to it.
On the other hand, The 6 of Pentacles is a reminder to practice charity and kindness in your relationships. Compassion and generosity are key elements in sustaining positive, healthy relationships. It is important to recognize the importance of giving and accepting help, especially when it comes to matters of the heart.
Overall, this combination is a reminder to strive for a balance between competition and kindness, between giving and receiving. Maintaining this balance is a sign of a strong, successful relationship. Respect your partner's desires and needs. Don't be too aggressive in pursuing what you want, but don't be too passive either. Stay focused on the task at hand and don't forget the importance of communication and support.
What does 5 Of Wands and 6 Of Pentacles mean together for your finances?
The 5 Of Wands tarot card combined with The 6 Of Pentacles tarot card indicates a situation in which you will be facing financial challenges and obstacles. It suggests that you are likely to come up against competition and rivalry in your professional life. You may be vying for a promotion or trying to stand out against more experienced colleagues in your field. It can also indicate a period of financial struggle in which you need to be creative and resilient in order to make ends meet.
However, this challenge will come with an opportunity to receive help and support. The 6 Of Pentacles hints to charitable donations and generosity being available to you in one form or another. You may receive a helping hand from family or friends, or perhaps a generous donation from an outside source. It encourages you to accept help when it is offered, as well as to be generous to others when you are able.
In general, the combination of The 5 Of Wands and The 6 Of Pentacles suggests that you may be facing some financial challenges, but with the right attitude you will be able to get through them. It encourages you to stay focused and determined in the face of obstacles, and to not be afraid to accept help when it is available. By embracing generosity and understanding that you may need to take assistance from others in order to succeed, you will likely find your way to financial stability.
What does 5 Of Wands and 6 Of Pentacles mean together for your health?
The combination of The 5 of Wands and The 6 of Pentacles tarot cards suggest that it is a good time to incorporate healthy competition as part of your health plan. This can be a great way to stay motivated and push yourself to do better. When applied to a health situation, this combination of cards encourages you to stay competitive while being generous and helpful to your peers.
In a health situation, those are both very important attributes that can be beneficial to your overall health. Healthy competition can provide the needed drive to work harder and to stay on track with any health related goals that you have. It is important to not become overly competitive and to keep things in perspective. Taking the time to recognize and appreciate the progress that you have made will help to keep you motivated and more likely to continue on the path that you have set for yourself.
At the same time, being generous and helpful to those around you is also a great way to stay in a positive mindset. Focusing on the health and wellbeing of those in your community will help you to stay connected and focused on your own health. This can also be a great way to find support and get encouragement from those around you. Sharing your own experiences, offering advice and just being there for the people in your life, can help to create a positive environment where everyone is able to stay on track with their own health goals.
By combining The 5 of Wands and The 6 of Pentacles tarot cards, it is easy to see how healthy competition and generosity can both be beneficial to your health. When incorporated into your health plan, these two can help you stay motivated and supported on your journey to becoming the healthiest version of yourself.
The meaning of the cards will depend on what kind of reading you are doing and the question you asked the deck. This is a guide covering the general meanings of the cards and how they relate to each other.
Common 2-card spreads
Whilst it's great to know who these two cards interact with each other, it's important to note that the meaning will depend on the context of your spread
The most common 2 card spreads I recommend to newer readers are:
The 2 card cross (otherwise known as "The Fool's Journey")
The 2 card "Yes or No"
"The Fool's Journey"
Setup: The two card cross is where you place two cards face up, one placed vertically and with one laying horizontally over
Interpretation: The 2 cards represent a "situation" and a "challenge". The first card will describe the situation you are in with the second horizontal card being the "challenge" crossing you (literally crossing you in this case!)
Reading: Using the overviews in this guide is a great way to start. First, look at the meanings of the 2 cards, and see how they might relate either as your "situation" or "challenge". Once you have that you can look at the general overview for how the two cards interact with each other.
The benefit of this spread is that it can give clarity when you're feeling uncertain or anxious. Once you have clarity of thought, and a strong idea of what your challenge is you can find solutions to help your situation
The 2 card "Yes or No"
Setup: The 2 card "Yes or No" is where you place two cards face up side by side, whilst asking your deck a "yes or no" question.
Interpretation: Each card in a tarot deck has a "yes" or a "no" meaning. Look at the meanings of each card, and you will have your answer.
The benefit of this is you get a stronger yes or no compared to a single card draw. You may find you often get a mix of "yes or no", and this is fine. It simply means there is doubt, or things are not yet clear.
Yes or No meaning
Things are a bit tricky for this combination, as 5 Of Wands and 6 Of Pentacles mean different things. The cards are unsure about your question, or the answer to the question has not yet been decided.
The "Yes" and "No" meanings can differ from reader to reader. The meanings here are based on what I believe are the generally accepted definitions.
What does 5 Of Wands mean?
When it comes to health, The 5 of Wands Tarot card speaks of obstacles and challenges that must be overcome in order to maintain physical and emotional well-being. It suggests that a person must push themselves to their limit both mentally and physically in order to stay healthy. Challenges and activities like yoga, running, and strength training can help someone find better balance and become a better version of themselves. This card can also emphasize the importance of preventing health issues before they become a problem and to remain diligent when it comes to taking care of one's body.
In terms of finances, The 5 of Wands Tarot card can speak of the challenges and obstacles that hinders a steady flow of money and prosperity. It can indicate that a person needs to be prepared to face whatever challenges may come their way in order to ensure financial security. Whether it be having to take on extra shifts at work or fighting for a promotion, The 5 of Wands Tarot card encourages a person to be persistent and disciplined when it comes to achieving financial stability.
Finally, when it comes to relationships, The 5 of Wands Tarot card symbolizes challenges and obstacles that can either strengthen or tear apart a relationship. It can suggest that two individuals should be open and honest about the struggles that they face, as well as be willing to work together to resolve any issues that may arise. It also speaks of the need for two people to balance their energies, so that neither one is overbearing in the relationship. Working through conflicts, understanding one another's perspectives, and actively engaging with one another are important factors in building a strong and healthy bond. Ultimately, this card can bring an important reminder that although obstacles and challenges are inevitable, they can bring the couple closer together if dealt with in the right manner.
What does 6 Of Pentacles mean?
The 6 of Pentacles Tarot card is a representation of the idea of sharing resources or giving and receiving help. In terms of health, this card suggests that it is important to be generous with yourself and with others. Self-care means not only taking care of your physical and mental health, but also being generous with yourself by giving yourself permission to take time for rest and relaxation. Alternatively, it can mean reaching out for help from professionals and friends when your strength fails. On the other hand, it can mean taking the time to lend a helping hand to someone else who is struggling with this journey we call life.
In terms of finances, the 6 of Pentacles Tarot card implies that it is important to practice fiscal responsibility, generosity, and balance. This card encourages us to be generous with our money and resources, but it also cautions us to take a balanced approach. It may be a good idea to share our wealth with others, but it is also important to save and invest for our future.
Finally, in terms of relationships, the 6 of Pentacles Tarot card encourages us to be generous with the people we care about. We should be willing to give and receive help in our relationships, whether this means emotional support or physical help. Additionally, it highlights the importance of balance and fairness. We should be generous with each other, but we should also remember to take care of ourselves in the process.
Conclusion
Understanding how the meaning of a reading changes once you start involving more than one card can be tricky. This will come with time and practice, however I hope this guide on what your cards might be telling you when you draw 5 Of Wands and 6 Of Pentacles has helped you.