A key aspect of reading your own tarot is interpreting cards. For a beginner interpreting a single card can be fine, as there are plenty of resources to help you out, however interpreting two or more can be very tricky.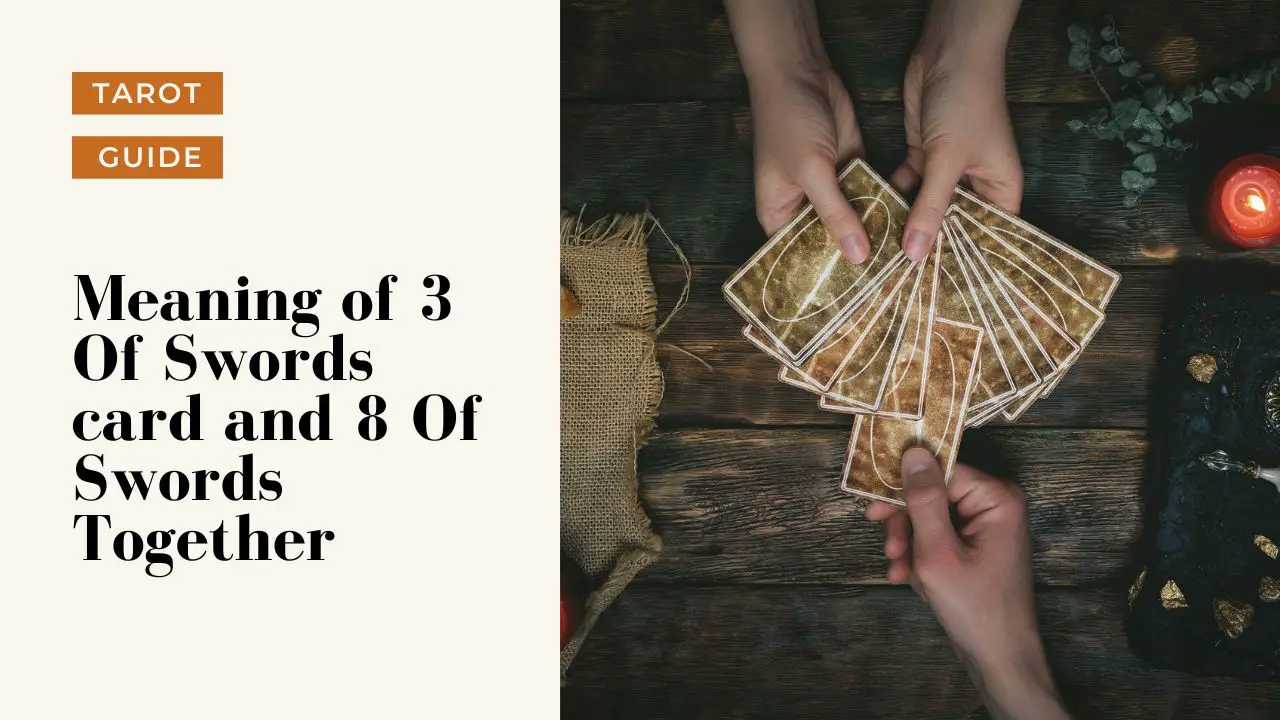 However, if you have been practising single card readings for a while a 2 card spread will be a great introduction into reading multiple cards.
As you've found this page, you're probably wondering how to interpret the 3 Of Swords card and 8 Of Swords card together in particular.
The 3 Of Swords card and 8 Of Swords have unique qualities and will interact with each other in different ways depending on what kind of reading you are doing.
What does 3 Of Swords and 8 Of Swords mean together?
The 3 Of Swords tarot card and The 8 Of Swords tarot card together represent a difficult period of deep sorrow and distress. It could be that you are going through a period of heartbreak, divorce or loss, and in addition you are feeling confined and restricted by your own self-imposed limitations and isolation. Your feelings of sadness and confusion may lead you to feel imprisoned in your own thoughts and feelings, unable to rise above them and solve your problems. You may be struggling to find a way out of the darkness, or you could be facing a major life change such as surgery. This difficult time is an opportunity for growth and healing, and it is important to keep ahold of your hope even in the midst of despair.
The meaning may differ depending on what you are asking. Here are some common questions and their possible meanings
What does 3 Of Swords and 8 Of Swords mean together for your love life?
The 3 of Swords and the 8 of Swords tarot cards together in a love reading can indicate a tumultuous relationship that is on the brink of ending. This relationship may have been affected by external influences such as a break-up, a divorce, a death, or other forms of loss, which have caused intense heartbreak and depression. This could have been a difficult situation to navigate, as your emotions were likely in a state of chaos, making it hard to process the situation.
The 8 of Swords further indicates that there is a sense of self-imposed restrictions within the current relationship, as if you feel like you are trapped in an emotional prison of your own making. It could be that you are struggling to communicate with your partner, however hard you try, or that the split is making it difficult for you to make sense of the situation. You may feel lost, held back by your own thoughts and worries, and unable to reach out for help.
The combination of these two cards suggests that it is time to reach out for support, either from friends and family or from a professional to help you through this difficult time. It could also be time to overcome the restrictions you have placed upon yourself, to take a step back and take a good look at your relationship, and to make a decision about the future. Whilst the current situation is painful, it is an opportunity to learn and grow, and to make a new beginning.
What does 3 Of Swords and 8 Of Swords mean together for your finances?
The 3 of Swords and the 8 of Swords tarot cards, when combined, has a deep implication on one's finances and job. This powerful combination denotes a period of personal hardship, loss, and sadness, as well as challenges that one may have to face due to their own decisions. It's a sign that it's time to take a step back and make a self-assessment in order to find out what personal choices or decisions may have caused this misfortune.
In terms of the financial implications, this card combination usually means there could be a period of financial difficulty, leading to a difficult time for bills and investments. Unexpected costs may arise due to reasons beyond your control, such as overspending or bad investments. This could lead to a decrease in security and confidence in your finances. It may be necessary to reassess your financial habits and make sure your income is more stable.
In terms of career implications, this card combination implies a period of difficulty in furthering one's career. If one has made any errors in judgment, it may be necessary to take responsibility and make amends. It may be a time to take a step back and focus on self-reflection and self-improvement. It could be a signal to look within and review the decisions one has made in the past and then make an effort to build up one's professional experience.
The 3 of Swords and 8 of Swords card combination is a warning of difficult times ahead and it may be necessary to adjust one's attitude towards finances and career in order to be successful. It is important to take responsibility for one's choices and make necessary changes in order to move forward and achieve success.
What does 3 Of Swords and 8 Of Swords mean together for your health?
When the 3 of Swords and the 8 of Swords tarot cards are combined, they can refer to a difficult situation in a person's life, which is related to their health. On a physical level, the 3 of Swords card may indicate the possibility of major surgery, such as heart surgery following a severe heart condition or a traumatic incident. On an emotional level, it could refer to the aftermath of a divorce, break-up or serious loss. Whether it is an actual death or the end of a relationship, the person could be left feeling a deep sense of grief and sadness.
At the same time, the 8 of Swords tarot card speaks of self-imposed restrictions and isolation. A person in this situation may feel like they are trapped in their grief and it is preventing them from moving forward. They may feel overwhelmed by their emotions and unable to process them, leading to them avoiding social contact, withdrawal and a lack of motivation.
The combination of these tarot cards can indicate the need for a person to take some time out to properly grieve and process their emotions in a healthy way. They may need to seek professional help in order to move through their feelings in a safe and productive way. A period of self-reflection is needed in order to come to terms with the reality of their situation and to accept the changes that have occurred. With the help of experienced support, it is possible to heal from what has happened and to come back to life with strength, clarity and hope.
The meaning of the cards will depend on what kind of reading you are doing and the question you asked the deck. This is a guide covering the general meanings of the cards and how they relate to each other.
Common 2-card spreads
Whilst it's great to know who these two cards interact with each other, it's important to note that the meaning will depend on the context of your spread
The most common 2 card spreads I recommend to newer readers are:
The 2 card cross (otherwise known as "The Fool's Journey")
The 2 card "Yes or No"
"The Fool's Journey"
Setup: The two card cross is where you place two cards face up, one placed vertically and with one laying horizontally over
Interpretation: The 2 cards represent a "situation" and a "challenge". The first card will describe the situation you are in with the second horizontal card being the "challenge" crossing you (literally crossing you in this case!)
Reading: Using the overviews in this guide is a great way to start. First, look at the meanings of the 2 cards, and see how they might relate either as your "situation" or "challenge". Once you have that you can look at the general overview for how the two cards interact with each other.
The benefit of this spread is that it can give clarity when you're feeling uncertain or anxious. Once you have clarity of thought, and a strong idea of what your challenge is you can find solutions to help your situation
The 2 card "Yes or No"
Setup: The 2 card "Yes or No" is where you place two cards face up side by side, whilst asking your deck a "yes or no" question.
Interpretation: Each card in a tarot deck has a "yes" or a "no" meaning. Look at the meanings of each card, and you will have your answer.
The benefit of this is you get a stronger yes or no compared to a single card draw. You may find you often get a mix of "yes or no", and this is fine. It simply means there is doubt, or things are not yet clear.
Yes or No meaning
Both 3 Of Swords and 8 Of Swords mean "No". If you are asking a direct question, then be under no illusions, the answer is a negative one. If you draw 3 Of Swords and 8 Of Swords the answer to your question is "NO".
The "Yes" and "No" meanings can differ from reader to reader. The meanings here are based on what I believe are the generally accepted definitions.
What does 3 Of Swords mean?
When it comes to the 3 of Swords Tarot card, it means the shedding of past wounds and a transformation of consciousness. This card symbolizes the difficult process of cutting ties with past pain and creating a new beginning. It is a reminder that the only way forward is through heartache, as it represents the need to feel the pain and accept it as part of the process of healing.
When looking at the 3 of Swords in terms of health, it can represent a time for resetting physical, mental, and emotional health. It is a call for us to look at our current health issues with a fresh perspective and to get honest with ourselves about what we need to do to take care of ourselves. It may indicate that we need to focus on our own needs and find ways to nurture our body and mind.
For finances, this card can indicate that we are in a time of letting go of the past, and that we need to have faith in the process and trust that something better will come. It is a reminder that sometimes letting go of our old ways of thinking can be difficult but necessary for us to find our financial freedom. It can signify that change is on the horizon and that it will bring with it a fresh start.
Lastly, for relationships, this card can mean that we are in a time of difficult change and transformation. It suggests that we are in need of a time of reflection and that it may be necessary to let go of certain people in order to create a healthier, more fulfilling environment. It can also suggest that the relationships we do have are in need of repair, and that we need to be honest with ourselves and those around us in order to move forward in a positive direction.
What does 8 Of Swords mean?
The 8 Of Swords Tarot card often indicates that a person is facing challenging circumstances in multiple facets of life. It typically means that one is dealing with self-imposed restrictions, psychological traps, and emotional isolation that are preventing them from leading a prosperous and meaningful life.
In terms of health, this card can signify that one is trapped in negative habits that are impairing their health, such as poor dietary choices, overworking, or lack of exercise. These can be obstacles that one may have placed on themselves, such as not treating their body with respect, or simply not having the motivation or energy to make necessary lifestyle changes. This can present itself in emotional and physical ailments.
The 8 Of Swords is often reflective of one's relationship to their finances. This card can indicate a lack of financial responsibility and the person may be so buried in debt that it feels like no way out. It can also suggest that one is too scared to make the necessary changes to get out of their financial position and is stuck in a cycle of debt.
In terms of relationships, this card can signify that one is isolated and cut off from meaningful connections with others. It can also suggest that one is holding on to negative emotions, such as resentment and anger, that is preventing them from forming healthy relationships. It can indicate that one is feeling trapped by an unhealthy relationship and is too scared to take the steps to make a necessary change.
The 8 Of Swords Tarot card is a sign that one needs to take steps to break free from the self-imposed restrictions they have created in order to lead their best life. It is a reminder that one must be willing to change their circumstances and take action to break free from any emotional or financial constraints that may be holding them back.
Conclusion
Understanding how the meaning of a reading changes once you start involving more than one card can be tricky. This will come with time and practice, however I hope this guide on what your cards might be telling you when you draw 3 Of Swords and 8 Of Swords has helped you.
Get the Ultimate Tarot Card Combinations Pack
The Tarot Happy eBook Pack is available now for instant download.
With 78 eBooks covering all tarot pair meanings, this pack is a comprehensive guide on using tarot for introspection, self-understanding and inner growth.
$1.99 $24.99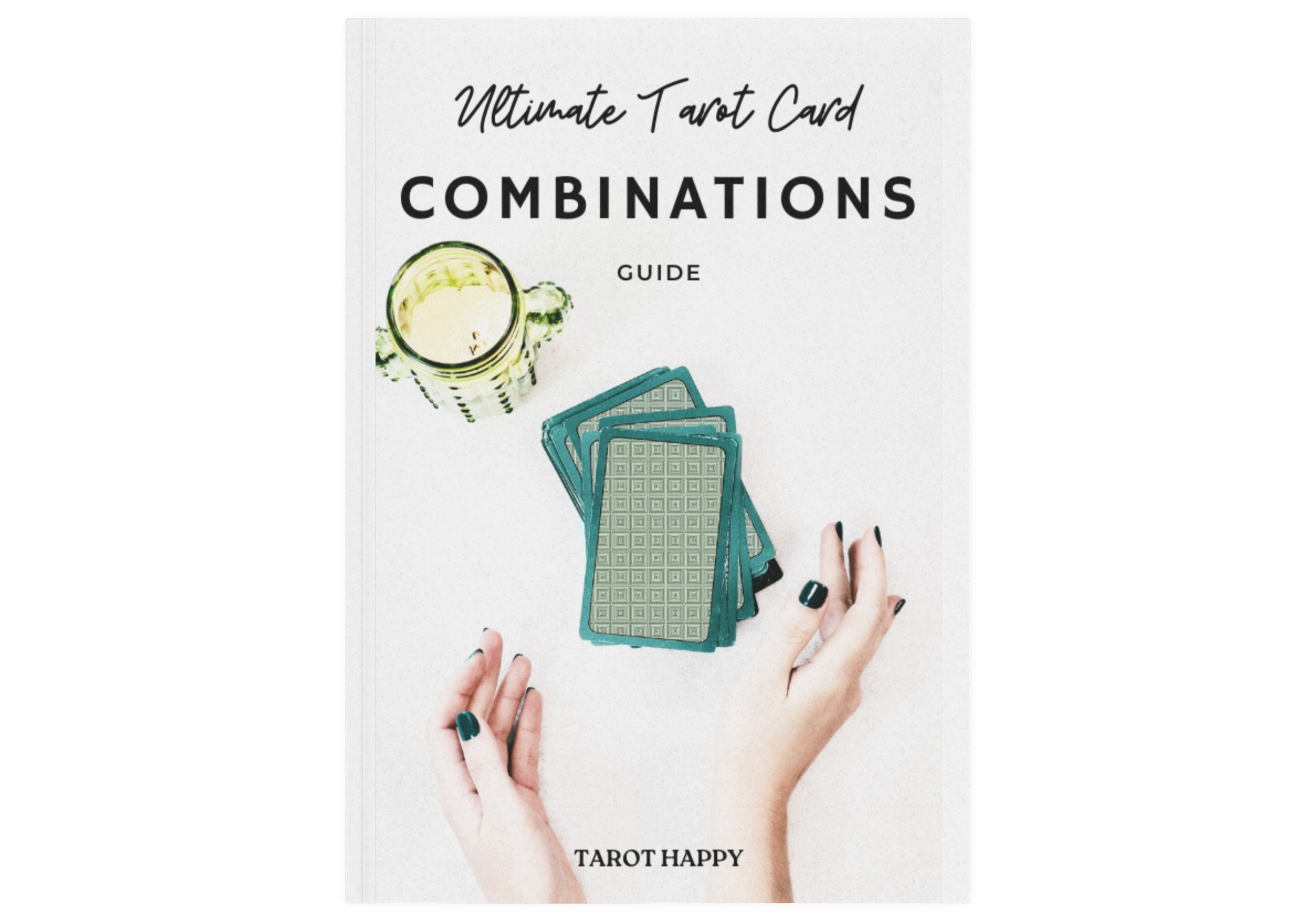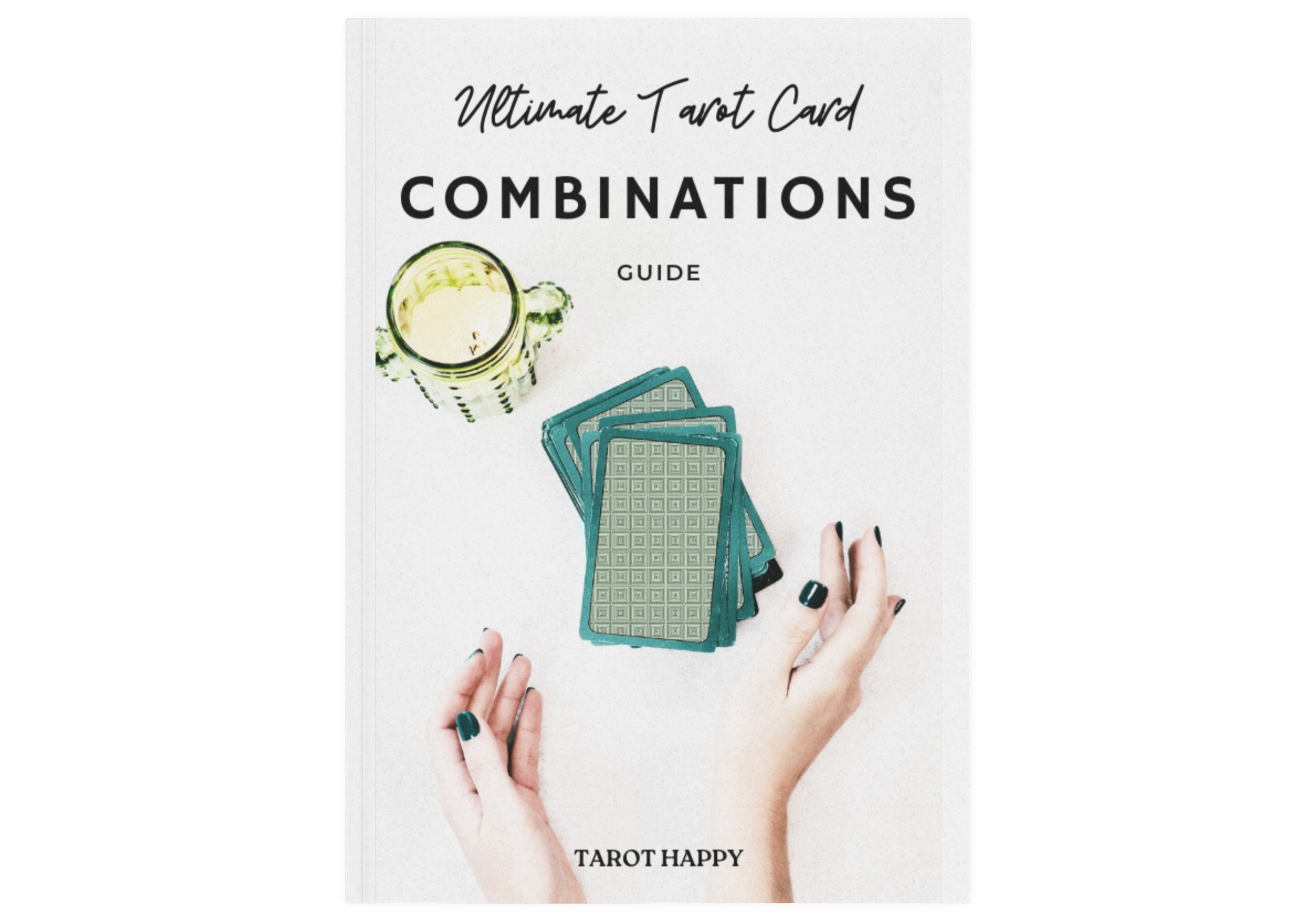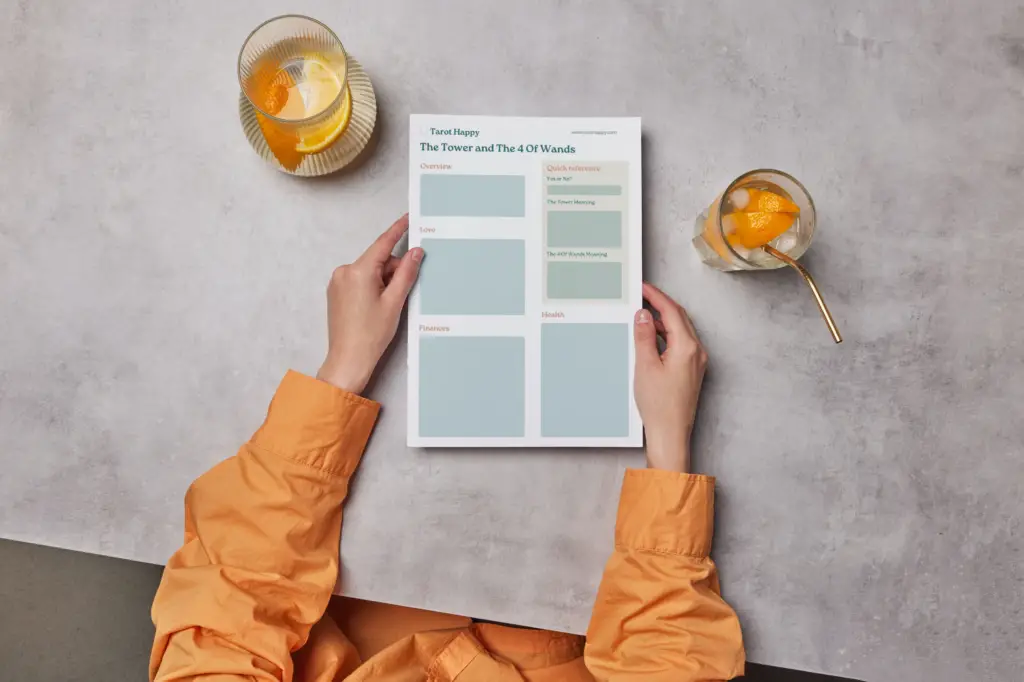 The pack contains an eBook for each of the 78 cards in a tarot pack.
Each eBook focuses on all the combinations for a single card, with overview of meanings for:
"Yes or No"
Key words and phrases that describe the combination
Meaning for Love
Meaning for Finance
Meaning for Health and Relationships
Unlock the Mysteries of Tarot with Our Comprehensive 78 eBook Pack
Are you ready to take your Tarot reading abilities to the next level? It's time to upgrade your spiritual toolbox with our extensive 78 eBook Pack. Each eBook is crafted to detail the meaning of every single Tarot card combination!
Venture beyond the basic meanings of the cards and delve into the intricate, layered symbolism each combination offers.
From beginner enthusiasts to advanced practitioners, this ultimate Tarot eBook pack will enhance your understanding, foster deeper connections with the cards, and improve your readings in a way that no other guide can.
Save over $20 if you buy today!
$1.99 $24.99