A key aspect of reading your own tarot is interpreting cards. For a beginner interpreting a single card can be fine, as there are plenty of resources to help you out, however interpreting two or more can be very tricky.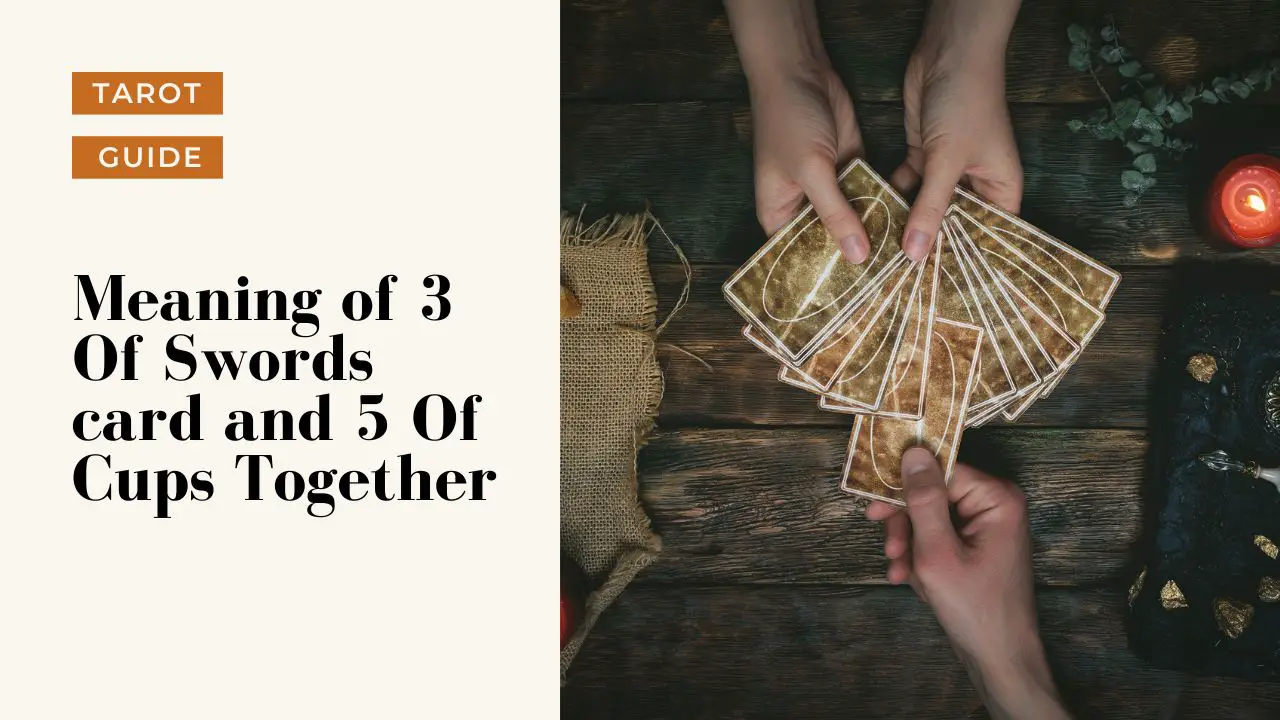 However, if you have been practising single card readings for a while a 2 card spread will be a great introduction into reading multiple cards.
As you've found this page, you're probably wondering how to interpret the 3 Of Swords card and 5 Of Cups card together in particular.
The 3 Of Swords card and 5 Of Cups have unique qualities and will interact with each other in different ways depending on what kind of reading you are doing.
What does 3 Of Swords and 5 Of Cups mean together?
The 3 of Swords and the 5 of Cups tarot card together mean that you're going through an intense period of loss, regret, heartbreak, grief, and depression. It could feel like you're abandoned or unloved and that everything is slipping away from you. This might be a time tied to a divorce or a major surgery, and it's likely that you're going through a lot of pain, sadness, and confusion. However, now is the time to reflect on the lessons you've learned and remember that nothing can last forever, especially not pain. Be gentle with yourself, and open yourself up to the possibility of healing and hope.
The meaning may differ depending on what you are asking. Here are some common questions and their possible meanings
What does 3 Of Swords and 5 Of Cups mean together for your love life?
The 3 Of Swords and the 5 Of Cups Tarot card when read together mean that there is a great deal of heartbreak in the relationship. There is a sense of deep sadness and regret in the relationship that is causing difficulty in communication and understanding. The feelings of hurt and betrayal that come with the heart break are felt heavily by both sides.
The 3 Of Swords is often associated with a divorce or break up in a relationship and this could also be what is being read in this card combination. There is a deep sense of loss in the relationship that can be difficult to express and come to terms with. This can lead to a lot of depression and sadness, which can be very hard to get through.
The 5 Of Cups is all about feeling abandoned or unloved and this can be a symptom of the deep hurt of the previous card. This card suggests that the relationship has gone through a period of difficulty and it is sadly this difficulty that has been the final straw in the relationship. There can be a lot of regret in the relationship and the feelings of grief which can be difficult to shake.
The combination of these two cards for a love life can be a difficult one, with a lot of pain and hurt. It may be that this relationship is coming to an end, or that it requires a lot of healing and understanding in order to move forward. Either way, when The 3 Of Swords and The 5 Of Cups Tarot cards are read together, it is a sign that it is time to take a step back and reevaluate the situation. With enough self awareness and compassion, it is possible to come out of this difficult scenario, and start the healing process to rebuild a new and meaningful relationship.
What does 3 Of Swords and 5 Of Cups mean together for your finances?
When the 3 of Swords and the 5 of Cups appear together in a reading, it can indicate a difficult time financially and professionally. The losses associated with the Swords card can refer to the kinds of sacrifices one has to make in order to achieve any kind of success. These sacrifices can range from giving up some financial security to investing time and energy into a project that may not have the desired outcome. The 5 of Cups speaks to the heartache that inevitably results from these sacrifices, especially in terms of the relationships one might form along the way. The combination of the two cards suggests that although one may have worked hard, the rewards may not be forthcoming.
The 3 of Swords and the 5 of Cups imply a time of deep soul-searching. It may be a time to question whether the sacrifices made have been worth it or whether another path should be sought. These cards suggest that although unsuccessful endeavors can lead to regret and sadness, it is also an opportunity to reevaluate one's goals and refocus one's energies. Reassessing what one truly wants and needs can often lead to a more fulfilling and sustainable career path.
The 3 of Swords and the 5 of Cups together can also be an indication of the difficult choices one must sometimes make in order to move forward. It is these difficult choices that allow us to grow and ultimately achieve our goals. It is a reminder to be brave in the face of adversity and that although the outcome may be uncertain, it is ultimately up to us to keep striving towards success.
What does 3 Of Swords and 5 Of Cups mean together for your health?
The 3 Of Swords tarot card and The 5 Of Cups tarot card together could signify a challenging combination for your mental and emotional health. It might suggest that you are in the midst of a difficult period in your life, where you are grappling with significant loss, heartbreak, and the feeling of being abandoned or unloved. You might be feeling overwhelmed and experiencing intense sadness, grief, and regret. This could be the result of a divorce, the death of a loved one, or the dissolution of a long-term relationship or friendship. You could also be having surgery, which could be weighing heavily on your mind and causing deeper emotional distress.
This combination of cards could be a reminder to take the time to process these emotions and to be kind to yourself during this difficult period. It might be helpful to reach out to a mental health professional and to find healthy ways to cope with these feelings and to heal over time. Find ways to honor your feelings and to move through them, so that you can come out the other side with a newfound inner strength and clarity. Remember to be gentle with yourself during this process and that it is okay to take the time you need to heal.
The meaning of the cards will depend on what kind of reading you are doing and the question you asked the deck. This is a guide covering the general meanings of the cards and how they relate to each other.
Common 2-card spreads
Whilst it's great to know who these two cards interact with each other, it's important to note that the meaning will depend on the context of your spread
The most common 2 card spreads I recommend to newer readers are:
The 2 card cross (otherwise known as "The Fool's Journey")
The 2 card "Yes or No"
"The Fool's Journey"
Setup: The two card cross is where you place two cards face up, one placed vertically and with one laying horizontally over
Interpretation: The 2 cards represent a "situation" and a "challenge". The first card will describe the situation you are in with the second horizontal card being the "challenge" crossing you (literally crossing you in this case!)
Reading: Using the overviews in this guide is a great way to start. First, look at the meanings of the 2 cards, and see how they might relate either as your "situation" or "challenge". Once you have that you can look at the general overview for how the two cards interact with each other.
The benefit of this spread is that it can give clarity when you're feeling uncertain or anxious. Once you have clarity of thought, and a strong idea of what your challenge is you can find solutions to help your situation
The 2 card "Yes or No"
Setup: The 2 card "Yes or No" is where you place two cards face up side by side, whilst asking your deck a "yes or no" question.
Interpretation: Each card in a tarot deck has a "yes" or a "no" meaning. Look at the meanings of each card, and you will have your answer.
The benefit of this is you get a stronger yes or no compared to a single card draw. You may find you often get a mix of "yes or no", and this is fine. It simply means there is doubt, or things are not yet clear.
Yes or No meaning
Both 3 Of Swords and 5 Of Cups mean "No". If you are asking a direct question, then be under no illusions, the answer is a negative one. If you draw 3 Of Swords and 5 Of Cups the answer to your question is "NO".
The "Yes" and "No" meanings can differ from reader to reader. The meanings here are based on what I believe are the generally accepted definitions.
What does 3 Of Swords mean?
The Three of Swords Tarot card is associated with heartbreak, divorce, loss, depression, and surgery. This card can be interpreted to mean that a serious issue is present in one's life. It suggests that difficult times are on the way and can represent a difficult period of mourning, illness, or a major change in life.
When it comes to health, the Three of Swords may point to physical or mental health issues such as depression, anxiety, stress, chronic pain, or other health issues. It can also mean exhaustion, physical illness, or even surgery. Regardless of the health issue, the Three of Swords reminds us that healing takes time and self-care is paramount.
In terms of finances, the Three of Swords can suggest a period of financial hardship or distress. It can denote that there may be a need to rethink and reorganize one's financial situation. It may also indicate that some sort of financial loss or setback is ahead.
When it comes to relationships, the Three of Swords can suggest a break-up or divorce. It can also mean break-ups with friends, family members or colleagues. This card can signify that a painful situation is evolving and that there may be periods of deep sadness, grief and loss. It can also mean that a time of change and healing is ahead.
What does 5 Of Cups mean?
For health, The 5 Of Cups Tarot card means a sense of physical and emotional exhaustion. The feeling of being overwhelmed, both physically and mentally, can lead to burnout and anxiety. Those affected by The 5 Of Cups Tarot card can feel like their commitments and responsibilities far outweigh their resources and time. This can lead to unhealthy habits such as neglecting one's physical health, poor nutrition, and a neglect of self-care. It is important to recognize when this card appears in a Tarot spread, so one can take the time to focus on their physical and mental well-being.
For finances, The 5 Of Cups Tarot card can indicate a period of financial difficulty. It can signify a time when money is tight and expenses are high. It can mean that bills are piling up and there is no clear direction to take in order to rectify the situation. In addition, The 5 Of Cups Tarot card can signify that bad financial decisions have been made, leading to the current financial state of affairs. In order to turn things around, it is important to step back and assess the situation, being mindful of spending and look for viable solutions to repair the financial crisis.
For relationships, The 5 Of Cups Tarot card signifies a sense of abandonment, disconnection, and lack of emotional support. It can indicate that a relationship may be going through a difficult time, and those affected by it can feel lost and lonely. Due to the lack of communication, unresolved issues or hurts can pile up, leading to a feeling of being unloved and not appreciated. Counseling or therapy can be a great way to process the feelings of loneliness and abandonment associated with The 5 Of Cups Tarot card, as well as find healthy ways to communicate in the relationship.
Conclusion
Understanding how the meaning of a reading changes once you start involving more than one card can be tricky. This will come with time and practice, however I hope this guide on what your cards might be telling you when you draw 3 Of Swords and 5 Of Cups has helped you.