Are all tarot cards the same size? No! Tarot cards come in a variety of different sizes, from decks small enough to fit into a wallet to cards that could double as small wall paintings. Properly used tarot cards will work at any size.
From the very beginning, tarot cards have not only existed as a way for us to closely examine our lives but as mediums for beautiful artwork. In this day and age, you can find any sort of artwork to suit your fancy, but with more complex artwork, larger cards become necessary.
There are no set-in-stone dimensions for tarot cards, so feel free to choose a deck size that fits your lifestyle the best.
What Is The Major Arcana and Minor Arcana?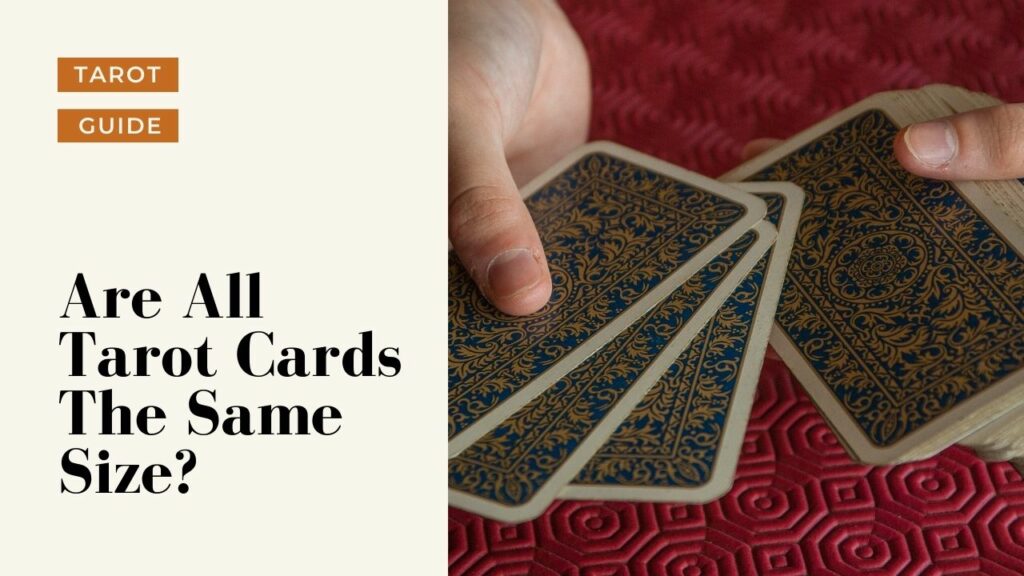 Before we go into the standard tarot card size, it's important to note that there are two different types of tarot cards: the Major Arcana and the Minor Arcana.
Major Arcana
The Major Arcana cards depict large, significant life events and changes. Examples would be changes in career, relationships, and living arrangements.
Minor Arcana
The Minor Arcana is more detailed, signifying day-to-day events that may not change your life significantly, but can still be impactful to you. 
Examples of events represented by the Minor Arcana would be a windfall of money, a crush contacting you, or being given more responsibility at your job. 
Are The Major and Minor Arcana Cards Different Sizes?
Despite the designations of major and minor, both sets of Arcana cards are the same size, and almost always come bundled together in one deck. 
You can buy separate Major and Minor Arcana decks to use together, but if bought or acquired separately, it's important to make sure that both decks are the same size. A tarot reading can become interrupted and be more difficult to complete if the cards are not identical in size. 
You can't shuffle a deck of differently sized cards!
Shuffling is an important feature of a tarot reading, so it's imperative that all the cards are all the same dimensions. 
What Is The Standard Size Of A Tarot Card?
The standard tarot card size is  2.75 inches by 4.75 inches (roughly 5 centimeters by 12.30 centimeters.) This is one inch taller than standard poker cards.
With the ubiquity in size of regular playing cards, you might be wondering why standard-sized tarot cards are larger. The answer is the artwork. On a regular-sized playing card, the gorgeous artwork of the tarot is much harder to see.
What Are Some Of The Other Common Tarot Card Sizes?
Besides the standard size, there are a four other commonly seen sizes for tarot cards. They are  Mini, Pocket Sized, Jumbo and Giant. 
The customary dimensions for these cards are as follows: 
Mini Tarot Cards- 1.75 inches by 2.5 inches (5 centimeters by 6 centimeters) 
Often used as collectibles, mini tarot cards are too small to be used for professional readings or for tarot card readers with vision problems. Nonetheless, these cards are perfect for traveling or as a backup deck. 
Pocket-Sized Tarot Cards- 2 inches by 3.5 inches (5 centimeters by 9 centimeters)
Pocket-sized tarot cards are a little larger than their mini counterparts but are still noticeably smaller than standard cards. As their name suggests, this is a great deck to take with you from place to place if you want to keep your favorite deck safe at home.
Jumbo Tarot Cards- 3.5 inches by 6.5 inches (9 centimeters by 17 centimeters)
Jumbo tarot cards are gaining popularity in the tarot reading scene, where tarot cards with custom artwork are becoming more available. In certain markets and on specialty websites you can order a deck designed exactly to your specifications, but if you want to enjoy your artwork to the fullest, upgrade to the jumbo size. 
Giant Tarot Cards- 4.2 inches by 7.2 inches (11 centimeters by 18 centimeters)
Speaking of custom artwork, some decks are too beautiful to use often. If you want to display your gorgeous custom tarot cards as decoration (respectfully of course) then giant tarots cards will be the best choice for visibility. 
Which Tarot Card Size Is Right For Me?
Choosing the perfect deck of tarot cards may seem like a daunting task, but all that really matters is what you, the tarot reader, want out of your deck. You may resonate with a certain art style or prefer a deck that travels easily. No matter what the deciding factor is in your purchase, the perfect deck is the one that is most pleasing to you personally. 
The great news is, you don't have to choose just one! Some readers prefer a minimalist mini tarot card deck to take with them at all times but have a larger, more intricately painted deck they keep in their home or preferred tarot reading space. 
In Conclusion
While there is a standard size for tarot cards, the potency and usability of the cards are not linked to the size of the deck.
The most important feature of any tarot deck, be it pocket-sized or giant, is that its energy connects with the energy of its reader. 
Still struggling with your readings? Try one of Kasamba's top rated readers.
Try them out today for FREE with 3 free minutes plus 50% off your first reading!
Get the Ultimate Tarot Card Combinations Pack
The Tarot Happy eBook Pack is available now for instant download.
With 78 eBooks covering all tarot pair meanings, this pack is a comprehensive guide on using tarot for introspection, self-understanding and inner growth.
$1.99 $24.99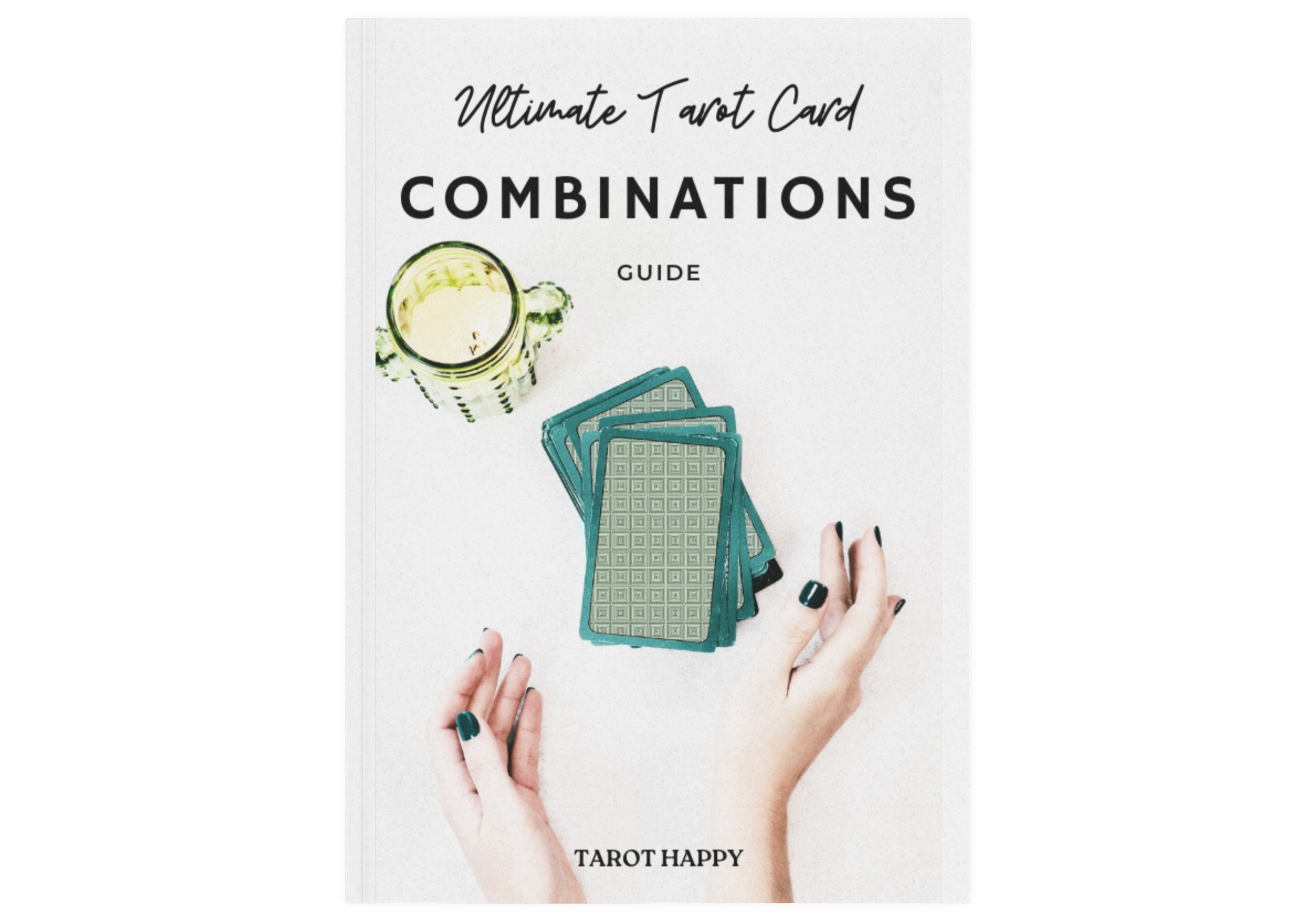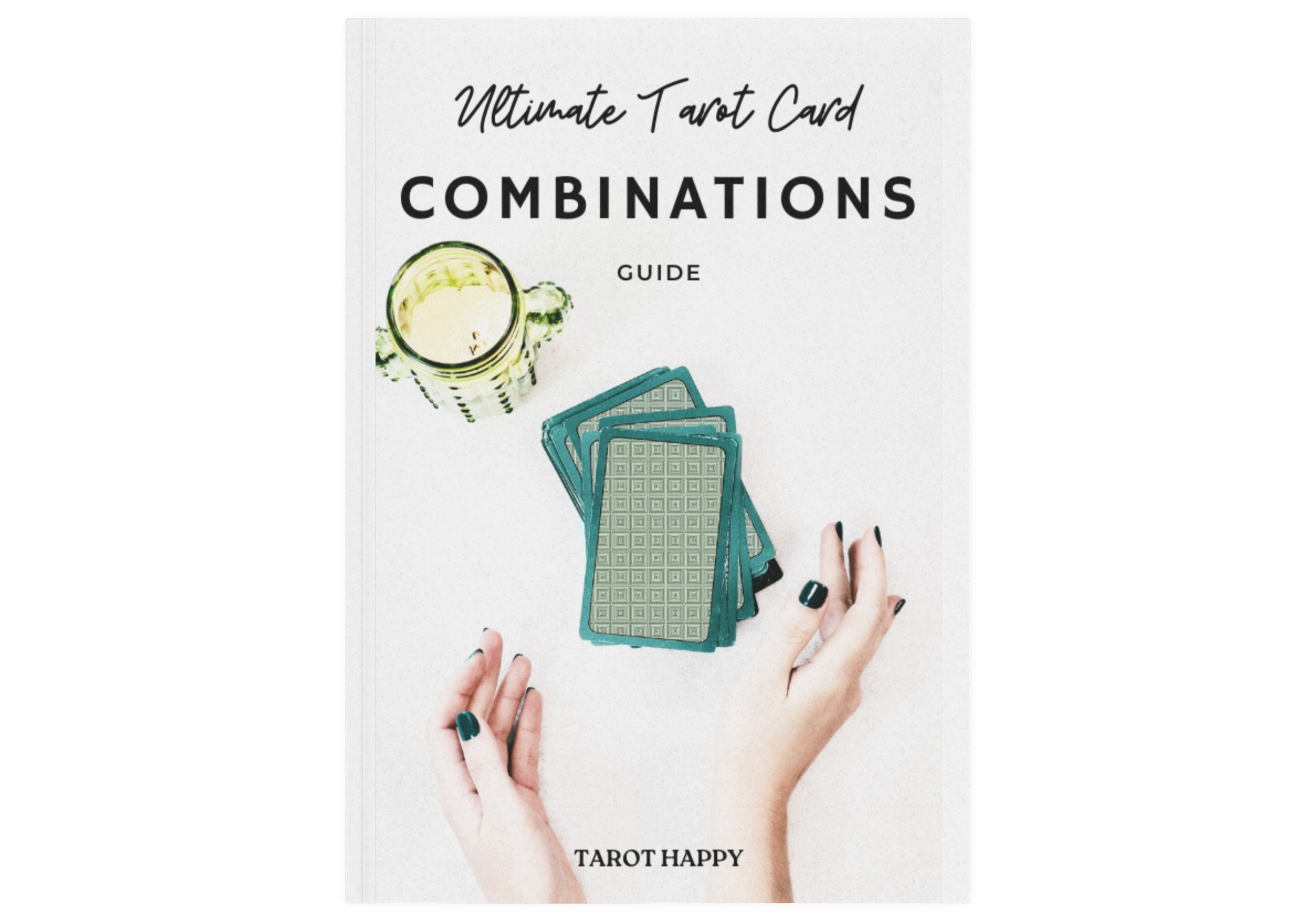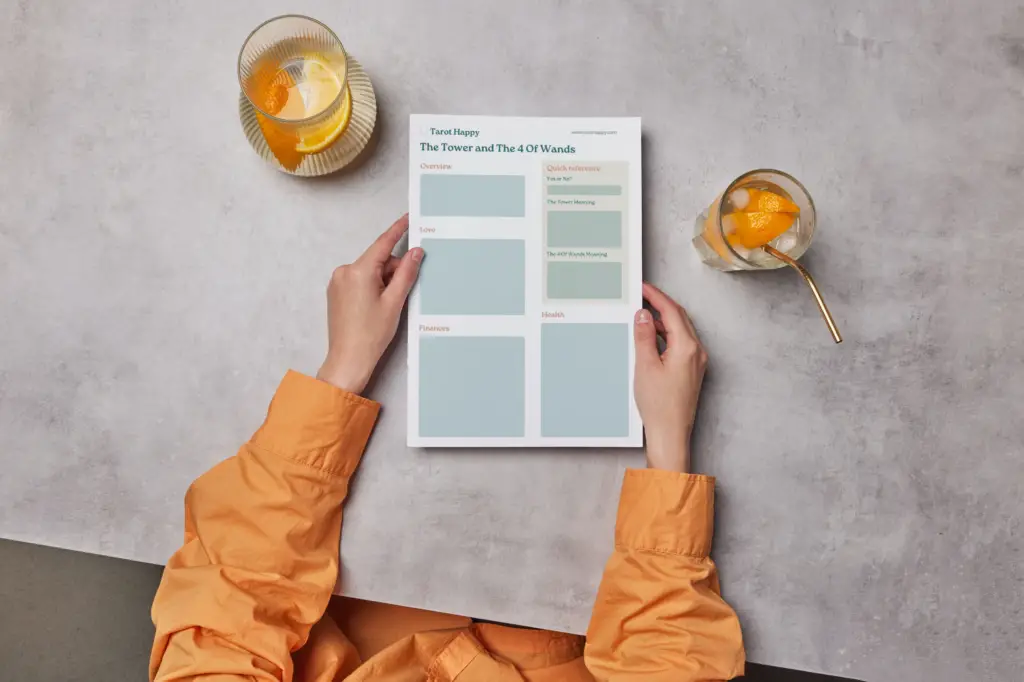 The pack contains an eBook for each of the 78 cards in a tarot pack.
Each eBook focuses on all the combinations for a single card, with overview of meanings for:
"Yes or No"
Key words and phrases that describe the combination
Meaning for Love
Meaning for Finance
Meaning for Health and Relationships
Unlock the Mysteries of Tarot with Our Comprehensive 78 eBook Pack
Are you ready to take your Tarot reading abilities to the next level? It's time to upgrade your spiritual toolbox with our extensive 78 eBook Pack. Each eBook is crafted to detail the meaning of every single Tarot card combination!
Venture beyond the basic meanings of the cards and delve into the intricate, layered symbolism each combination offers.
From beginner enthusiasts to advanced practitioners, this ultimate Tarot eBook pack will enhance your understanding, foster deeper connections with the cards, and improve your readings in a way that no other guide can.
Save over $20 if you buy today!
$1.99 $24.99