If you read tarot cards, you already know that in order to get the most out of the reading, you have to be honest with your clients. This means that whether you pull a card that indicates something positive or one that is negative, you have to tell them about it. There are numerous "bad luck" cards, but some are more obvious than others.
Simply put, you should take your time learning these cards because many of them are figurative and not literal. The devil card, for instance, doesn't mean that the client will be dead soon. Learning the cards takes practice, but it's always worth it in the end.
What Tarot Card Means Bad Luck? Some of the many tarot cards that indicate bad luck include the 10 of swords, 3 of swords, the devil, death, 10 of wands, and the moon. Most of these have more than one meaning but are easy to learn with practice and by developing your intuitive skills. Let's take a look at these cards in more detail.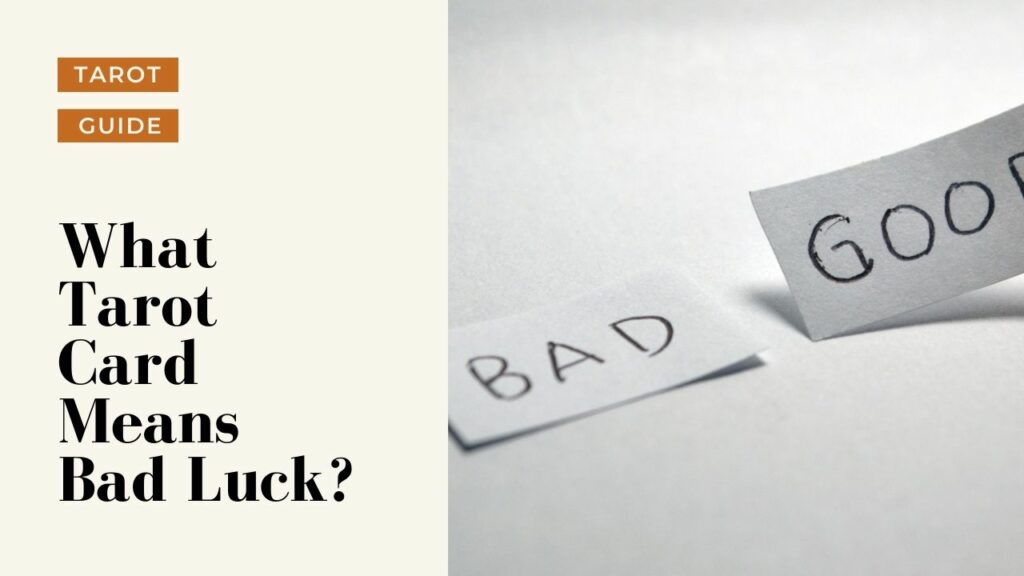 The 10 of Swords
When you pull a card that has a man face-down with 10 swords in his back, you know that the news is not going to be good. This is never a "happy" card, but it can mean different things. It can mean that there is no way to go but up, and when it lands in the "future" position of the spread, it means that you haven't yet reached the worst of something.
Some readers even see it as saying that there's a silver lining behind every cloud, but most often, it means that the client should be prepared for some tough days ahead, even if those days don't last that long.
The 3 of Swords
This card typically shows three swords going through a red heart, and it usually means the client has recently experienced, or is going to experience some type of pain or heartbreak. The swords represent betrayal, loneliness, and heartbreak, but it can be looked at as a warning if it's drawn in the "future" position.
It can also mean that the client is the one who has caused pain or heartbreak to someone else. You'll have to be sensitive when you pull this card and help the client through the interpretation.
The Devil
If you're new to tarot cards, drawing this one can be disconcerting, but just keep in mind that it doesn't always mean something diabolical. That being said, your heart can sink a little when you see the card in your spread because it is never a very positive card to pull.
It could mean that the client is in a toxic relationship with either a human being or a substance of some type. The card pictures a man and woman chained together beneath a beast, and it can also mean that the client is shameless and reckless when it comes to pursuing certain relationships.
Death
Even experienced readers can freak out a little when they pull this card, but it helps if you immediately remind the client that the card does not mean that they will be struck by lightning as soon as they leave the room. Instead, the death card usually signals some type of life-altering or gut-wrenching change.
This could be being fired from a job or the end of a relationship. In fact, it could mean any type of loss or heartbreak in a person's life, and it helps to again be sensitive when discussing the card with a client.
The 10 of Wands
The 10 of wands card shows a man carrying a load that is far too large for him. The card usually signals that the client is suffering, or is about to suffer something that's related to a burden too much for him to carry. This is definitely a card that symbolizes a real struggle.
It means the client has bitten off more than they can chew and therefore needs to be prepared to have a tough time for a while. Until the battle is over, the client will have a hard time and some tough days to bear in the days to come.
The Moon
The moon card can mean either insight and enlightenment or trouble and confusion. The client may be experiencing anxiety that causes them to lose sleep.
Change, uncertainty, and emotional vulnerability are part of the client's life right now, but it can also symbolize deceptions or fallacies that the client believes but aren't true. Stress to the client that they need to assess and confront the parts of their life that lack clarity.
Conclusion
Bad luck is never something that a client wants to hear during a tarot card reading, but unfortunately the cards are what they are.
Practice being sensitive with your client when these cards are pulled, and make sure that your intuitive skills are honed so there are no misunderstandings when it comes to what the cards mean.
Still struggling with your readings? Try one of Kasamba's top rated readers.
Try them out today for FREE with 3 free minutes plus 50% off your first reading!