A key aspect of reading your own tarot is interpreting cards. For a beginner interpreting a single card can be fine, as there are plenty of resources to help you out, however interpreting two or more can be very tricky.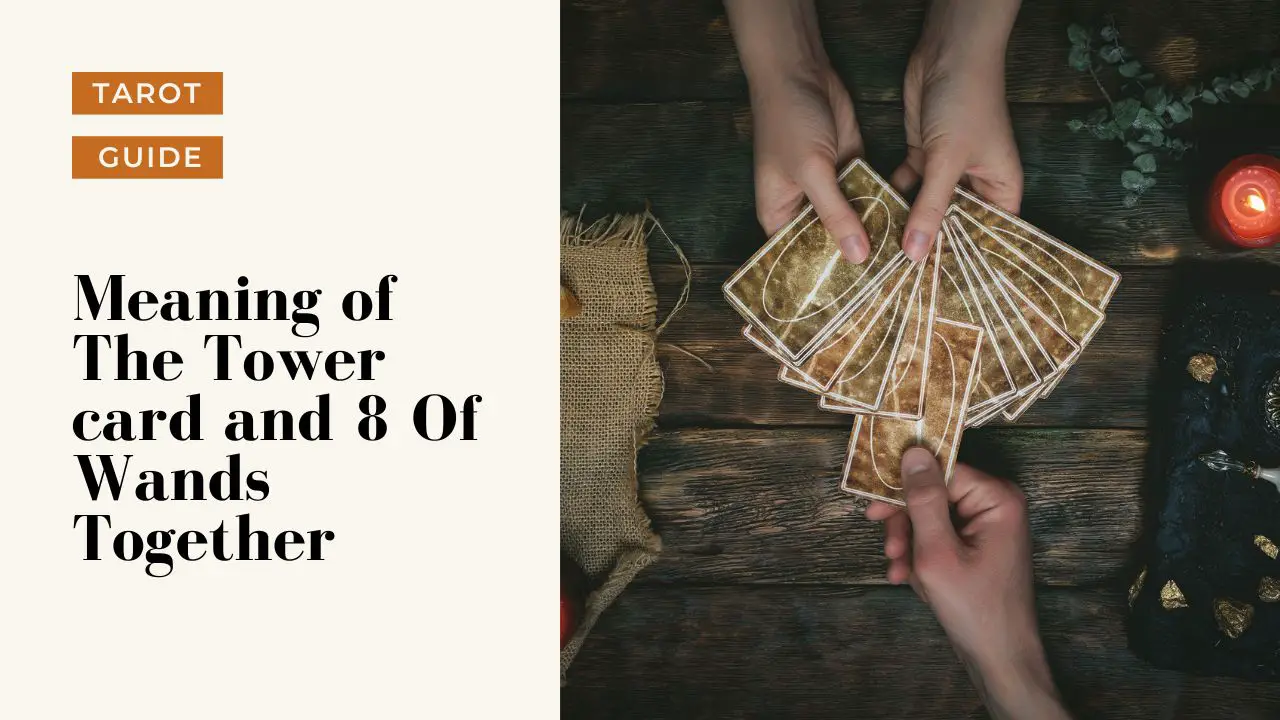 However, if you have been practising single card readings for a while a 2 card spread will be a great introduction into reading multiple cards.
As you've found this page, you're probably wondering how to interpret the The Tower card and 8 Of Wands card together in particular.
The The Tower card and 8 Of Wands have unique qualities and will interact with each other in different ways depending on what kind of reading you are doing.
What does The Tower and 8 Of Wands mean together?
The Tower tarot card and the 8 of Wands tarot card together could represent a period of swift and disruptive change. Be prepared for unexpected news, events or developments that may bring with them feelings of sudden ruin, upheaval and possibly even violence. It is a time to stay agile and alert as much can be accomplished in a relatively short period of time. Even if the situation feels unwelcome and undesired, the speed of this change can provide the opportunity to make fresh choices and directions that can bring benefit in the long run.
The meaning may differ depending on what you are asking. Here are some common questions and their possible meanings
What does The Tower and 8 Of Wands mean together for your love life?
The Tower tarot card and The 8 Of Wands when together in a love life reading can suggest that swift and drastic changes are on the horizon. It could mean that something unpleasant and unexpected is coming your way – a certain upheaval that cannot be ignored. It could mean that a relationship has become toxic, or that a person is at risk of being involved in a destructive and violent situation. This could be the result of a breakup or a lost opportunity that causes great sorrow and pain. You may feel as though your relationship fate has been dealt a devastating blow, and that your life is turned upside down.
The 8 Of Wands signifies that these changes will happen quickly and news may arrive quickly. This could mean that you will find out about something in a sudden and unexpected manner. It could be that the person you are with is moving away, that the relationship will end suddenly, or the news could come from another person. In any case, it is important to be prepared for the coming changes.
The combination of The Tower tarot card and The 8 Of Wands tarot card can signify a turbulent and turbulent period in your love life. It is important to remain resilient and hopeful in the face of these changes. It is essential to be aware of your feelings and to pay attention to signs and omens before the news arrives. It is important to be patient during this period of change and to not let yourself be overwhelmed by the suddenness of it. It is also important to reach out to those whom you trust and rely on during this difficult time.
What does The Tower and 8 Of Wands mean together for your finances?
The combination of The Tower tarot card and The 8 Of Wands tarot card can be a worrisome combination for finances and job prospects. The Tower card brings a sense of sudden disruption and catastrophic change, leading to ruin and disgrace. It can represent unwelcome changes to your finances, such as unexpected debt or bankruptcy. It suggests the potential for a ruined career, the loss of wealth, or an abrupt job loss.
The 8 Of Wands can be seen as a counterbalance, as it suggests the possibility of rapid changes, news, or even opportunities, that can replace the unwanted changes brought about by The Tower. It encourages you to act quickly and seize the moment. It may bring relief from the dramatic upheaval brought about by The Tower, but you must be prepared to move fast.
The combination of The Tower and The 8 Of Wands can lead to dramatic changes in your finances and job. Sometimes, those changes may be unwanted but you must be prepared to act quickly if an opportunity arises. This can be a difficult combination but, with the right attitude and preparations, it can ultimately be a positive experience as you make your way through the difficult changes.
What does The Tower and 8 Of Wands mean together for your health?
The Tower tarot card and the 8 Of Wands tarot card, combined, can be interpreted as a warning to take care of your health. Unwanted change and quick change, when happening together, can lead to upheaval and violence—two very dangerous conditions for your physical body. Unexpected news arriving can have an adverse effect on your mental and emotional well-being and can even lead to a physical manifestation of stress and anxiety.
It is important to be aware of these potential negative repercussions and to make sure you are taking steps to prevent them. Make sure you get adequate rest, drink plenty of water and get some fresh air and exercise. Taking care of your spiritual and emotional needs is also important, as these too can affect your physical health. Make time for activities and relaxation, and if possible, seek out the help of a professional if it is necessary.
When dealing with the energy of the Tower Tarot card and the 8 of Wands Tarot card, it is also important to be aware of how upheaval and quick change can affect your life. It is possible to experience rapid changes in career, relationships, or even location. These changes can be traumatic, so be sure to take the time to process them, and to prioritize your own well-being.
The Tower tarot card and the 8 of Wands tarot card together indicate some unwanted change may be coming your way, and with it, some potential upheaval and violence. Be sure to take the necessary steps to look after your physical, mental, and emotional health, and to take time for you. This will help ensure you can weather the storm, and come out the other side, unscathed.
The meaning of the cards will depend on what kind of reading you are doing and the question you asked the deck. This is a guide covering the general meanings of the cards and how they relate to each other.
Common 2-card spreads
Whilst it's great to know who these two cards interact with each other, it's important to note that the meaning will depend on the context of your spread
The most common 2 card spreads I recommend to newer readers are:
The 2 card cross (otherwise known as "The Fool's Journey")
The 2 card "Yes or No"
"The Fool's Journey"
Setup: The two card cross is where you place two cards face up, one placed vertically and with one laying horizontally over
Interpretation: The 2 cards represent a "situation" and a "challenge". The first card will describe the situation you are in with the second horizontal card being the "challenge" crossing you (literally crossing you in this case!)
Reading: Using the overviews in this guide is a great way to start. First, look at the meanings of the 2 cards, and see how they might relate either as your "situation" or "challenge". Once you have that you can look at the general overview for how the two cards interact with each other.
The benefit of this spread is that it can give clarity when you're feeling uncertain or anxious. Once you have clarity of thought, and a strong idea of what your challenge is you can find solutions to help your situation
The 2 card "Yes or No"
Setup: The 2 card "Yes or No" is where you place two cards face up side by side, whilst asking your deck a "yes or no" question.
Interpretation: Each card in a tarot deck has a "yes" or a "no" meaning. Look at the meanings of each card, and you will have your answer.
The benefit of this is you get a stronger yes or no compared to a single card draw. You may find you often get a mix of "yes or no", and this is fine. It simply means there is doubt, or things are not yet clear.
Yes or No meaning
Things are a bit tricky for this combination, as The Tower and 8 Of Wands mean different things. The cards are unsure about your question, or the answer to the question has not yet been decided.
The "Yes" and "No" meanings can differ from reader to reader. The meanings here are based on what I believe are the generally accepted definitions.
What does The Tower mean?
The Tower Tarot card is a harbinger of upheaval and destruction. In health, this card's message suggests that drastic changes may be necessary to improve or maintain wellness. Health challenges could manifest in the form of physical stress and illness or in the form of mental and emotional strain. This card implies that there are underlying issues that need to be addressed in order to truly experience good health.
In finances, this card suggests that a change in career or lifestyle may be necessary to restore financial stability. This could mean taking risks to achieve financial success, or it may mean letting go of old habits or methods of earning money. There are lessons to be learned here pertaining to proper budgeting and financial responsibility.
In relationships, this card hints at a breakdown in the relationship. Changes in the dynamics of the relationship may be necessary in order for harmony to be restored. This may mean compromises or difficult conversations that are necessary to move forward. Ultimately, this card suggests that a difficult period may be necessary to bring about a rebirth in the relationship.
The Tower Tarot card is about embracing change and understanding that sometimes destruction brings about new beginnings. In health, finances and relationships, this card indicates that drastic action is necessary to move towards a better future.
What does 8 Of Wands mean?
Health:
The 8 of Wands Tarot card is an indication of quick change and speed in regards to your health. It can indicate the arrival of news about a sudden health issue or the possibility of a fast-spreading illness. Although the 8 of Wands usually offers a positive outcome, it can also serve as a reminder to take precautions and be aware of any sudden changes in your body. In terms of health, the 8 of Wands indicates a need for quick action and decisions as any delays may result in unwanted consequences.
Finances:
The 8 of Wands Tarot card is a positive indicator when it comes to finances. It can signify the arrival of a sudden windfall of money, a surprise inheritance or lottery winnings. It can also indicate a sudden increase in income, a promotion or a job offer. The 8 of Wands indicates progress and success and many opportunities that come with it. It also indicates that the monetary rewards will come quickly and easily.
Relationships:
The 8 of Wands Tarot card speaks of sudden and quick changes within relationships. It can signify a sudden meetup with a new partner or a budding romance. It can also be a sign of reconnecting with an old flame or the arrival of a message from a long-lost love. The 8 of Wands indicates that the relationship will move fast, so it is important to make sure that both parties have the same intentions and expectations before jumping into anything serious. The 8 of Wands also indicates that communication is key within relationships to ensure that they are successful and long-lasting.
Conclusion
Understanding how the meaning of a reading changes once you start involving more than one card can be tricky. This will come with time and practice, however I hope this guide on what your cards might be telling you when you draw The Tower and 8 Of Wands has helped you.
Get the Ultimate Tarot Card Combinations Pack
The Tarot Happy eBook Pack is available now for instant download.
With 78 eBooks covering all tarot pair meanings, this pack is a comprehensive guide on using tarot for introspection, self-understanding and inner growth.
$1.99 $24.99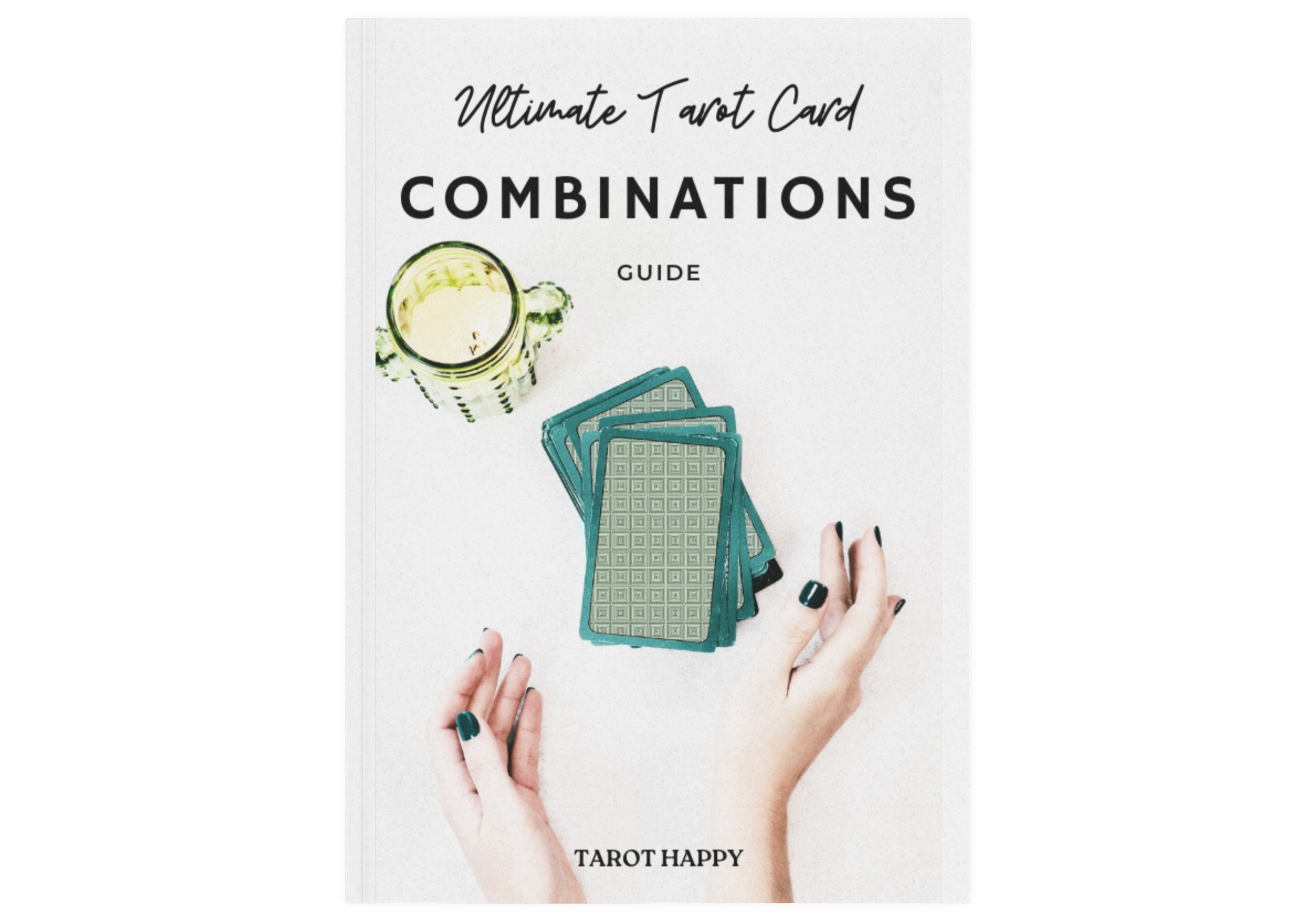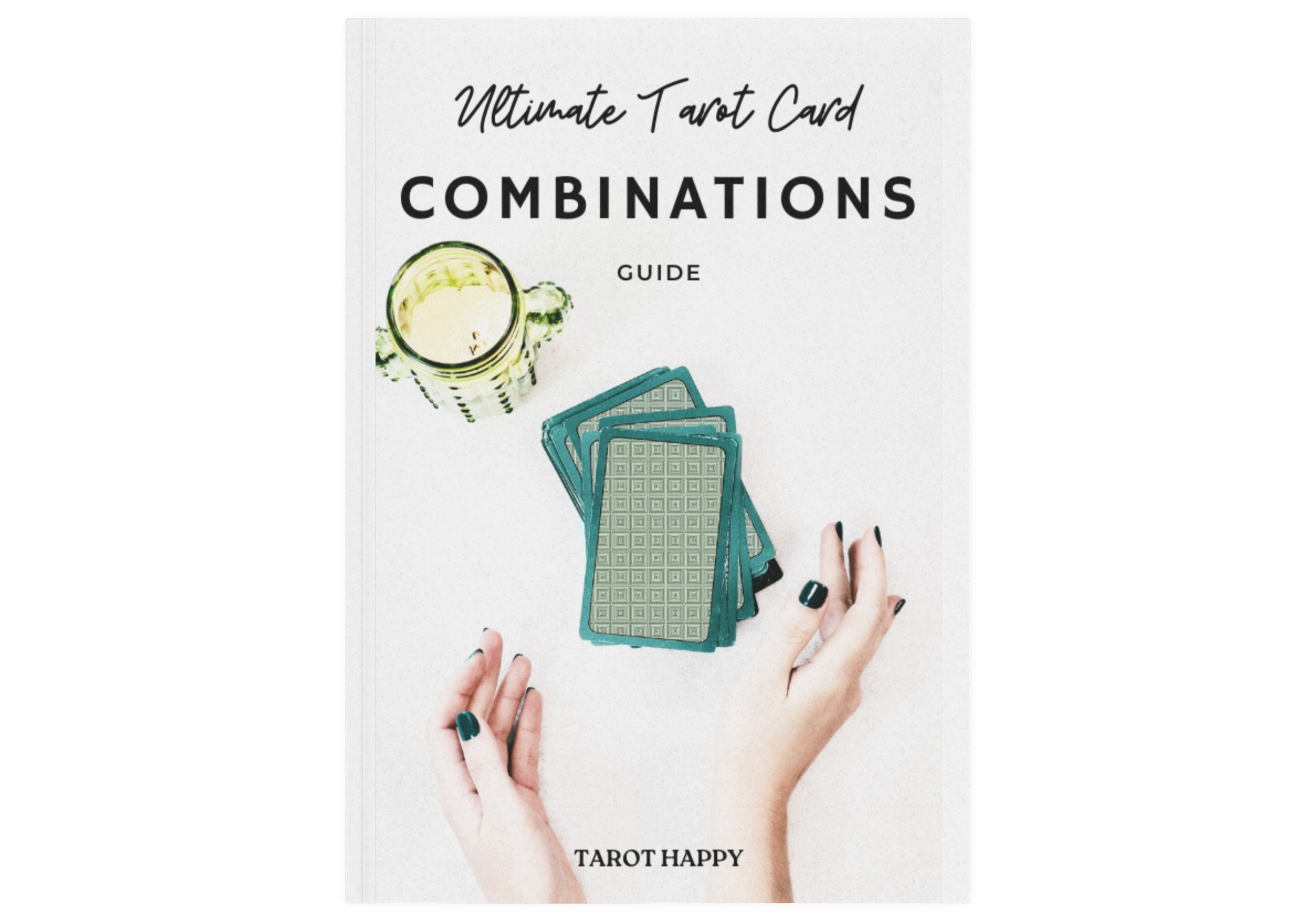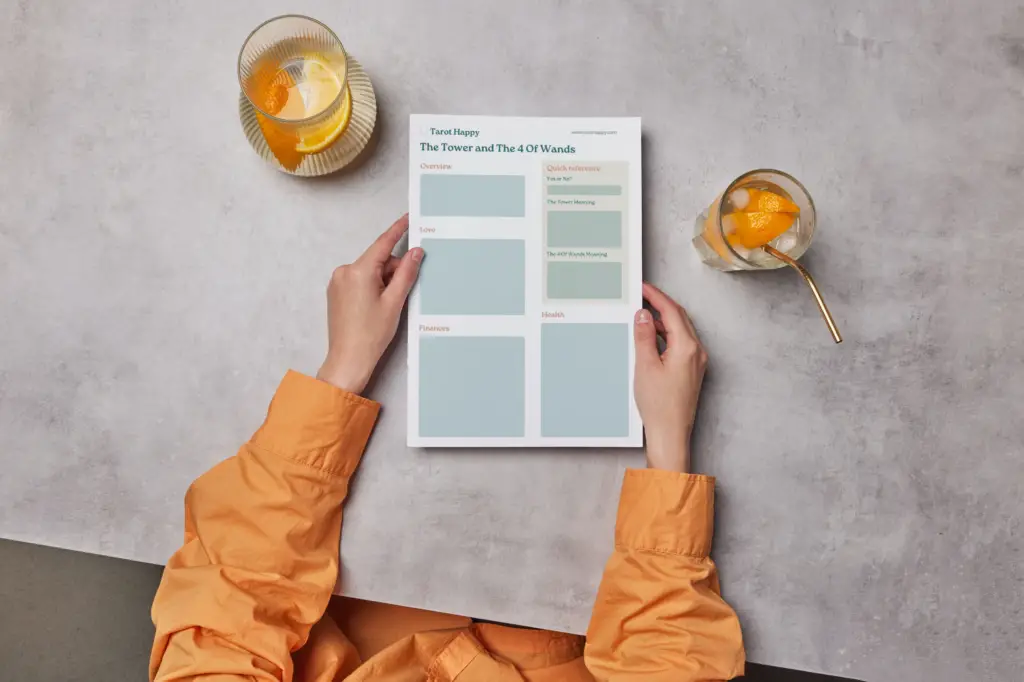 The pack contains an eBook for each of the 78 cards in a tarot pack.
Each eBook focuses on all the combinations for a single card, with overview of meanings for:
"Yes or No"
Key words and phrases that describe the combination
Meaning for Love
Meaning for Finance
Meaning for Health and Relationships
Unlock the Mysteries of Tarot with Our Comprehensive 78 eBook Pack
Are you ready to take your Tarot reading abilities to the next level? It's time to upgrade your spiritual toolbox with our extensive 78 eBook Pack. Each eBook is crafted to detail the meaning of every single Tarot card combination!
Venture beyond the basic meanings of the cards and delve into the intricate, layered symbolism each combination offers.
From beginner enthusiasts to advanced practitioners, this ultimate Tarot eBook pack will enhance your understanding, foster deeper connections with the cards, and improve your readings in a way that no other guide can.
Save over $20 if you buy today!
$1.99 $24.99