A key aspect of reading your own tarot is interpreting cards. For a beginner interpreting a single card can be fine, as there are plenty of resources to help you out, however interpreting two or more can be very tricky.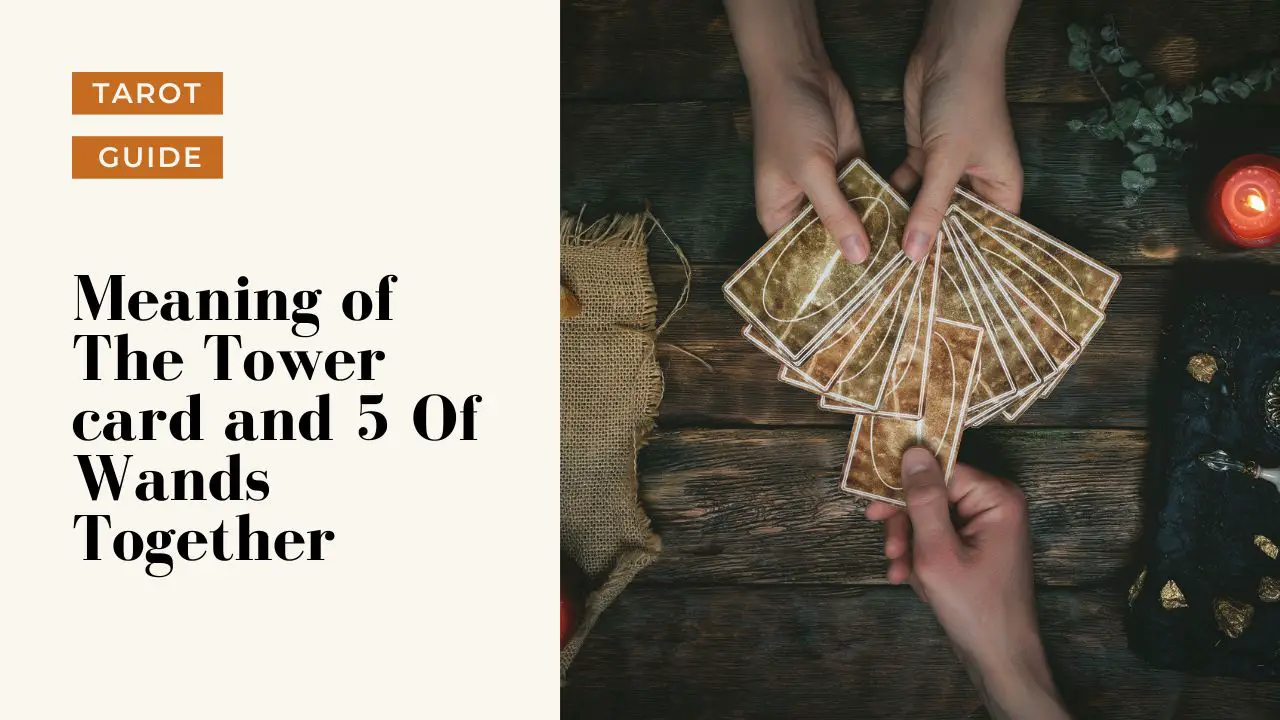 However, if you have been practising single card readings for a while a 2 card spread will be a great introduction into reading multiple cards.
As you've found this page, you're probably wondering how to interpret the The Tower card and 5 Of Wands card together in particular.
The The Tower card and 5 Of Wands have unique qualities and will interact with each other in different ways depending on what kind of reading you are doing.
What does The Tower and 5 Of Wands mean together?
The Tower tarot card and The 5 Of Wands tarot card represent a tumultuous time in your life. If you are experiencing these energies, you are likely to encounter sudden and unwelcome changes, as well as feeling the pressure of competition and having to battle through obstacles. This could be in the form of a job or personal project that you find difficult, or it could inspire feelings of rivalry and opposition from others. Be aware that this period of upheaval and challenge could bring about ruin or disgrace, so take extra care when navigating the situation. Overall, these two tarot cards signify a difficult and volatile period that will require you to use all of your strength and resilience.
The meaning may differ depending on what you are asking. Here are some common questions and their possible meanings
What does The Tower and 5 Of Wands mean together for your love life?
The Tower tarot card and the 5 of Wands tarot card together in a reading can mean sudden, unwanted disruption to a love life. This disruption can come in the form of violent changes, destruction, and disgrace, which can leave the querent feeling overwhelmed and out of control. If a person is in a relationship, this disruption could indicate an unexpected break up, or a situation that eventually leads to a relationship's destruction. If a person is single, this disruption could indicate a situation in which a potential relationship is thwarted by external forces, even when both parties are invested in making it work.
The 5 of Wands can add an element of competition and rivalry to the Tower's disruption. This could be in the form of having to compete with a third party for the affections of the querent, or having a partner who pushes back against pursuing their relationship further due to external factors. In addition, it can indicate the querent having to contend with obstacles or challenges in order to establish and maintain a relationship.
The combination of these two tarot cards could indicate that a person is having difficulty entering a relationship or dealing with the changes of a current one. It can also signify a break up that is caused by a third party or external forces, or a break up in which one or both parties are actively trying to prevent the end of the relationship, but can't find a way to make it work in the face of obstacles. Ultimately, these two cards together imply that unwanted disruption and challenges can prevent the healing and growth of a relationship, and that it will take courage and determination to overcome them.
What does The Tower and 5 Of Wands mean together for your finances?
The combination of The Tower tarot card and The 5 Of Wands tarot card indicates a period of major upheaval and change in your finances and job. You may be feeling like your career or job is at a crossroads and you could be facing stiff competition and numerous challenges that you need to overcome if you want to succeed.
The Tower card suggests unwanted change, ruin, and upheaval. This could mean that a job or career that you once enjoyed and thought was secure may suddenly become unstable and have to be completely rethought and rebuilt. You may also find that you have to rethink your financial plans as the result of an unexpected event or circumstance.
The 5 Of Wands in this combination suggests that a period of competition is coming up in your job and finances. You may have to face off against others to get what you need in order to succeed. It could be a battle for resources, a battle for success and recognition, or a battle of wits as you compete against others to get the best outcome. Though the competition may be fierce, you should use the obstacles as an opportunity to learn and grow so you can become more successful.
The combination of The Tower and The 5 Of Wands cards could mean that if you persevere and navigate the challenges, you will come out the other side of the upheaval with more skills and a better understanding of your finances and career. In the end, your job and finances will become more secure and you will be able to move forward in a better position than before.
What does The Tower and 5 Of Wands mean together for your health?
When The Tower tarot card and the 5 Of Wands card are paired together in a reading, it can indicate a difficult journey ahead for the querent's health. This pairing could suggest that the key to positive health will involve facing and overcoming challenges. It may require courage to move through the upheaval and unwanted changes that come with the arrival of The Tower tarot card, but the rewards can be worth it.
The 5 Of Wands tarot card encourages the querent to embrace competition and challenge in order to excel. This can mean striving to exercise more, eat better, and take care of oneself through rest and relaxation. The card also suggests the importance of engaging in physical activity and team events such as sports, as they provide ample outlets to test oneself, boost morale, and promote physical and mental wellness.
On the flip side, The Tower tarot card cautions that past unhealthy habits may need to be eradicated before true health can be achieved. As difficult as it may be, if necessary, the querent should be willing to break away from any lifestyles that could be preventing them from reaching a state of health and happiness. This could include changing the people around them who might be encouraging them to engage in reckless or dangerous behavior.
To summarize, The Tower and 5 Of Wands tarot cards indicate that the querent's journey to health will involve challenging themselves, engaging in physical activity, and breaking away from unhealthy habits and people. With courage and determination, the querent can be successful in their health goals and ultimately achieve a state of wellbeing.
The meaning of the cards will depend on what kind of reading you are doing and the question you asked the deck. This is a guide covering the general meanings of the cards and how they relate to each other.
Common 2-card spreads
Whilst it's great to know who these two cards interact with each other, it's important to note that the meaning will depend on the context of your spread
The most common 2 card spreads I recommend to newer readers are:
The 2 card cross (otherwise known as "The Fool's Journey")
The 2 card "Yes or No"
"The Fool's Journey"
Setup: The two card cross is where you place two cards face up, one placed vertically and with one laying horizontally over
Interpretation: The 2 cards represent a "situation" and a "challenge". The first card will describe the situation you are in with the second horizontal card being the "challenge" crossing you (literally crossing you in this case!)
Reading: Using the overviews in this guide is a great way to start. First, look at the meanings of the 2 cards, and see how they might relate either as your "situation" or "challenge". Once you have that you can look at the general overview for how the two cards interact with each other.
The benefit of this spread is that it can give clarity when you're feeling uncertain or anxious. Once you have clarity of thought, and a strong idea of what your challenge is you can find solutions to help your situation
The 2 card "Yes or No"
Setup: The 2 card "Yes or No" is where you place two cards face up side by side, whilst asking your deck a "yes or no" question.
Interpretation: Each card in a tarot deck has a "yes" or a "no" meaning. Look at the meanings of each card, and you will have your answer.
The benefit of this is you get a stronger yes or no compared to a single card draw. You may find you often get a mix of "yes or no", and this is fine. It simply means there is doubt, or things are not yet clear.
Yes or No meaning
Both The Tower and 5 Of Wands mean "No". If you are asking a direct question, then be under no illusions, the answer is a negative one. If you draw The Tower and 5 Of Wands the answer to your question is "NO".
The "Yes" and "No" meanings can differ from reader to reader. The meanings here are based on what I believe are the generally accepted definitions.
What does The Tower mean?
When it comes to health, the Tower Tarot card can indicate negative consequences from any sudden changes in wellness. This could manifest as a sudden illness, or a severe accident, or even a new medical diagnosis. It could also be the result of a sudden decision to change habits, such as starting a new fitness regimen that is too intense for the body to handle. Whatever the cause, the Tower Tarot card indicates that the individual's health will be drastically affected by the sudden change.
The Tower Tarot card can also represent significant upheaval in terms of finances. This could include the loss of a job, a major investment gone wrong or financial ruin due to reckless spending. Whatever the cause, this card indicates that the individual's financial status will be significantly changed and that the individual will face difficulty in recovering from the financial setback.
The Tower Tarot card can also signify an unexpected disruption in relationship dynamics. Whether this is through a breakup or a distortion in the balance of power between two individuals, this card indicates that the individual will go through a period of upheaval and instability in their relationships. This could lead to feelings of isolation, guilt or resentment that would need to be worked through before a healthy relationship can be achieved.
Overall, The Tower Tarot card signifies a period of significant upheaval and instability. It indicates that the individual will experience unwanted change in terms of their health, finances, and relationships. It is important to take a holistic view of any challenges that arise in order to better understand and handle the situation.
What does 5 Of Wands mean?
For Health:
The 5 of Wands Tarot card is a sign of physical and mental challenge. This card can symbolize needing to have the strength and confidence to face obstacles, such as illness or injury, and to not be daunted by them. This card encourages you to exercise, to push yourself and to use your physical and mental capabilities to their fullest. Being ready to face new challenges is key when it comes to your health and wellbeing.
For Finances:
The 5 of Wands Tarot card represents competition and ambition when it comes to financial matters. This card is a sign of the need to stay focused and driven to achieve your monetary goals. It also encourages you to take risks in order to achieve success and to be defensive in order to protect your financial situation. This card is a reminder to do the hard work and put in the effort to achieve your financial desires.
For Relationships:
The 5 of Wands Tarot card is a sign of rivalries, conflict and disagreements in your relationships. This card encourages you to be prepared to face these difficult situations with courage, resilience and communication. It is important to not be afraid of confrontation as it can often lead to positive outcomes. It is important to remember that relationships are built on compromise and mutual respect in order to maintain strong and healthy connections.
Conclusion
Understanding how the meaning of a reading changes once you start involving more than one card can be tricky. This will come with time and practice, however I hope this guide on what your cards might be telling you when you draw The Tower and 5 Of Wands has helped you.
Get the Ultimate Tarot Card Combinations Pack
The Tarot Happy eBook Pack is available now for instant download.
With 78 eBooks covering all tarot pair meanings, this pack is a comprehensive guide on using tarot for introspection, self-understanding and inner growth.
$1.99 $24.99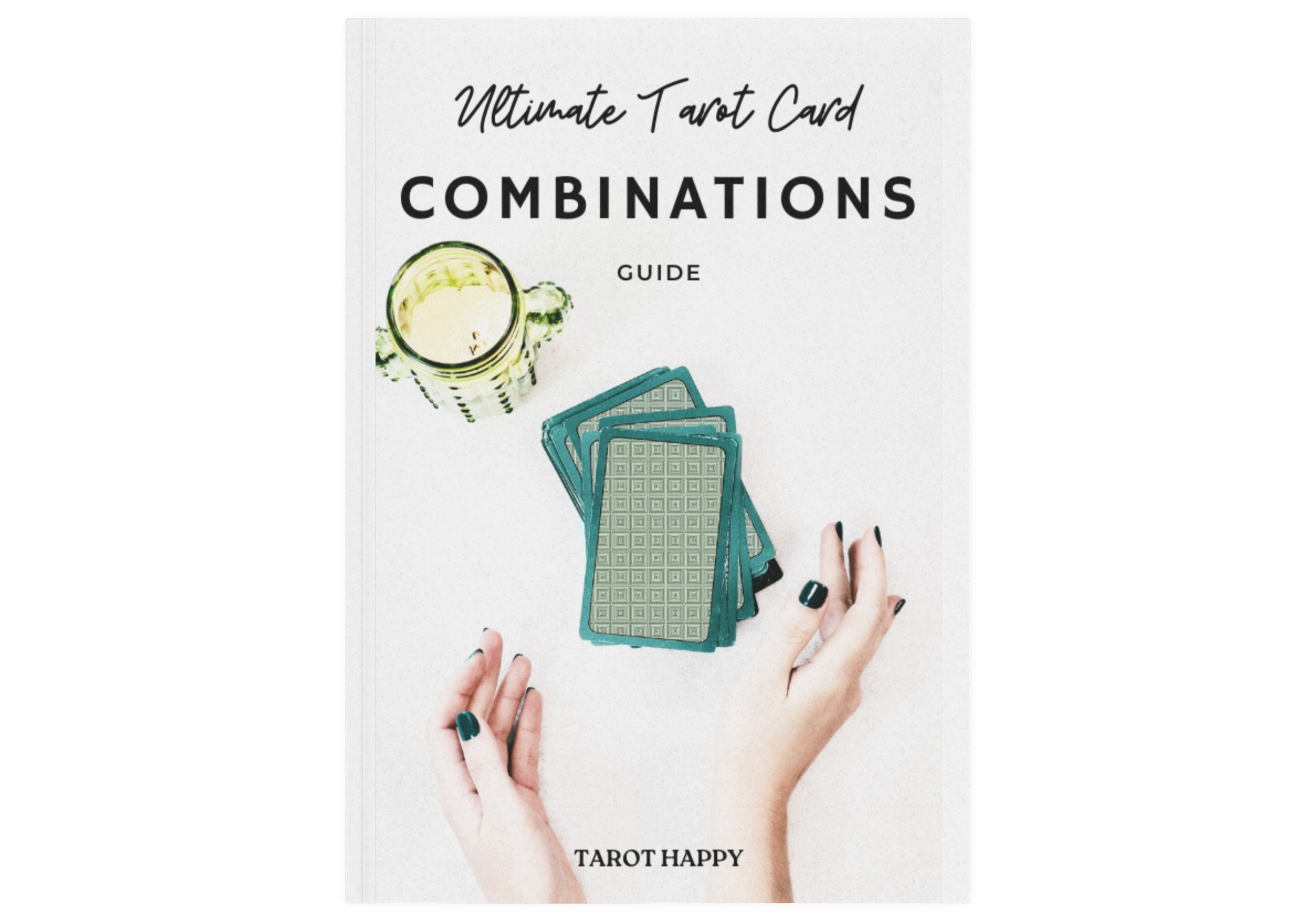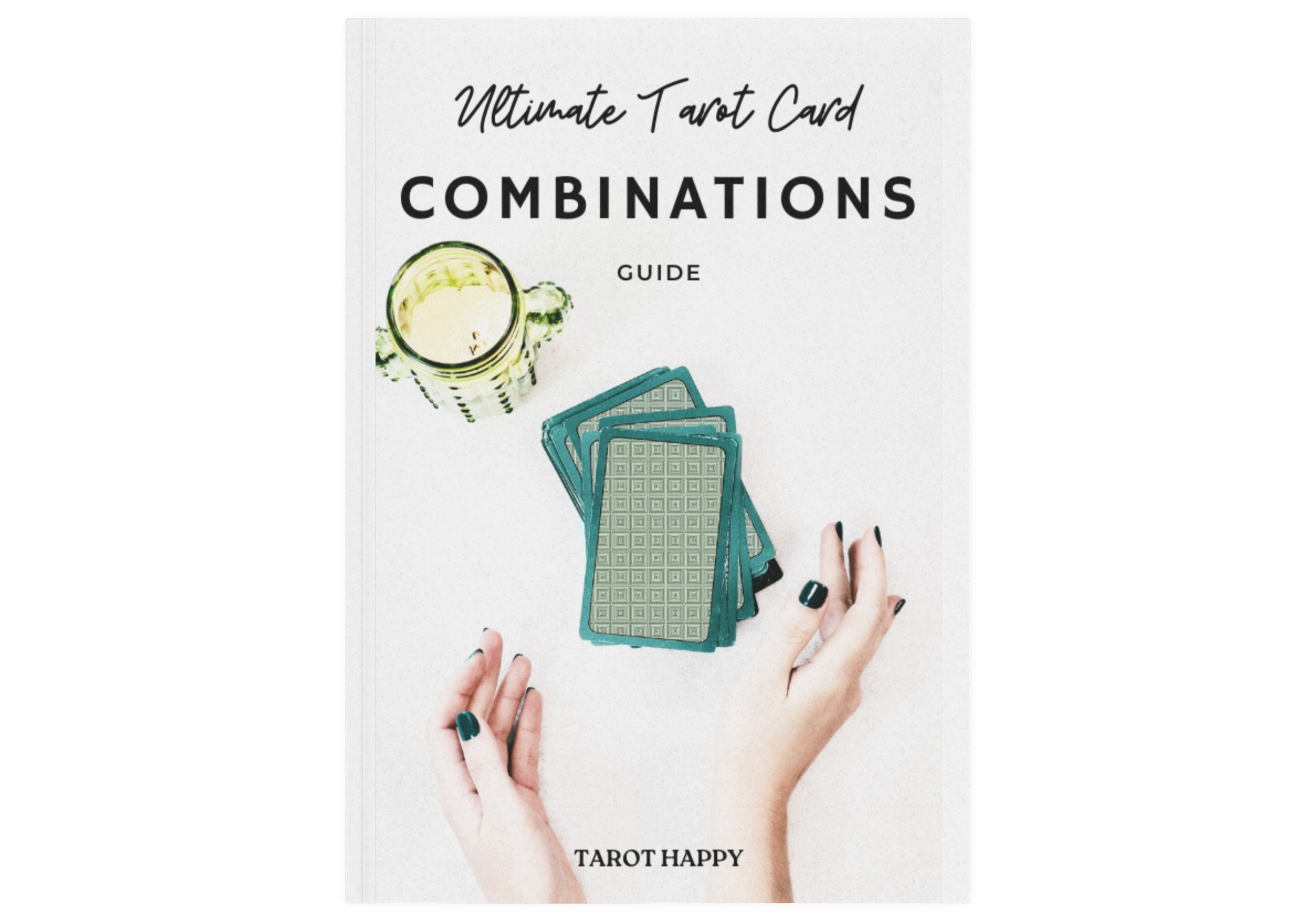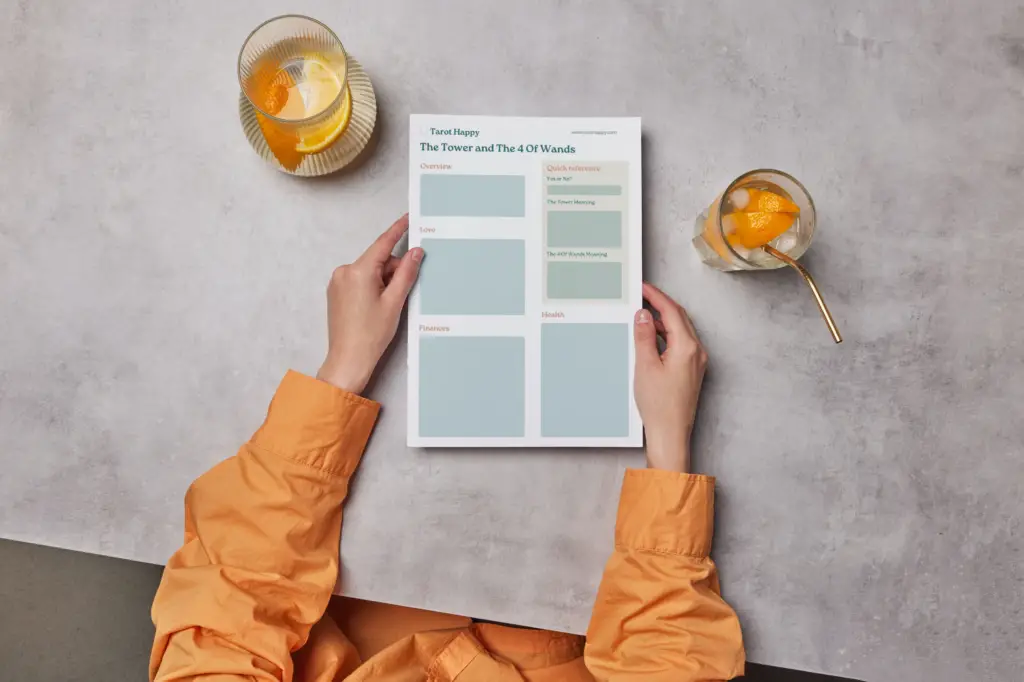 The pack contains an eBook for each of the 78 cards in a tarot pack.
Each eBook focuses on all the combinations for a single card, with overview of meanings for:
"Yes or No"
Key words and phrases that describe the combination
Meaning for Love
Meaning for Finance
Meaning for Health and Relationships
Unlock the Mysteries of Tarot with Our Comprehensive 78 eBook Pack
Are you ready to take your Tarot reading abilities to the next level? It's time to upgrade your spiritual toolbox with our extensive 78 eBook Pack. Each eBook is crafted to detail the meaning of every single Tarot card combination!
Venture beyond the basic meanings of the cards and delve into the intricate, layered symbolism each combination offers.
From beginner enthusiasts to advanced practitioners, this ultimate Tarot eBook pack will enhance your understanding, foster deeper connections with the cards, and improve your readings in a way that no other guide can.
Save over $20 if you buy today!
$1.99 $24.99