A key aspect of reading your own tarot is interpreting cards. For a beginner interpreting a single card can be fine, as there are plenty of resources to help you out, however interpreting two or more can be very tricky.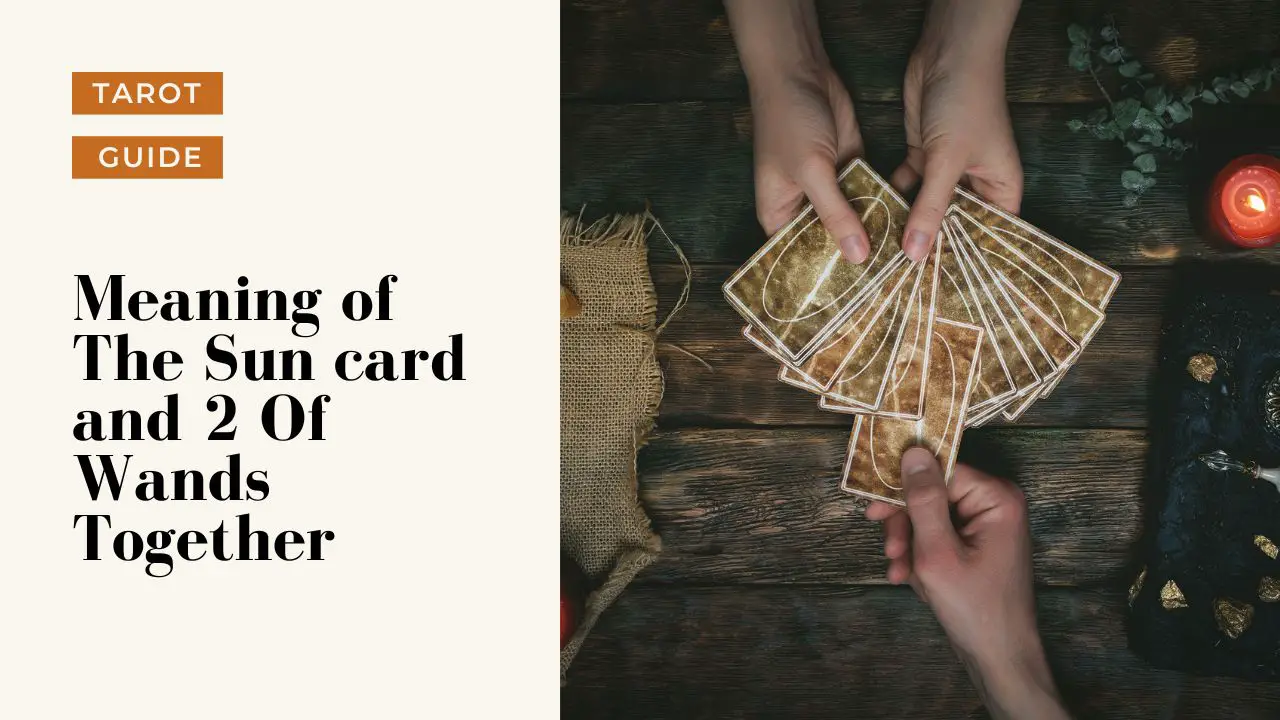 However, if you have been practising single card readings for a while a 2 card spread will be a great introduction into reading multiple cards.
As you've found this page, you're probably wondering how to interpret the The Sun card and 2 Of Wands card together in particular.
The The Sun card and 2 Of Wands have unique qualities and will interact with each other in different ways depending on what kind of reading you are doing.
What does The Sun and 2 Of Wands mean together?
The Sun tarot card and The 2 of Wands together signify that you are on the brink of great success and are waiting to reap the rewards of your hard work. Your material success is imminent and joyous outcomes are in your near future. You are now at a crossroads and must make a decision that will affect your current and future status. Travel plans may be part of the outcome of your choice, opening up even greater opportunity. With these two cards together, things are looking up!
The meaning may differ depending on what you are asking. Here are some common questions and their possible meanings
What does The Sun and 2 Of Wands mean together for your love life?
The Sun tarot card and the 2 Of Wands tarot card together hint at a bright and joyous outcome for your love life. In order to succeed and reach this happy ending, you may need to make a choice first. This could mean taking a leap of faith and starting a new relationship, or trying to make your current relationship work. In either case, success and a feeling of contentment can be achieved.
The Sun tarot card and the 2 Of Wands card also indicate that travel may be necessary to reach this desired outcome. This may mean actual travel, such as taking a romantic getaway, or it could mean an inner journey as you explore your feelings and decide which path to take. It could also be figurative, as you travel the path to find true love.
These two cards together point to a positive conclusion to your love life. If you can manage to make the right choices and take the right steps along the way, then you're sure to find the love you're looking for. Just remember, when it comes to the Sun, you're in control of your own destiny.
What does The Sun and 2 Of Wands mean together for your finances?
The Sun and the 2 of Wands tarot cards together can indicate that you are about to witness a joyous outcome for your finances and job. This can be the result of having made good decisions and having put in a lot of hard work. As a result of these decisions, you are about to experience the rewards of your actions. This could involve receiving a financial windfall or a promotion in the workplace that brings you both financial and material gains.
The Sun card also indicates that you have a good balance between your work and play. This suggests you are taking time to give yourself the opportunity to enjoy the rewards of your hard work, rather than obsessing only over professional goals. This is essential for being able to appreciate the joys of life.
The 2 of Wands card suggests that you have plans in place and are waiting to see the results of them. This could involve traveling and exploring the opportunities out there. It can also represent that you are at a crossroads and are trying to decide which option is best for you. As the card indicates, you may need to make a tough decision in order to move forward with your financial and career plans.
All together, The Sun and the 2 of Wands tarot cards indicate a time of optimism and potential reward. You have worked hard and this is about to be rewarded. You may have to wait a little longer to see the results of your actions, but the end result should bring with it material happiness and success.
What does The Sun and 2 Of Wands mean together for your health?
When The Sun Tarot card and The 2 of Wands appear together, it can be an indication of positive change and new beginnings, as well as an assurance of material happiness and joyous accomplishments. The Sun Tarot card, which symbolizes success and a happy outcome, is bringing to light the potential for a favorable result. The 2 of Wands, which is a card of decision-making and waiting for results, signals that the moment of reckoning is near.
This combination is a sign that careful planning and intelligent decision-making can lead to the realization of significant gains. You may have been waiting a long time for the right opportunity to present itself. Now is the time to act decisively and with confidence. The path ahead is clear and wide open, so you can make the choices that will best support your health and wellbeing.
The Sun Tarot card and The 2 of Wands appearing together also indicate that it's an opportune time to travel. Exploring new places, cultures, and experiences can be a way to renew your spirit. A change of scenery can be a welcome respite from the daily grind, providing a wellspring of physical, mental, and emotional renewal.
By applying the insight of The Sun Tarot card and The 2 of Wands to your health, you can make decisions that are in your best interest and accomplish your goals. The message here is clear: take action and trust that your efforts will be rewarded with positive results. With a clear vision and dedication to your well-being, you can move forward and achieve a joyous outcome that brings lasting material happiness.
The meaning of the cards will depend on what kind of reading you are doing and the question you asked the deck. This is a guide covering the general meanings of the cards and how they relate to each other.
Common 2-card spreads
Whilst it's great to know who these two cards interact with each other, it's important to note that the meaning will depend on the context of your spread
The most common 2 card spreads I recommend to newer readers are:
The 2 card cross (otherwise known as "The Fool's Journey")
The 2 card "Yes or No"
"The Fool's Journey"
Setup: The two card cross is where you place two cards face up, one placed vertically and with one laying horizontally over
Interpretation: The 2 cards represent a "situation" and a "challenge". The first card will describe the situation you are in with the second horizontal card being the "challenge" crossing you (literally crossing you in this case!)
Reading: Using the overviews in this guide is a great way to start. First, look at the meanings of the 2 cards, and see how they might relate either as your "situation" or "challenge". Once you have that you can look at the general overview for how the two cards interact with each other.
The benefit of this spread is that it can give clarity when you're feeling uncertain or anxious. Once you have clarity of thought, and a strong idea of what your challenge is you can find solutions to help your situation
The 2 card "Yes or No"
Setup: The 2 card "Yes or No" is where you place two cards face up side by side, whilst asking your deck a "yes or no" question.
Interpretation: Each card in a tarot deck has a "yes" or a "no" meaning. Look at the meanings of each card, and you will have your answer.
The benefit of this is you get a stronger yes or no compared to a single card draw. You may find you often get a mix of "yes or no", and this is fine. It simply means there is doubt, or things are not yet clear.
Yes or No meaning
Things are a bit tricky for this combination, as The Sun and 2 Of Wands mean different things. The cards are unsure about your question, or the answer to the question has not yet been decided.
The "Yes" and "No" meanings can differ from reader to reader. The meanings here are based on what I believe are the generally accepted definitions.
What does The Sun mean?
Health:
The Sun Tarot card is a positive omen when it comes to physical health, suggesting that if you are proactive about taking care of yourself, you will be rewarded with good health and long-term wellness. It means that the hard work you put into taking care of your body will pay off in the long run, so if you're committed to a healthy lifestyle, you'll ultimately be rewarded with a healthy lifestyle. If something isn't feeling quite right, it can be an indication that it's time to pay more attention to your physical health and make sure that you're taking the proper steps to maintain good health.
Finances:
The Sun Tarot card symbolizes success and prosperity. It suggests that if you're committed to working hard and making wise financial decisions, you will soon see your rewards. If you've been struggling financially, the Sun card can indicate that a windfall or money-making opportunity is coming, so don't be too discouraged by the current state of your finances. With the right strategy and diligent effort, you can see a positive shift in your finances in the near future.
Relationships:
The Sun Tarot card symbolizes joy and contentment, so if it appears in a relationship reading, it can mean that things are going well. It suggests that both partners are in sync and that everything is going according to plan. It's a sign of harmony and mutual understanding and can be a great indication that your relationship is on the right track. If a couple is having difficulties or challenges, the Sun can symbolize a bright future. With consistent effort and communication, the two partners can work together to overcome any challenges and come out on top.
What does 2 Of Wands mean?
The 2 of Wands Tarot card symbolizes the need to weigh up a decision, to pause and contemplate carefully before taking action. It signifies that a choice needs to be made, or that a plan should be put in place for success.
When it comes to health, the 2 of Wands can mean that it is time to consider the best plan for a healthier lifestyle. This can be a good time to start a new exercise routine or to assess and make changes to the diet that are needed for better health. Taking a moment to assess the current state of health and consider the best course of action is advised.
In terms of finances, the 2 of Wands can mean that it is time to take a second look at investments and assess the future. This card is a reminder to be careful and cautious and to not rush into anything. It can also be a sign of potential financial opportunities that may be coming, if the right choice is made.
When looking at relationships, the 2 of Wands can indicate that it is time to take a pause and examine what is working and what isn't. This is a sign of stalled progress and may be an indication that a new approach is needed in order to move forward. This is a time for careful consideration and for making a plan for a healthier, more productive relationship.
Conclusion
Understanding how the meaning of a reading changes once you start involving more than one card can be tricky. This will come with time and practice, however I hope this guide on what your cards might be telling you when you draw The Sun and 2 Of Wands has helped you.