A key aspect of reading your own tarot is interpreting cards. For a beginner interpreting a single card can be fine, as there are plenty of resources to help you out, however interpreting two or more can be very tricky.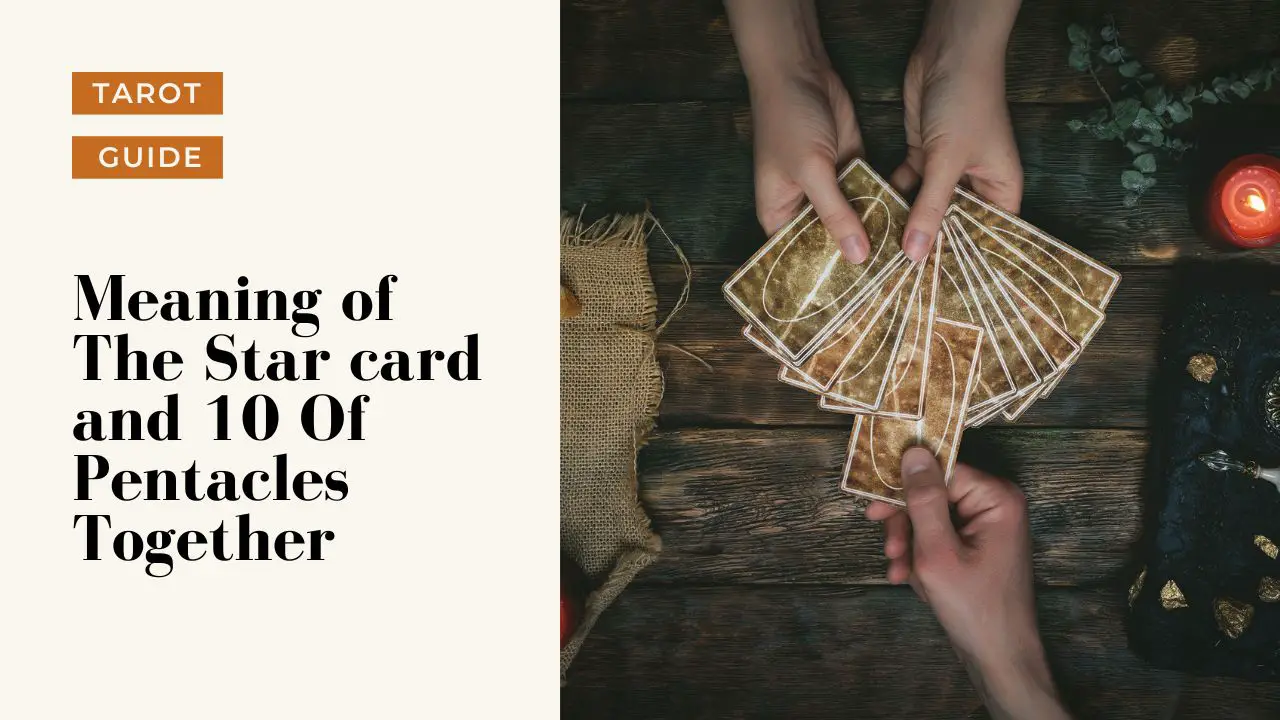 However, if you have been practising single card readings for a while a 2 card spread will be a great introduction into reading multiple cards.
As you've found this page, you're probably wondering how to interpret the The Star card and 10 Of Pentacles card together in particular.
The The Star card and 10 Of Pentacles have unique qualities and will interact with each other in different ways depending on what kind of reading you are doing.
What does The Star and 10 Of Pentacles mean together?
The Star tarot card and The 10 Of Pentacles tarot card together tell me that I have an opportunity to be successful, to become a symbol of hope, to have inner clarity and have faith in myself. This combination also speaks of leaving a legacy, as my actions and accomplishments today may one day be remembered as a model for others to follow. On the other hand, this tarot card combination also warns me to use this moment of clarity and luck to plan for my future and my retirement, so that I can look forward to having a comfortable inheritance to pass on to those I love.
The meaning may differ depending on what you are asking. Here are some common questions and their possible meanings
What does The Star and 10 Of Pentacles mean together for your love life?
The combination of The Star tarot card and The 10 of Pentacles tarot card in your love life is all about transition and legacy. The Star indicates that it is time to take a leap of faith and enter a new phase in your love life. You may be feeling overwhelmed or uncertain at the moment, but know that it is time to move forward and have faith that miracles can and do happen in life, especially in matters of the heart.
As a result of taking that leap, the 10 of Pentacles tarot card indicates that this transition can bring with it an abundance of stability and security to your current and future relationship, as if you were creating your own love legacy. This could mean the end of a current relationship that has run its course, or the blossoming of a new one.
No matter how it plays out, this combination of tarot cards highlights the importance of enduring love, in which two people come together to create a lasting and secure bond. This bond could manifest in terms of marriage, a commitment, or simply a deepening of the level of trust and security that exists between two people in love. Take the leap and you can ensure that you will reap the rewards of a love that is built on an unshakeable foundation.
What does The Star and 10 Of Pentacles mean together for your finances?
The Star and 10 of Pentacles tarot cards mean an exciting time for finances and your job. It indicates both renewal and hope, and a sense of clarity and inner peace. This is a time to have faith in yourself and your ability to create the future that you wish for. It could be the time to take the spotlight and really focus on creating the life you've always wanted, both through your finances and through your job.
The Star card also hints at the possibility of miracles or unexpected events occurring, which could be a great opportunity for financial growth and career advancement. These could be the solutions and solutions to the challenges you've been facing. The 10 of Pentacles is an incredibly positive card, suggesting that your hard work and ambition will pay off and you'll be in a position to leave a legacy that you can be proud of and that will benefit those you care about.
All in all, the combination of these two cards suggest that if you take the necessary steps, your finances and job are in the process of being taken care of, and you could be on the way to a better future. The Star brings in a sense of hope and renewal, while the 10 of Pentacles reminds you of the importance of planning for the long term and setting yourself up for the future. It's time to have faith and start creating your dream life.
What does The Star and 10 Of Pentacles mean together for your health?
The Star tarot card and the 10 Of Pentacles tarot card together can be a powerful message of encouragement when it comes to your health. This combination of cards suggests that periods of renewal and clarity are ahead, allowing you to make decisions that can make a lasting impact on your wellbeing. With faith and hope, these changes can bring about miracles in your life that can promote better physical, emotional, and spiritual health.
The Star card encourages you to take risks, trust in the process, and follow your intuition. Taking a holistic approach to your health—encompassing the mind, body, and spirit—can help you achieve greater well-being. Eating nutritious meals, engaging in regular physical activity, and getting plenty of rest are all essential aspects of self-care. Additionally, seeking out mental health guidance if need be, joining a support group if necessary, and practicing relaxation strategies such as meditation and yoga can play a positive role in your health.
The 10 Of Pentacles tarot card speaks to the idea of creating a lasting legacy. Just as the card implies, this can be done through understanding that your health is not an isolated energy, but a combination of your attitude, lifestyle, and habits. Taking the time to examine your health patterns can help you to identify ways that you can make positive changes over time. Think of yourself as the architect of your own health—you have the power to design it over the course of your life.
By combining the meaning of The Star and The 10 Of Pentacles tarot card, you can take both holistic and strategic approaches to your health. With faith, hope, and clarity, you can make lasting changes that can promote better wellness. Remember, it's never too late to make a positive impact on your health and create a legacy that will carry on for years to come.
The meaning of the cards will depend on what kind of reading you are doing and the question you asked the deck. This is a guide covering the general meanings of the cards and how they relate to each other.
Common 2-card spreads
Whilst it's great to know who these two cards interact with each other, it's important to note that the meaning will depend on the context of your spread
The most common 2 card spreads I recommend to newer readers are:
The 2 card cross (otherwise known as "The Fool's Journey")
The 2 card "Yes or No"
"The Fool's Journey"
Setup: The two card cross is where you place two cards face up, one placed vertically and with one laying horizontally over
Interpretation: The 2 cards represent a "situation" and a "challenge". The first card will describe the situation you are in with the second horizontal card being the "challenge" crossing you (literally crossing you in this case!)
Reading: Using the overviews in this guide is a great way to start. First, look at the meanings of the 2 cards, and see how they might relate either as your "situation" or "challenge". Once you have that you can look at the general overview for how the two cards interact with each other.
The benefit of this spread is that it can give clarity when you're feeling uncertain or anxious. Once you have clarity of thought, and a strong idea of what your challenge is you can find solutions to help your situation
The 2 card "Yes or No"
Setup: The 2 card "Yes or No" is where you place two cards face up side by side, whilst asking your deck a "yes or no" question.
Interpretation: Each card in a tarot deck has a "yes" or a "no" meaning. Look at the meanings of each card, and you will have your answer.
The benefit of this is you get a stronger yes or no compared to a single card draw. You may find you often get a mix of "yes or no", and this is fine. It simply means there is doubt, or things are not yet clear.
Yes or No meaning
Both The Star and 10 Of Pentacles mean "Yes" when being asked a question. There is no doubt here, if you draw The Star and 10 Of Pentacles the answer to your query is "YES".
The "Yes" and "No" meanings can differ from reader to reader. The meanings here are based on what I believe are the generally accepted definitions.
What does The Star mean?
Health: The Star Tarot card is a sign of renewal and hope in all aspects of life, including physical and mental wellbeing. It signifies inner clarity, a deep understanding of one's own personal health and a sense of wellbeing that brings peace and calm. Physically, it suggests taking a break from daily routines and burdens to simply relax and appreciate the beauty of life. Letting go of any negative energies and issues that are causing stress and anxiety, and instead, finding a balance of inner peace and healing. For those who are ill, the Star Tarot card encourages them to take a step back from their physical discomfort and instead, look to the future with hope and faith.
Finances: The Star Tarot card reminds us to have faith, no matter how difficult times may be. The Star is a sign of prosperity and abundance, and is a sign that those in financial hardship will find new paths to sustain their monetary health. It encourages individuals to have the courage to step into the spotlight, reach out to financial advisors or professionals to help them get back on track. It also signifies miracles, reminding us to never give up hope and have faith that everything will turn out alright in the end.
Relationships: The Star Tarot card is a sign of deep connection and understanding between two individuals. This card signals a time of renewal, trust, and deep appreciation for the other person in the relationship. It encourages us to look within our own hearts and minds to understand where we are coming from and to communicate our innermost thoughts and feelings to our partners. It also serves as a reminder to be open-minded and accept the other person for who they are, and to not be afraid of having difficult conversations. The Star Tarot card is a reminder to never give up on love and to have faith that whatever difficulties come our way, a resolution can be found.
What does 10 Of Pentacles mean?
The 10 of Pentacles tarot card is a symbol of success and fulfilment, as well as a representation of leaving a legacy and inheritance. This card can be seen as an encouragement to strive for longevity, stability and security. This can be related to both our health, finances and relationships.
Health
The 10 of Pentacles can be taken as a reminder to take care of our bodies and our minds, to ensure we maintain a good quality of life into our later years. This card is a reminder to attend to our preventative health care needs, such as getting regular check ups, managing stress and anxiety, as well as staying active and eating a healthy balanced diet.
Finances
The 10 of Pentacles in a financial sense can mean money is coming into our lives. It's a reminder to be wise with our money and have a plan for the future. This card suggests investing in assets, creating a budget and saving for retirement. This card can also mean inheritance, and it is a reminder that it is important to be financially stable for yourself, but also for your future generations.
Relationships
The 10 of Pentacles can be taken as a reminder to nurture our relationships and give back to others. This card encourages us to build and maintain strong and healthy relationships, with friends, family and our communities. It also encourages us to act with integrity and be mindful when it comes to giving out advice and guidance.
The 10 of Pentacles can be an encouraging reminder of the opportunities and potential that can come from hard work. It's an assurance that if we are putting in the effort and taking care of ourselves, then we will be rewarded in the form of good health, financial security and fulfilling relationships.
Conclusion
Understanding how the meaning of a reading changes once you start involving more than one card can be tricky. This will come with time and practice, however I hope this guide on what your cards might be telling you when you draw The Star and 10 Of Pentacles has helped you.
Get the Ultimate Tarot Card Combinations Pack
The Tarot Happy eBook Pack is available now for instant download.
With 78 eBooks covering all tarot pair meanings, this pack is a comprehensive guide on using tarot for introspection, self-understanding and inner growth.
$1.99 $24.99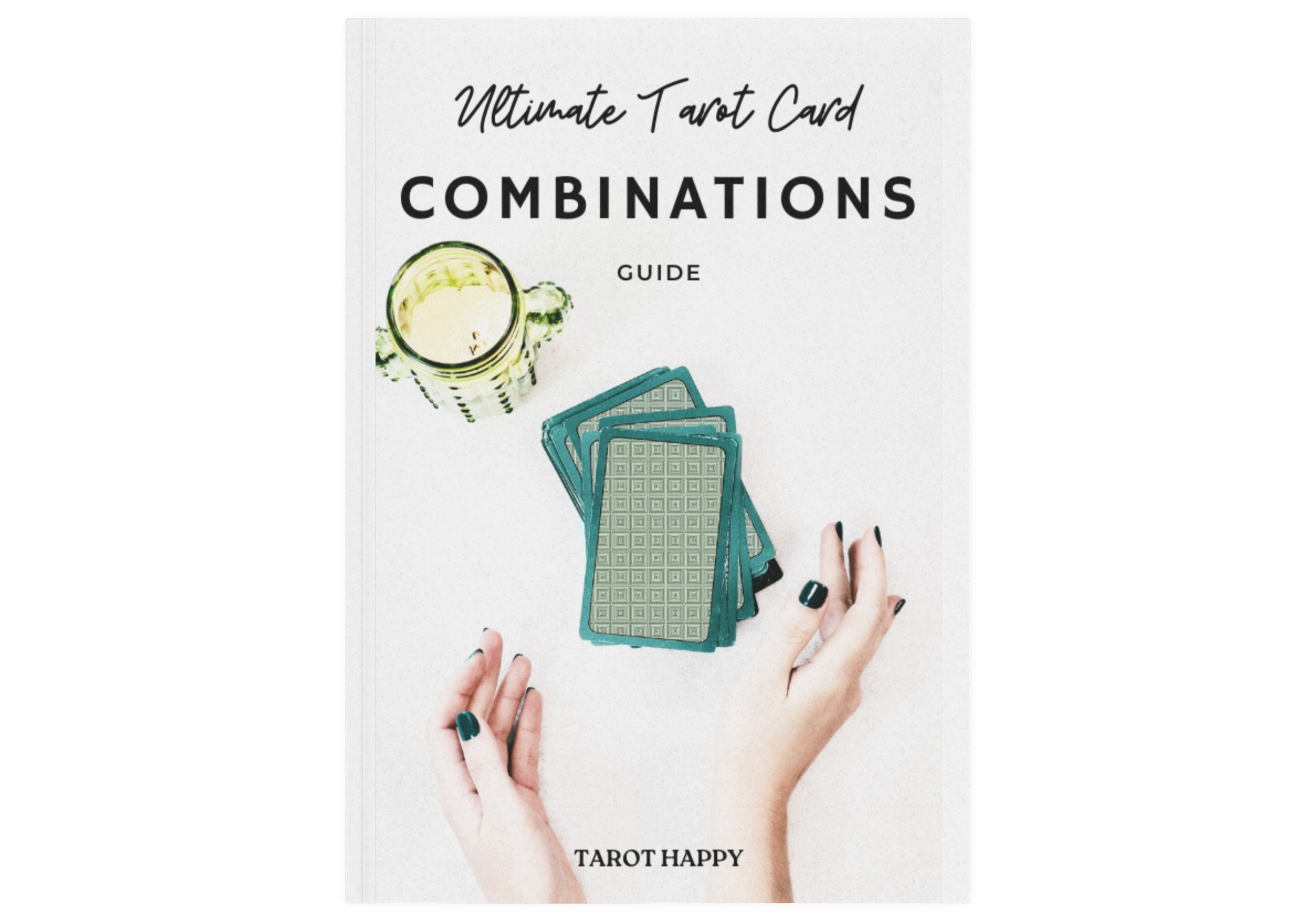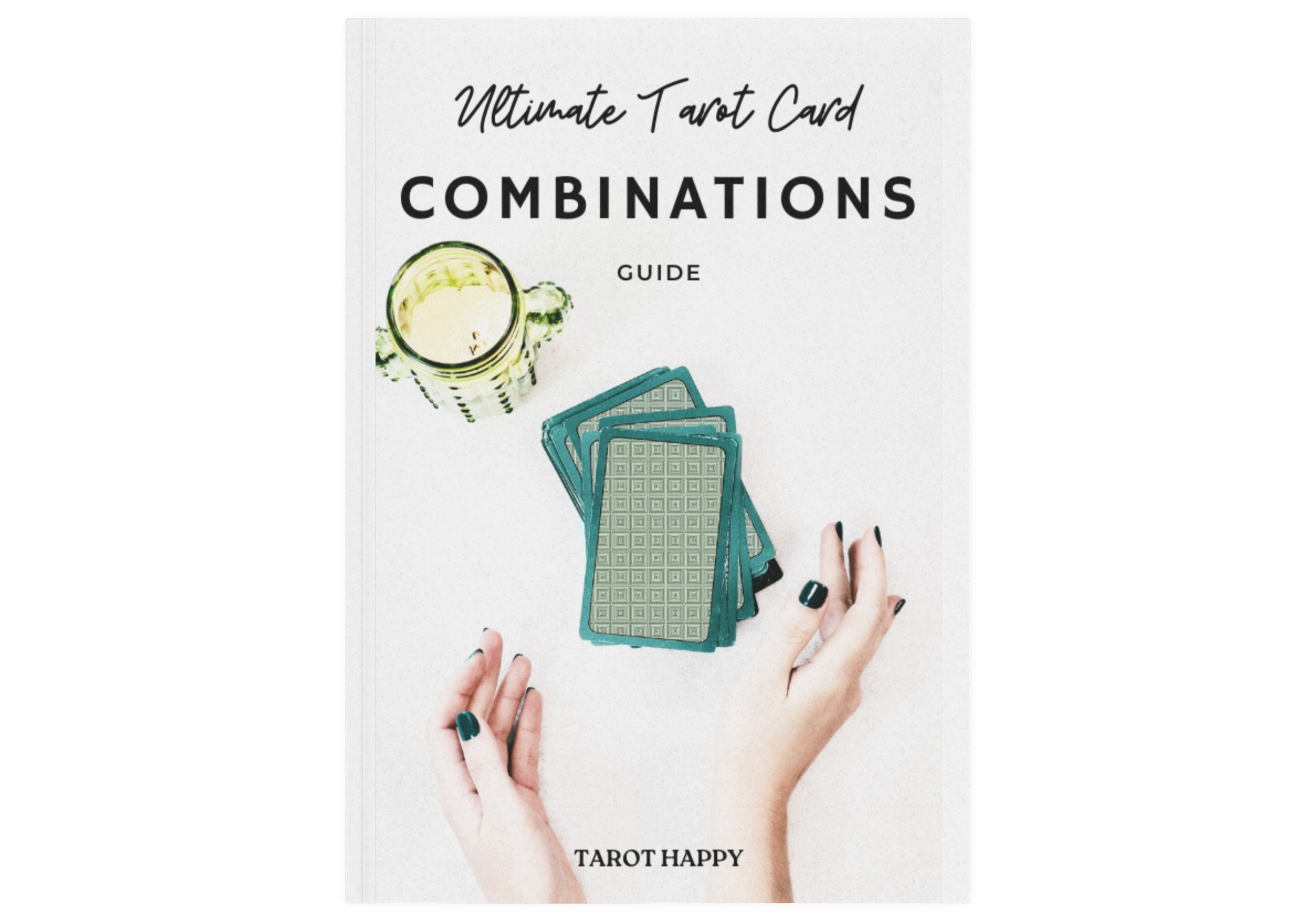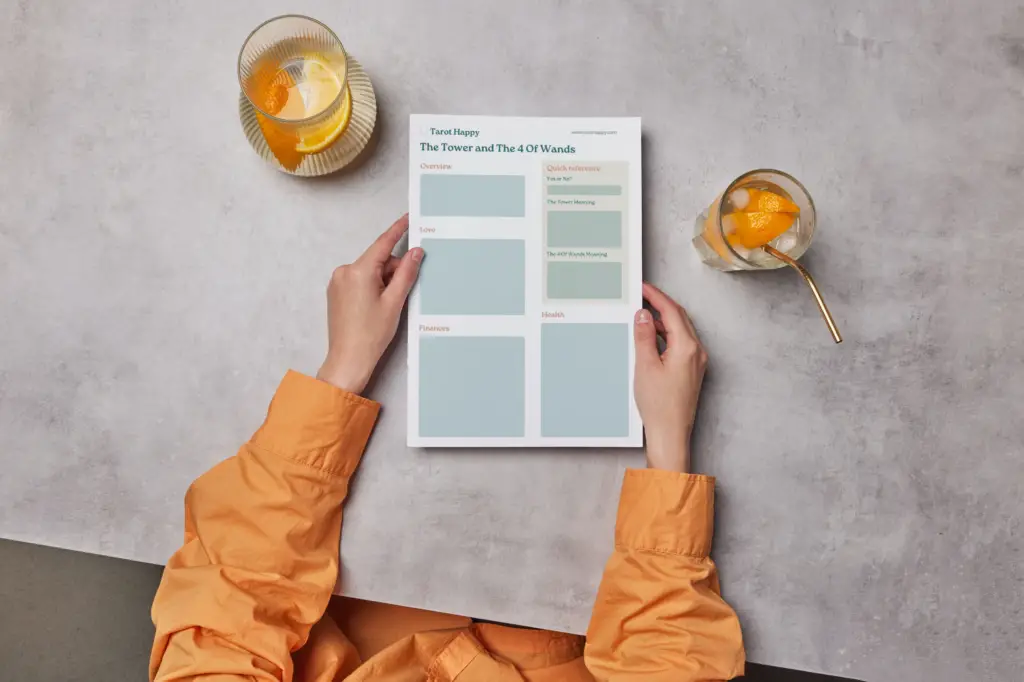 The pack contains an eBook for each of the 78 cards in a tarot pack.
Each eBook focuses on all the combinations for a single card, with overview of meanings for:
"Yes or No"
Key words and phrases that describe the combination
Meaning for Love
Meaning for Finance
Meaning for Health and Relationships
Unlock the Mysteries of Tarot with Our Comprehensive 78 eBook Pack
Are you ready to take your Tarot reading abilities to the next level? It's time to upgrade your spiritual toolbox with our extensive 78 eBook Pack. Each eBook is crafted to detail the meaning of every single Tarot card combination!
Venture beyond the basic meanings of the cards and delve into the intricate, layered symbolism each combination offers.
From beginner enthusiasts to advanced practitioners, this ultimate Tarot eBook pack will enhance your understanding, foster deeper connections with the cards, and improve your readings in a way that no other guide can.
Save over $20 if you buy today!
$1.99 $24.99