A key aspect of reading your own tarot is interpreting cards. For a beginner interpreting a single card can be fine, as there are plenty of resources to help you out, however interpreting two or more can be very tricky.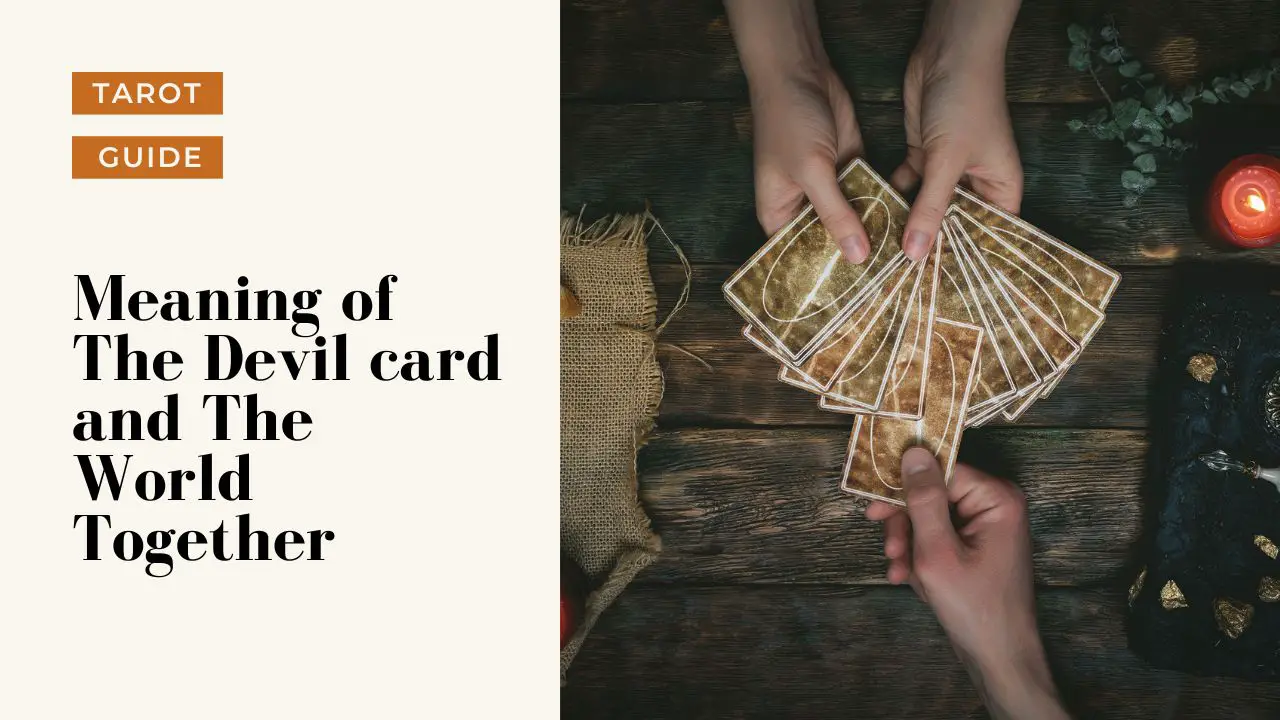 However, if you have been practising single card readings for a while a 2 card spread will be a great introduction into reading multiple cards.
As you've found this page, you're probably wondering how to interpret the The Devil card and The World card together in particular.
The The Devil card and The World have unique qualities and will interact with each other in different ways depending on what kind of reading you are doing.
What does The Devil and The World mean together?
The Devil tarot card and The World tarot card together represent a cycle of completion. It signifies understanding and conquering materialistic desires and addictions, while traveling and experiencing the world, thus leading to a higher understanding of fulfillment and accomplishment. It also calls for a journey of healing and personal growth – as one can be liberated and free from the temptations and chains of the Devil and fulfill their goals. Ultimately, this combination implies balance, learning, and mastery of being able to free yourself from the limitations of materialism and greed, while at the same time utilizing the knowledge and experiences of the world to reach a higher state of being.
The meaning may differ depending on what you are asking. Here are some common questions and their possible meanings
What does The Devil and The World mean together for your love life?
The Devil tarot card and The World tarot card together can be an indication of a challenging situation in love. The Devil card can suggest addiction, greed, and materialism that have become part of a relationship, creating a feeling of obsession and envy. The World card can indicate traveling to a new place, or the potential for a relationship to spread across a greater distance.
The Devil card brings the potential for a great lesson to be learned about what is truly important in a relationship and what keeps it going. There can be a temptation to focus on physical things, to become obsessed with material possessions, and to measure success in a relationship by accumulating objects. The World card can remind us that this type of love can be fleeting, and that it's important to focus on the connection we have with each other.
If The Devil and The World come up in a reading together, it can be an indication that the relationship is in need of some balance. It's important to focus on the connection, not just the physical things. If there is too much focus on one or the other, it can lead to dissatisfaction. The World card can be a reminder to take a step back, to explore and travel, to find a new perspective, and to commit to understanding each other on a deeper level.
Overall, The Devil and The World cards together can be a reminder to check in and make sure that the love in the relationship is growing. It's important to focus on the connection and not to let obsessive tendencies or materialism take over. Practicing kindness and empathy can be the key to creating a more fulfilling and lasting relationship.
What does The Devil and The World mean together for your finances?
The Devil tarot card and The World tarot card can represent a major shift in your finances and job. This may be a period where you are transitioning from a place of materialism and obsession to a place of completion and achievement. This could mean that you have reached a point where you have pursued and achieved goals that have provided financial and professional stability.
The Devil tarot card speaks to the addiction, greed, and envy that may have driven you in the past. It is a warning to be mindful of these temptations and greed so that your financial stability is not compromised. The World tarot card points to the completion of a lesson or goal, a path to finding financial success, and a sense that you have the ability to make a difference.
You may feel that you have worked hard to achieve financial stability, be it through completing a task, taking a new job, or making strategic investments. You may have also released any feelings of envy or materialism that were holding you back. This shift can be seen as a positive sign, as it shows that you have embraced risk and have the knowledge needed to secure your financial future.
The Devil tarot card and The World tarot card together can speak to the fact that you are now in a place where you have achieved financial security and stability. You have taken the time to understand your resources, principles, and philosophies and have worked hard to follow through with them. This could mean that you are now using your money and position for the greater good, rather than for personal gain or gain. Finally, this could also be an indication that you have taken the steps to ensure your financial future and have made a conscious effort to be responsible with your money.
What does The Devil and The World mean together for your health?
The Devil tarot card and The World tarot card often appear together in readings, and they can signify that it is time to take action on your health. The Devil card indicates addictive behavior and compulsive desires that may be keeping you from being healthy. It can suggest that you are feeling chained down by your own self-destructive behaviors, such as overeating, smoking, drinking, or abusing drugs. It can be a sign that you need to break these patterns and free yourself from the unhealthy lifestyle you have become accustomed to.
The World card encourages you to complete your journey and move on to a healthier lifestyle. Rather than feeling trapped and obsessed with your current habits, this card suggests that you take the time to learn from your experiences and strive for a better future. If you have been trying to make changes in your life but struggling to stick to them, now is the time to take action.
A combination of The Devil and The World card is a call to take charge of your health and break free from unhealthy behaviors. This can mean making a commitment to yourself to make changes to your diet, exercise routine, and lifestyle. This could also mean seeking out professional help if your bad habits have become too overwhelming for you to manage alone. Whatever it takes, it is essential to make the necessary steps in order to take better care of your health. It is also important to stay positive and remind yourself of your goals and why looking after your health is important. This combination of tarot cards provides the gentle push you may need to make a serious change in your life.
The meaning of the cards will depend on what kind of reading you are doing and the question you asked the deck. This is a guide covering the general meanings of the cards and how they relate to each other.
Common 2-card spreads
Whilst it's great to know who these two cards interact with each other, it's important to note that the meaning will depend on the context of your spread
The most common 2 card spreads I recommend to newer readers are:
The 2 card cross (otherwise known as "The Fool's Journey")
The 2 card "Yes or No"
"The Fool's Journey"
Setup: The two card cross is where you place two cards face up, one placed vertically and with one laying horizontally over
Interpretation: The 2 cards represent a "situation" and a "challenge". The first card will describe the situation you are in with the second horizontal card being the "challenge" crossing you (literally crossing you in this case!)
Reading: Using the overviews in this guide is a great way to start. First, look at the meanings of the 2 cards, and see how they might relate either as your "situation" or "challenge". Once you have that you can look at the general overview for how the two cards interact with each other.
The benefit of this spread is that it can give clarity when you're feeling uncertain or anxious. Once you have clarity of thought, and a strong idea of what your challenge is you can find solutions to help your situation
The 2 card "Yes or No"
Setup: The 2 card "Yes or No" is where you place two cards face up side by side, whilst asking your deck a "yes or no" question.
Interpretation: Each card in a tarot deck has a "yes" or a "no" meaning. Look at the meanings of each card, and you will have your answer.
The benefit of this is you get a stronger yes or no compared to a single card draw. You may find you often get a mix of "yes or no", and this is fine. It simply means there is doubt, or things are not yet clear.
Yes or No meaning
Things are a bit tricky for this combination, as The Devil and The World mean different things. The cards are unsure about your question, or the answer to the question has not yet been decided.
The "Yes" and "No" meanings can differ from reader to reader. The meanings here are based on what I believe are the generally accepted definitions.
What does The Devil mean?
The Devil Tarot card can have very negative implications when it comes to health, finances, and relationships. Health-wise, the card suggests that a person is dealing with addiction, and this can lead to a variety of physical, mental, and emotional problems. Addiction of any kind can be extremely damaging, and the Devil Tarot card implies that a person is dealing with a compulsive behavior or substance abuse. This can result in a range of health problems, from withdrawal symptoms to physical damage from use of certain substances.
Financial problems are often a result of unhealthy addictions and obsessions. If a person is constantly chasing after material possessions or becoming increasingly greedy, their finances can suffer. This might include compulsive shopping, gambling, or overspending, which can lead to debt and poor money management skills.
Relationships can be significantly impacted by addiction and materialism as well. The Devil card suggests that the person is so obsessed with their own needs and desires that they become oblivious to the needs of their loved ones. This can lead to problems in communication and trust, resulting in resentment and a lack of connection. In extreme cases, the person's addiction and greed can cause them to discard the people who care about them in favor of material things.
The Devil Tarot card can have a huge impact on all aspects of a person's life, and it's important to be aware of the dangers of addiction, greed, and materialism. By recognizing the signs of unhealthy behavior and taking steps to address it, a person can find themselves on a healthier, more positive path.
What does The World mean?
For Health:
The World Tarot card is believed to signify that your personal health journey is coming to an end, and that you are about to experience a period of complete physical and emotional wellbeing. The card suggests that in order to achieve this you may need to make a few changes in your lifestyle, diet and even attitude towards your body and overall health. It also implies that you are ready to move forward to a new and better place in terms of health, and that your efforts to date have been noticed and appreciated.
For Finances:
The World Tarot card can also be seen as a symbol of financial completion. This means that you have likely achieved a level of monetary success, such as a pay rise, a large purchase or the successful reaching of a financial goal. This card implies that you are now on the path towards financial stability and that your hard work and dedication have paid off. It can even suggest that you have the potential for further success and financial growth if you continue to work hard and remain focused.
For Relationships:
The World Tarot card symbolizes the completion of a relationship journey, as well. It suggests that you have reached a place of peace and mutual understanding in your relationships, whether it's with a friend, family member, significant other or coworker. This card implies that your relationship is now in a good place, and that you are both happy and content with each other. It also implies that you may be ready to move onto a new and more fulfilling relationship, or perhaps strengthen and deepen the connection you already have with your current partner.
Conclusion
Understanding how the meaning of a reading changes once you start involving more than one card can be tricky. This will come with time and practice, however I hope this guide on what your cards might be telling you when you draw The Devil and The World has helped you.
Get the Ultimate Tarot Card Combinations Pack
The Tarot Happy eBook Pack is available now for instant download.
With 78 eBooks covering all tarot pair meanings, this pack is a comprehensive guide on using tarot for introspection, self-understanding and inner growth.
$1.99 $24.99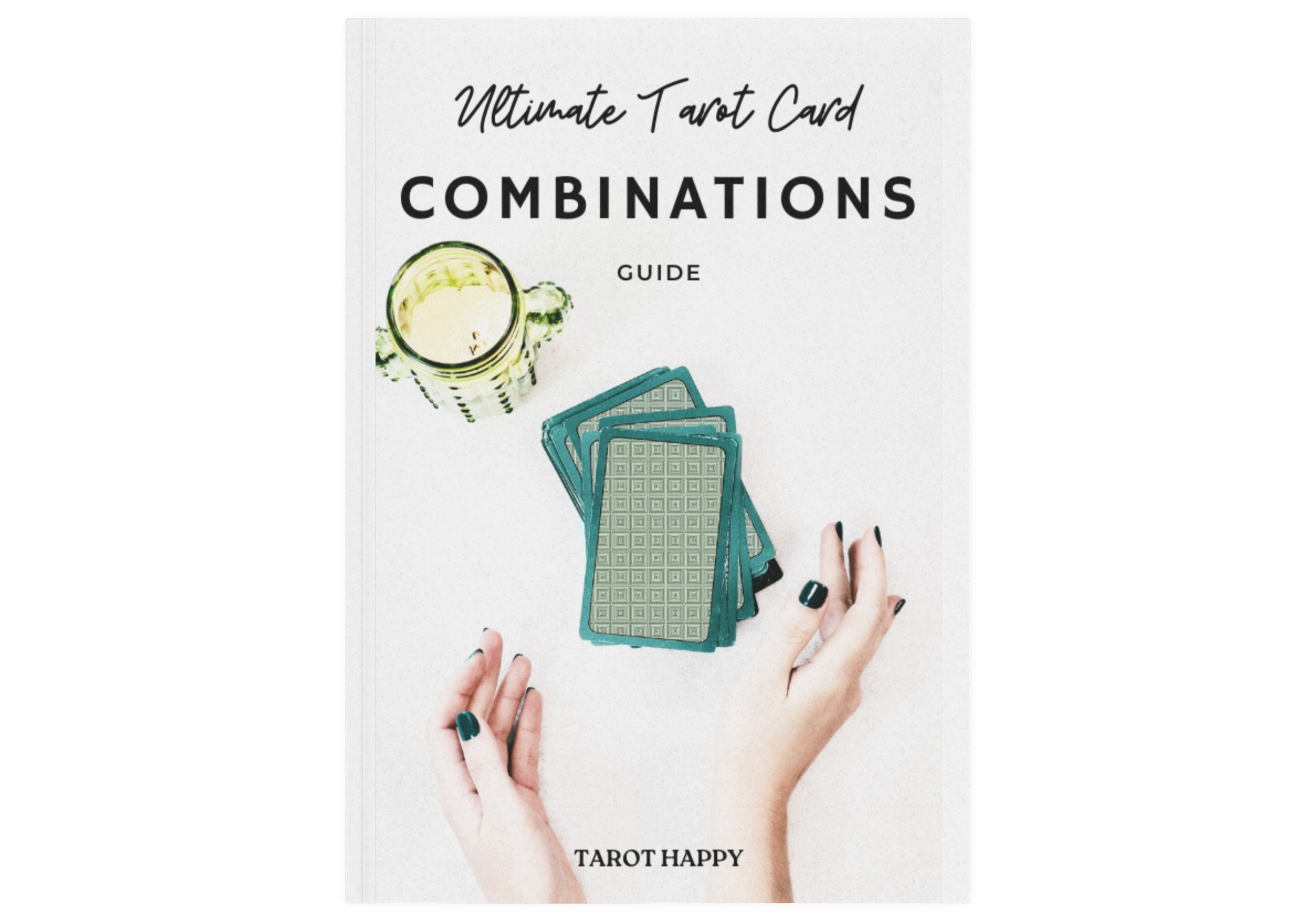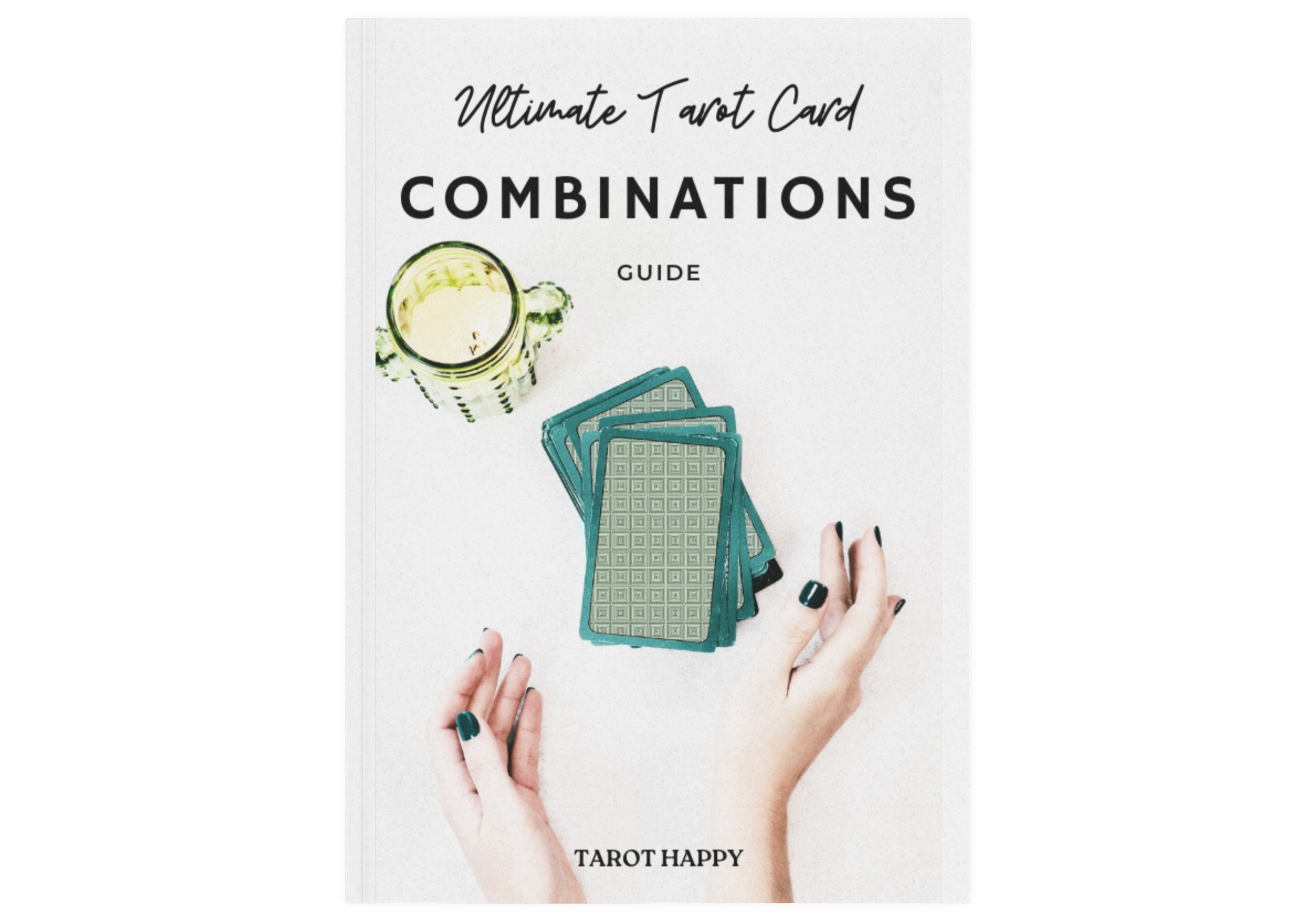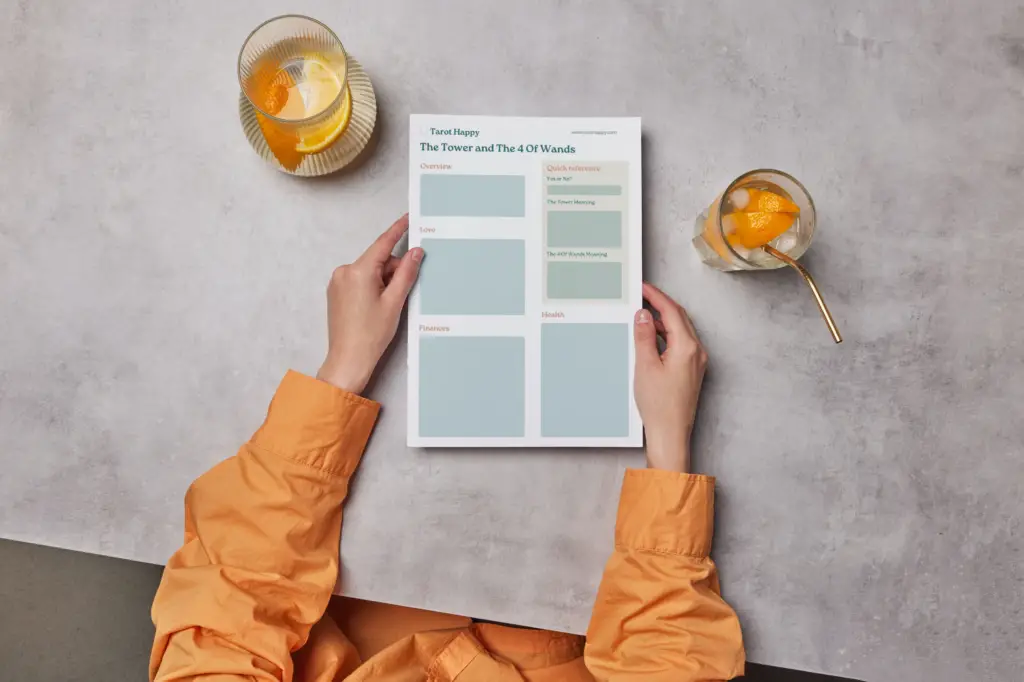 The pack contains an eBook for each of the 78 cards in a tarot pack.
Each eBook focuses on all the combinations for a single card, with overview of meanings for:
"Yes or No"
Key words and phrases that describe the combination
Meaning for Love
Meaning for Finance
Meaning for Health and Relationships
Unlock the Mysteries of Tarot with Our Comprehensive 78 eBook Pack
Are you ready to take your Tarot reading abilities to the next level? It's time to upgrade your spiritual toolbox with our extensive 78 eBook Pack. Each eBook is crafted to detail the meaning of every single Tarot card combination!
Venture beyond the basic meanings of the cards and delve into the intricate, layered symbolism each combination offers.
From beginner enthusiasts to advanced practitioners, this ultimate Tarot eBook pack will enhance your understanding, foster deeper connections with the cards, and improve your readings in a way that no other guide can.
Save over $20 if you buy today!
$1.99 $24.99