A key aspect of reading your own tarot is interpreting cards. For a beginner interpreting a single card can be fine, as there are plenty of resources to help you out, however interpreting two or more can be very tricky.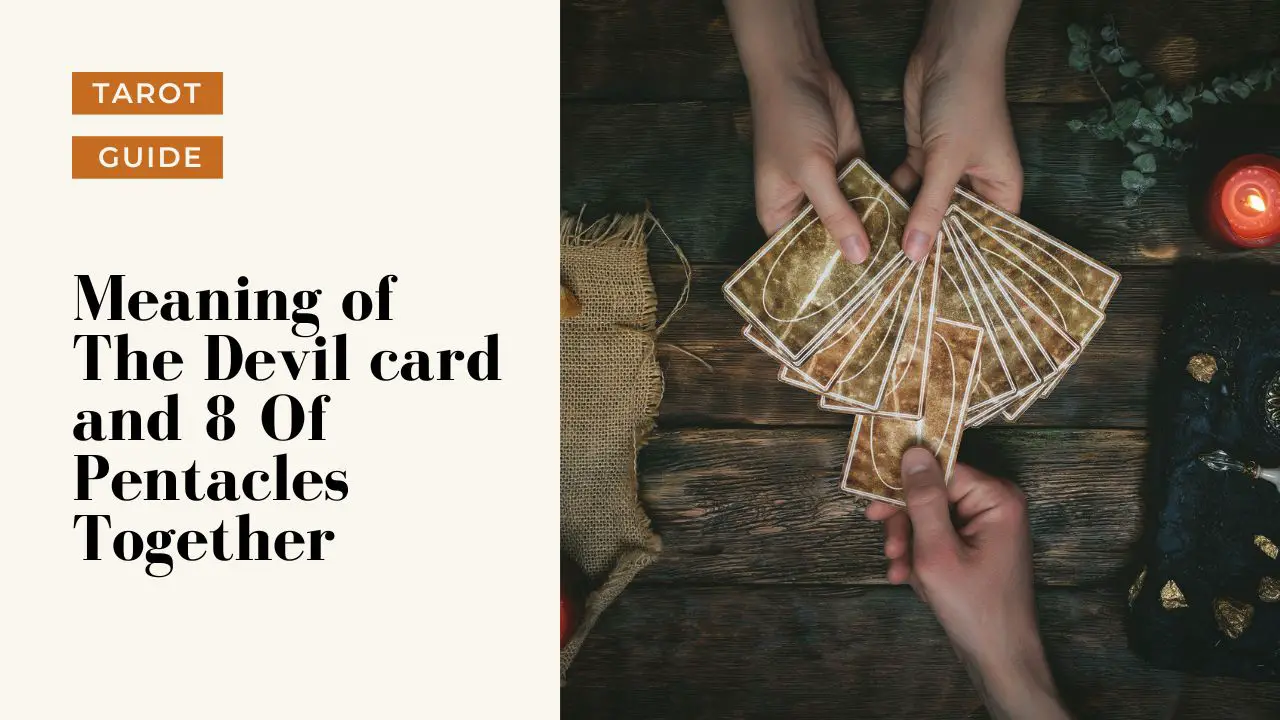 However, if you have been practising single card readings for a while a 2 card spread will be a great introduction into reading multiple cards.
As you've found this page, you're probably wondering how to interpret the The Devil card and 8 Of Pentacles card together in particular.
The The Devil card and 8 Of Pentacles have unique qualities and will interact with each other in different ways depending on what kind of reading you are doing.
What does The Devil and 8 Of Pentacles mean together?
The Devil tarot card represents our darker sides and urges, while The 8 Of Pentacles tarot card represent our ability to master our craft and life's work. Together, these tarot cards remind us to embrace the balance between our desires and our discipline. We need to learn to channel our envy, greed, and obsession into hard work and dedication, allowing us to make the most of our talents without giving into our addictive lusts and materialism. We must be conscious of our emotions and desires, however, as letting them become too powerful can lead to destructive and unwise behavior.
The meaning may differ depending on what you are asking. Here are some common questions and their possible meanings
What does The Devil and 8 Of Pentacles mean together for your love life?
When looking at The Devil tarot card and The 8 Of Pentacles tarot card together in regards to your love life, there can be an indication of a need to create balance between materialism and mastering the craft of love. The Devil card is a warning that yours or your partner's obsession with money or material things could be leading to a separation between you and taking away from the joy and pleasure that can be found in your relationship. The 8 of Pentacles signifies a need to focus on mastering the craft of loving your partner and putting in the effort and work necessary to grow, change and passionately hone the skills of creating a meaningful connection.
It is important to remember that The Devil tarot card is a warning and not a guarantee, and should be taken seriously. It is a sign to be mindful of how the need for materialistic comforts or possessions can take up too much of one's mind space and lead to a lack of balance. When combined with The 8 Of Pentacles, the message is to strike a healthy balance between materialism and putting effort into mastering the craft of loving your partner – for it is this kind of effort that will lead to a long-lasting, meaningful connection.
Finding this balance can be as simple as understanding that material things are nice but not essential to having a healthy, joyous relationship. Everyone needs their space to breathe and to pursue their passions, and making sure that both partners are getting their needs met is the key to avoiding the temptations of the Devil card. Taking time to have meaningful conversations, to go out, to hang out together, to share each other's passions and pastimes, etc. all help to bring joy, happiness and a stronger connection to the relationship itself.
Ultimately, combining The Devil tarot card and The 8 Of Pentacles can serve as a reminder to keep your focus on mastering the craft of love, while avoiding the excesses of materialism and obsession. If you can come to a compromise of finding a healthy balance between these two aspects, then you can create a relationship that is based on mutual respect, understanding and true connection.
What does The Devil and 8 Of Pentacles mean together for your finances?
The Devil tarot card and the 8 of Pentacles when seen together in a reading speak volumes about one's financial and professional life. This combination signifies that while one may be successful at a certain craft or field they may be struggling with the darker aspects of their materialism such as addiction, greed, obsession and envy.
This combination warns the individual that should they continue to be obsessed with their career and their finances, without looking after their mental and physical health, there will be a risk of falling prey to temptations that may lead to many unforeseen consequences. The Devil card speaks of materialistic or sexual temptations that may be difficult to resist, and if one does not handle these emotions with caution, it may lead to a financial downfall.
The 8 of Pentacles suggests that, on the other hand, the individual is determined to make the most of their talents and is on the path to mastering their craft, and takes immense pride and joy in the process. This card is a reminder to take into account the importance of maintaining balance in all aspects of life, rather than obsessing over the material and financial gains.
This combination is a great reminder to take a step back and assess the motivation behind one's hard work and make sure that they are not blindly following the lure of materialism and its potential pitfalls. It is important to keep in mind that although financial and professional success is an important part of life, it should not be put on a pedestal above all else.
What does The Devil and 8 Of Pentacles mean together for your health?
The Devil tarot card and The 8 Of Pentacles tarot card taken together represent a warning to be aware of how we spend our time and energy. The Devil tarot card points to unhelpful attachments we can have to unhealthy habits, such as addictions, materialism, obsession, and sexual lust. All of these can take away from our overall wellbeing and can lead us down a path that isn't beneficial for us.
The 8 Of Pentacles tarot card speaks to finding joy in mastering one's craft and to appreciate the act of doing meaningful work. It encourages taking pleasure in our everyday tasks and developing our skills in the work that we do. This is an important reminder to not get caught up in the unhealthy attachments signalled by the Devil tarot card, and to instead focus on growing and developing our talents.
When taken together, the Devil tarot card and The 8 Of Pentacles tarot card signify the importance of being mindful about how we spend our time and energy. Though the Devil tarot card speaks to unhealthy attachments that can often seem enticing and alluring, the 8 Of Pentacles tarot card reminds us to find joy in meaningful work and the development of our skills, which in turn benefits our overall wellbeing. Taking pleasure in our daily tasks and activities, rather than finding our comfort in unhealthy vices, is key to maintaining a healthy life.
The meaning of the cards will depend on what kind of reading you are doing and the question you asked the deck. This is a guide covering the general meanings of the cards and how they relate to each other.
Common 2-card spreads
Whilst it's great to know who these two cards interact with each other, it's important to note that the meaning will depend on the context of your spread
The most common 2 card spreads I recommend to newer readers are:
The 2 card cross (otherwise known as "The Fool's Journey")
The 2 card "Yes or No"
"The Fool's Journey"
Setup: The two card cross is where you place two cards face up, one placed vertically and with one laying horizontally over
Interpretation: The 2 cards represent a "situation" and a "challenge". The first card will describe the situation you are in with the second horizontal card being the "challenge" crossing you (literally crossing you in this case!)
Reading: Using the overviews in this guide is a great way to start. First, look at the meanings of the 2 cards, and see how they might relate either as your "situation" or "challenge". Once you have that you can look at the general overview for how the two cards interact with each other.
The benefit of this spread is that it can give clarity when you're feeling uncertain or anxious. Once you have clarity of thought, and a strong idea of what your challenge is you can find solutions to help your situation
The 2 card "Yes or No"
Setup: The 2 card "Yes or No" is where you place two cards face up side by side, whilst asking your deck a "yes or no" question.
Interpretation: Each card in a tarot deck has a "yes" or a "no" meaning. Look at the meanings of each card, and you will have your answer.
The benefit of this is you get a stronger yes or no compared to a single card draw. You may find you often get a mix of "yes or no", and this is fine. It simply means there is doubt, or things are not yet clear.
Yes or No meaning
Things are a bit tricky for this combination, as The Devil and 8 Of Pentacles mean different things. The cards are unsure about your question, or the answer to the question has not yet been decided.
The "Yes" and "No" meanings can differ from reader to reader. The meanings here are based on what I believe are the generally accepted definitions.
What does The Devil mean?
The Devil Tarot card stands as a warning that indulgence can lead to a dark path and unhealthy habits.
When it comes to physical health, this card encourages us to be mindful of our desires and resist the temptation to overindulge in food, alcohol, drugs or other substances. Taking too much for granted can lead to physical health issues, such as an unhealthy lifestyle and the potential for developing addictions or dependencies.
Financially, The Devil card can be a sign of greed, excessive materialism and an over-reliance on money to solve problems. It can also indicate financial instability and issues with debt, as money should not be seen as a source of happiness – it can create stress and problems if not managed responsibly.
As for relationships, The Devil card can suggest a need to escape from unhealthy attachments and the psychological traps of codependency. It speaks of the need to maintain our independence and intellectual autonomy and the need to let go of bad habits or destructive behaviors. It can also take the form of jealousy, envy and manipulation, so it's important to examine and identify the underlying reasons for destructive behaviors.
When it comes to The Devil card, it's important to look inward and make sure that we're not letting our own fears and insecurities keep us from being emotionally and mentally healthy.
What does 8 Of Pentacles mean?
Health
When it comes to health, The 8 of Pentacles Tarot card is a reminder to focus on your own healing and recovery, rather than comparing yourself to others. It is a sign to take the time to care for yourself, follow through with healthy habits and practice self-care. Making sure to choose nutritious whole foods, taking time to relax and unwind, as well as regular exercise, all contribute to your overall well-being. This card serves as a reminder to balance work and play and to do your best to take good care of your body.
Finances
The 8 of Pentacles suggests that you have the potential to succeed financially if you apply yourself. It is a reminder to stay focused, disciplined and organized in your approach. This could mean having a budget in place and tracking your income and expenses to make sure your money is working hard for you. It is important to invest wisely and make sure you get the best return on investment. The 8 of Pentacles also encourages you to keep learning and developing your skills. Invest in yourself, whether it be through formal education, workshops or seminars, to further your career options.
Relationships
The 8 of Pentacles is a reminder to focus on the quality of your relationships rather than the quantity. This card suggests that it's important to take time out to nurture and maintain your relationships with friends and family, as well as your significant other. Be sure to make time for your loved ones and keep the lines of communication open. Home life should be comfortable and enjoyable, and it's important to appreciate what you have. You should also invest in yourself, making sure you are content, fulfilled and happy. This will enable you to give and receive love more fully.
Conclusion
Understanding how the meaning of a reading changes once you start involving more than one card can be tricky. This will come with time and practice, however I hope this guide on what your cards might be telling you when you draw The Devil and 8 Of Pentacles has helped you.
Get the Ultimate Tarot Card Combinations Pack
The Tarot Happy eBook Pack is available now for instant download.
With 78 eBooks covering all tarot pair meanings, this pack is a comprehensive guide on using tarot for introspection, self-understanding and inner growth.
$1.99 $24.99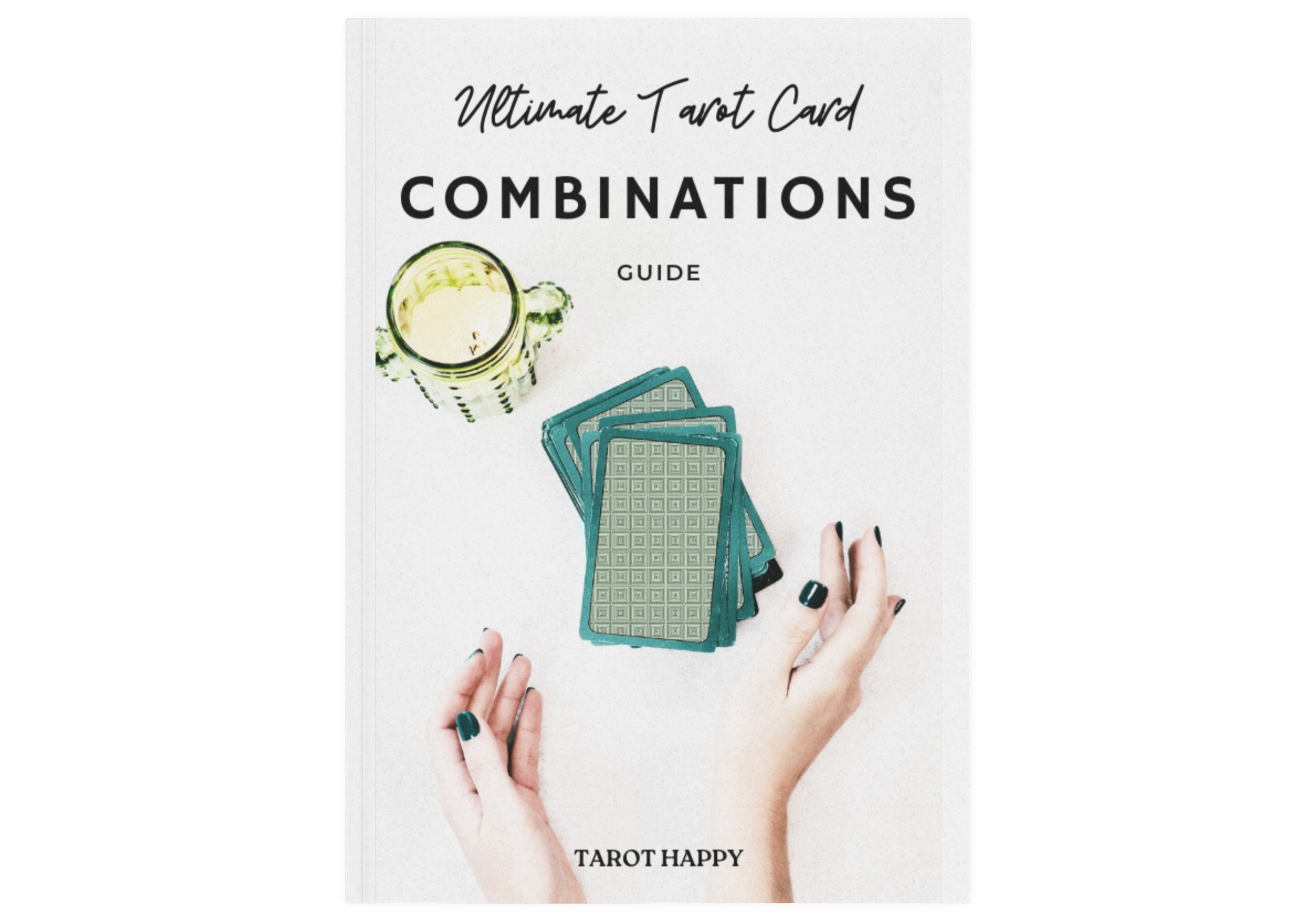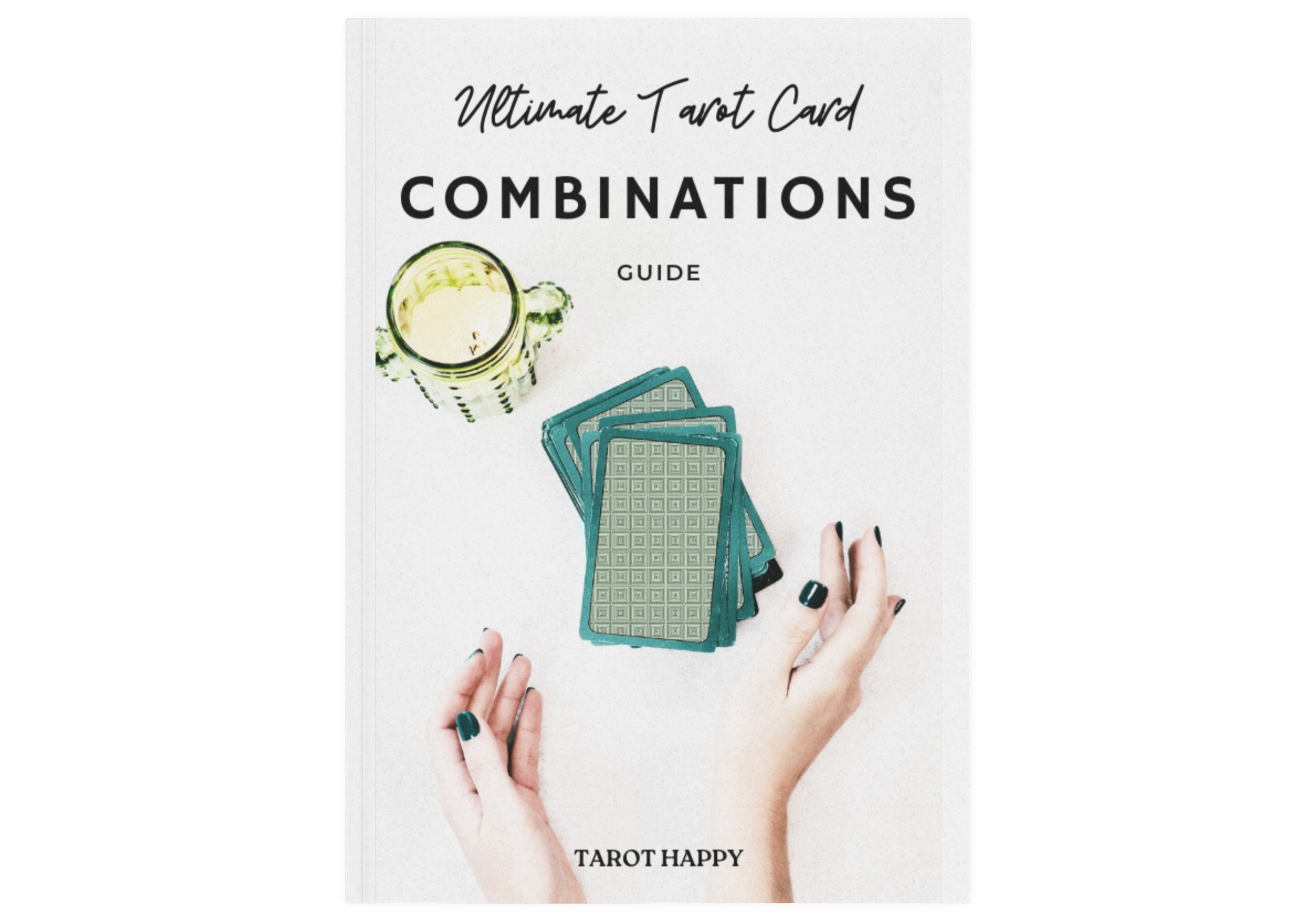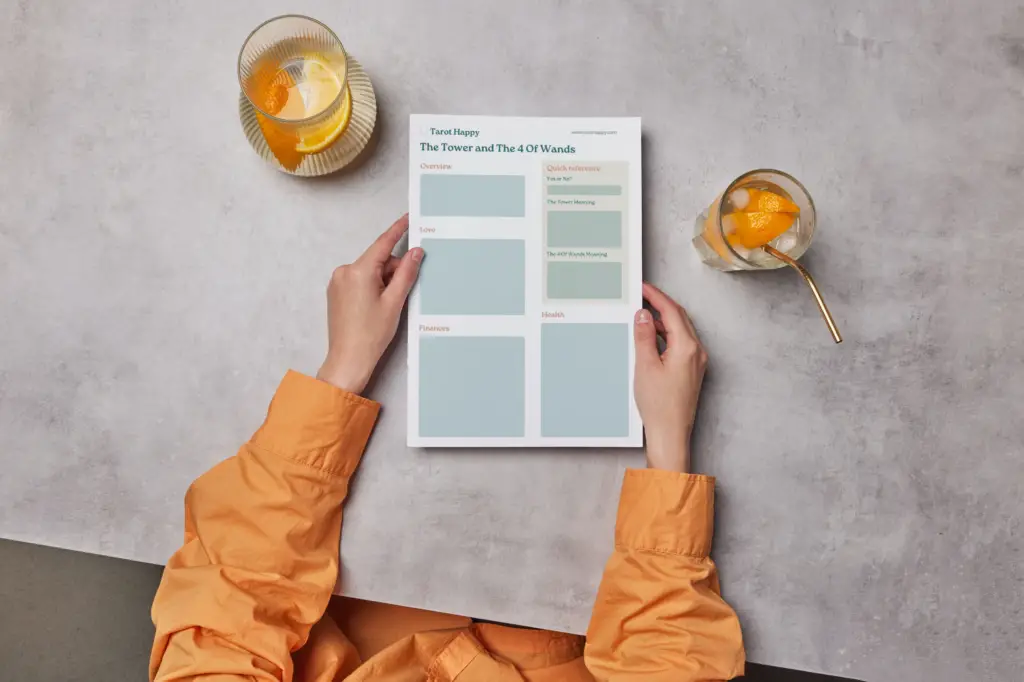 The pack contains an eBook for each of the 78 cards in a tarot pack.
Each eBook focuses on all the combinations for a single card, with overview of meanings for:
"Yes or No"
Key words and phrases that describe the combination
Meaning for Love
Meaning for Finance
Meaning for Health and Relationships
Unlock the Mysteries of Tarot with Our Comprehensive 78 eBook Pack
Are you ready to take your Tarot reading abilities to the next level? It's time to upgrade your spiritual toolbox with our extensive 78 eBook Pack. Each eBook is crafted to detail the meaning of every single Tarot card combination!
Venture beyond the basic meanings of the cards and delve into the intricate, layered symbolism each combination offers.
From beginner enthusiasts to advanced practitioners, this ultimate Tarot eBook pack will enhance your understanding, foster deeper connections with the cards, and improve your readings in a way that no other guide can.
Save over $20 if you buy today!
$1.99 $24.99