A key aspect of reading your own tarot is interpreting cards. For a beginner interpreting a single card can be fine, as there are plenty of resources to help you out, however interpreting two or more can be very tricky.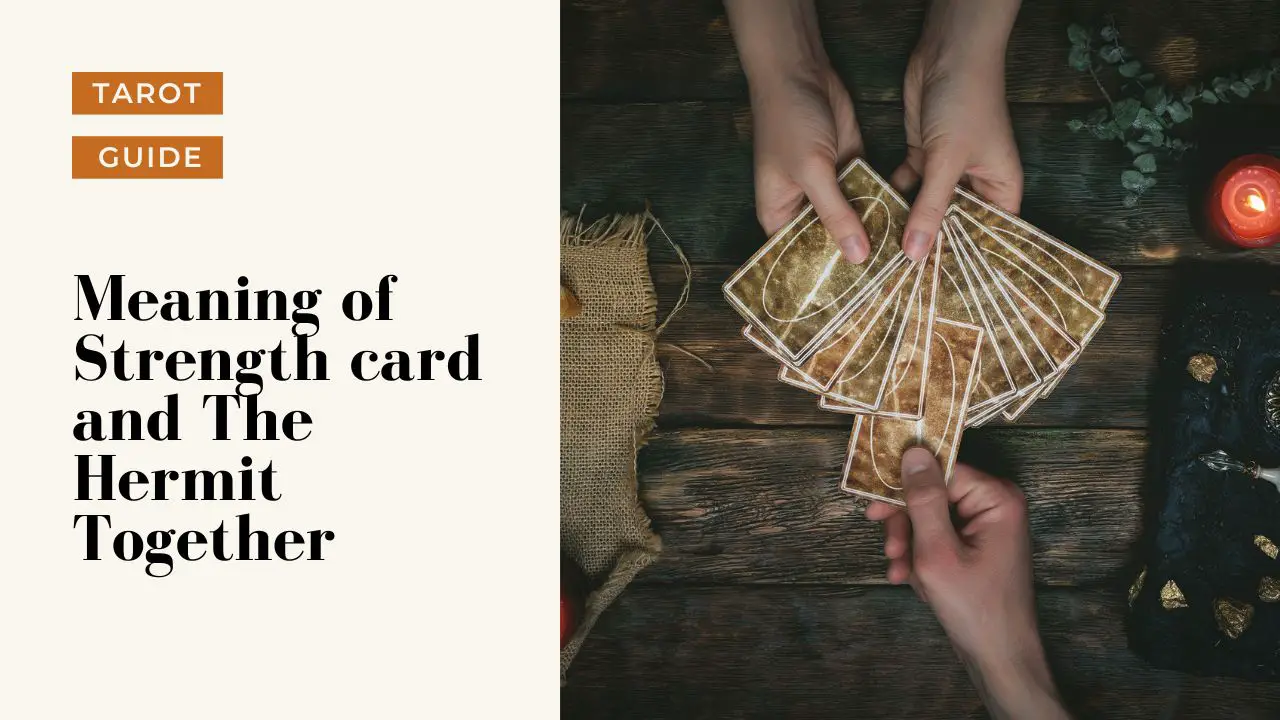 However, if you have been practising single card readings for a while a 2 card spread will be a great introduction into reading multiple cards.
As you've found this page, you're probably wondering how to interpret the Strength card and The Hermit card together in particular.
The Strength card and The Hermit have unique qualities and will interact with each other in different ways depending on what kind of reading you are doing.
What does Strength and The Hermit mean together?
The Strength tarot card and The Hermit tarot card work together to remind me that in order to find true contentment and self-love, I must go within and trust my own heart and intuition. To do this I must have courage and faith in my own judgement, and unconditional love and respect for myself. Seeking spiritual guidance and personal insight is a courageous process, and I am strong enough to answer the call. I will use my own strength to make the journey inward to connect with my deepest self, allowing me to discover my true potential.
The meaning may differ depending on what you are asking. Here are some common questions and their possible meanings
What does Strength and The Hermit mean together for your love life?
When Strength and Hermit cards combine in questions about your love life, it suggests that in order for your heart to be opened, you must first look within. Jumping into a relationship without first nurturing your own sense of self-esteem and self-love won't bring you a healthy, lasting partnership. These cards urge you to embrace your own strength, find self-respect and be filled with unconditional love for yourself before you can grant it to another.
Without strength and self-love, opening your heart to share it with someone else can be difficult or even impossible. It's important to remember that a relationship should bring out the best in you, and not make you feel inadequate or unmotivated. If a relationship doesn't bring out your true strength, the Strength and Hermit cards encourage you to look within to discover what it is you need to work on, to have true clarity.
The Strength and Hermit cards together ask you to reflect on the idea of personal truth; to recognize your own values and determine your own goals. Only when you take the time to uncover your own sense of self can you be truly content in any relationship with another. Once you are grounded in your own strength, you can open yourself up to a partner who can understand and appreciate you from a place of love and respect.
These cards ask you to embark on a quest for true spiritual illumination, and recognize the power of self-confidence before entering a relationship with someone else. Remember that self-love is the key to being in any kind of successful, fulfilling relationship. Taking the time to explore your heart without distraction will ultimately lead to a relationship that is full of self-respect and unconditional love.
What does Strength and The Hermit mean together for your finances?
When it comes to finances and job, the Strength tarot card and the Hermit tarot card indicate that it is important to have faith in yourself, to give yourself unconditional love, and to have courage in pursuing the truth of your ideas and actions. It is important to find a balance between external guidance such as advice from financial advisors, mentors, and colleagues, and your own internal wisdom.
This balance is necessary to make the best decisions for yourself in terms of managing your finances and job. Having a strong sense of self-respect and self-love will help you to stand up for yourself and your beliefs, even when it may be difficult. Having an understanding of the larger picture is necessary to make objective decisions that are in line with your goals.
To bring these two tarot cards together, it is important to take a step back and look at your finances and job through a spiritual lens. Ask yourself the hard questions and listen to the answers you receive. Dig deep within your soul to gain clarity and peace. When you go within to find your personal truths, you are more likely to make decisions that are true to you and further your life journey. In doing this, you will be able to navigate the financial and job force with confidence, strength, and grace.
What does Strength and The Hermit mean together for your health?
The Strength tarot card and The Hermit tarot card are two of the most powerful cards in the tarot. When combined, they emphasize the importance of individual power and the need to go within to find one's true strength and courage. The Strength card is about self-love and self-respect, an essential part of being healthy, happy and successful. It emphasizes the power of believing in one's self and having the courage to be true to oneself. The Hermit card is about the importance of seeking out personal truth and spiritual growth. It is about going within and learning to trust one's intuition and inner wisdom to guide us on our journey.
When put together, these cards are a powerful reminder to take a deep look within and discover the strength and courage that lies within us. They encourage us to take time to reflect on what it is we truly want and need in order to achieve a healthy and balanced life. By developing an unconditional love and respect for ourselves, we can access the power to manifest our desires and unlock our potential.
These tarot cards also remind us to nurture our connection to our inner self, as this is what will help us to heal and evolve. We need to take the time to listen to our inner voice, to practice self-awareness and self-care. This will enable us to gain clarity, grow our self-esteem, and help us to fully accept and honour our needs, our value, and our truth.
Overall, the Strength tarot card and Hermit tarot card are a great reminder to embrace our strength and courage, and to seek out spiritual growth from within. By developing inner wisdom and self-love, we can unlock our potential and create healthier and more balanced lives.
The meaning of the cards will depend on what kind of reading you are doing and the question you asked the deck. This is a guide covering the general meanings of the cards and how they relate to each other.
Common 2-card spreads
Whilst it's great to know who these two cards interact with each other, it's important to note that the meaning will depend on the context of your spread
The most common 2 card spreads I recommend to newer readers are:
The 2 card cross (otherwise known as "The Fool's Journey")
The 2 card "Yes or No"
"The Fool's Journey"
Setup: The two card cross is where you place two cards face up, one placed vertically and with one laying horizontally over
Interpretation: The 2 cards represent a "situation" and a "challenge". The first card will describe the situation you are in with the second horizontal card being the "challenge" crossing you (literally crossing you in this case!)
Reading: Using the overviews in this guide is a great way to start. First, look at the meanings of the 2 cards, and see how they might relate either as your "situation" or "challenge". Once you have that you can look at the general overview for how the two cards interact with each other.
The benefit of this spread is that it can give clarity when you're feeling uncertain or anxious. Once you have clarity of thought, and a strong idea of what your challenge is you can find solutions to help your situation
The 2 card "Yes or No"
Setup: The 2 card "Yes or No" is where you place two cards face up side by side, whilst asking your deck a "yes or no" question.
Interpretation: Each card in a tarot deck has a "yes" or a "no" meaning. Look at the meanings of each card, and you will have your answer.
The benefit of this is you get a stronger yes or no compared to a single card draw. You may find you often get a mix of "yes or no", and this is fine. It simply means there is doubt, or things are not yet clear.
Yes or No meaning
Things are a bit tricky for this combination, as Strength and The Hermit mean different things. The cards are unsure about your question, or the answer to the question has not yet been decided.
The "Yes" and "No" meanings can differ from reader to reader. The meanings here are based on what I believe are the generally accepted definitions.
What does Strength mean?
Health
The Strength Tarot card is a reminder that self-love and self-respect are necessary for overall health. It symbolizes the power of courage to overcome fear and doubts, and the importance of inner strength to stay healthy and balanced. This card encourages us to take control of our lives, and to be mindful of our physical and mental health. With this strength, we can fight against negative thoughts and painful memories, and make sure that our health is not neglected in the process.
Finances
The Strength Tarot card can represent financial success, with the determination and drive it takes to achieve financial goals. It speaks to our ability to take risks and trust our instincts when it comes to money. This card can also help us to stay in tune with our finances, to stay on budget and become more aware of our spending habits. It is a reminder that financial security is possible with dedication and courage to face challenges in achieving our goals.
Relationships
The Strength Tarot card stands for unconditional love and understanding. This card speaks to the power of connection, and the importance of self-love. Through the practice of showing compassion to both ourselves and others, we can build strong and meaningful relationships. The strength that comes from owning our mistakes and forgiving ourselves, as well as seeking forgiveness from others, can help us to create lasting connections and trust. This card can also help us to learn that cooperation and compromise are keys to solidifying relationships.
What does The Hermit mean?
Health:
The Hermit Tarot card is associated with taking a step back and looking inward for answers about your health. It asks that you connect to your innermost self in order to gain clarity on your physical and mental well-being. The Hermit Tarot card encourages you to take time out of your busy life in order to ensure you have time to pause and reflect. It is a reminder to take time to nurture your mind and body, and to be mindful of your health and wellbeing. You should not be afraid to take time away from your routine in order to make sure you are taking care of yourself.
Finances:
The Hermit Tarot card can represent a period of financial uncertainty, a need to take a step back and reflect on our financial situation. It can remind us to look inward for guidance and wisdom rather than seeking external advice. Taking a step back can allow us to gain perspective on our finances and make decisions that are in line with our true values and goals. The Hermit Tarot card encourages us to take a moment and assess our financial situation, to understand the limitations and the potential for growth. Ultimately, it can be a reminder to practice self-discipline and self-control when it comes to our finances.
Relationships:
The Hermit Tarot card is a reminder to take time to examine your relationships. It can be a sign to take a step back and look at your relationships from a greater perspective. It can be a reminder to take a moment to reflect on what is working and what is not in your relationships. Taking this time of reflection can help give you clarity on how to make improvements and foster more meaningful connections. The Hermit Tarot card can also encourage you to seek out inner peace, and to consider the motivations behind your interactions with others. Ultimately, it can be a reminder to take time to nurture your relationships with careful consideration and understanding.
Conclusion
Understanding how the meaning of a reading changes once you start involving more than one card can be tricky. This will come with time and practice, however I hope this guide on what your cards might be telling you when you draw Strength and The Hermit has helped you.