A key aspect of reading your own tarot is interpreting cards. For a beginner interpreting a single card can be fine, as there are plenty of resources to help you out, however interpreting two or more can be very tricky.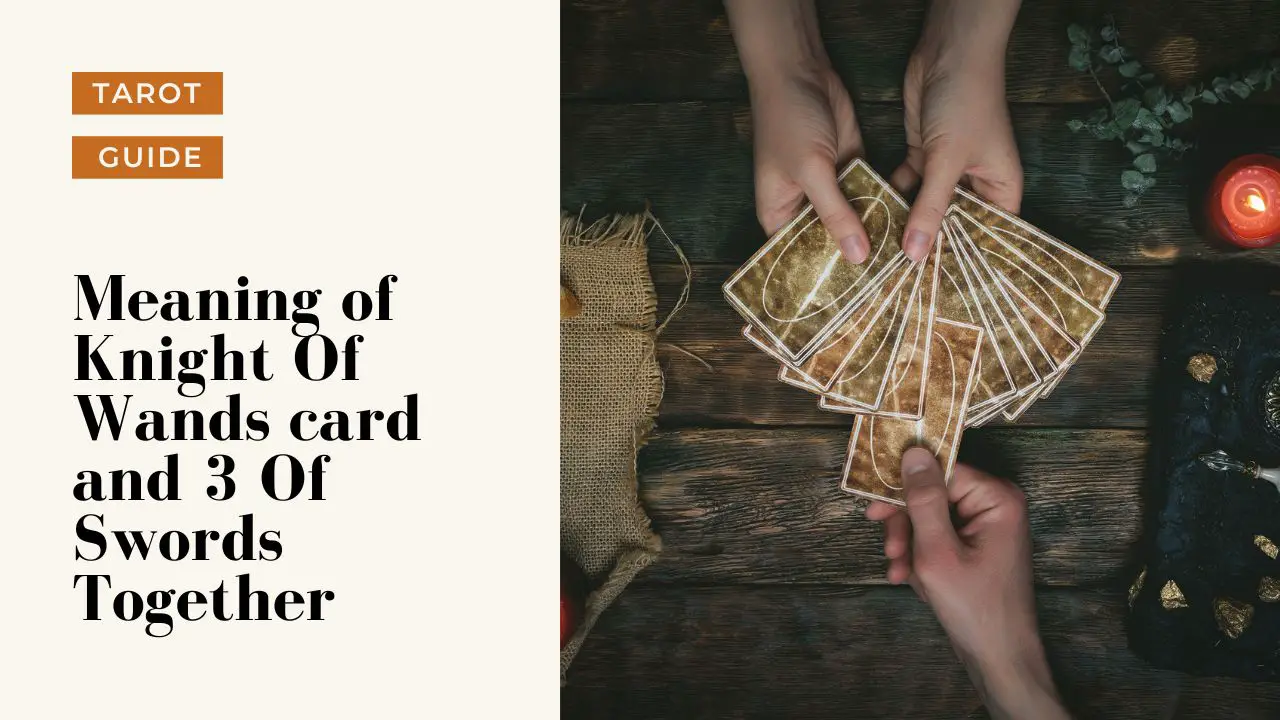 However, if you have been practising single card readings for a while a 2 card spread will be a great introduction into reading multiple cards.
As you've found this page, you're probably wondering how to interpret the Knight Of Wands card and 3 Of Swords card together in particular.
The Knight Of Wands card and 3 Of Swords have unique qualities and will interact with each other in different ways depending on what kind of reading you are doing.
What does Knight Of Wands and 3 Of Swords mean together?
The Knight Of Wands tarot card and The 3 Of Swords tarot card suggest a turbulent journey of personal growth. The Knight Of Wands is a sign of creative freedom and lusty enthusiasm, while the 3 Of Swords is a portent of loss, heartache, and depression. Together, these two cards indicate that in order to open oneself up to creative freedom one also has to be open to the losses and sorrows life can bring. Experiences that cause grief can bring about a deeper understanding of oneself, and this understanding opens up a new path for true creative expression. This is a cycle that requires courage, but ultimately leads to new heights of personal liberation.
The meaning may differ depending on what you are asking. Here are some common questions and their possible meanings
What does Knight Of Wands and 3 Of Swords mean together for your love life?
When The Knight of Wands Tarot card is combined with The Three of Swords Tarot card, it suggests a turbulent period of your love life. The Knight of Wands typically symbolizes a free-spirited person who is eager to explore both romantic possibilities and new experiences. On the other hand, The Three of Swords often indicates an ending to a love story, and perhaps feeling the pain of a break-up or a divorce.
When these two cards appear together in a reading, it likely means that you are facing challenging emotions due to a recent or impending break-up. The Knight of Wands makes you want to explore and discover, but the Three of Swords serves as a warning that taking this path may lead to further heartache or pain. You should consider whether following your heart is really worth the risk of further pain and sorrow.
Fortunately, this difficult period may be the gateway to a new period of creativity and self-growth. Even in the midst of pain and hurt, you can take the opportunity to recognize what lessons you have to learn. The Knight of Wands encourages you to be brave and passionate in your pursuits, while The Three of Swords reminds you to be mindful of the consequences of your choices.
Ultimately, The Knight of Wands and The Three of Swords Tarot card together bring a mix of both challenging and inspiring possibilities. The darkness of The Three of Swords can be a powerful opportunity, as it can help you gain clarity and insight into your personal growth journey, and it can provide the courage and enthusiasm of The Knight of Wands to forge ahead.
What does Knight Of Wands and 3 Of Swords mean together for your finances?
The combination of The Knight of Wands and The 3 of Swords in regards to finances and job can bring up some negative connotations. The Knight of Wands is often associated with impulsiveness, which could be seen as a potential cause of financial downfalls or risky behavior that is not rewarded. The 3 of Swords speaks of difficulty and heartache, and could be indicative of a period of financial hardship, loss, or depression. This could be the result of ill-thought out investments on the part of the Knight of Wands, or simply the fact that their creative spirit and desire for a free and unfettered life may be in conflict with the conservative and more structured elements of a job or career.
It is possible that a person in this situation will experience difficulty in maintaining a job because their creative spirit is not well-suited to the more structured elements of the typical 9-5. Alternatively, they may be in a job which they feel is stifling and confining and this could be causing a great deal of mental and emotional stress. They may be struggling to balance their creative pursuits with their work, or to make a career out of their creative ideas and projects.
From a financial standpoint, this combination of cards may suggest that it is important for the Knight of Wands to be mindful with their money and take a sensible approach to their finances. It could be a sign that they need to be conservative with their resources and be careful not to take too many risks in the hopes of making a quick fortune. Instead, they should focus on creating a solid and sustainable financial future, and build a secure foundation for themselves.
In terms of career, the combination of The Knight of Wands and The 3 of Swords could suggest that this person may be prone to taking risks that are not always in their best interests. It is important they take steps to incorporate their creative impulses into their job and pursue activities that bring joy and fulfillment, while also being mindful of the fact that making a living often requires a certain amount of structure. Ultimately, this combination of cards indicates that financial security and career satisfaction is best achieved when creative expression is balanced with practicality and forethought.
What does Knight Of Wands and 3 Of Swords mean together for your health?
The Knight of Wands and the Three of Swords together can be seen as a lesson to be learned when it comes to your health. It can mean that you should be aware of the consequences of letting your freedom and creativity run wild. If you don't take good care of yourself, you may end up facing heartbreak, divorce, loss, depression, or even surgery.
In essence, it's a warning against overindulging in activities that could be potentially harmful to your health. The Knight of Wands encourages you to live life with passion and spontaneity. However, it's important to know your boundaries and practice moderation. Too much of anything can be damaging to your health and wellbeing. The Three of Swords is a reminder of the pain and consequences of excessive behavior.
It's important to understand that the Knight of Wands and the Three of Swords together emphasize the importance of balance. Although it's important to live life to the fullest, it's also essential to take care of yourself and your body first. Strive for a healthy balance between work and play, and don't let yourself get caught up in the pursuit of pleasure. Be mindful of the choices you make, and understand that even if you're having fun, there can still be consequences.
The Knight of Wands and the Three of Swords together is a powerful reminder that self-care is paramount. Don't forget to take care of yourself, and make sure to practice moderation in everything you do. Your health should always be a priority, no matter how much fun you may be having.
The meaning of the cards will depend on what kind of reading you are doing and the question you asked the deck. This is a guide covering the general meanings of the cards and how they relate to each other.
Common 2-card spreads
Whilst it's great to know who these two cards interact with each other, it's important to note that the meaning will depend on the context of your spread
The most common 2 card spreads I recommend to newer readers are:
The 2 card cross (otherwise known as "The Fool's Journey")
The 2 card "Yes or No"
"The Fool's Journey"
Setup: The two card cross is where you place two cards face up, one placed vertically and with one laying horizontally over
Interpretation: The 2 cards represent a "situation" and a "challenge". The first card will describe the situation you are in with the second horizontal card being the "challenge" crossing you (literally crossing you in this case!)
Reading: Using the overviews in this guide is a great way to start. First, look at the meanings of the 2 cards, and see how they might relate either as your "situation" or "challenge". Once you have that you can look at the general overview for how the two cards interact with each other.
The benefit of this spread is that it can give clarity when you're feeling uncertain or anxious. Once you have clarity of thought, and a strong idea of what your challenge is you can find solutions to help your situation
The 2 card "Yes or No"
Setup: The 2 card "Yes or No" is where you place two cards face up side by side, whilst asking your deck a "yes or no" question.
Interpretation: Each card in a tarot deck has a "yes" or a "no" meaning. Look at the meanings of each card, and you will have your answer.
The benefit of this is you get a stronger yes or no compared to a single card draw. You may find you often get a mix of "yes or no", and this is fine. It simply means there is doubt, or things are not yet clear.
Yes or No meaning
Things are a bit tricky for this combination, as Knight Of Wands and 3 Of Swords mean different things. The cards are unsure about your question, or the answer to the question has not yet been decided.
The "Yes" and "No" meanings can differ from reader to reader. The meanings here are based on what I believe are the generally accepted definitions.
What does Knight Of Wands mean?
Health: The Knight of Wands Tarot card is an encouraging sign for health – it suggests a passionate enthusiasm for life and a real appreciation for the body and its abilities. It encourages a will to take action when it comes to health, with its powerful imagery of a knight atop a horse, charging forth boldly. It can symbolize a journey to reclaim one's own physical well-being, a journey to fight against stagnation and illness. It also implies the importance of understanding the spiritual side of health, which is often necessary for lasting physical well-being.
Finances: The Knight of Wands Tarot card is a sign of creative enthusiasm and a powerful drive that can open up new paths to financial success. It is a card of transformation, that encourages the viewer to take an active role in their own destiny. It suggests the possibility of taking risks and trusting in the outcome. This card can help the viewer to find new sources of income and open up opportunities through entrepreneurial pursuits.
Relationships: The Knight of Wands Tarot card is a sign of passionate enthusiasm, creativity, and boldness. It suggests that the viewer is ready to take risks in order to create new and exciting opportunities for love and relationships. It encourages the viewer to be honest with themselves and their partner and to not be afraid to open up and be vulnerable. This card is a reminder that relationships are always worth fighting for and can provide some of the most powerful and rewarding experiences life has to offer.
What does 3 Of Swords mean?
Health
The 3 of Swords tarot card represents physical and emotional heartache, as well as physical and psychological trauma. It is a sign of pain and suffering, of loss or an impending surgery, such as organ or tissue transplant, amputation, or biopsy. It could also be indicative of a terminal illness. It is a reminder that even in times of difficulty and sorrow, there can be hope and healing if we are willing to work through it.
Finances
The 3 of Swords tarot card can mean a financial setback, such as a divorce or business failure. It can be a sign of losses in investments or of bad decisions. It may indicate debt, a lack of funds, or an abrupt change in financial circumstances. Although this card may be seen as financially difficult, it is also a reminder to take control of our finances, look for creative solutions, and to make wise choices in order to turn the situation around.
Relationships
The 3 of Swords tarot card is a sign of heartbreak, pain and separation, for either romantic or platonic relationships. It could mean a potential divorce or a difficult break-up, that can cause immense emotional pain and sorrow. It could point to a betrayal or lies that have ruined a relationship. It can also signify a relationship that is going through a difficult time, such as feeling disconnected or disconnected deeply in pain. The 3 of Swords can also point to a lack of communication or understanding in a relationship. This card can be seen as a sign of the end, however, it can also be a sign of healing and a reminder that communication and understanding can heal old wounds.
Conclusion
Understanding how the meaning of a reading changes once you start involving more than one card can be tricky. This will come with time and practice, however I hope this guide on what your cards might be telling you when you draw Knight Of Wands and 3 Of Swords has helped you.