A key aspect of reading your own tarot is interpreting cards. For a beginner interpreting a single card can be fine, as there are plenty of resources to help you out, however interpreting two or more can be very tricky.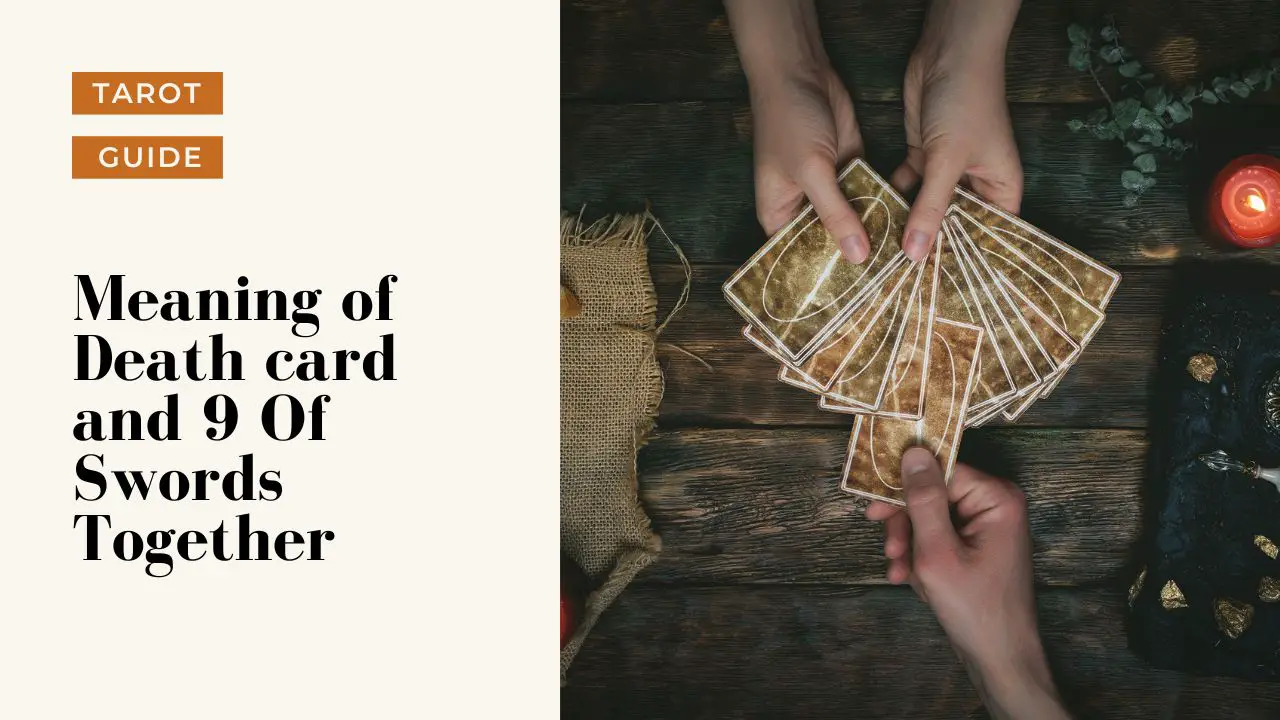 However, if you have been practising single card readings for a while a 2 card spread will be a great introduction into reading multiple cards.
As you've found this page, you're probably wondering how to interpret the Death card and 9 Of Swords card together in particular.
The Death card and 9 Of Swords have unique qualities and will interact with each other in different ways depending on what kind of reading you are doing.
What does Death and 9 Of Swords mean together?
The Death tarot card and the 9 of Swords tarot card together mean that it is time for a transformation and a renewal. Though this transformation will likely cause some anxiety and depression, it is necessary to move on and create a new beginning. By confronting the fear and sadness of your current situation, you can bring an end to it and begin again with a sense of hope and optimism. Though the process may be difficult, it will ultimately lead to a rebirth and the potential for a bright future.
The meaning may differ depending on what you are asking. Here are some common questions and their possible meanings
What does Death and 9 Of Swords mean together for your love life?
When the Death tarot card and the 9 of Swords card appear together in a reading about your love life, it can be a sign that you are at a very transitional point. It suggests that the relationship you have been in is coming to an end and it is time to move on. This ending is both an ending and a rebirth, as a new relationship could come out of the ashes. It is a sign to prepare for big changes, such as an ending of a relationship, a change in the dynamics between you and your partner, or a shift in your own personal goals and desires.
The 9 of Swords indicates that the transitioning period may be difficult, marred by anxiety, depression, and even nightmares. The transition can be a painful one, as you face letting go of a part of your past, and it is important to be gentle with yourself as you process the emotions associated with the death of your relationship. You may have to confront deep seated fears, sadness, and any trauma that has been stored up in this relationship.
It is crucial to remember to practice self-care and to create an atmosphere around you that supports your healing and growth. Let this transition be an invitation to reconnect with yourself and pay attention to the parts of you that have been ignored, neglected, or denied. Allow yourself to explore different avenues in life that you had seemed to have forgotten.
The Death tarot card and the 9 Of Swords together suggest that, although the transition may be a difficult one, at the end, you will experience a significant transformation that will bring about positive change and powerful growth.
What does Death and 9 Of Swords mean together for your finances?
When The Death and The 9 Of Swords tarot cards appear together in a reading regarding your finances and job, it indicates that a period of significant change is ahead. It could be a time to move on from a current job or career that no longer serves your highest good. The 9 of Swords suggests that you may be feeling overwhelmed by this change, or plagued by feelings of anxiety, grief, and depression. This can be a difficult transition, however it is necessary for true transformation to occur.
The Death tarot card can signify an ending, likely of something no longer serving your highest good. You may be feeling an urge to move on or to let go of something related to your finances or job. This card can sometimes be associated with a major life change or a loss. It is important to remember that this is an opportunity for growth and transformation. This could also be a chance to start fresh, and to rebuild a career that is better suited to your goals, values, and desires.
The 9 of Swords can indicate that you may be weighed down by feelings of fear, guilt, or doubt. You may have experienced a major setback in your finances or job that has caused you to spiral into negative thinking and worry. It is important to remember that this is just a temporary condition, and to draw on your inner strength to move forward. Seek out counseling or therapy if needed, and take some time for yourself to rest and recover.
Overall, The Death and 9 of Swords tarot cards when appearing together can signify change, movement, and transformation. This may be a difficult and challenging transition that requires your courage, strength, and resilience. However, it is an opportunity for rebirth and to create a better life for yourself.
What does Death and 9 Of Swords mean together for your health?
The combination of The Death tarot card and The 9 Of Swords tarot card indicates a difficult time of transition. Though this period may initially seem overwhelming and filled with anxiety, it is a necessary part of the journey that ultimately leads to personal growth and renewal. The Death card often signifies a big life change, a time to let go of the old and embrace the new. This can relate to endings in relationships, career paths, or even a state of mind. Though it may seem frightening to let go of the familiar and venture into the unknown, the Death card symbolizes that this new beginning can be a positive and creative one.
The 9 Of Swords tarot card represents inner turmoil, such as intense sadness and depression. During periods of transition, it is quite common to experience grief, nightmares, and other forms of emotional distress. It is important to try to look beneath these feelings to find the hidden lesson beneath the surface. The 9 Of Swords indicates that you have the strength to face these difficult emotions with courage and insight. With some self-awareness, you can learn from these challenges and gain insight into what may be preventing you from moving on.
The Death tarot card and The 9 Of Swords tarot card together represent a difficult but necessary transition in your life that can lead to a transformational period of growth. This can be a difficult and emotional journey, but with self-care and self-reflection, you can learn how to channel this period of transition into something productive and meaningful. Rather than be discouraged by the times of despair and insecurity, these cards bring an important reminder that out of endings, new beginnings can arise.
The meaning of the cards will depend on what kind of reading you are doing and the question you asked the deck. This is a guide covering the general meanings of the cards and how they relate to each other.
Common 2-card spreads
Whilst it's great to know who these two cards interact with each other, it's important to note that the meaning will depend on the context of your spread
The most common 2 card spreads I recommend to newer readers are:
The 2 card cross (otherwise known as "The Fool's Journey")
The 2 card "Yes or No"
"The Fool's Journey"
Setup: The two card cross is where you place two cards face up, one placed vertically and with one laying horizontally over
Interpretation: The 2 cards represent a "situation" and a "challenge". The first card will describe the situation you are in with the second horizontal card being the "challenge" crossing you (literally crossing you in this case!)
Reading: Using the overviews in this guide is a great way to start. First, look at the meanings of the 2 cards, and see how they might relate either as your "situation" or "challenge". Once you have that you can look at the general overview for how the two cards interact with each other.
The benefit of this spread is that it can give clarity when you're feeling uncertain or anxious. Once you have clarity of thought, and a strong idea of what your challenge is you can find solutions to help your situation
The 2 card "Yes or No"
Setup: The 2 card "Yes or No" is where you place two cards face up side by side, whilst asking your deck a "yes or no" question.
Interpretation: Each card in a tarot deck has a "yes" or a "no" meaning. Look at the meanings of each card, and you will have your answer.
The benefit of this is you get a stronger yes or no compared to a single card draw. You may find you often get a mix of "yes or no", and this is fine. It simply means there is doubt, or things are not yet clear.
Yes or No meaning
Both Death and 9 Of Swords mean "No". If you are asking a direct question, then be under no illusions, the answer is a negative one. If you draw Death and 9 Of Swords the answer to your question is "NO".
The "Yes" and "No" meanings can differ from reader to reader. The meanings here are based on what I believe are the generally accepted definitions.
What does Death mean?
The Death Tarot card can represent a big change in health, finances, and relationships. In terms of health, it could mean a physical transformation, a new way of thinking about health, or even a physical illness that needs to be addressed. It could also mean that it's time to go through a physical transformation, such as exercising and eating a healthier diet. In terms of finances, it could signal a need to take a more serious approach to financial management, or a time to move on from something that is no longer financially beneficial. It could also represent a time to come up with a new financial plan for the future. In terms of relationships, it could signal a time of transition, the end of a old relationship and the beginning of a new one, or an opportunity to reinvent the way we interact with others. It could also mean it's time to let go of relationships that no longer serve us, and to open up to new relationships that bring positive growth.
The Death Tarot card can signify a time for transformation and growth, which can be physically, mentally, emotionally, and spiritually. It is a reminder to not be afraid of change and to embrace it as an opportunity to learn and grow. It encourages us to take a look at the aspects of our lives that may need to be let go of in order to make room for change, and to recognize that the end of something may be the beginning of something else. Through change, we can become stronger and more capable of creating something even better. The Death Tarot card serves as a reminder that although endings can be hard, they can also be a chance to start something new and enter the next phase of our lives.
What does 9 Of Swords mean?
Health: The 9 of Swords Tarot card is a warning to heed the effects of anxiety and depression on the body. It suggests that a person's physical health may be at risk if they are not taking the necessary steps to manage their mental health. If a person is suffering from extreme worry, sadness, and insomnia, they should seek out professional help or find ways to relax their mind and body. This card also urges one to pay attention to the physical warning signs their body may give, like digestive issues, headaches, and exhaustion. Taking steps to recognize and address the emotional and physical states associated with this card can help one find greater balance and well-being.
Finances: The 9 of Swords Tarot card can indicate financial stress. This might manifest in a person struggling to pay bills, having to deal with debt collectors or feeling like they are living paycheck-to-paycheck. It is important to remember that financial stress is not only a psychological burden it can also have consequences on physical health. It is essential to find a way to get out of this situation through informed decisions and budgeting. Taking action such as working extra hours, cutting back on unnecessary expenses, and seeking out financial advice can help alleviate this burden.
Relationships: The 9 of Swords Tarot card can indicate a feeling of being stuck in a particular relationship. It can also suggest a lack of communication, insecurity, uncertainty, and emotional abandonment. It is important to be honest with yourself and your partner to move towards a healthier and happier relationship. It is also essential to build on the qualities that make a relationship valuable such as trust, respect, patience, empathy, and acceptance. Taking action to address any issues in the relationship and actively communicating your feelings can help you begin to heal and move forward.
Conclusion
Understanding how the meaning of a reading changes once you start involving more than one card can be tricky. This will come with time and practice, however I hope this guide on what your cards might be telling you when you draw Death and 9 Of Swords has helped you.
Get the Ultimate Tarot Card Combinations Pack
The Tarot Happy eBook Pack is available now for instant download.
With 78 eBooks covering all tarot pair meanings, this pack is a comprehensive guide on using tarot for introspection, self-understanding and inner growth.
$1.99 $24.99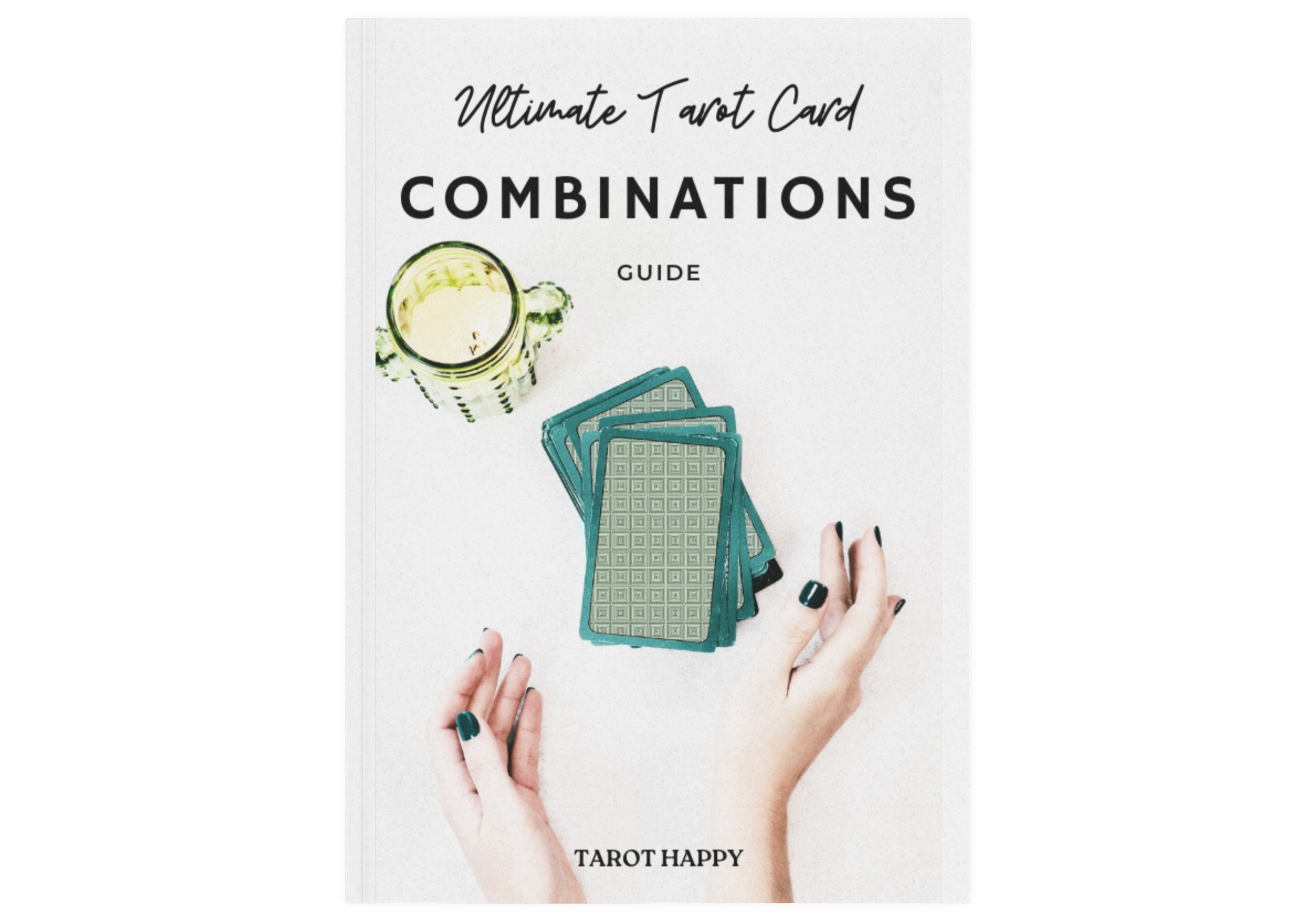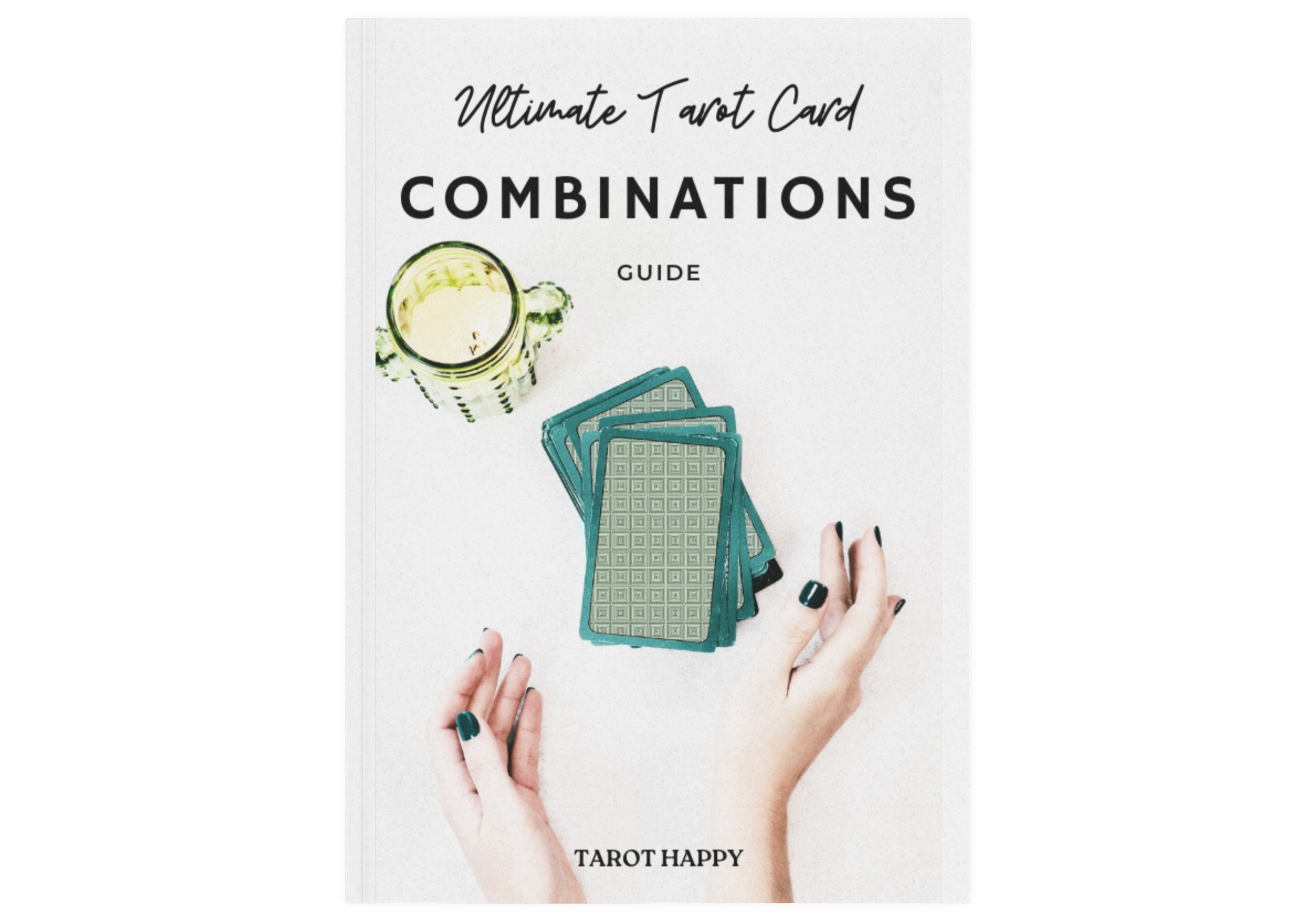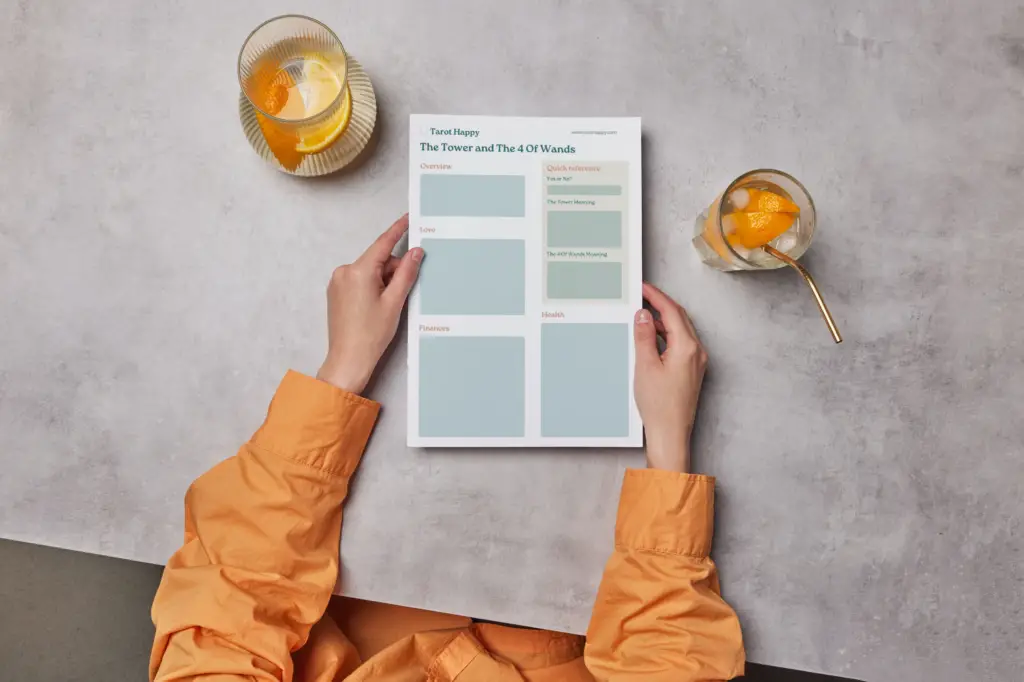 The pack contains an eBook for each of the 78 cards in a tarot pack.
Each eBook focuses on all the combinations for a single card, with overview of meanings for:
"Yes or No"
Key words and phrases that describe the combination
Meaning for Love
Meaning for Finance
Meaning for Health and Relationships
Unlock the Mysteries of Tarot with Our Comprehensive 78 eBook Pack
Are you ready to take your Tarot reading abilities to the next level? It's time to upgrade your spiritual toolbox with our extensive 78 eBook Pack. Each eBook is crafted to detail the meaning of every single Tarot card combination!
Venture beyond the basic meanings of the cards and delve into the intricate, layered symbolism each combination offers.
From beginner enthusiasts to advanced practitioners, this ultimate Tarot eBook pack will enhance your understanding, foster deeper connections with the cards, and improve your readings in a way that no other guide can.
Save over $20 if you buy today!
$1.99 $24.99