A key aspect of reading your own tarot is interpreting cards. For a beginner interpreting a single card can be fine, as there are plenty of resources to help you out, however interpreting two or more can be very tricky.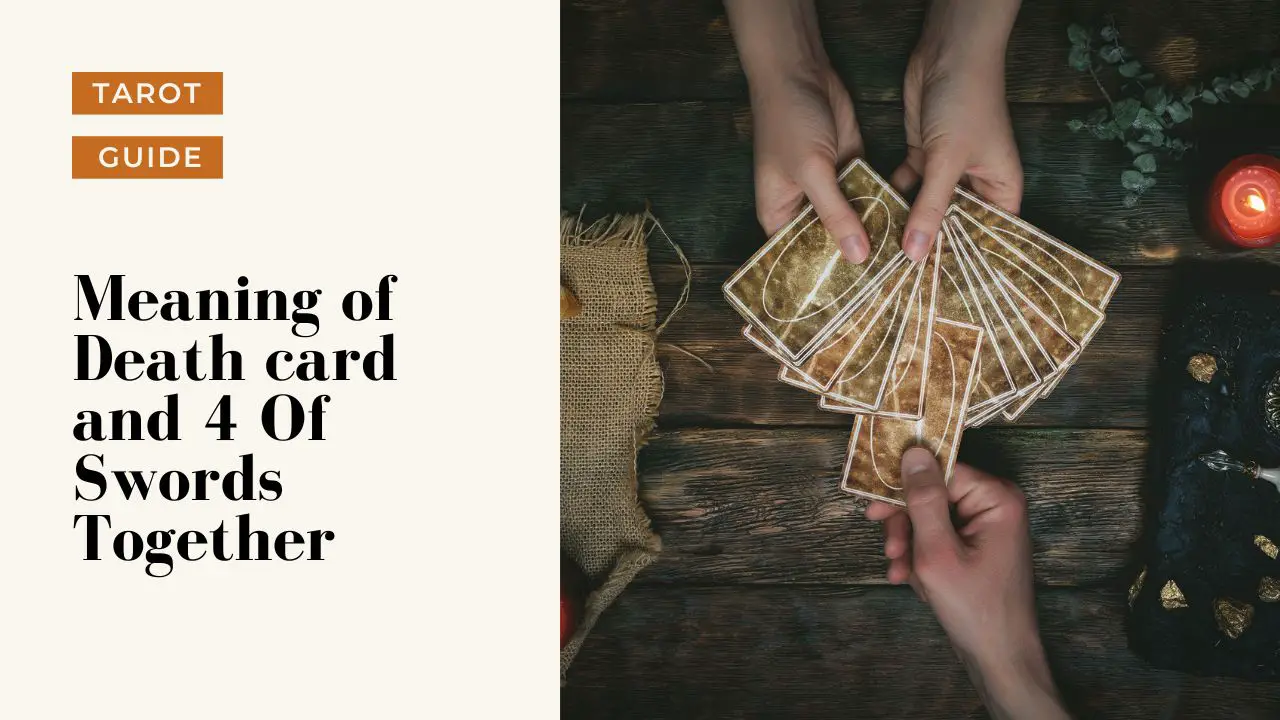 However, if you have been practising single card readings for a while a 2 card spread will be a great introduction into reading multiple cards.
As you've found this page, you're probably wondering how to interpret the Death card and 4 Of Swords card together in particular.
The Death card and 4 Of Swords have unique qualities and will interact with each other in different ways depending on what kind of reading you are doing.
What does Death and 4 Of Swords mean together?
The Death tarot card and The 4 Of Swords tarot card draw on two forces of transformation–the former representing endings and big changes, and the other symbolizing retreat and renewal. Together, these cards suggest that it may be time for a necessary period of rest and recovery, so that you can better navigate the new era of transformation. Taking a step back and allowing yourself the time and space to rest and rejuvenate can help you face endings with strength and clarity of purpose, and eventually move forward in your life. The Death tarot card plus The 4 Of Swords tarot card combine to bring the message of creating a moment of necessary solitude to promote healing and prepare for big changes.
The meaning may differ depending on what you are asking. Here are some common questions and their possible meanings
What does Death and 4 Of Swords mean together for your love life?
The Death tarot card and The 4 Of Swords tarot card when combined, points towards a major transformation in your love life. In order to be able to experience this transformation, it is important for you to prepare yourself for the endings that will come with it. As difficult as it may be, it is time to move on from your old relationship and to embrace change that is coming.
The 4 Of Swords tarot card is a card of renewal from the exhaustion and pain that the Death tarot card brings. It is a sign that this period of time is for you to retreat, to find a place of solitude and work on yourself. Allow yourself to rest and to heal from the emotional trauma you have been feeling. This is a great time for you to take a break from the relationship you had and to refocus on your own needs.
By combining these two cards, it is clear that you are ready to embark on a journey of transformation in your love life. You are now on the path to rebirth, and the old relationship you had was meant to end in order to create some space for a new one to begin. Allow yourself to go through the necessary healing process and you will be able to find the closure and peace you need to be happy again.
What does Death and 4 Of Swords mean together for your finances?
The Death tarot card and the 4 of Swords tarot card together signify big financial changes and the opportunity to start anew. This combination is a sign for you to let go of the stability and comfort of your current employment and move on to a new chapter in your career journey. It suggests taking time out to reflect on what you want to achieve and to rest, before making a commitment to something new.
The Death tarot card symbolizes endings, letting go, and transformation. It can be a painful process, but it is necessary to make room for the new. To move forward, you must first lay the foundations of your current position and to responsibly disengage from it. Even though it may feel like a loss, there is potential for a new beginning, with greater opportunities.
The 4 of Swords tarot card encourages you to retreat before you make any big changes. This should be a period of rest and renewal, as it will help you to gain insight into what you truly want for your career. It also suggests taking time to evaluate your financial goals, as you cannot move forward until you know where you are heading.
By combining the Death tarot card and the 4 of Swords tarot card, you are being reminded that it is time to take a step back from the security of the job you have and open yourself up to the possibilities of something new. Make sure you take the time to rest and reflect, as this will help you to make the best decisions for your financial future. With the right attitude, you can use this time of transition to start on a new path that will lead to greater prosperity.
What does Death and 4 Of Swords mean together for your health?
The combination of The Death card and The 4 Of Swords card deviate from the traditional dark and morbid connotations of the Death card, to create a narrative of pivotal change within your health, and the importance of taking a step back and catching your breath.
The Death card highlights the importance of making bold changes to your health that are challenging yet necessary. It is time to let go of bad habits, outdated routines and things that no longer serve your health in any way. This could be something as simple as cutting out processed foods, or quitting a destructive habit such as smoking.
In order to make these brave changes, the 4 Of Swords speaks to a period of retreat, rest, and recovery. It is essential to reconnect with yourself, listen to your body, and allow yourself to rest and rejuvenate. This is key in order to allow your body to adjust to the forthcoming changes and prepare for the transformation ahead. This can be in the form of a digital detox, sleeping in on the weekends, or taking more walks in nature.
The combination of both these cards illustrate the importance of these two phases in order to make lasting changes to your health. The Death tarot card speaks to a death of old habits and the 4 Of Swords is a reminder to find balance and give your health the attention it needs. By creating a more mindful relationship with your body, you are providing yourself with the tools needed to make larger changes and cultivate a healthier lifestyle.
The meaning of the cards will depend on what kind of reading you are doing and the question you asked the deck. This is a guide covering the general meanings of the cards and how they relate to each other.
Common 2-card spreads
Whilst it's great to know who these two cards interact with each other, it's important to note that the meaning will depend on the context of your spread
The most common 2 card spreads I recommend to newer readers are:
The 2 card cross (otherwise known as "The Fool's Journey")
The 2 card "Yes or No"
"The Fool's Journey"
Setup: The two card cross is where you place two cards face up, one placed vertically and with one laying horizontally over
Interpretation: The 2 cards represent a "situation" and a "challenge". The first card will describe the situation you are in with the second horizontal card being the "challenge" crossing you (literally crossing you in this case!)
Reading: Using the overviews in this guide is a great way to start. First, look at the meanings of the 2 cards, and see how they might relate either as your "situation" or "challenge". Once you have that you can look at the general overview for how the two cards interact with each other.
The benefit of this spread is that it can give clarity when you're feeling uncertain or anxious. Once you have clarity of thought, and a strong idea of what your challenge is you can find solutions to help your situation
The 2 card "Yes or No"
Setup: The 2 card "Yes or No" is where you place two cards face up side by side, whilst asking your deck a "yes or no" question.
Interpretation: Each card in a tarot deck has a "yes" or a "no" meaning. Look at the meanings of each card, and you will have your answer.
The benefit of this is you get a stronger yes or no compared to a single card draw. You may find you often get a mix of "yes or no", and this is fine. It simply means there is doubt, or things are not yet clear.
Yes or No meaning
Things are a bit tricky for this combination, as Death and 4 Of Swords mean different things. The cards are unsure about your question, or the answer to the question has not yet been decided.
The "Yes" and "No" meanings can differ from reader to reader. The meanings here are based on what I believe are the generally accepted definitions.
What does Death mean?
The Death Tarot card is an ominous one and it can indicate the endings of things or a need for transformation. In terms of health, this card can be a warning of a health scare, illness, or difficult diagnosis. It can also indicate the end of a health regime or the need to change your approach to your health. Financially, the card can warn of a time of financial loss and instability. It can be a sign of an ending business venture or the need to change how you manage your finances.
In terms of relationships, the Death Tarot card can represent the end of a relationship, or a shift in the relationship. It can also indicate a need for transformation and a need to let go of unhealthy patterns or behaviors. It can also mean that it is time for a rebirth, for the relationship to enter a new and healthier phase.
In all aspects, the Death Tarot card carries with it a sense of transformation and change. It is a reminder to reflect on your current situation in an honest and open way and to examine what needs to end and what needs to be transformed. As daunting as it may be, the Death Tarot card brings with it a sense of hope and opportunity, as it can also serve as a reminder that change can bring new growth and possibilities.
What does 4 Of Swords mean?
Health
The Four of Swords Tarot card symbolizes the need for time away from the constant hustle and bustle of life in order to revitalize and heal. This card can be seen as a reminder to allow yourself to take a break from physical and mental stress. It is a card of retreat and rest that encourages the receiver to step away from work, relationships and other obligations in order to nurture and prioritize one's own health and wellbeing. It is a call to take time away from the chaos of everyday life and give yourself the opportunity to recuperate and restore balance.
Finances
The Four of Swords Tarot card suggests that when it comes to finances, rather than being aggressively proactive, it is often best to take a step back and take a breather. It is not always necessary to have your finger on the pulse and to be attempting to make big improvements or adjustments in volatile markets. This card can be used as an indicator of when financial decisions should be put on hold and instead we should be taking some time to reassess and consider what is already in place.
Relationships
The Four of Swords Tarot card encourages time for renewal, solitude, and introspection in all aspects of life, including relationships. It is a reminder that relationships, both intimate and platonic, need time to breathe and that no matter how much we love someone, we are still ultimately responsible for our own wellbeing. It is a call to check in with yourself, reflect on the relationships you are engaging in, and to remember that sometimes it can be beneficial to take a few steps back and create space to rediscover and restore balance.
Conclusion
Understanding how the meaning of a reading changes once you start involving more than one card can be tricky. This will come with time and practice, however I hope this guide on what your cards might be telling you when you draw Death and 4 Of Swords has helped you.
Get the Ultimate Tarot Card Combinations Pack
The Tarot Happy eBook Pack is available now for instant download.
With 78 eBooks covering all tarot pair meanings, this pack is a comprehensive guide on using tarot for introspection, self-understanding and inner growth.
$1.99 $24.99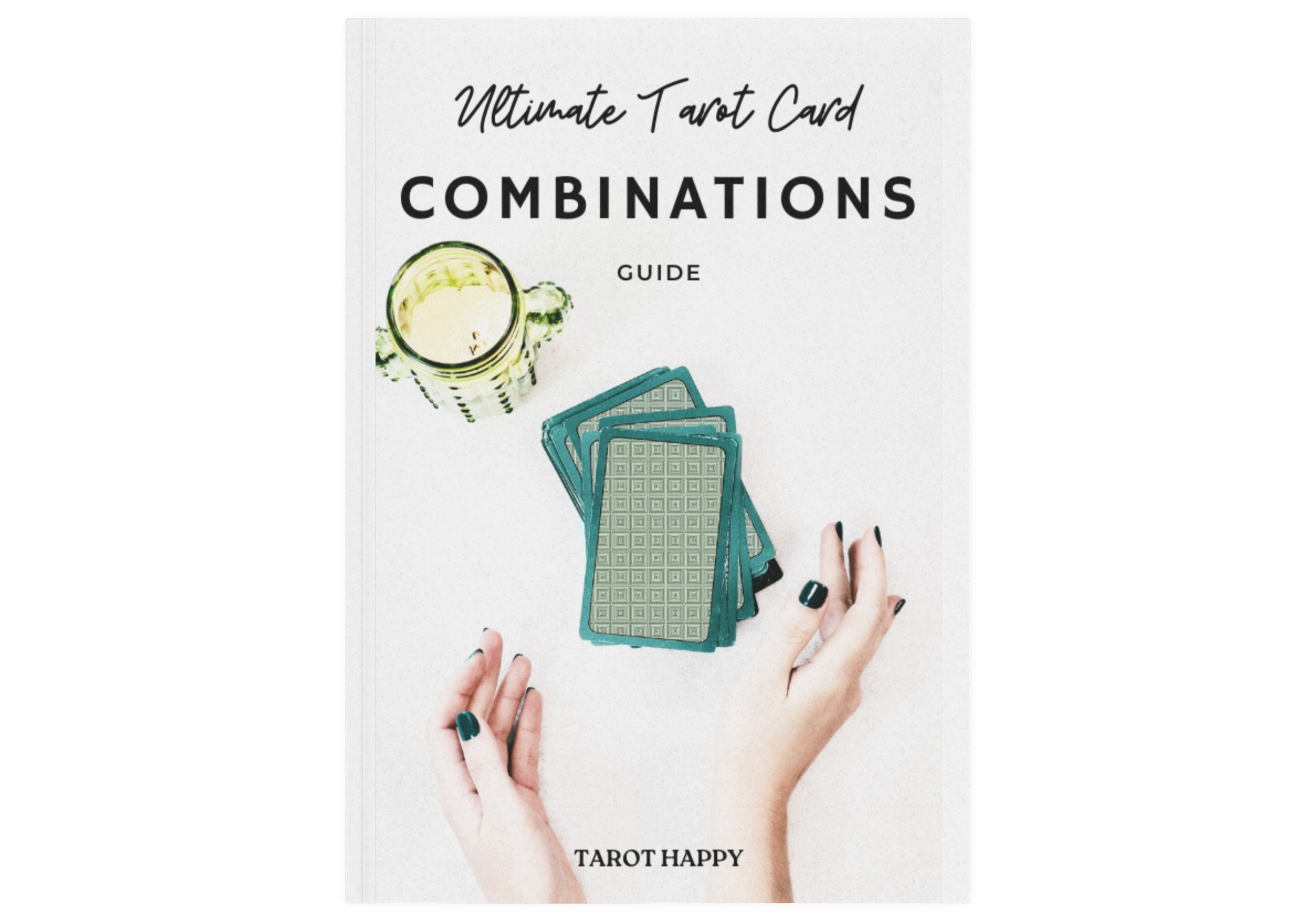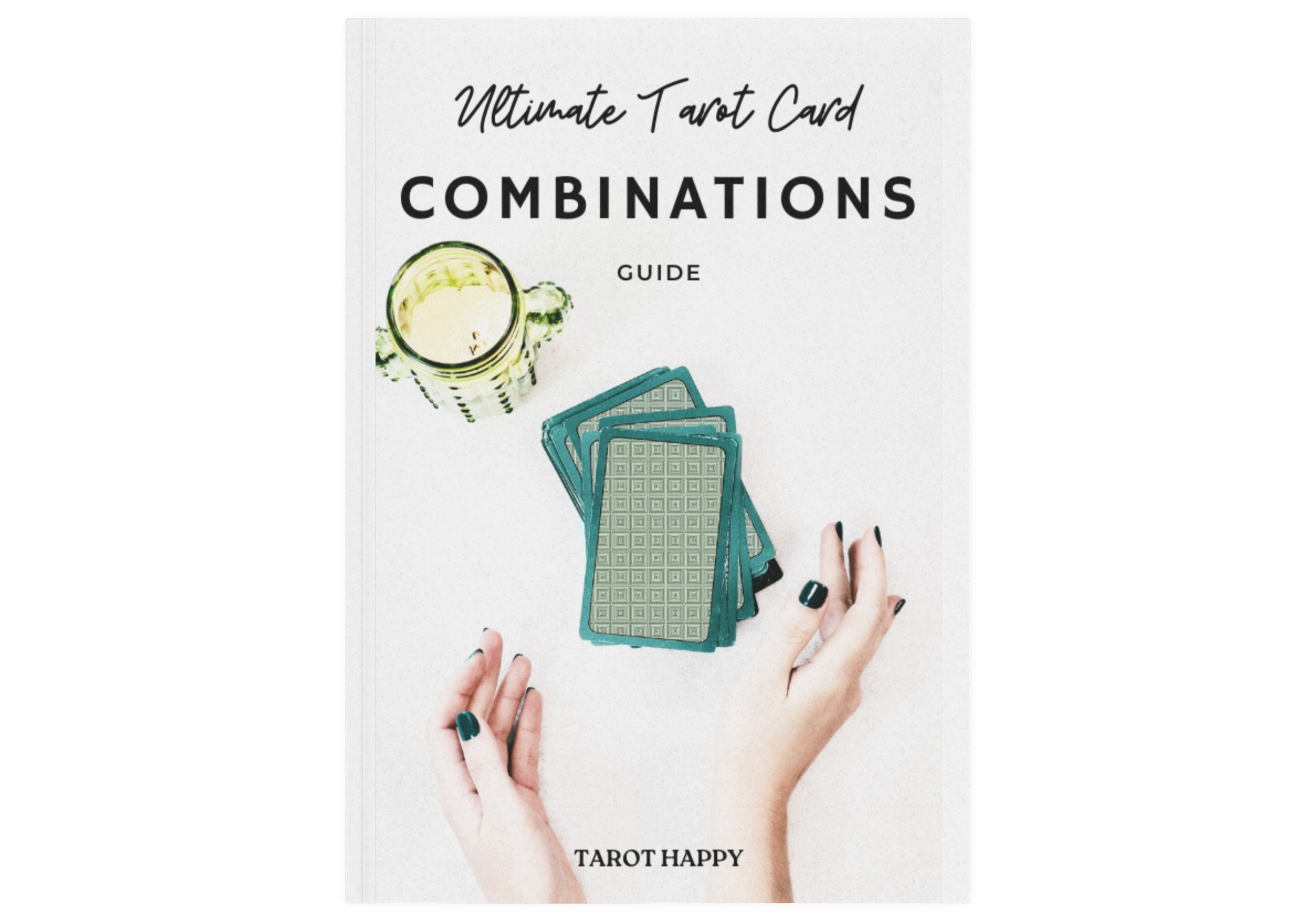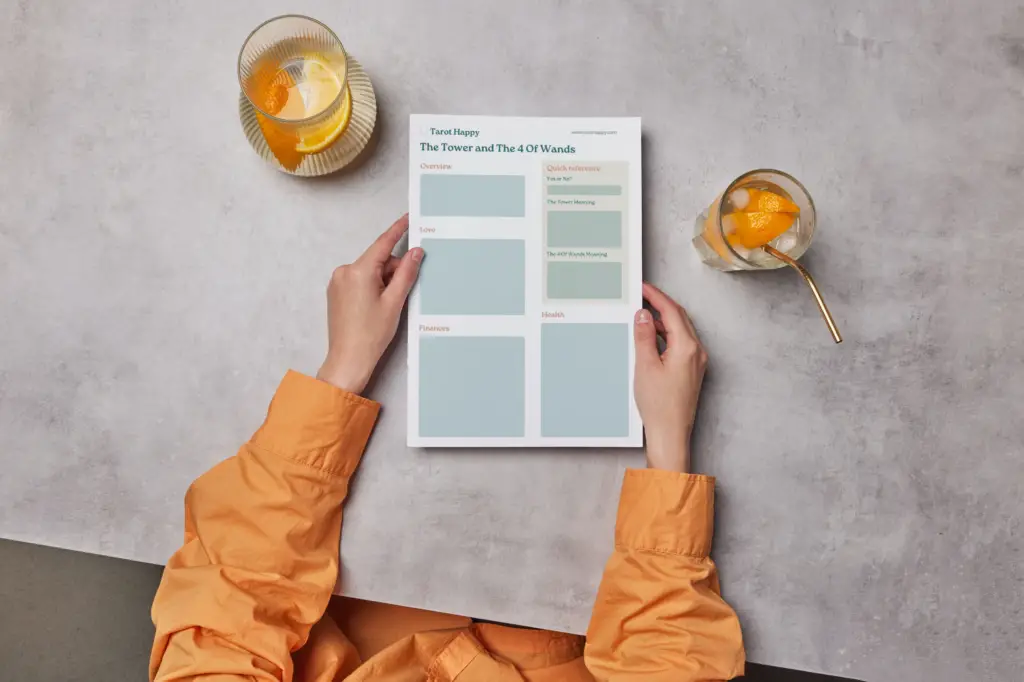 The pack contains an eBook for each of the 78 cards in a tarot pack.
Each eBook focuses on all the combinations for a single card, with overview of meanings for:
"Yes or No"
Key words and phrases that describe the combination
Meaning for Love
Meaning for Finance
Meaning for Health and Relationships
Unlock the Mysteries of Tarot with Our Comprehensive 78 eBook Pack
Are you ready to take your Tarot reading abilities to the next level? It's time to upgrade your spiritual toolbox with our extensive 78 eBook Pack. Each eBook is crafted to detail the meaning of every single Tarot card combination!
Venture beyond the basic meanings of the cards and delve into the intricate, layered symbolism each combination offers.
From beginner enthusiasts to advanced practitioners, this ultimate Tarot eBook pack will enhance your understanding, foster deeper connections with the cards, and improve your readings in a way that no other guide can.
Save over $20 if you buy today!
$1.99 $24.99