A key aspect of reading your own tarot is interpreting cards. For a beginner interpreting a single card can be fine, as there are plenty of resources to help you out, however interpreting two or more can be very tricky.
However, if you have been practising single card readings for a while a 2 card spread will be a great introduction into reading multiple cards.
As you've found this page, you're probably wondering how to interpret the Ace Of Wands card and 9 Of Swords card together in particular.
The Ace Of Wands card and 9 Of Swords have unique qualities and will interact with each other in different ways depending on what kind of reading you are doing.
What does Ace Of Wands and 9 Of Swords mean together?
The Ace Of Wands tarot card and The 9 Of Swords tarot card together represent a journey of both inspiration and anxiety. The Ace of Wands highlights new projects, inspiration and the urge to create, while The 9 Of Swords represents the underlying sense of fear and uncertainty this journey triggers. The combination of these two cards signals a process of both creative passion and struggle. It isn't easy to create something new, and the fears and feelings of low self-esteem that come with it can be hard to deal with. Still, this isn't a sign to give up, but rather a reminder that you have the capability to move through both the highs and lows of creativity.
The meaning may differ depending on what you are asking. Here are some common questions and their possible meanings
What does Ace Of Wands and 9 Of Swords mean together for your love life?
The Ace of Wands and the 9 of Swords together in a reading is an indication of potential for creativity in the face of difficulty. It is an indication that we need to tap into our inner strength to overcome our anxieties, depression or grief. The Ace of Wands implies that there is a creative burst of energy that needs to be harnessed in order to transform the current state of our love life. We can turn a difficult situation into something new and fresh by using our creative energies to move forward.
The 9 of Swords shows that while anxiety, depression and grief can be difficult to grapple with, they can also be accepted and embraced, allowing us to use them to become stronger and create something beautiful out of our current troubles. Our anxieties, depression and grief can be tools for us to use to help us create something new and wonderful. We need to find the courage to take risks and be bold enough to take steps towards a life of love we truly want.
The combination of the Ace of Wands and the 9 of Swords speaks to the power of creativity when it comes to overcoming life's obstacles; we must not forget that it is possible to make something beautiful out of difficult situations. Our anxieties and depression can rise and fall, but our courage and motivation should remain strong enough to move us toward our goals. The Ace of Wands tells us that we can use our creative energy to help us find a different path, even if we feel stuck in the same place. The 9 of Swords shows us that with enough effort and determination, we can break through our fears to reach the love we desire and deserve.
What does Ace Of Wands and 9 Of Swords mean together for your finances?
The two cards of The Ace Of Wands and The 9 Of Swords together can suggest a financial crossroads, or a difficult situation in your career that requires careful consideration. On one hand, The Ace Of Wands suggests a new project, creativity, and inspiration towards a new venture. On the other hand, The 9 Of Swords can represent a deep-rooted fear or anxiety of change and the unknown, which could be interpreted as a warning against taking any risks.
In terms of your finances and job, it might be expressing an internal struggle between the desire to take a leap of faith and begin something new, and the fear of the consequences it could have. Perhaps there is an opportunity on the horizon that provides an attractive financial future, but it requires a risk that you do not know how to make. The cards are telling you that it is important to be very mindful before making a decision, and to be in touch with your own anxieties and fears in order to take responsibility for the outcome.
At the same time, it is important to recognize the potential of the Ace Of Wands and to not be held back by doubts or by the focus on the worst possible outcome that The 9 of Swords is suggesting. You may have worries and anxieties, but if you can find the courage to confront them and move past them, then you open yourself to a world of opportunity. The cards can serve as a reminder to remain mindful and grounded when making decisions, but also to be open to exploration and new opportunities.
What does Ace Of Wands and 9 Of Swords mean together for your health?
The Ace of Wands and the 9 of Swords tarot cards, when combined, can indicate a difficult period of transition. This transition can be physical, mental, or spiritual in nature. While the Ace of Wands symbolizes a new beginning and the urge to create, the 9 of Swords can represent a feeling of dread, anxiety, and despair. These combined energies suggest that even though you may want to make positive changes in your life, you may find yourself struggling to take action or take the necessary steps to bring about the desired outcome.
The Ace of Wands and the 9 of Swords together can represent a difficult period of introspection and healing. It can show a time when your dreams and goals have been put on hold, and the fear of failure has gripped you. During this time, self-care and compassion should be your primary objectives. Taking some time away from the hustle and bustle of life to connect with yourself is essential. Letting go of the dread, anxiety, and despair is also important for your health.
The combined energies of the Ace of Wands and the 9 of Swords can be a sign that even though you don't feel ready to take action yet, you should trust in the process and take care of yourself. This energy can also indicate that your current anxieties and worries will soon pass if you focus on your inner strength and knowledge to make the necessary changes.
Finally, the Ace of Wands and the 9 of Swords together can represent a journey of transformation and self-discovery. This is a process that requires courage and patience, but once you start to move forward, you will be able to find the inspiration and courage to make the changes you need to be healthy and happy.
The meaning of the cards will depend on what kind of reading you are doing and the question you asked the deck. This is a guide covering the general meanings of the cards and how they relate to each other.
Common 2-card spreads
Whilst it's great to know who these two cards interact with each other, it's important to note that the meaning will depend on the context of your spread
The most common 2 card spreads I recommend to newer readers are:
The 2 card cross (otherwise known as "The Fool's Journey")
The 2 card "Yes or No"
"The Fool's Journey"
Setup: The two card cross is where you place two cards face up, one placed vertically and with one laying horizontally over
Interpretation: The 2 cards represent a "situation" and a "challenge". The first card will describe the situation you are in with the second horizontal card being the "challenge" crossing you (literally crossing you in this case!)
Reading: Using the overviews in this guide is a great way to start. First, look at the meanings of the 2 cards, and see how they might relate either as your "situation" or "challenge". Once you have that you can look at the general overview for how the two cards interact with each other.
The benefit of this spread is that it can give clarity when you're feeling uncertain or anxious. Once you have clarity of thought, and a strong idea of what your challenge is you can find solutions to help your situation
The 2 card "Yes or No"
Setup: The 2 card "Yes or No" is where you place two cards face up side by side, whilst asking your deck a "yes or no" question.
Interpretation: Each card in a tarot deck has a "yes" or a "no" meaning. Look at the meanings of each card, and you will have your answer.
The benefit of this is you get a stronger yes or no compared to a single card draw. You may find you often get a mix of "yes or no", and this is fine. It simply means there is doubt, or things are not yet clear.
Yes or No meaning
Things are a bit tricky for this combination, as Ace Of Wands and 9 Of Swords mean different things. The cards are unsure about your question, or the answer to the question has not yet been decided.
The "Yes" and "No" meanings can differ from reader to reader. The meanings here are based on what I believe are the generally accepted definitions.
What does Ace Of Wands mean?
The Ace of Wands Tarot card represents a fresh start and determination in all areas of life, including health, finances and relationships. When it appears, it signifies the beginning of something new, bringing with it ambition and creativity.
When it relates to health, the Ace of Wands encourages us to take that first step towards creating a healthy lifestyle. It could be starting an exercise routine, eating better, or getting regular screenings. This card reflects the motivation and surge of energy needed to begin taking care of ourselves in a more proactive way.
For finances, the Ace of Wands invites us to start something new, either in terms of becoming self-employed or a new business venture. It's time to invest in our future and have faith that we have the capability to grow our resources. We can take risks, knowing that any initiative we take will be worth the effort.
In regards to relationships, the Ace of Wands encourages us to take the initiative and initiate new conversations. It's a signal that we should explore different possibilities and create new avenues of connection with others. It's a reminder that starting fresh with someone else, either professionally or personally, is often a positive experience.
The Ace of Wands can bring a sense of enthusiasm and inspire us to take action in all aspects of our lives. It's a card that is full of potential and potential for growth. By taking a step forward and gathering the courage to do what's necessary, the Ace of Wands can offer us the opportunity to create something new in our lives.
What does 9 Of Swords mean?
Health
The 9 of Swords Tarot card represents nightmares, anxiety, grief, and depression, all of which can have a debilitating effect on physical health. Nightmares can cause physical exhaustion, which can lead to regular fatigue, physical pain, and a weakened immune system. Anxiety can cause headaches, chest pains, stomachaches, and difficulty breathing. People who are in a state of grief or depression can lack motivation and energy, leading to decreased physical activity, skipped meals, and unsound sleep habits.
Finances
The 9 of Swords Tarot card implies a period of financial hardship due to insecurity and fear. When people are in a state of psychological distress, they may become overwhelmed with worry and fear, making them prone to reckless or impulsive spending. With stress and depression, people tend to put their own needs and wants aside, leading to neglect of important financial matters like paying bills. Finally, depression and lack of motivation can disrupt work life, leading to a decline in job performance and potential lost opportunities.
Relationships
The 9 of Swords Tarot card signifies a period of discord in personal relationships. People in a state of depression may withdraw from their relationships and become less attentive to the people they care about. This can cause hurt feelings and resentment, leading to a breakdown of communication. Anxiety and depression can also lead to irrational responses and arguments with friends and loved ones, further hindering the relationship. Finally, people in a state of grief can become overwhelmed with self-pity, and become unable to focus on those important to them.
Conclusion
Understanding how the meaning of a reading changes once you start involving more than one card can be tricky. This will come with time and practice, however I hope this guide on what your cards might be telling you when you draw Ace Of Wands and 9 Of Swords has helped you.
Get the Ultimate Tarot Card Combinations Pack
The Tarot Happy eBook Pack is available now for instant download.
With 78 eBooks covering all tarot pair meanings, this pack is a comprehensive guide on using tarot for introspection, self-understanding and inner growth.
$4.99 $24.99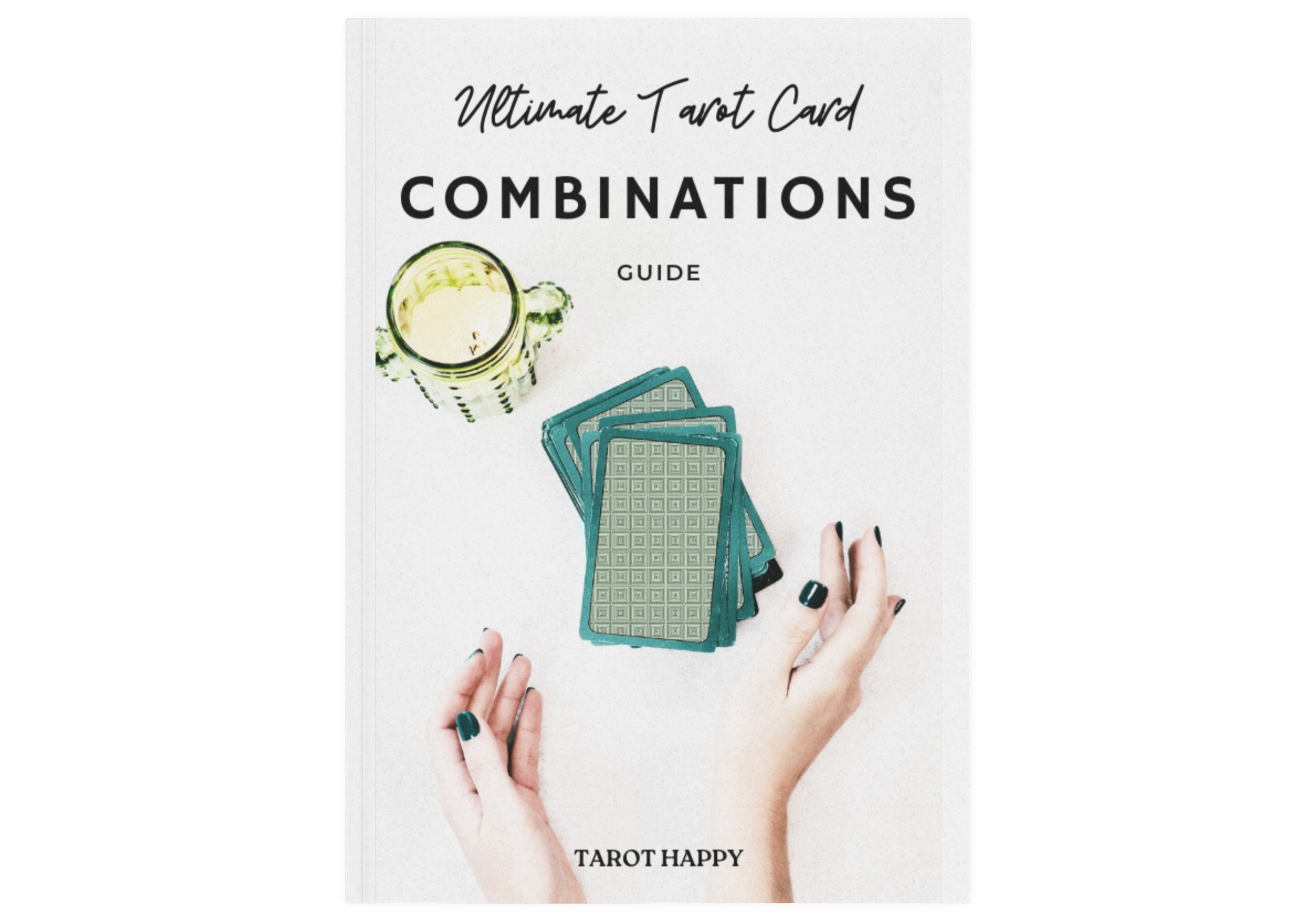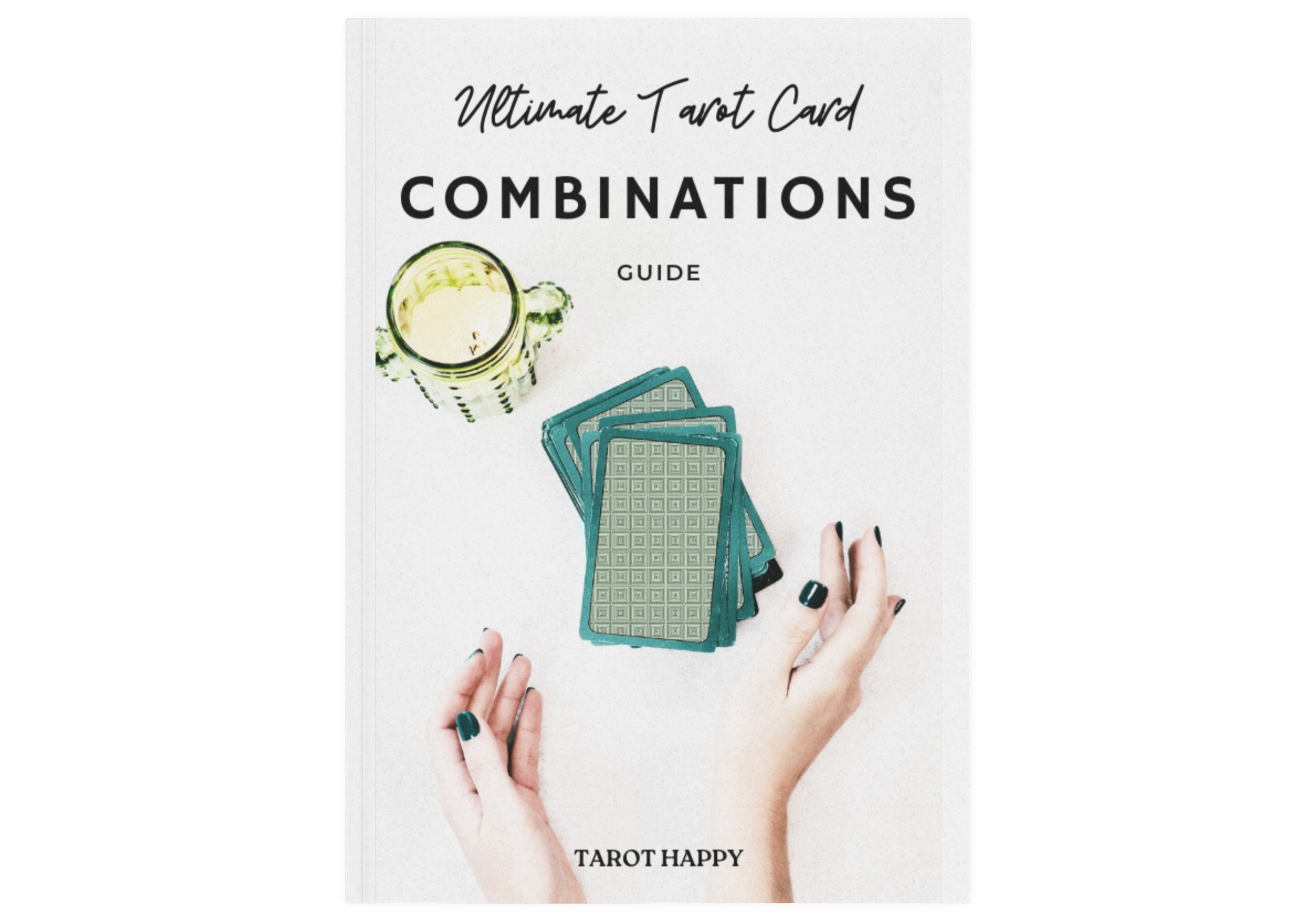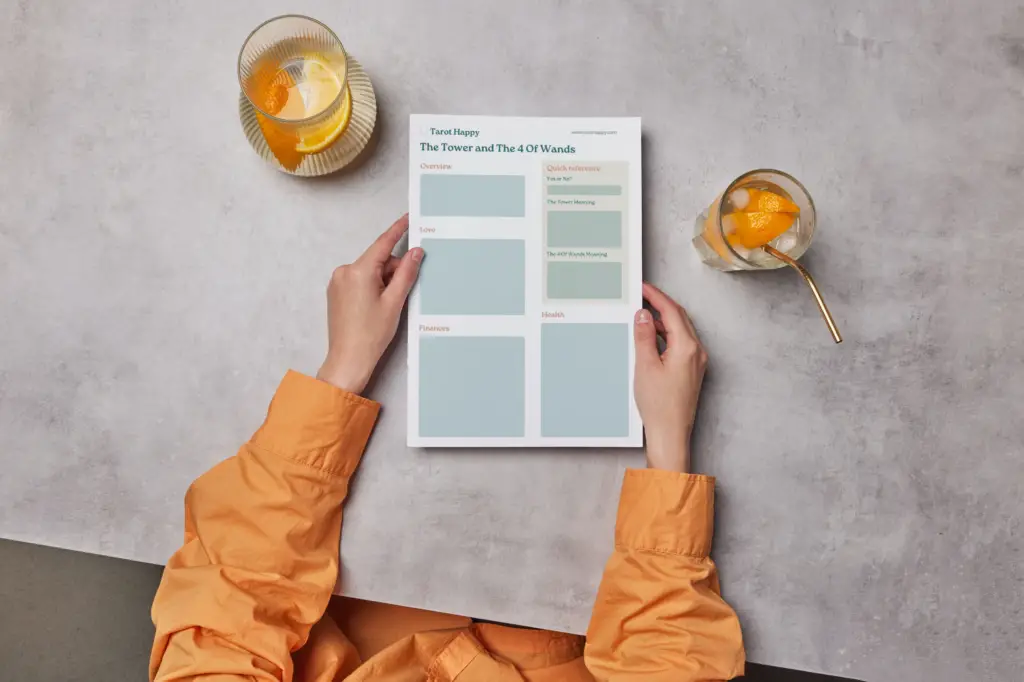 The pack contains an eBook for each of the 78 cards in a tarot pack.
Each eBook focuses on all the combinations for a single card, with overview of meanings for:
"Yes or No"
Key words and phrases that describe the combination
Meaning for Love
Meaning for Finance
Meaning for Health and Relationships
Unlock the Mysteries of Tarot with Our Comprehensive 78 eBook Pack
Are you ready to take your Tarot reading abilities to the next level? It's time to upgrade your spiritual toolbox with our extensive 78 eBook Pack. Each eBook is crafted to detail the meaning of every single Tarot card combination!
Venture beyond the basic meanings of the cards and delve into the intricate, layered symbolism each combination offers.
From beginner enthusiasts to advanced practitioners, this ultimate Tarot eBook pack will enhance your understanding, foster deeper connections with the cards, and improve your readings in a way that no other guide can.
Save $20 if you buy today!
$4.99 $24.99