A key aspect of reading your own tarot is interpreting cards. For a beginner interpreting a single card can be fine, as there are plenty of resources to help you out, however interpreting two or more can be very tricky.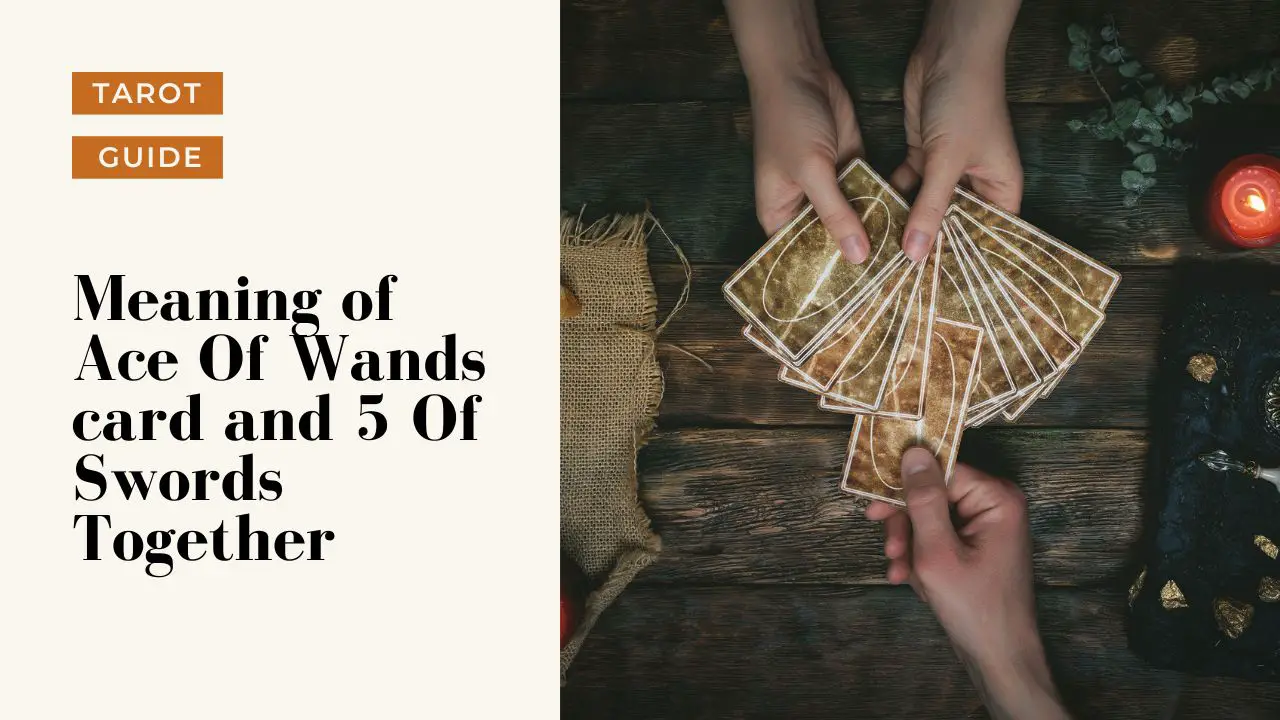 However, if you have been practising single card readings for a while a 2 card spread will be a great introduction into reading multiple cards.
As you've found this page, you're probably wondering how to interpret the Ace Of Wands card and 5 Of Swords card together in particular.
The Ace Of Wands card and 5 Of Swords have unique qualities and will interact with each other in different ways depending on what kind of reading you are doing.
What does Ace Of Wands and 5 Of Swords mean together?
When looking at The Ace Of Wands tarot card and The 5 Of Swords tarot card together, it is important to recognize the power of balance that they represent. They point to the potential of creative inspiration and the enthusiasm one could experience with a new project, but also to the potential of meeting with bullies, thieves, or abusive relationships along the way. They ask us to recognize the need to take careful steps forward, and to assess potential risks against what potential rewards we might find down the path. They also remind us to take stock in the beauty of creation and its potential for beauty and growth, as opposed to what we could encounter down the road. Ultimately, this card combination can remind us to stay creative and inspired, but to be sure to make our decisions with awareness, caution, and care.
The meaning may differ depending on what you are asking. Here are some common questions and their possible meanings
What does Ace Of Wands and 5 Of Swords mean together for your love life?
The combination of The Ace Of Wands and The 5 Of Swords tarot cards in regards to love is a warning of a potential battle. The Ace Of Wands tarot card shows that you have some new project or inspiration related to your love life, but the 5 Of Swords tarot card brings a sense of peril, a sense that something dark is lurking. This card combination warns that the energies you put into your relationship might not be reciprocated, or that you are fighting an uphill battle in love due to some abusive force or person.
It could be indicative of a partner or an ex who is trying to control or manipulate you, or an outside force that is trying to impede the progress of your relationship. You'll need to be ready to fight if you want your relationship to thrive, and take some decisive action when it comes to dealing with anyone who is trying to take advantage of you.
The Ace Of Wands and The 5 Of Swords combination also hints at a need for communication. It may be that there are misunderstandings and disagreements between you and your partner that you need to iron out. If left unresolved, the potential for violence, bullying, and theft could arise. To avoid such a situation, you'll need to develop your communication skills and openly discuss your feelings and issues.
Ultimately, the message of The Ace Of Wands and The 5 Of Swords tarot cards together is that a battle of some sort is on the horizon, whether with yourself or with someone else. In order to steer clear of negative outcomes and build a strong, loving relationship, you need to muster up your courage and fight for your love.
What does Ace Of Wands and 5 Of Swords mean together for your finances?
The combination of the Ace of Wands and the Five of Swords in terms of finances and job can represent a difficult situation in which you must make a difficult decision. It could indicate that you have an idea or project which you are determined to pursue, but that is being met with opposition or resistance by someone else. This could be a bully, an abusive partner, or an individual with a selfish agenda who is determined to take away the opportunity you have been presented. It could be a sign that you must stand your ground and fight for what you believe in, because allowing someone else to take over could result in devastating financial losses and setbacks.
On the other hand, it could also be a warning to not let ambition blind you to the risks that come with taking on a new project. While having passion is essential to success, you may need to consider the consequences of pushing forward with a risky venture. You could be taking on more than you can handle, or getting involved in a situation that is not in your best interests.
This card combination can also represent a situation in which you have to decide whether to take a risk or to stay safe and secure. You could be presented with an opportunity that could give you greater financial rewards, but it could also come with a significant amount of stress and worry. It is important to consider the pros and cons of any decisions you make in regards to your job or finances—being too hasty or taking unnecessary risks could lead to disaster.
What does Ace Of Wands and 5 Of Swords mean together for your health?
When it comes to personal health and wellbeing, the combination of The Ace of Wands and The 5 of Swords tarot cards can both inspire and warn. On the one hand, The Ace of Wands encourages new projects, fresh ideas and inspiration toward personal growth. This could manifest in creative projects, or in the form of a new business or hobby. It is an encouragement to make positive effort and to reach for something new and exciting.
On the other hand, The 5 of Swords serves as a warning. It speaks of bullies and violence, theft and abusive relationships. In terms of personal health, it can be a warning to be careful and protect ourselves from unhealthy or toxic relationships, and not to succumb to bullying in any form. It is important to be aware of the potential for harm and thwart any attempts to do us harm.
The combination of The Ace of Wands and The 5 of Swords tarot card urges us to seek growth and inspiration while being mindful of our personal safety and wellbeing. We can use this combination to our advantage, taking positive steps towards a brighter future while being aware of any potential risks. We can be open to new opportunities while still protecting ourselves and making sure our health and wellbeing are not compromised.
The meaning of the cards will depend on what kind of reading you are doing and the question you asked the deck. This is a guide covering the general meanings of the cards and how they relate to each other.
Common 2-card spreads
Whilst it's great to know who these two cards interact with each other, it's important to note that the meaning will depend on the context of your spread
The most common 2 card spreads I recommend to newer readers are:
The 2 card cross (otherwise known as "The Fool's Journey")
The 2 card "Yes or No"
"The Fool's Journey"
Setup: The two card cross is where you place two cards face up, one placed vertically and with one laying horizontally over
Interpretation: The 2 cards represent a "situation" and a "challenge". The first card will describe the situation you are in with the second horizontal card being the "challenge" crossing you (literally crossing you in this case!)
Reading: Using the overviews in this guide is a great way to start. First, look at the meanings of the 2 cards, and see how they might relate either as your "situation" or "challenge". Once you have that you can look at the general overview for how the two cards interact with each other.
The benefit of this spread is that it can give clarity when you're feeling uncertain or anxious. Once you have clarity of thought, and a strong idea of what your challenge is you can find solutions to help your situation
The 2 card "Yes or No"
Setup: The 2 card "Yes or No" is where you place two cards face up side by side, whilst asking your deck a "yes or no" question.
Interpretation: Each card in a tarot deck has a "yes" or a "no" meaning. Look at the meanings of each card, and you will have your answer.
The benefit of this is you get a stronger yes or no compared to a single card draw. You may find you often get a mix of "yes or no", and this is fine. It simply means there is doubt, or things are not yet clear.
Yes or No meaning
Things are a bit tricky for this combination, as Ace Of Wands and 5 Of Swords mean different things. The cards are unsure about your question, or the answer to the question has not yet been decided.
The "Yes" and "No" meanings can differ from reader to reader. The meanings here are based on what I believe are the generally accepted definitions.
What does Ace Of Wands mean?
The Ace of Wands Tarot card is all about new beginnings, an influx of energy and potential. For health, this means it is time to take care of yourself. Invest in your health in whatever way you feel is necessary whether it is a gym membership to get active, eating better foods, or visiting a mental health professional. Investing in your health now will pay off in the long run.
For finances, the Ace of Wands Tarot card is a positive indication that new financial opportunities are on the horizon. This could mean a new job offer or a chance to invest in something. It could also mean a chance to start a new business. It is a reminder to be open-minded and take the opportunity if it presents itself.
For relationships, the Ace of Wands Tarot card signifies the possibility of new or deeper connections. This could mean meeting new people, deepening your connection with current friends, or working to repair a relationship. It is an indication that new and exciting relationships and friendships may be on the horizon. It also shows a willingness to take chances and reach out.
What does 5 Of Swords mean?
The 5 of Swords tarot card can signify a variety of difficult circumstances in the arenas of health, finance, and relationship. In the health realm, it can indicate the presence of bullies, thieves, abusers, and violence, all of which can have a serious impact on physical and mental health. It can also be a sign that there is lack of support for those facing health circumstances or struggles, creating a sense of isolation or feelings of being defeated.
When it comes to finances, the 5 of Swords tarot card is an ominous sign that can indicate financial loss due to theft of resources or funds, or a lack of support from those in authority or those who could help in difficult financial circumstances. It is possible that the card can hint at a difficult and competitive financial market, where the odds appear to be stacked against your ability to achieve financial success or security.
In relationships, the 5 of Swords tarot card can signify abusive relationships, ones that are marred by violence and verbal assault. It can also be a sign that relationships are not being taken seriously or that there is lack of respect for the people involved. Those in relationships can experience a sense of powerlessness and despair because of the lack of trust in one another or the feeling of being unable to get help.
The 5 of Swords tarot card can be a difficult card to encounter, but the good news is that it is a card of change. It suggests the potential for a shift in outlook and the opportunity to make different choices that can lead to better health, financial, and relationship outcomes.
Conclusion
Understanding how the meaning of a reading changes once you start involving more than one card can be tricky. This will come with time and practice, however I hope this guide on what your cards might be telling you when you draw Ace Of Wands and 5 Of Swords has helped you.
Get the Ultimate Tarot Card Combinations Pack
The Tarot Happy eBook Pack is available now for instant download.
With 78 eBooks covering all tarot pair meanings, this pack is a comprehensive guide on using tarot for introspection, self-understanding and inner growth.
$4.99 $24.99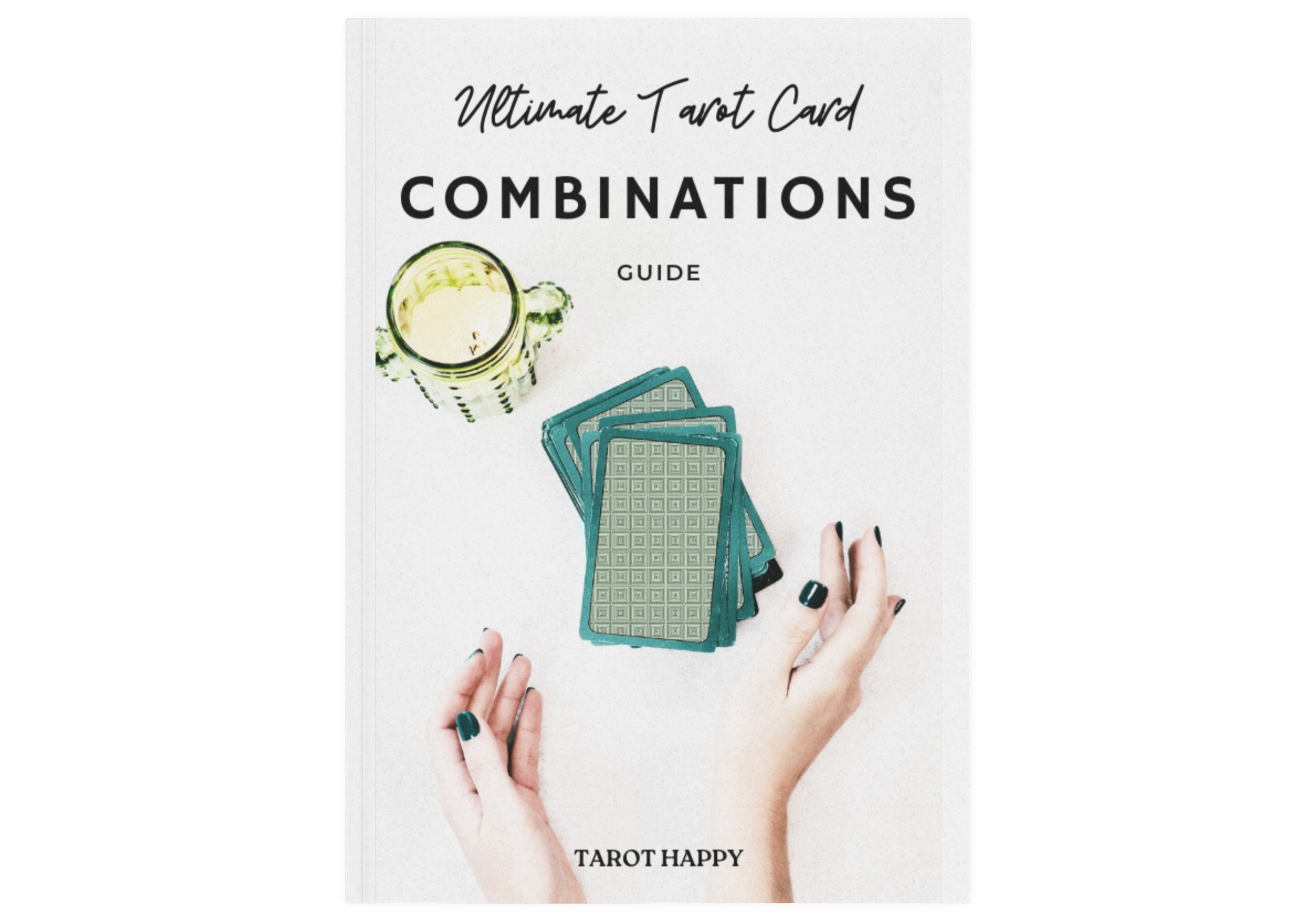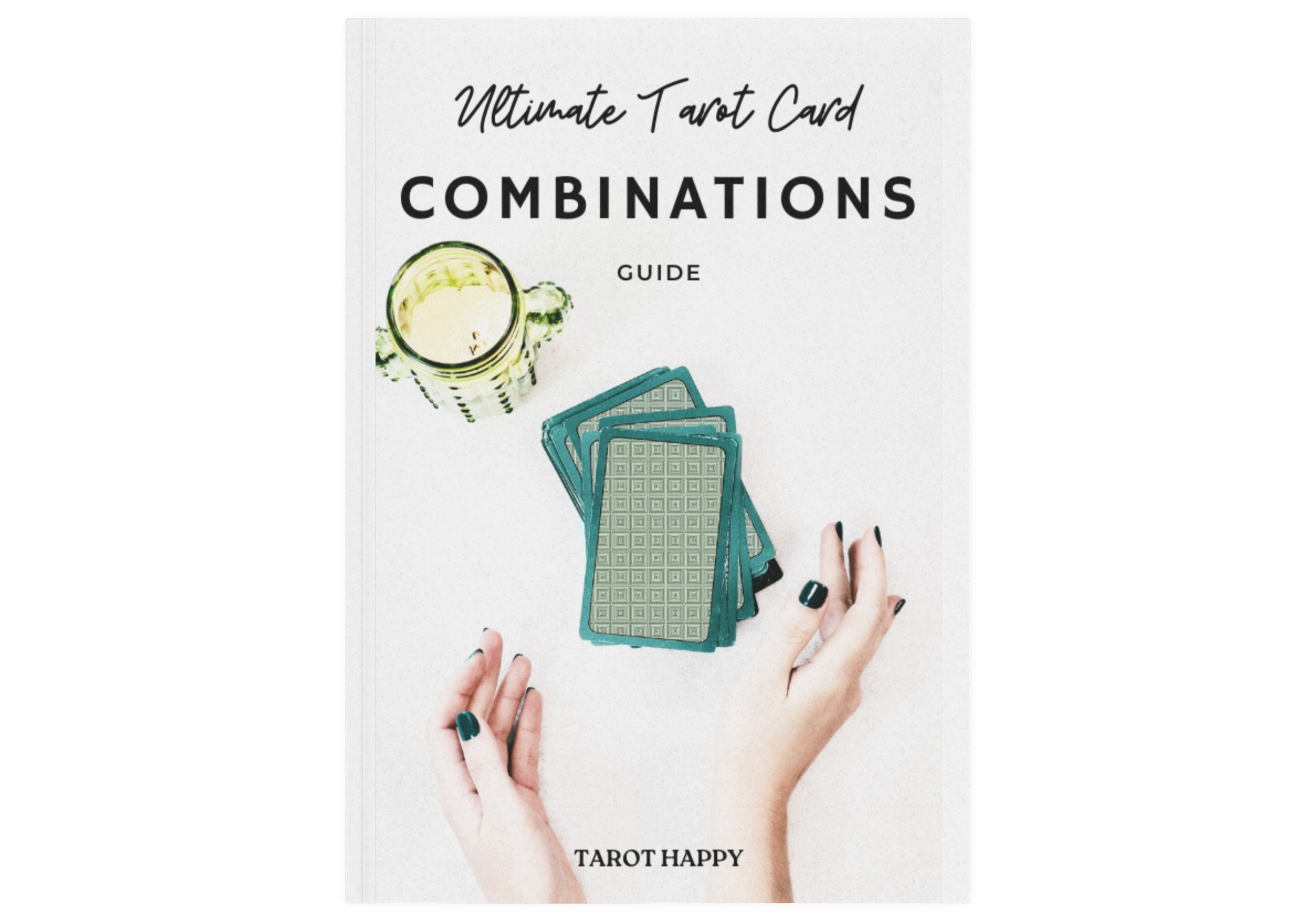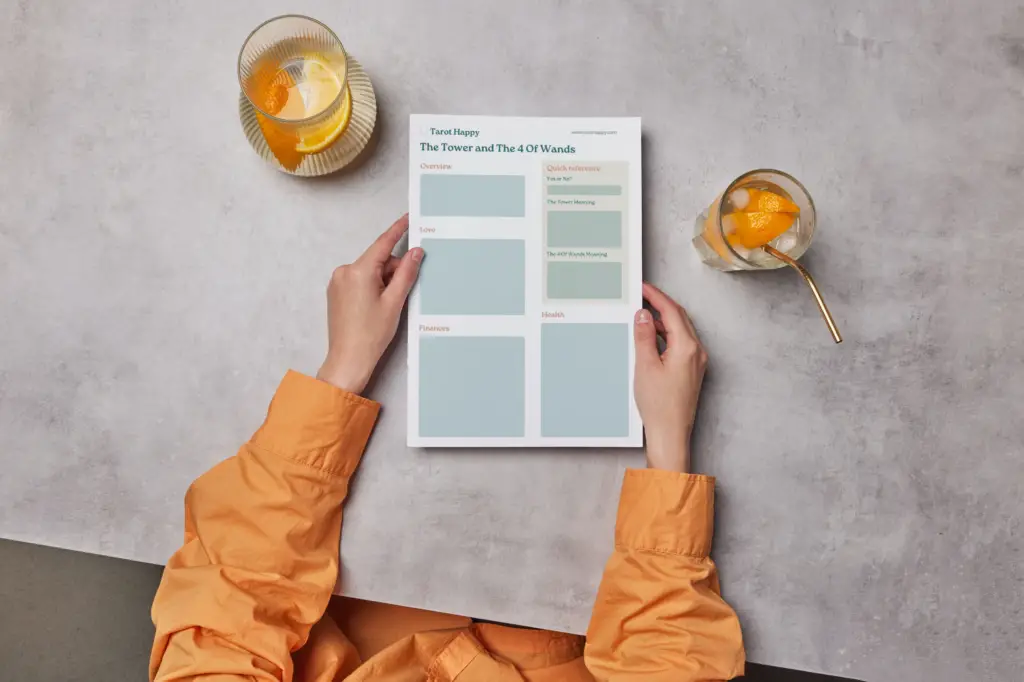 The pack contains an eBook for each of the 78 cards in a tarot pack.
Each eBook focuses on all the combinations for a single card, with overview of meanings for:
"Yes or No"
Key words and phrases that describe the combination
Meaning for Love
Meaning for Finance
Meaning for Health and Relationships
Unlock the Mysteries of Tarot with Our Comprehensive 78 eBook Pack
Are you ready to take your Tarot reading abilities to the next level? It's time to upgrade your spiritual toolbox with our extensive 78 eBook Pack. Each eBook is crafted to detail the meaning of every single Tarot card combination!
Venture beyond the basic meanings of the cards and delve into the intricate, layered symbolism each combination offers.
From beginner enthusiasts to advanced practitioners, this ultimate Tarot eBook pack will enhance your understanding, foster deeper connections with the cards, and improve your readings in a way that no other guide can.
Save $20 if you buy today!
$4.99 $24.99