A key aspect of reading your own tarot is interpreting cards. For a beginner interpreting a single card can be fine, as there are plenty of resources to help you out, however interpreting two or more can be very tricky.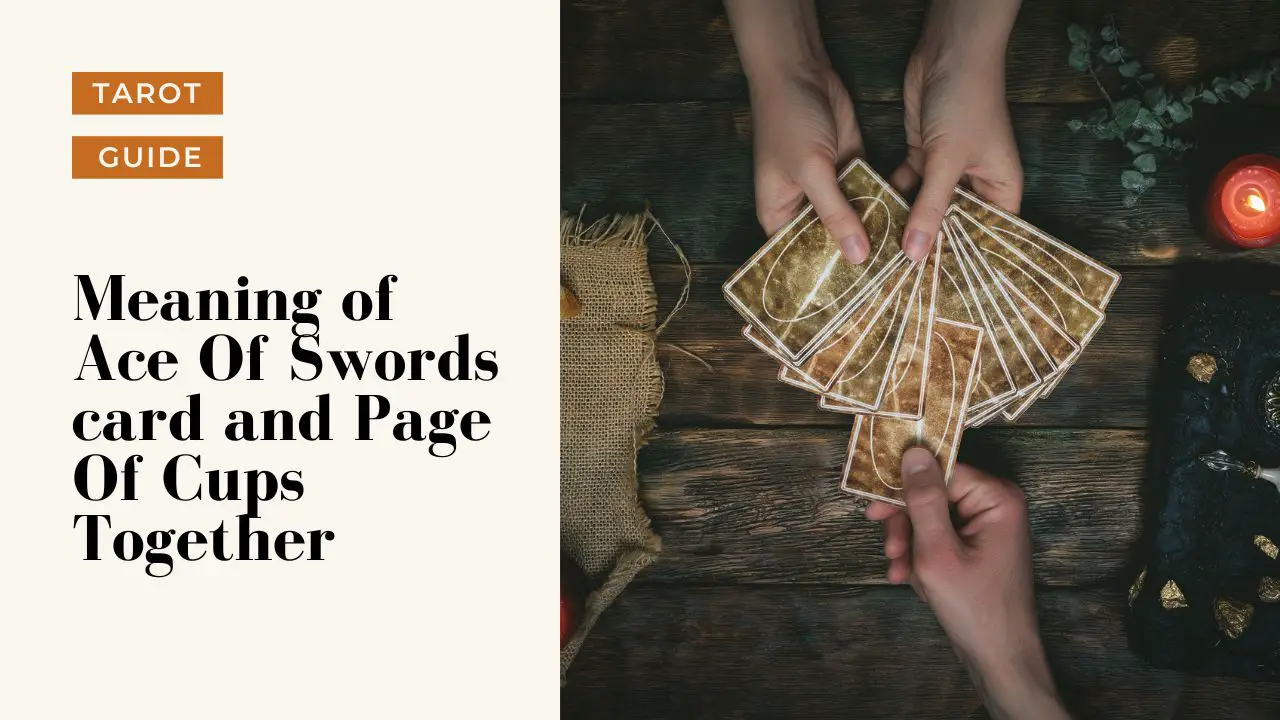 However, if you have been practising single card readings for a while a 2 card spread will be a great introduction into reading multiple cards.
As you've found this page, you're probably wondering how to interpret the Ace Of Swords card and Page Of Cups card together in particular.
The Ace Of Swords card and Page Of Cups have unique qualities and will interact with each other in different ways depending on what kind of reading you are doing.
What does Ace Of Swords and Page Of Cups mean together?
The Ace of Swords and the Page of Cups mean that you will have to use your intellectual abilities to address a challenging new conflict. You may have to think deeply and develop innovative solutions, as if you were performing delicate surgery on the situation. This may come with emotional intensity and inner turmoil, but you have the ability to understand the process clearly and come to an inspired conclusion. Having the Page of Cups present also suggests that you may discover new love along the way, or be able to express your creativity in a meaningful way, like with volunteer work.
The meaning may differ depending on what you are asking. Here are some common questions and their possible meanings
What does Ace Of Swords and Page Of Cups mean together for your love life?
When The Ace Of Swords tarot card and The Page Of Cups tarot card appear together in a reading, it is often a sign of a new beginning in love. The Ace of Swords suggests that new ideas, mental clarity and a fresh start are needed to help you navigate any conflict that is in your current situation. You may need to have clear boundaries and make difficult decisions about what you are really looking for in a romantic relationship.
The Page Of Cups tarot card indicates a young, studious energy who is full of idealistic hope and is ready to take on the world. It suggests that you can tap into this energy when venturing down the path of new love. This card encourages you to be open to new people, experiences and ideas. It also suggests that while you look to create more intimate connections, you should also practice self-care, as well as have patience in your pursuit.
When The Ace Of Swords and The Page Of Cups tarot cards appear together, it is a time to exercise both your mental and emotional strengths. When did together, these two cards bring a balance between practical thinking and emotional security. You can use your newfound mental clarity to make informed decisions about potential relationships, while also having patience and a youthful enthusiasm in your pursuit of true love. Volunteering and other activities that benefit others can also be a great way to connect with new people and help build your self-confidence.
What does Ace Of Swords and Page Of Cups mean together for your finances?
The Ace Of Swords and The Page Of Cups coming together in readings about finances and job could mean that you are going to be met with a lot of conflicting ideas and opinions when it comes to financial moves and job decisions. It could be a sign that you need to take a step back, and think about the facts before making any drastic changes. Having the mental clarity to think things through will be essential so you don't make any hasty decisions that could have detrimental consequences in the long run.
You may be met with an opportunity to switch career paths or invest in a new venture, and it's important to weigh up the pros and cons carefully. This card combination could also signify a new volunteer job that you are considering, or a part-time job to bring in a little extra money. This could also be connected to a newfound enthusiasm you could have for a hobby or to achieving personal or professional goals.
On a personal level, the Ace Of Swords and The Page Of Cups could indicate a budding new relationship, or an old one that is ready for reinvigoration. As you open yourself up to new opportunities and experiences, you will be able to figure out what makes you happy, both financially and emotionally. This could be an exciting time of growth and discovery if you are willing to accept the challenge.
What does Ace Of Swords and Page Of Cups mean together for your health?
When the Ace of Swords and Page of Cups tarot cards are read together, they might mean your mental health is in need of some new ideas and clarity. Your thoughts may be in a state of conflict, or perhaps you're struggling with how to approach a subject that's not quite clear yet. At the same time, this card combination suggests that new love and volunteer work could help you to find the mental clarity you seek.
The combination of these two cards encourages you to look to studying and research to help you gain a more rounded perspective on the matter and to identify your feelings more clearly. They could be telling you to find an opportunity to challenge yourself and to expand your knowledge on a topic that has been difficult for you. This could be achieved through volunteer work, such as helping out at a charity, or through joining a support group and talking to others who have been in similar situations.
The Ace of Swords and Page of Cups tarot card combination can be a sign that you need to take a mental pause, step back, and be willing to look at the issue from different angles. It might be necessary to get some kind of professional advice on the matter, such as with a therapist or doctor. It is also possible that these two cards could mean that you need to have something surgically addressed to help you clear up any mental blockages that are causing you an issue.
No matter what, the combination of these two cards suggest that your mental health could be improved with a bit of newness, whether that be with new ideas, new love, or a different kind of surgery. These new approaches could help to bring you clarity, which is essential in order to tackle any mental issues and to improve your overall well-being.
The meaning of the cards will depend on what kind of reading you are doing and the question you asked the deck. This is a guide covering the general meanings of the cards and how they relate to each other.
Common 2-card spreads
Whilst it's great to know who these two cards interact with each other, it's important to note that the meaning will depend on the context of your spread
The most common 2 card spreads I recommend to newer readers are:
The 2 card cross (otherwise known as "The Fool's Journey")
The 2 card "Yes or No"
"The Fool's Journey"
Setup: The two card cross is where you place two cards face up, one placed vertically and with one laying horizontally over
Interpretation: The 2 cards represent a "situation" and a "challenge". The first card will describe the situation you are in with the second horizontal card being the "challenge" crossing you (literally crossing you in this case!)
Reading: Using the overviews in this guide is a great way to start. First, look at the meanings of the 2 cards, and see how they might relate either as your "situation" or "challenge". Once you have that you can look at the general overview for how the two cards interact with each other.
The benefit of this spread is that it can give clarity when you're feeling uncertain or anxious. Once you have clarity of thought, and a strong idea of what your challenge is you can find solutions to help your situation
The 2 card "Yes or No"
Setup: The 2 card "Yes or No" is where you place two cards face up side by side, whilst asking your deck a "yes or no" question.
Interpretation: Each card in a tarot deck has a "yes" or a "no" meaning. Look at the meanings of each card, and you will have your answer.
The benefit of this is you get a stronger yes or no compared to a single card draw. You may find you often get a mix of "yes or no", and this is fine. It simply means there is doubt, or things are not yet clear.
Yes or No meaning
Both Ace Of Swords and Page Of Cups mean "Yes" when being asked a question. There is no doubt here, if you draw Ace Of Swords and Page Of Cups the answer to your query is "YES".
The "Yes" and "No" meanings can differ from reader to reader. The meanings here are based on what I believe are the generally accepted definitions.
What does Ace Of Swords mean?
Health:
The Ace of Swords Tarot card speaks to a new beginning when it comes to health. It can represent the need to take a new approach to our wellness, or to take action in order to improve our physical and mental state. This card can also suggest that a medical procedure or surgery is necessary. It implies that the end result of said procedure could bring mental clarity, physical healing, and the opportunity to take charge of our health.
Finances:
The Ace of Swords Tarot card signals that a new approach is necessary when it comes to our finances. This could be about taking a new job, undergoing retraining for a new career, or taking a serious look at our financial situation and creating a budget to help achieve our goals. It also indicates contract negotiations, legalities, and the need to defend ourselves if need be. It's important to take action and think before we act when it comes to our finances.
Relationships:
The Ace of Swords Tarot card can point to a new beginning in relationships. It could imply a new start or opening of communication between two people. It can also suggest that it's important to think before speaking to avoid misunderstandings and conflict. This card can also point to a need for mental clarity when it comes to our relationships. Taking the time to really understand how we feel and what we want can help us make important decisions that could impact our future.
What does Page Of Cups mean?
Health:
The Page Of Cups Tarot card has a meaning of potential and potential for healing. It is associated with exploring new ways to take care of oneself, diving into new therapies and treatments, and embracing the present moment. It suggests that self-care is essential to health and wellbeing, and encourages exploration of different methods of finding balance. It speaks of the importance of healing from physical and emotional wounds, as well as understanding and embracing the healing potential of self-love. This card encourages us to take the time to nurture and care for ourselves, and to put ourselves first in matters of health.
Finances:
When associated with finances, The Page Of Cups Tarot card is a sign to look at our current financial situation, and try to make a plan to get out of debt or become more financially stable. It encourages us to be patient with our progress and to take small, manageable steps to reach our goals. It suggests that while money can be useful, it is not a measure of worth, and that our worth is not decided by our financial status. It is an invitation to be mindful with our spending and to take a more holistic view of money and our finances.
Relationships:
The Page Of Cups Tarot card is associated with new love, open-heartedness and emotional depth. It suggests that we are in the process of opening up to new experiences and relationships, or to renewing or deepening existing connections. It encourages us to let go of any fears or expectations we may have of how relationships should look, and to allow ourselves to be vulnerable. This card hints at the possibility of building strong, meaningful relationships, but it also reminds us to be mindful of our boundaries and not to put too much on our plate.
Conclusion
Understanding how the meaning of a reading changes once you start involving more than one card can be tricky. This will come with time and practice, however I hope this guide on what your cards might be telling you when you draw Ace Of Swords and Page Of Cups has helped you.
Get the Ultimate Tarot Card Combinations Pack
The Tarot Happy eBook Pack is available now for instant download.
With 78 eBooks covering all tarot pair meanings, this pack is a comprehensive guide on using tarot for introspection, self-understanding and inner growth.
$4.99 $24.99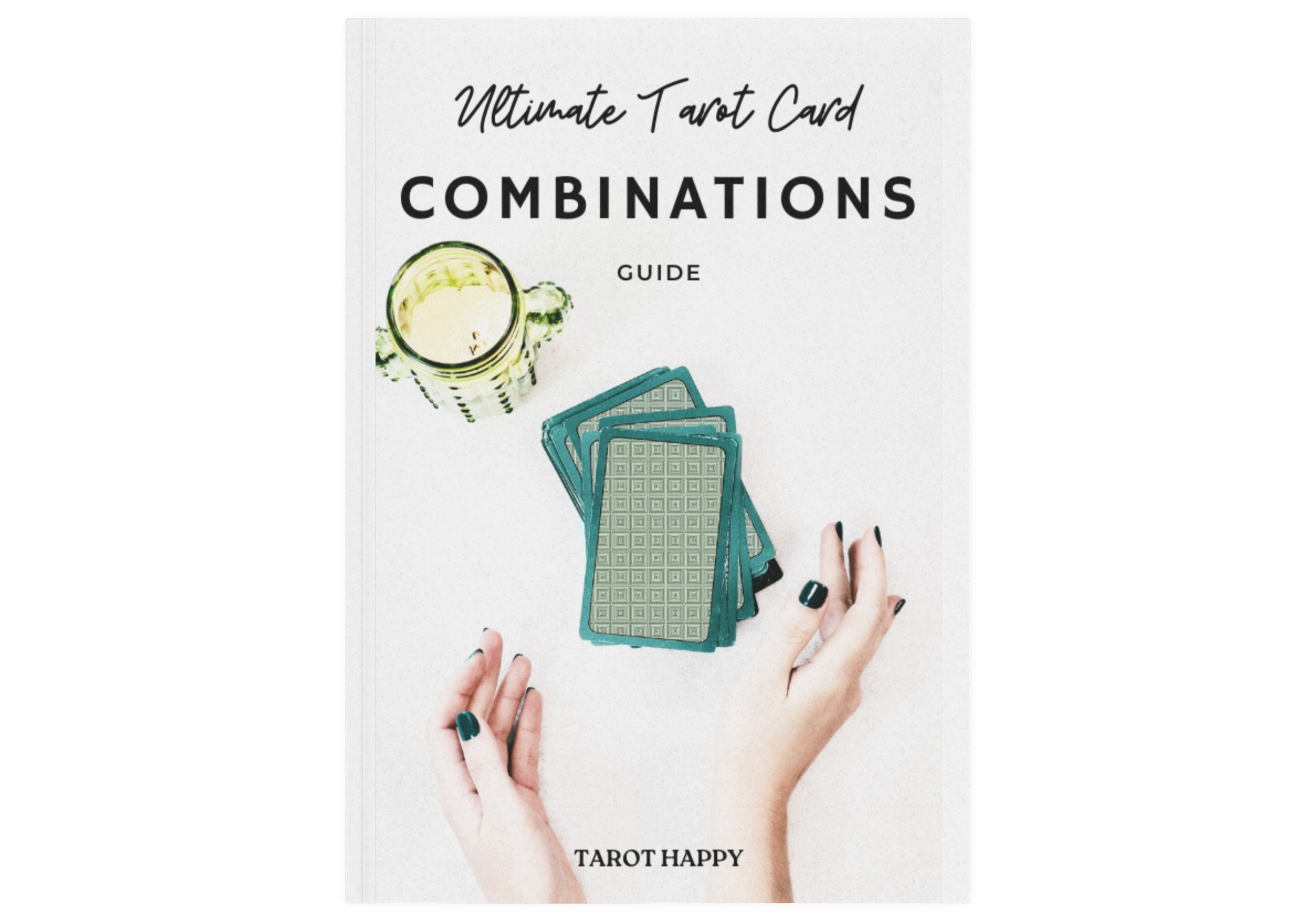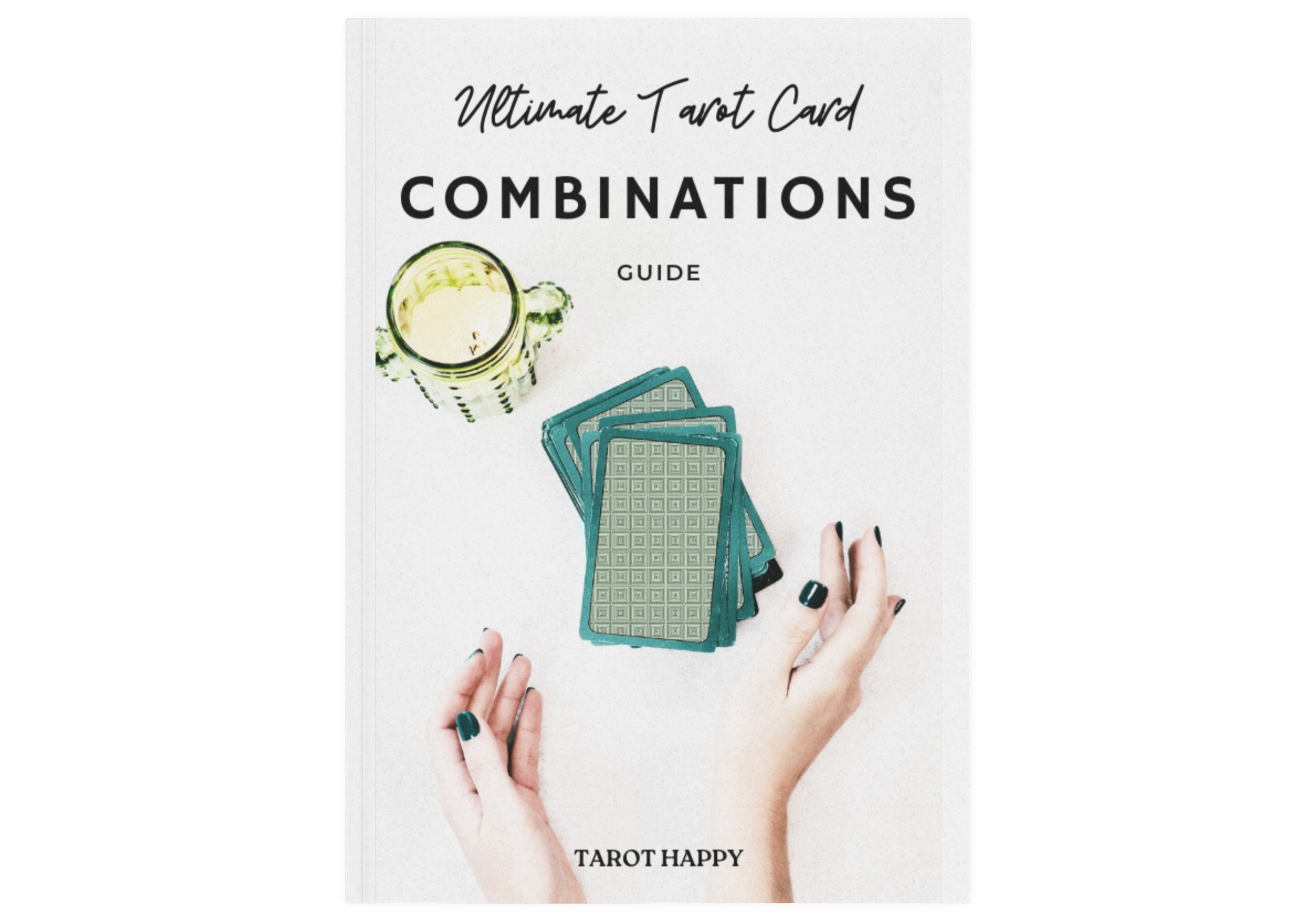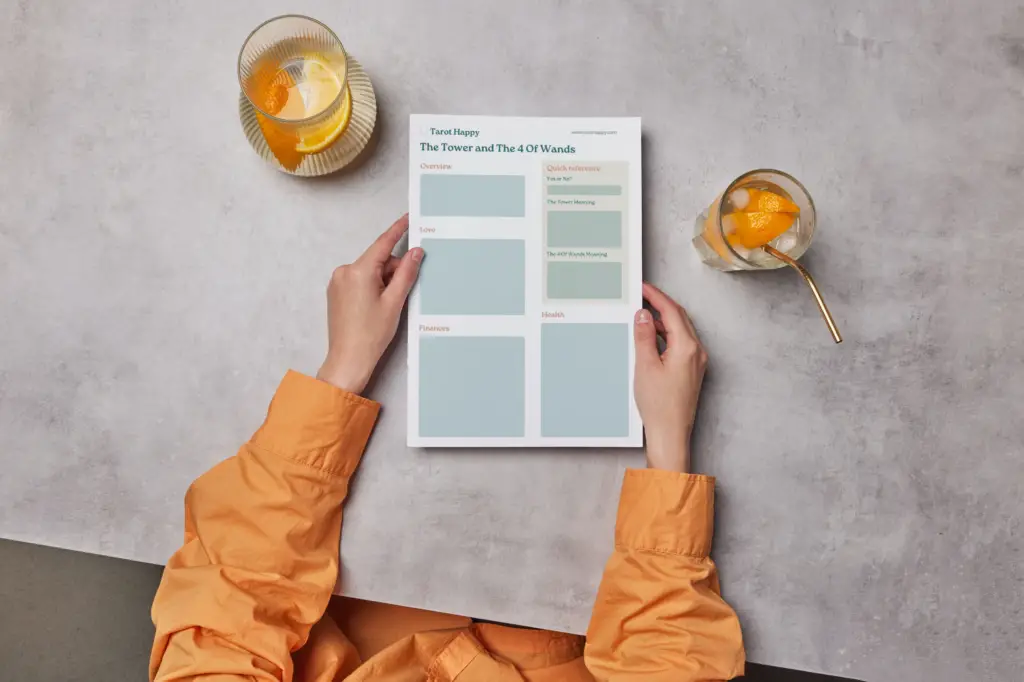 The pack contains an eBook for each of the 78 cards in a tarot pack.
Each eBook focuses on all the combinations for a single card, with overview of meanings for:
"Yes or No"
Key words and phrases that describe the combination
Meaning for Love
Meaning for Finance
Meaning for Health and Relationships
Unlock the Mysteries of Tarot with Our Comprehensive 78 eBook Pack
Are you ready to take your Tarot reading abilities to the next level? It's time to upgrade your spiritual toolbox with our extensive 78 eBook Pack. Each eBook is crafted to detail the meaning of every single Tarot card combination!
Venture beyond the basic meanings of the cards and delve into the intricate, layered symbolism each combination offers.
From beginner enthusiasts to advanced practitioners, this ultimate Tarot eBook pack will enhance your understanding, foster deeper connections with the cards, and improve your readings in a way that no other guide can.
Save $20 if you buy today!
$4.99 $24.99