A key aspect of reading your own tarot is interpreting cards. For a beginner interpreting a single card can be fine, as there are plenty of resources to help you out, however interpreting two or more can be very tricky.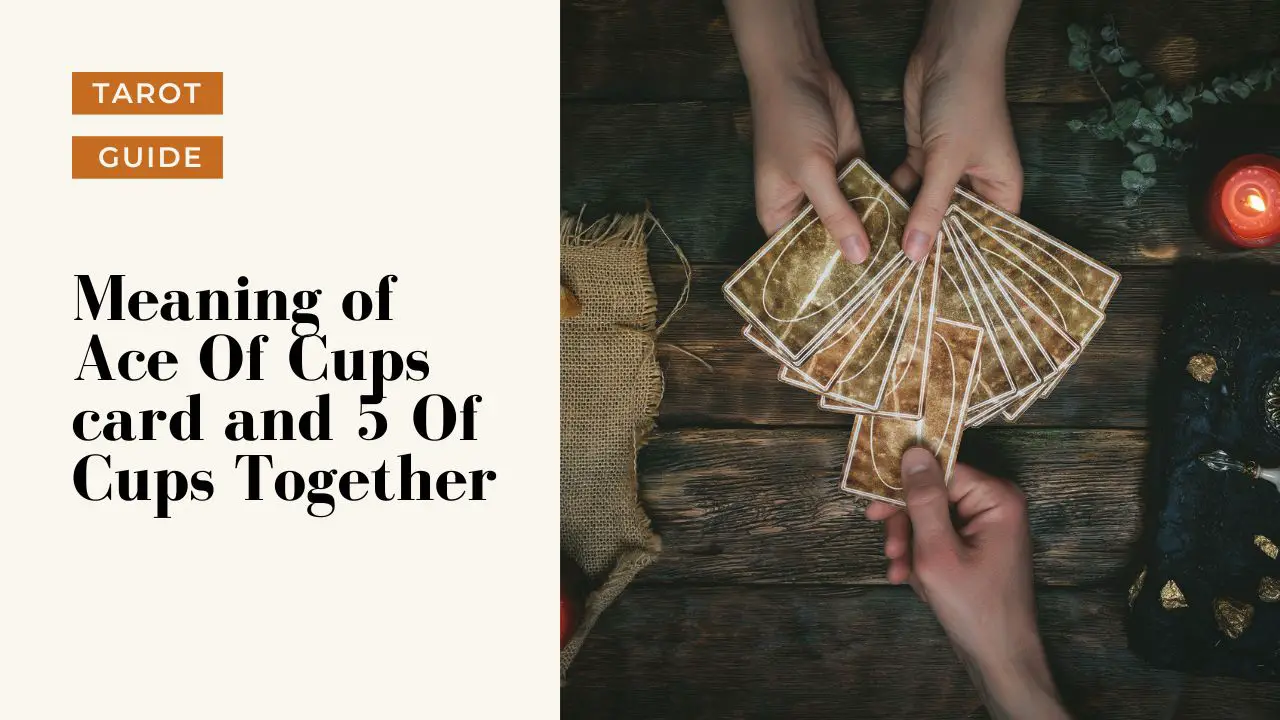 However, if you have been practising single card readings for a while a 2 card spread will be a great introduction into reading multiple cards.
As you've found this page, you're probably wondering how to interpret the Ace Of Cups card and 5 Of Cups card together in particular.
The Ace Of Cups card and 5 Of Cups have unique qualities and will interact with each other in different ways depending on what kind of reading you are doing.
What does Ace Of Cups and 5 Of Cups mean together?
The Ace Of Cups and The 5 Of Cups tarot card together can represent a rollercoaster of emotions when it comes to relationships. On one hand, the Ace Of Cups card symbolizes the joys and possibilities of a new relationship, such as a proposal, marriage and/or a new baby. However, the 5 Of Cups also hints at the potential for loss and regret, feelings of abandonment and being unloved. Ultimately, when the two cards come together, it could be a warning to pay close attention to your relationships and the possible consequences of responding too quickly to seemingly exciting new opportunities.
The meaning may differ depending on what you are asking. Here are some common questions and their possible meanings
What does Ace Of Cups and 5 Of Cups mean together for your love life?
The Ace of Cups and the 5 of Cups tarot card in combination are a bit of a mixed bag, suggesting that there is the potential for both joy and sorrow in your love life. On one hand, the Ace of Cups card signifies a time of romantic beginnings or a chance of a new and exciting partnership in the future. Whether this is a marriage proposal, a new relationship, or the birth of a child, the Ace of Cups indicates that there is hope for a promising new chapter in your love life.
On the other hand, the 5 of Cups card could be a representation of a past love that ended in pain and regret. The card can also suggest a lack of love and companionship in your current life, with a feeling of abandonment and feeling unloved.
Overall, the two cards together suggest that while there is hope of finding joy in love and companionship, it may come with a fair share of sadness or regret. There may have been times of loss and lessons to be learned, but ultimately there is the chance to find something beautiful on the other side. It may take time, but you can eventually reach a place of contentment and joy in love.
What does Ace Of Cups and 5 Of Cups mean together for your finances?
When the Ace of Cups and the Five of Cups appear together, they bring a complex and often contradictory meaning. On one hand, this combination can refer to a period of financial and professional growth, especially when it comes to relationships. This could be a period of business partnerships, new clients, job offers, promotions, or investments. It may also symbolize the start of something new and exciting.
On the other hand, this combination can also be indicative of a much darker and challenging time. It can suggest that something significant has been lost in the financial and job sphere, such as a job opportunity, a partnership, or a client. It may be that a past opportunity didn't work out, or that a change of direction was necessary. It could even symbolize a difficult period of need, poverty, and loss.
The ultimate message being conveyed is that with the Ace of Cups, something new and wonderful is on the horizon, but it's going to take time and effort to get there and the Five of Cups may point to the hard work and losses that will have to be accepted and overcome first. It's a long-term outlook that needs to be taken seriously, as the cycle of joy and sadness will continuously repeat. Overall, this is a positive combination that emphasizes the importance of resilience and perseverance.
What does Ace Of Cups and 5 Of Cups mean together for your health?
The Ace of Cups and the Five of Cups together in a tarot reading can provide insight into the current state of your health. The Ace of Cups often indicates a new beginning or phase of your health journey, which may be a new level of understanding of your body and how it works. This could be anything from a new diet or exercise plan, to a new way of thinking about your health. Meanwhile, The Five of Cups indicates the possibility of experiencing some sadness and loss related to your health journey. This could be an awareness that changes due to age or health issues may have made it difficult to continue acting in the ways you used to. It could also indicate feeling a sense of regret or grief over not listening to your body's needs correctly in the past.
These two cards combined can indicate that although you may face sadness and losses, it's also a time of newness and beginnings. If you're already on a new health journey, the combination of these cards could be an indication that the journey is a positive one, and that the losses or regrets you may have felt are only making you stronger. It could also be a reminder to take care of yourself and prioritize your wellbeing. While it may not always be easy, the combination of these two cards is meant to encourage you to keep going, as the new beginnings and health journey you're on are ultimately for your own well-being.
The meaning of the cards will depend on what kind of reading you are doing and the question you asked the deck. This is a guide covering the general meanings of the cards and how they relate to each other.
Common 2-card spreads
Whilst it's great to know who these two cards interact with each other, it's important to note that the meaning will depend on the context of your spread
The most common 2 card spreads I recommend to newer readers are:
The 2 card cross (otherwise known as "The Fool's Journey")
The 2 card "Yes or No"
"The Fool's Journey"
Setup: The two card cross is where you place two cards face up, one placed vertically and with one laying horizontally over
Interpretation: The 2 cards represent a "situation" and a "challenge". The first card will describe the situation you are in with the second horizontal card being the "challenge" crossing you (literally crossing you in this case!)
Reading: Using the overviews in this guide is a great way to start. First, look at the meanings of the 2 cards, and see how they might relate either as your "situation" or "challenge". Once you have that you can look at the general overview for how the two cards interact with each other.
The benefit of this spread is that it can give clarity when you're feeling uncertain or anxious. Once you have clarity of thought, and a strong idea of what your challenge is you can find solutions to help your situation
The 2 card "Yes or No"
Setup: The 2 card "Yes or No" is where you place two cards face up side by side, whilst asking your deck a "yes or no" question.
Interpretation: Each card in a tarot deck has a "yes" or a "no" meaning. Look at the meanings of each card, and you will have your answer.
The benefit of this is you get a stronger yes or no compared to a single card draw. You may find you often get a mix of "yes or no", and this is fine. It simply means there is doubt, or things are not yet clear.
Yes or No meaning
Things are a bit tricky for this combination, as Ace Of Cups and 5 Of Cups mean different things. The cards are unsure about your question, or the answer to the question has not yet been decided.
The "Yes" and "No" meanings can differ from reader to reader. The meanings here are based on what I believe are the generally accepted definitions.
What does Ace Of Cups mean?
For Health:
The Ace of Cups tarot card can be interpreted as a positive sign for your physical health. It may symbolize feelings of contentment, joy, and new beginnings. This card encourages you to focus on the positive things in your life and to be open to new ideas, ways of thinking, and physical activities. Taking steps to nurture your physical health can help you gain a sense of balance and wellbeing in your life. This may be through exercise, eating nutritious foods, or scheduling some quality time for yourself. Nurturing your physical health can bring you closer to achieving a more sustainable and satisfying level of wellbeing which is necessary for a strong sense of personal contentment.
For Finances:
The Ace of Cups tarot card may be an indication of financial gains in the near future. This card promises that you can achieve financial stability and abundance if you put your energy and focus into it. It's not enough to simply wish for something to happen, but taking an active role in your own financial success is key to achieving the goals you've set for yourself. If you're feeling stuck, try doing some research and planning, which can help you take the steps necessary to reach your financial targets. With dedication and determination, you can be sure to acquire financial success.
For Relationships:
The Ace of Cups tarot card indicates a strong focus on relationships and emotional connections. This card suggests that it's time to open up and allow others into your life in order to build meaningful relationships. It is especially important to be open and vulnerable with your feelings and share with those who are important to you. This could involve having meaningful conversations with your partner, family, and friends, or even meeting new people and forming new bonds. Be open to the idea that relationships can bring joy and fulfillment, and make the effort to foster meaningful connections with those around you.
What does 5 Of Cups mean?
Health: The 5 of Cups is a card that signals a period of difficulty and pain in regards to health. It could indicate a physical illness, possibly even a terminal one, that is causing a great deal of anguish and upset. It could also be a mental health problem, such as depression or anxiety, that leads to a deep sense of sadness and hopelessness. This period of pain is a time to reflect on the importance of health, and to learn what it means to take care of oneself.
Finances: The 5 of Cups is indicative of a time of loss and setback in regards to finances. This could be a period of unemployment, bankruptcy, or trouble paying bills. It is a difficult time requiring patience and a shift in perspective. Rather than focus on what has been lost, it is important to recognize the opportunities that can be gained through this challenging experience.
Relationships: The 5 of Cups is a reminder that there is no relationship without pain and loss. This could mean a break-up, a betrayal, or a hurtful argument. It is a time to take stock and appreciate what is close and valuable, rather than dwell on what is lost. It is also a time to learn compassion, empathy and understanding, as relationships can often be the source of considerable pain and suffering.
Conclusion
Understanding how the meaning of a reading changes once you start involving more than one card can be tricky. This will come with time and practice, however I hope this guide on what your cards might be telling you when you draw Ace Of Cups and 5 Of Cups has helped you.