A key aspect of reading your own tarot is interpreting cards. For a beginner interpreting a single card can be fine, as there are plenty of resources to help you out, however interpreting two or more can be very tricky.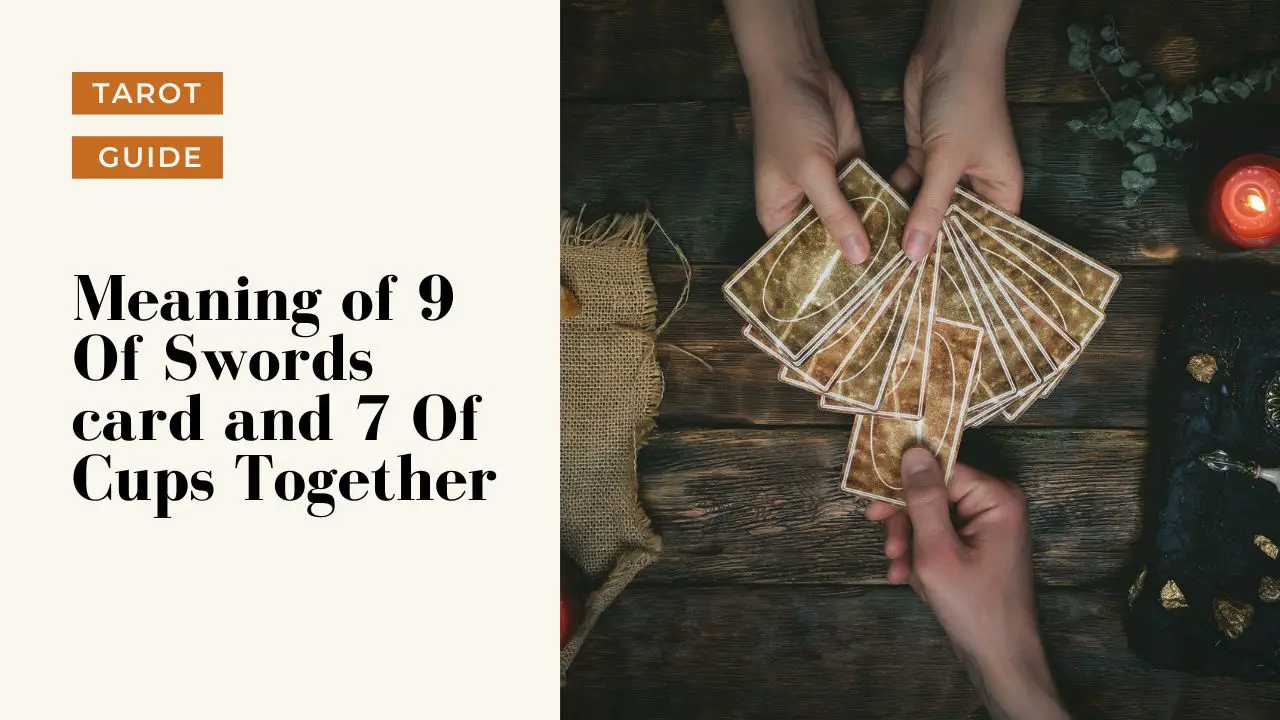 However, if you have been practising single card readings for a while a 2 card spread will be a great introduction into reading multiple cards.
As you've found this page, you're probably wondering how to interpret the 9 Of Swords card and 7 Of Cups card together in particular.
The 9 Of Swords card and 7 Of Cups have unique qualities and will interact with each other in different ways depending on what kind of reading you are doing.
What does 9 Of Swords and 7 Of Cups mean together?
The 9 Of Swords and The 7 Of Cups tarot cards together suggest an overwhelming feeling of being stuck in a situation, and being overwhelmed by the multiple choices and paths ahead. Grief, anxiety, depression, and nightmares can also be associated with this combination of tarot cards. The feeling of being stuck can manifest as a fear or dread of making any commitment to a single path, and instead can lead to feelings of isolation, guilt and confusion. It can be a challenge to work through these feelings and make decisions due to the apprehension of the future and the fear of the unknown.
The meaning may differ depending on what you are asking. Here are some common questions and their possible meanings
What does 9 Of Swords and 7 Of Cups mean together for your love life?
When the 9 of Swords and the 7 of Cups come together in a love reading, it could signify that there are a lot of worries and anxieties weighing on your mind. You might be struggling with fear, depression, and negative thoughts about your relationship. Maybe there is pressure from outside sources or inner struggles causing you to feel overwhelmed and helpless.
You may be feeling pressure to make a decision about your relationship, but at the same time you may feel unsure about what the best decision is. With so many choices available, you may be struggling to commit to one particular path. As a result of all of these feelings, you may be having nightmares or feeling anxious and struggling to find a sense of inner peace.
In order to overcome these issues, it is important to focus on what you really want and need out of a relationship. Consider the options available to you and make a decision that feels right for you. Be sure to communicate your desires and needs to your partner in order to create a better understanding between the two of you. Finally, remember to be kind to yourself and to take time to relax and focus on positive aspects of your life. With a bit of introspection and determination, you can make the right choice and create a healthy and loving relationship.
What does 9 Of Swords and 7 Of Cups mean together for your finances?
When The 9 Of Swords tarot card and The 7 Of Cups tarot card come up in a financial or job-related reading, it can signify a feeling of immense emotional stress. The 9 Of Swords tarot card indicates nightmares, anxiety, grief, and depression, while the 7 Of Cups tarot card signifies too many choices, commitment issues, and difficulty making decisions. This combination of cards in a reading can suggest that the querent is overwhelmed by the financial and career-related dilemmas they have before them and is hampered by the emotional burden of making the right decision.
The 9 of Swords often speaks to the querent's mental health and the ways in which it is affected by the stress of their financial and career decisions. The querent may feel anxious about their choices and unsure if they can think clearly about the consequences of their decisions. The 7 of Cups encourages the querent to examine their options carefully and make a decision from a place of clarity and inner knowing instead of one of fear, grief, or despair. However, the querent may feel overwhelmed by the magnitude of the task before them, and the fear of their choice being wrong may cause them to become paralyzed and unable to make any sort of decision at all.
When the 9 of Swords and 7 of Cups combination appear in a financial or job-related reading, it is essential that the querent be diligent in taking care of their mental health and wellbeing. This combination of cards suggests a need to take time away from discussing financial matters and to process their emotions. The querent should seek out the advice of a compassionate friend or counselor and take the pressure off of themselves to make a perfect decision. Balance and self-care are critical in navigating this difficult moment and getting through this difficult time.
What does 9 Of Swords and 7 Of Cups mean together for your health?
The combination of The 9 Of Swords and The 7 Of Cups tarot cards is a daunting one. It speaks to a time of intense mental and emotional distress, a time where fear, worry and confusion come to the forefront. This combination suggests that you are likely overwhelmed by a myriad of decisions and choices, creating a cycle of fear, worry, and depression.
The 9 of Swords symbolizes nightmares, a deep feeling of insecurity, and a constant state of anxiousness. It can also represent the mental anguish of being stuck in an internal crisis. In other words, it can describe the inner battle for control and direction which is caused by the overwhelming amount of options that may be available to you.
The 7 of Cups, on the other hand, reflects the difficulty of choice-making. It speaks to the challenges of being able to commit to a particular path, as well as the fear of making the wrong decision. When these two cards come together, it could indicate a sense of paralysis and indecisiveness, which could be further exacerbated by feelings of depression and anxiety.
When it comes to your health, this combination can be quite challenging. It speaks to a feeling of being overwhelmed and unable to make any progress or decisions. It can be difficult to find ways to cope with all of the mental and emotional stress that comes along with this combination. However, it is important to remember that it is possible to find a way out of this difficult situation.
It is important to reach out for help if you feel yourself becoming too weighed down by the intense emotions associated with this combination. Talking to a trusted friend or therapist can be a great way to work through the anxiety, depression and sense of confusion that comes with the 9 of Swords and the 7 of Cups. Once you have a better sense of control over the situation, you can start to take steps to make healthier decisions and find more stability in your life.
The meaning of the cards will depend on what kind of reading you are doing and the question you asked the deck. This is a guide covering the general meanings of the cards and how they relate to each other.
Common 2-card spreads
Whilst it's great to know who these two cards interact with each other, it's important to note that the meaning will depend on the context of your spread
The most common 2 card spreads I recommend to newer readers are:
The 2 card cross (otherwise known as "The Fool's Journey")
The 2 card "Yes or No"
"The Fool's Journey"
Setup: The two card cross is where you place two cards face up, one placed vertically and with one laying horizontally over
Interpretation: The 2 cards represent a "situation" and a "challenge". The first card will describe the situation you are in with the second horizontal card being the "challenge" crossing you (literally crossing you in this case!)
Reading: Using the overviews in this guide is a great way to start. First, look at the meanings of the 2 cards, and see how they might relate either as your "situation" or "challenge". Once you have that you can look at the general overview for how the two cards interact with each other.
The benefit of this spread is that it can give clarity when you're feeling uncertain or anxious. Once you have clarity of thought, and a strong idea of what your challenge is you can find solutions to help your situation
The 2 card "Yes or No"
Setup: The 2 card "Yes or No" is where you place two cards face up side by side, whilst asking your deck a "yes or no" question.
Interpretation: Each card in a tarot deck has a "yes" or a "no" meaning. Look at the meanings of each card, and you will have your answer.
The benefit of this is you get a stronger yes or no compared to a single card draw. You may find you often get a mix of "yes or no", and this is fine. It simply means there is doubt, or things are not yet clear.
Yes or No meaning
Both 9 Of Swords and 7 Of Cups mean "No". If you are asking a direct question, then be under no illusions, the answer is a negative one. If you draw 9 Of Swords and 7 Of Cups the answer to your question is "NO".
The "Yes" and "No" meanings can differ from reader to reader. The meanings here are based on what I believe are the generally accepted definitions.
What does 9 Of Swords mean?
Health: The 9 of Swords tarot card symbolizes nightmares and anxiety, which can manifest as physical symptoms such as insomnia, headaches, fatigue, digestive problems and chronic pain. These physical ailments can lead to further physical and mental health issues if they go unchecked. It is important to be aware of the warning signs of stress and take preventative measures to reduce the stress in your life. One way to do this is to practice calming and relaxation techniques such as yoga or meditation.
Finances: The 9 of Swords tarot card can also reflect financial issues. The card signifies an uncertain future, lack of security and anxiety about money. In this situation, it is important to figure out what is causing your worries and come up with a plan of action to address them. Developing a budget, tracking your expenses and setting financial goals can help alleviate the anxiety associated with financial worries.
Relationships: The 9 of Swords tarot card symbolizes grief, depression and feelings of emptiness. It can signify a feeling of hopelessness or a lack of connection to those around you. It is important to take the time to process any hurtful experiences with those you care about and to focus on rebuilding connections. Be mindful of your words and actions and how they can affect your relationships. Spend quality time with your loved ones, listen to them and show them that you care. It can help to soothe the pain of disconnection and bring your relationships closer.
What does 7 Of Cups mean?
Health
The 7 of Cups Tarot card offers insight into one's physical and mental well-being. It suggests that there may be too many choices to make, with many possibilities for health that can be explored. It can indicate that the individual is dabbling with too many different paths in terms of health and may not be committing to any one particular path. It can also suggest that the individual may feel overwhelmed by these choices or may not be making decisions from a place of health, but instead from a place of fear or avoidance. This card can be an indicator of procrastination or avoidance when it comes to making decisions about health and wellness.
Finances
The 7 of Cups Tarot card can also be a sign of confusion or mismanagement when it comes to finances. It can signify too many choices, too many possibilities, or decisions based on emotions rather than rational thought. It can suggest that a person is struggling to make a commitment to any one plan or is unable to properly prioritize their resources. This card can also mean that the individual may be too focused on short-term gains and is failing to plan for long-term financial stability.
Relationships
The 7 of Cups Tarot card can be indicative of commitment issues in relationships, such as a reluctance to commit, fear of commitment, or difficulty with making a decision about which path to take. It can suggest that the individual may be struggling with making a choice between two or more partners or opportunities, or that they may be too quick to dismiss a relationship without fully exploring all of its possibilities. This card can be a warning that the individual is overthinking small details and avoiding making a commitment, which can lead to instability in relationships.
Conclusion
Understanding how the meaning of a reading changes once you start involving more than one card can be tricky. This will come with time and practice, however I hope this guide on what your cards might be telling you when you draw 9 Of Swords and 7 Of Cups has helped you.