A key aspect of reading your own tarot is interpreting cards. For a beginner interpreting a single card can be fine, as there are plenty of resources to help you out, however interpreting two or more can be very tricky.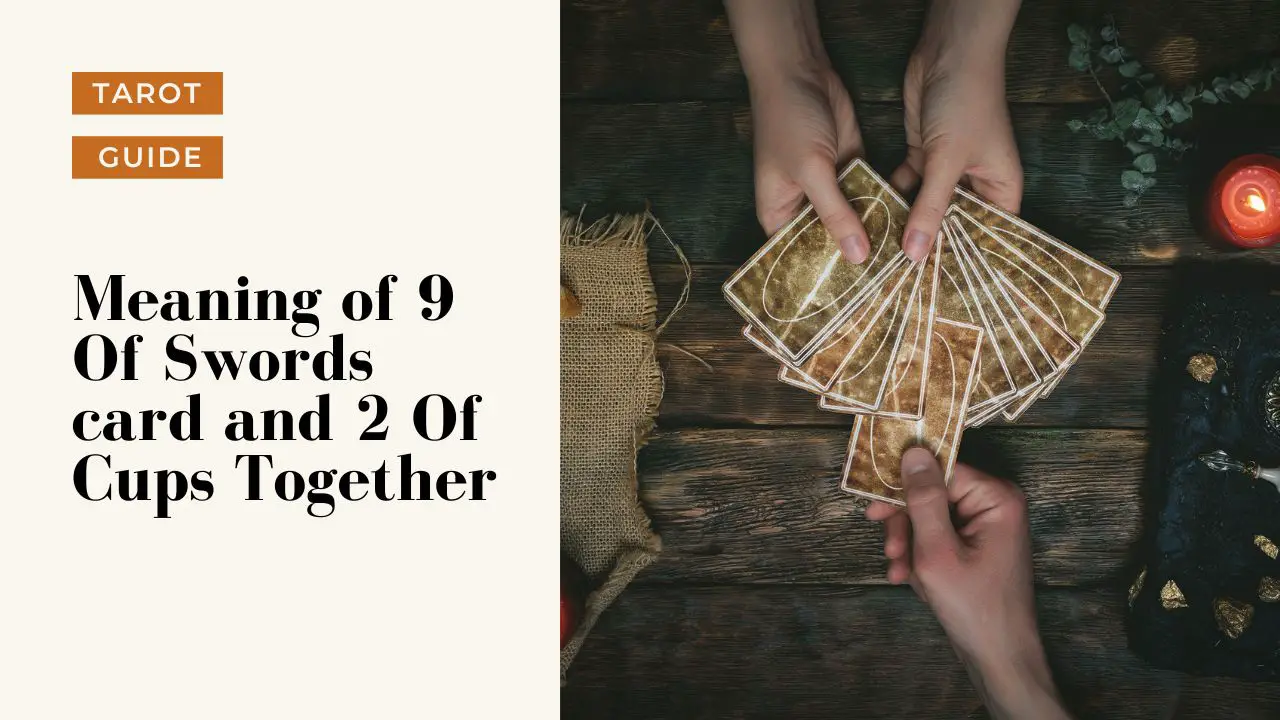 However, if you have been practising single card readings for a while a 2 card spread will be a great introduction into reading multiple cards.
As you've found this page, you're probably wondering how to interpret the 9 Of Swords card and 2 Of Cups card together in particular.
The 9 Of Swords card and 2 Of Cups have unique qualities and will interact with each other in different ways depending on what kind of reading you are doing.
What does 9 Of Swords and 2 Of Cups mean together?
The 9 Of Swords and The 2 Of Cups tarot card together suggest that although you may be feeling anxious, grief-stricken, or depressed, love is still a possibility for you. It could mean that it is time for you to open yourself to relationships, partnerships, and proposals for marriage, even though it may feel hard or overwhelming to do so. Even though you may be struggling with inner turmoil and feelings of melancholy, you can still let yourself be open to the possibility of love in your life.
The meaning may differ depending on what you are asking. Here are some common questions and their possible meanings
What does 9 Of Swords and 2 Of Cups mean together for your love life?
The 9 of Swords and the 2 of Cups tarot card together suggest that you are struggling with deep-seated anxieties and fears about love and relationships. You may have experienced a deep trauma in the past that has left you feeling fearful and unable to trust in the power of love. You find it hard to open your heart to another person, and you may have a tendency to retreat into the safety of your own thoughts and feelings.
At the same time, the 2 of Cups suggests that there is a lot of potential for a healthy, balanced relationship if only you can find the courage to put aside your anxieties and open up to someone. Love is a two-way street, and you need to be willing to take a chance on someone if you ever hope to find the connection that you crave.
Although it can feel daunting, it's important to remember that no relationship can be achieved without vulnerability and trust. It's only by facing your fears and taking a leap of faith that you can unlock the potential of the 2 of Cups and allow yourself to experience a fulfilling and passionate connection with another person.
Overall, the combination of the 9 of Swords and the 2 of Cups tarot card indicates that a soulful and fulfilling relationship is within your grasp. However, if you are ever to reach it, you must be willing to address your inner fears and anxieties, and to open your heart to someone. Don't be afraid to take a chance on love.
What does 9 Of Swords and 2 Of Cups mean together for your finances?
The 9 Of Swords and The 2 Of Cups tarot cards can reveal a great deal about your finances and job prospects. When seen in combination, these two cards suggest a difficult period of economic challenge, but also a strong urge to find new solutions and opportunities that will lead to an eventual recovery.
On the one hand, The 9 Of Swords indicates that money and job worries are likely to be a source of nightmares and anxiety. Your financial situation is likely to be in a state of upheaval and depression, making it difficult to find peace of mind. It is essential to keep these fears in perspective, and remain realistic in your expectations.
On the other hand, The 2 Of Cups is a positive sign of potential opportunities, suggesting that a new partner or partner-like relationship could bring a new source of financial stability. This could take the form of a business partnership, an investment, or a job offer that is too good to pass up. It may take a lot of courage, hard work, and creativity to make the most of this emerging opportunity, but it could be the key to a better future.
In summary, the combination of The 9 Of Swords and The 2 Of Cups tarot cards suggests a challenging period of financial struggle, but one which holds the promise of a brighter future. By not giving in to fear and despair, and instead looking to create new solutions and opportunities, it is possible to find success in your job and financial pursuits.
What does 9 Of Swords and 2 Of Cups mean together for your health?
When the 9 of Swords tarot card and the 2 of Cups tarot card are taken together, they can symbolize a situation where the emotional struggle we've been through may be coming to an end. This card combination can mean that, despite the nightmares, anxiety, grief, and depression, we may have a chance to find healing and reconnect with our partners, romantic or otherwise.
The presence of the 9 of Swords may suggest that in order to move forward and rebuild our relationship, we must first confront and come to terms with the emotional turmoil that has been weighing us down. We must take the time to process, heal, and move through the fear, trauma, and pain that have kept us from forming true, lasting connections. We may be afraid of being vulnerable and allowing ourselves to open up and trust someone, but this is necessary for the relationship to thrive.
The 2 of Cups suggests that we can find solace and peace in a connection that provides mutual love and understanding. It also indicates that there is potential for a relationship to blossom, and with the healing found in the 9 of Swords, we can create a bond that is both sustaining and fulfilling.
The two cards together provide a comforting reminder that even in the depths of suffering, we have the capacity to find joy and make meaningful connections. With trust and compassion, we can move past our trauma and create healthy, loving relationships. With this in mind, we can find the strength and courage within us to let go of our fears and take a chance on love.
The meaning of the cards will depend on what kind of reading you are doing and the question you asked the deck. This is a guide covering the general meanings of the cards and how they relate to each other.
Common 2-card spreads
Whilst it's great to know who these two cards interact with each other, it's important to note that the meaning will depend on the context of your spread
The most common 2 card spreads I recommend to newer readers are:
The 2 card cross (otherwise known as "The Fool's Journey")
The 2 card "Yes or No"
"The Fool's Journey"
Setup: The two card cross is where you place two cards face up, one placed vertically and with one laying horizontally over
Interpretation: The 2 cards represent a "situation" and a "challenge". The first card will describe the situation you are in with the second horizontal card being the "challenge" crossing you (literally crossing you in this case!)
Reading: Using the overviews in this guide is a great way to start. First, look at the meanings of the 2 cards, and see how they might relate either as your "situation" or "challenge". Once you have that you can look at the general overview for how the two cards interact with each other.
The benefit of this spread is that it can give clarity when you're feeling uncertain or anxious. Once you have clarity of thought, and a strong idea of what your challenge is you can find solutions to help your situation
The 2 card "Yes or No"
Setup: The 2 card "Yes or No" is where you place two cards face up side by side, whilst asking your deck a "yes or no" question.
Interpretation: Each card in a tarot deck has a "yes" or a "no" meaning. Look at the meanings of each card, and you will have your answer.
The benefit of this is you get a stronger yes or no compared to a single card draw. You may find you often get a mix of "yes or no", and this is fine. It simply means there is doubt, or things are not yet clear.
Yes or No meaning
Things are a bit tricky for this combination, as 9 Of Swords and 2 Of Cups mean different things. The cards are unsure about your question, or the answer to the question has not yet been decided.
The "Yes" and "No" meanings can differ from reader to reader. The meanings here are based on what I believe are the generally accepted definitions.
What does 9 Of Swords mean?
The 9 Of Swords Tarot card is associated with pain, suffering, and turmoil. It is a card that reflects the challenges of life. In the Tarot, this card often represents a oppressive atmosphere, and may be seen as a warning that dark times are coming.
For health, The 9 Of Swords Tarot card can represent physical and mental illness, or a period of depression. It is a reminder that in life, sometimes we will experience difficulty that we cannot always control. It can be a call to pay attention to our mental and physical health, as well as our emotional wellbeing.
For finances, The 9 Of Swords Tarot card can be a warning of financial difficulties and setbacks. This card can remind us that although money and possessions can bring comfort, they should never be our sole focus in life. It is a sign that we must learn to live within our means and never put our financial situation in jeopardy.
For relationships, The 9 Of Swords Tarot card reminds us that relationships take a lot of hard work. Even the healthiest relationship in life can go through difficult times. This card can be a reminder that we need to be mindful of our own needs and the needs of our partner, so that our relationship can stay strong.
Overall, The 9 Of Swords Tarot card is a reminder that difficult times and hard work will always be part of life, but that we can learn to cope with these challenges and still remain strong.
What does 2 Of Cups mean?
Health
When it comes to health, The 2 of Cups Tarot card takes on a healing aspect, indicating the potential for deep emotional connection and the power of healing touch. The card suggests an opportunity to create a supportive and life-affirming healing partnership that is essential to the improvement of one's physical and mental health. This could be between a patient and doctor, a therapist and client, a couple, or an individual and their own body. It encourages a person to see themselves as an active participant in the healing process, understanding the importance of creating a balanced, healthy and synergistic connection between themselves and their environment.
Finances
The 2 of Cups Tarot card suggests a stabilizing and life-affirming partnership when it comes to finances. This card can be seen as a sign of financial security and the potential for a mutually beneficial relationship. The card can refer to a strong business alliance between two individuals or organizations, and the power of collaboration in achieving financial success. It encourages the value of cooperation and respect for the contributions of all parties, and the importance of finding a harmonious partnership in order to achieve mutual goals.
Relationships
When the 2 of Cups Tarot card appears, it suggests a strong, intimate and passionate connection between two people. This card brings potential for deeply profound and affecting bonds, where two people come together to form a lasting bond. The card indicates the desire for a close connection and a meeting of hearts and minds, where two individuals can learn from and support each other. It symbolizes the importance of being present for another, and being able to experience the warmth and love that comes from a unified partnership.
Conclusion
Understanding how the meaning of a reading changes once you start involving more than one card can be tricky. This will come with time and practice, however I hope this guide on what your cards might be telling you when you draw 9 Of Swords and 2 Of Cups has helped you.