A key aspect of reading your own tarot is interpreting cards. For a beginner interpreting a single card can be fine, as there are plenty of resources to help you out, however interpreting two or more can be very tricky.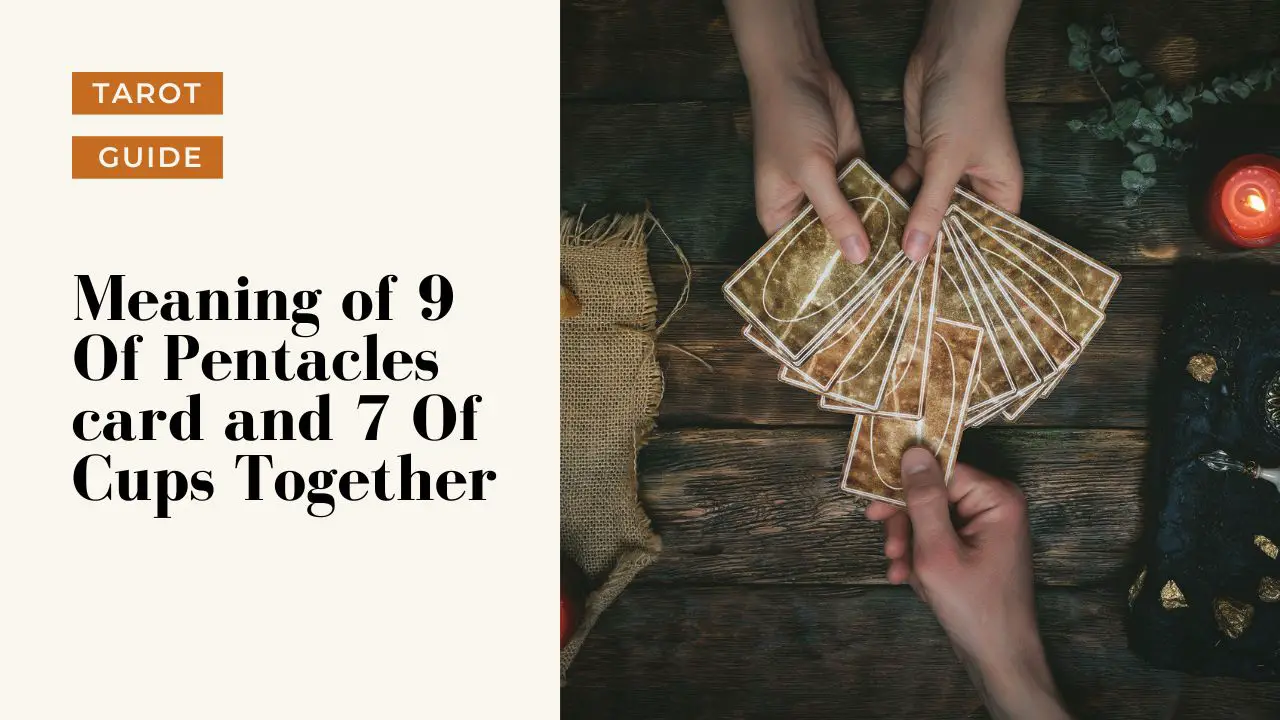 However, if you have been practising single card readings for a while a 2 card spread will be a great introduction into reading multiple cards.
As you've found this page, you're probably wondering how to interpret the 9 Of Pentacles card and 7 Of Cups card together in particular.
The 9 Of Pentacles card and 7 Of Cups have unique qualities and will interact with each other in different ways depending on what kind of reading you are doing.
What does 9 Of Pentacles and 7 Of Cups mean together?
The 9 of Pentacles and the 7 of Cups tarot card together speak to the potential for financial gain, luxury, and solo pleasures, but it also suggests that there may be too many choices or commitment issues. It's important to weigh the options available to you and decide what is best, using your own judgment rather than following anyone else's path. Keeping a clear head, focused decision-making, and staying connected with your own values can help you to make the most of the opportunities at hand and reap the benefits of having financial independence.
The meaning may differ depending on what you are asking. Here are some common questions and their possible meanings
What does 9 Of Pentacles and 7 Of Cups mean together for your love life?
The 9 of Pentacles and the 7 of Cups together suggest a need to focus your attention on the luxuries that truly matter to you in your love life. While the 9 of Pentacles symbolizes a state of financial independence and well-being, the 7 of Cups suggests that you may be struggling with too many options—too many choices for yourself, and too many potential partners to choose from. It could be that you feel overwhelmed by the possibilities, and that you are afraid of making the wrong decision, or of putting your faith in the wrong person.
The challenge for you is to strive for a greater sense of self-sufficiency—to listen to your heart, focus on your own needs and desires, and commit to a course of action that will bring you the most satisfaction and pleasure in your love life. It's time to really focus on what you would like in a relationship, and to let go of any doubts or fears that may be holding you back. As you become more comfortable with the idea of being in a loving relationship, you will be able to take risks and explore some of the new opportunities that may come your way.
The 9 of Pentacles and the 7 of Cups also invite you to explore the idea of enjoying some solo pleasures—perhaps indulging yourself in activities you enjoy, or trying out new experiences that bring you a sense of contentment and joy. Cultivate your own sense of self-sufficiency and pleasure—this will allow you a greater sense of clarity to make the right choices for you in your love life. Don't be afraid to take a chance on something new, and enjoy the journey as you discover the pleasures and rewards of a loving relationship.
What does 9 Of Pentacles and 7 Of Cups mean together for your finances?
The 9 of Pentacles and the 7 of Cups together warn of a potential conflict between luxury and freedom. On the one hand, the 9 of Pentacles encourages you to enjoy luxury and independence in your financial life, to reap the rewards of your hard work and enjoy the fruits of your labor. On the other hand, the 7 of Cups implies that you may have too many choices and commitments vying for your attention.
Your challenge is to find a balance between working hard, enjoying your financial wealth, and having enough flexibility to handle the commitments you've taken on. You may need to prioritize, cutting back on some of your desires for luxury and independence in order to better manage your obligations. Consider reducing expenses and limiting your commitments so that you can stay focused on the tasks that really matter to you.
On the job front, the combination of the 9 of Pentacles and the 7 of Cups advises you to focus on one area of business and avoid overly ambitious plans and too many commitments. Setting realistic goals and having realistic expectations will help you stay on track. It may be worth devoting more time and resources to one or two pursuits, rather than trying to juggle several projects or initiatives.
When it comes to finances, it's important to remember that you don't have to settle for either-or. You can enjoy the fruits of your work, while still keeping your commitments in check. Seek a balance between luxury, independence, and commitment so that you can move forward financially, without sacrificing the security of your commitments.
What does 9 Of Pentacles and 7 Of Cups mean together for your health?
The 9 of Pentacles and the 7 of Cups tarot card together can be an indication that you are focusing on the external rewards of financial gain and luxury while neglecting or avoiding the potential of developing a deeper level of internal wellness. This can manifest in the form of physical self-care, emotional health, or spiritual wellbeing.
On the one hand, the 9 of Pentacles tarot card can signify feeling secure in your financial situation and having the ability to use your resources to pamper yourself. You may be enjoying solo pleasures and treating yourself to luxuries. On the other hand, the 7 of Cups tarot card can signify a lack of commitment to internal health. You may be overwhelmed by the sheer number of choices and options when it comes to your health, and may be avoiding making a decision in order to remain comfortable and complacent.
It can be useful for you to be aware of the tendency to focus primarily on the external trappings of success and wealth, while unknowingly neglecting your internal health and wellbeing. In order to achieve true balance, you need to figure out how to combine both your external and internal pursuits.
You can do this by committing to specific, achievable goals that promote your internal wellbeing. This can involve activities like yoga, meditation, healthy eating, or even just taking a walk outside every day. Doing this will give you a sense of accomplishment, and will allow you to enjoy the pleasures of the 9 of Pentacles, while also developing an internal stability and commitment to your own health.
The meaning of the cards will depend on what kind of reading you are doing and the question you asked the deck. This is a guide covering the general meanings of the cards and how they relate to each other.
Common 2-card spreads
Whilst it's great to know who these two cards interact with each other, it's important to note that the meaning will depend on the context of your spread
The most common 2 card spreads I recommend to newer readers are:
The 2 card cross (otherwise known as "The Fool's Journey")
The 2 card "Yes or No"
"The Fool's Journey"
Setup: The two card cross is where you place two cards face up, one placed vertically and with one laying horizontally over
Interpretation: The 2 cards represent a "situation" and a "challenge". The first card will describe the situation you are in with the second horizontal card being the "challenge" crossing you (literally crossing you in this case!)
Reading: Using the overviews in this guide is a great way to start. First, look at the meanings of the 2 cards, and see how they might relate either as your "situation" or "challenge". Once you have that you can look at the general overview for how the two cards interact with each other.
The benefit of this spread is that it can give clarity when you're feeling uncertain or anxious. Once you have clarity of thought, and a strong idea of what your challenge is you can find solutions to help your situation
The 2 card "Yes or No"
Setup: The 2 card "Yes or No" is where you place two cards face up side by side, whilst asking your deck a "yes or no" question.
Interpretation: Each card in a tarot deck has a "yes" or a "no" meaning. Look at the meanings of each card, and you will have your answer.
The benefit of this is you get a stronger yes or no compared to a single card draw. You may find you often get a mix of "yes or no", and this is fine. It simply means there is doubt, or things are not yet clear.
Yes or No meaning
Things are a bit tricky for this combination, as 9 Of Pentacles and 7 Of Cups mean different things. The cards are unsure about your question, or the answer to the question has not yet been decided.
The "Yes" and "No" meanings can differ from reader to reader. The meanings here are based on what I believe are the generally accepted definitions.
What does 9 Of Pentacles mean?
Health
When the 9 of Pentacles appears in a Tarot reading, it can represent a state of physical health and well-being that is both luxurious and self-sufficient. This card denotes a physical condition where the body is well cared for and pampered. The individual may feel strong and confident as they take control of their own health and can afford the best treatments available. This card also suggests that the individual may take care not to overextend themselves and instead find balance between being active and enjoying a more sedentary lifestyle.
Finances
The 9 of Pentacles Tarot card also symbolizes financial gain, stability, and prosperity. This card indicates a steady flow of income and potential for increased wealth. This card symbolizes the individual's ability to have financial freedom and independence. This card often appears when the individual is making wise financial decisions that will bring long-term benefits and stability.
Relationships
The 9 of Pentacles Tarot card often heralds a period of solo pleasure and self-sufficiency, particularly when it comes to relationships. This card suggests that an individual may take a break from dating or being involved in a committed relationship. This card suggests that the individual considers their own needs, wants, and desires and is comfortable enough to enjoy time alone, without relying on anyone else. This card can also indicate that the individual may be enjoying a period of self-care and self-love, rather than searching for a relationship. The 9 of Pentacles Tarot card indicates that the individual is content in their own autonomy and sovereignty, and may find joy in pursuing their own passions and interests, rather than seeking companionship.
What does 7 Of Cups mean?
The Seven of Cups Tarot card is often interpreted as a warning that there are too many choices available and that it is time to be more selective and discerning when making important decisions. In terms of health, this card encourages us to be mindful of our choices and be mindful of our physical, mental and spiritual well-being. Too often, we take our health for granted and make choices with little thought about how it might affect our health down the road. The Seven of Cups encourages us to make healthy choices and prioritize our overall health and well-being.
In terms of finances, the Seven of Cups warns against making snap decisions when it comes to investments and other financial decisions. We must remember to take a step back, consider all our options, and carefully weigh all of the potential consequences before committing to any action. The Seven of Cups also teaches us to be mindful and not be lured by the promise of short-term gain and quick returns, which may not be enough to cover our long-term financial needs.
Finally, when it comes to relationships the Seven of Cups Tarot card warns against commitment issues. Too often we find ourselves in relationships that we have not taken the time to invest in. We make decisions without considering the long-term implications and ultimately end up in an unsustainable situation. The Seven of Cups asks us to take stock and consider the impact of our decisions on our relationships. Are these relationships beneficial to both partners or are they ultimately draining and unfulfilling? This card encourages us to work on meaningful relationships and to invest in them, rather than just settling for what is easy.
Conclusion
Understanding how the meaning of a reading changes once you start involving more than one card can be tricky. This will come with time and practice, however I hope this guide on what your cards might be telling you when you draw 9 Of Pentacles and 7 Of Cups has helped you.