A key aspect of reading your own tarot is interpreting cards. For a beginner interpreting a single card can be fine, as there are plenty of resources to help you out, however interpreting two or more can be very tricky.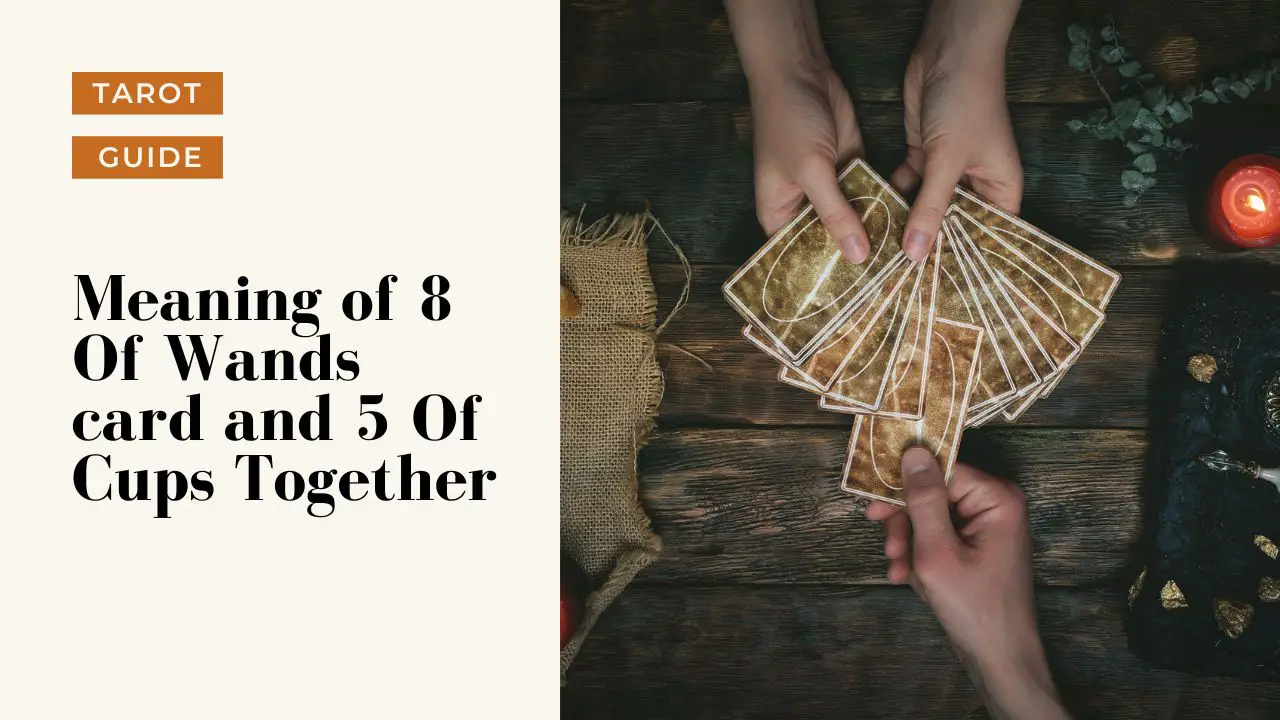 However, if you have been practising single card readings for a while a 2 card spread will be a great introduction into reading multiple cards.
As you've found this page, you're probably wondering how to interpret the 8 Of Wands card and 5 Of Cups card together in particular.
The 8 Of Wands card and 5 Of Cups have unique qualities and will interact with each other in different ways depending on what kind of reading you are doing.
What does 8 Of Wands and 5 Of Cups mean together?
The 8 Of Wands tarot card and The 5 Of Cups tarot card when read together suggest that a change is coming that could involve loss and regret. This could be welcoming news that will bring a feeling of speed and action, but it may also involve sadness and grief. It is important to remember that even through the loss and feeling of abandonment there will be a way to move forward. This card combination shows that something new is coming that could bring some excitement, but let us acknowledge and accept the feelings of abandonment and loss.
The meaning may differ depending on what you are asking. Here are some common questions and their possible meanings
What does 8 Of Wands and 5 Of Cups mean together for your love life?
The 8 Of Wands and the 5 Of Cups presented together in your reading may be a sign of swift and sudden changes in your love life. It may be that news arrives quickly that shakes up your world and leads to a realization of loss. There is a feeling of being jolted into a new state of understanding, and this can lead to feelings of regret and grief for what once was. It is possible that the swiftness of the changes leaves you feeling abandoned, unloved, and alone.
The 8 Of Wands is a card of action and movement, and it may suggest that outside forces are pushing you toward change. You may feel that you have no control over the events, and this can be a source of anxiety or sorrow. You may be experiencing the intense emotions of sadness and regret as you grapple with the implications of the news.
The 5 Of Cups can suggest that you are feeling overwhelmed by your emotions. It may be that this is a time of mourning, a loss of normalcy, or a feeling of being without love or support. As you process what has happened, it is important to be gentle with yourself and acknowledge the pain that you are feeling.
The 8 Of Wands and The 5 Of Cups tarot card can be a difficult combination, but it can also bring a sense of clarity. It may be that you are able to come to terms with what has happened and move into a new and more positive situation. With acceptance and understanding comes healing, so use your inner strength to find peace in whatever comes your way.
What does 8 Of Wands and 5 Of Cups mean together for your finances?
When the 8 of Wands and the 5 of Cups appear together in relation to finances and career, it usually indicates that the querent is approaching a crossroads in their life. On the one hand, they may be feeling a sense of urgency and impulsiveness, as if they need to make a change and act quickly. On the other hand, they may also be feeling a sense of loss and regret that is preventing them from moving forward.
The 8 of Wands indicates that changes are coming and that the querent will need to take action in order to adapt to their new situation. It could be that they need to act quickly to take advantage of an opportunity, or that they need to make changes in order to stay competitive in the field. The 5 of Cups suggests that the querent is stuck in their old ways and is struggling with letting go of what is no longer working for them. It could be an old employer, a job that no longer refines their skills, or simply an attitude that isn't conducive to success.
The 8 of Wands and the 5 of Cups warn of a potential clash between the querent's desire for action and their fear of the unknown. The querent needs to take time to process their emotions and slowly move forward, taking calculated risks and learning from their mistakes. It might be helpful to find someone who can provide emotional support and gentle advice as they navigate their new circumstances.
At the same time, the 8 of Wands and 5 of Cups remind the querent to stay grounded and practical. Even if the querent is feeling impulsive, they must remember to stay focused on their long-term goals. They must be open to learning and trying new things, but also stay mindful of their investments and losses. With careful consideration and a balanced approach, the querent can make the most out of the upcoming changes in their career and finances.
What does 8 Of Wands and 5 Of Cups mean together for your health?
The 8 of Wands and the 5 of Cups together in a reading for your health indicate a time of quick changes, followed by a period of loss and regret. This suggests that you might have to give up something that is important to you in order to move forward, but this loss will bring about a change for the better. The 8 of Wands symbolizes speed and action, and the 5 of Cups symbolizes loss and grief. Together, these two cards form a warning that a choice must be made, but that it is one that will ultimately benefit your health.
The 8 of Wands speaks of taking decisive action in order to move ahead, while the 5 of Cups implies that such a move will be accompanied by a sense of regret. It might mean having to choose between two paths that each have their own rewards and losses. You might have to let go of one option in order to embrace the other, but even though it may be difficult, it will ultimately be worth it.
This reading also implies that if you take the right steps, you can expect to see the results quickly. The 8 of Wands also suggests that news will come your way relatively soon. It could be news related to a decision you have made, such as whether or not to pursue a certain course of treatment.
All in all, The 8 of Wands and The 5 of Cups indicate that a difficult decision needs to be made related to your health, and it may cause some sadness or regret. However, this is a necessary step for the ultimate betterment of your health, and the news and changes that come from it will come quickly.
The meaning of the cards will depend on what kind of reading you are doing and the question you asked the deck. This is a guide covering the general meanings of the cards and how they relate to each other.
Common 2-card spreads
Whilst it's great to know who these two cards interact with each other, it's important to note that the meaning will depend on the context of your spread
The most common 2 card spreads I recommend to newer readers are:
The 2 card cross (otherwise known as "The Fool's Journey")
The 2 card "Yes or No"
"The Fool's Journey"
Setup: The two card cross is where you place two cards face up, one placed vertically and with one laying horizontally over
Interpretation: The 2 cards represent a "situation" and a "challenge". The first card will describe the situation you are in with the second horizontal card being the "challenge" crossing you (literally crossing you in this case!)
Reading: Using the overviews in this guide is a great way to start. First, look at the meanings of the 2 cards, and see how they might relate either as your "situation" or "challenge". Once you have that you can look at the general overview for how the two cards interact with each other.
The benefit of this spread is that it can give clarity when you're feeling uncertain or anxious. Once you have clarity of thought, and a strong idea of what your challenge is you can find solutions to help your situation
The 2 card "Yes or No"
Setup: The 2 card "Yes or No" is where you place two cards face up side by side, whilst asking your deck a "yes or no" question.
Interpretation: Each card in a tarot deck has a "yes" or a "no" meaning. Look at the meanings of each card, and you will have your answer.
The benefit of this is you get a stronger yes or no compared to a single card draw. You may find you often get a mix of "yes or no", and this is fine. It simply means there is doubt, or things are not yet clear.
Yes or No meaning
Things are a bit tricky for this combination, as 8 Of Wands and 5 Of Cups mean different things. The cards are unsure about your question, or the answer to the question has not yet been decided.
The "Yes" and "No" meanings can differ from reader to reader. The meanings here are based on what I believe are the generally accepted definitions.
What does 8 Of Wands mean?
Health:
The 8 of Wands tarot card is typically associated with swift progress and movement, so when it comes to health, it can signify that suddenly you will see fast improvements. It could provide a reminder that it is not always necessary to take the long and hard way to reach your health goals. The 8 of Wands can also remind you to take hold of opportunities that arise and to act fast if you want to maximize your potential. If a change in lifestyle is what you need to improve your health, then this card indicates that you should seize the opportunity and act fast to make these changes.
Finances:
The 8 of Wands tarot card is a great sign of financial success. When this card appears, it usually indicates that there will be a sudden influx of money or other financial gain. It is important to remember, however, that the 8 of Wands does not mean that everything will happen in an instant. Instead, you should use the guidance from this card to stay motivated and get ready to take advantage of the positive changes that may arrive soon. This card can be a reminder that you should pay extra attention to financial opportunities that may arise quickly and to act on them without hesitation.
Relationships:
The 8 of Wands tarot card is a great sign for relationships. It usually indicates that any relationship you are in will quickly move in a positive direction and that news is likely to arrive soon. You should take this card as a sign that you should seize the moment and act quickly and decisively if there is something you have been wanting to do or say to your partner. The 8 of Wands can also be a sign that a spark of energy and excitement will be coming soon, so be prepared to embrace the new opportunities that will come your way.
What does 5 Of Cups mean?
Health: When The 5 of Cups Tarot card appears in a reading, it is a sign that some kind of health issue or problem is likely on the horizon. The key with The 5 of Cups is that it's important to look at the whole picture of health and not to get too focused on any one particular area. The card symbolizes a disruption to the balance of the body, and it might be necessary to focus on the overall wellness of the individual instead of just looking at one particular area. This can mean anything from making sure to take care of the mental and physical aspects of health, to changing diet and lifestyle to create a more holistic approach to health and wellbeing.
Finances: When The 5 of Cups appears in a reading about finances, it is a sign that a certain amount of loss or reduction of income is likely. This could be either a temporary setback, or a more permanent change in finances due to job loss, changes in the economy, or other financial issues. The important thing to remember here is that it is important to stay focused on what can be done to remedy the situation and to keep in mind that while there may be some loss, it is not necessarily a total loss. It is important to stay positive and to take an active approach towards finding ways to increase income or to negogiate better terms with creditors.
Relationships: In relationships, The 5 of Cups often indicates that a relationship has been strained or is undergoing some kind of disturbance. The card symbolizes that something has gone wrong and that some kind of grief or strain has been experienced in the relationship. It can also indicate that there has been a feeling of abandonment or loneliness, and it is important to take a step back and look at the situation from a neutral perspective. It is important to remember that while a relationship may be facing some difficulties, it is possible to find ways to repair the relationship if both parties are willing and able to do the work.
Conclusion
Understanding how the meaning of a reading changes once you start involving more than one card can be tricky. This will come with time and practice, however I hope this guide on what your cards might be telling you when you draw 8 Of Wands and 5 Of Cups has helped you.