A key aspect of reading your own tarot is interpreting cards. For a beginner interpreting a single card can be fine, as there are plenty of resources to help you out, however interpreting two or more can be very tricky.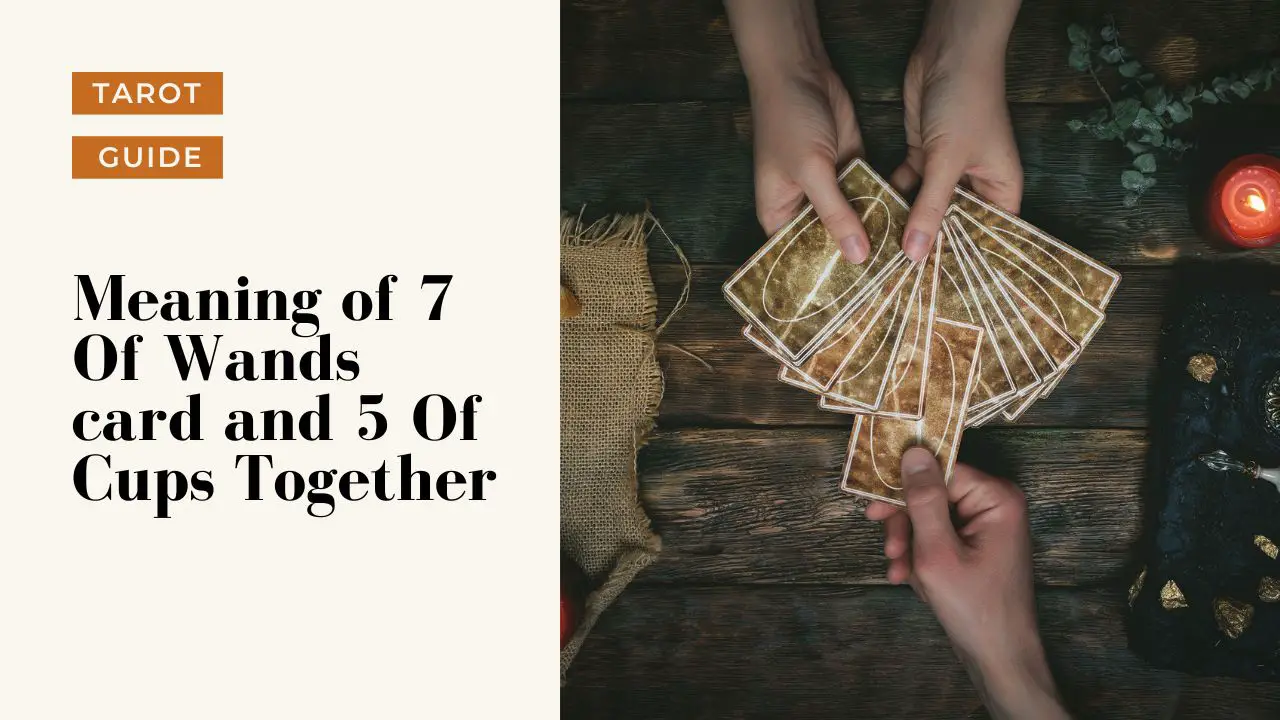 However, if you have been practising single card readings for a while a 2 card spread will be a great introduction into reading multiple cards.
As you've found this page, you're probably wondering how to interpret the 7 Of Wands card and 5 Of Cups card together in particular.
The 7 Of Wands card and 5 Of Cups have unique qualities and will interact with each other in different ways depending on what kind of reading you are doing.
What does 7 Of Wands and 5 Of Cups mean together?
The 7 Of Wands and The 5 Of Cups tarot card together signify an uncomfortable balance between the need for self-defense and the experience of loss. This can feel especially overwhelming if you feel abandoned or unloved and have to stand your ground against the competition. It can be difficult to stay strong and continue to fight for yourself even when you're feeling so much grief and regret. But if you can find a way to move through the pain and keep your focus on protecting yourself and your interests, you will be better off in the long run.
The meaning may differ depending on what you are asking. Here are some common questions and their possible meanings
What does 7 Of Wands and 5 Of Cups mean together for your love life?
When The 7 Of Wands tarot card and The 5 Of Cups tarot card appear together in a reading of your love life, it is a signal that you may be feeling overwhelmed by competition and feeling the need to protect yourself. You may begin to feel as though you are being left behind and unloved, feeling a deep-seated regret and grief over the choices you've made in regards to your romantic partner and your current relationships.
The 7 Of Wands tells you that you're likely to be feeling competitive and will be driven to try to defend your current relationship. This is especially true if you've been in a long-term relationship, where there may be unfamiliar or untested competition. You may worry about losing either your relationship or your partner, leading you to try to protect yourself from any potential pain or heartache.
The 5 Of Cups is a warning sign that no matter how hard you may try to protect yourself and your relationship, you may still end up feeling abandoned and lost. The card speaks of regret and grief over your decisions and emotions, and you may find yourself questioning whether or not the relationship is worth the effort or even if you're capable of loving someone in the way that they deserve.
In the end, this combination of cards conveys a message of hope. While it is important to be mindful of both the competition and any potential losses, it is also important to take the time to reflect on your own feelings, needs, and worth. It is important to listen to your own inner guidance, as it may be trying to tell you something important about yourself, your relationship, and your future.
What does 7 Of Wands and 5 Of Cups mean together for your finances?
When The 7 Of Wands tarot card and The 5 Of Cups tarot card are seen together in terms of your finances and job, it can be a potent warning sign of possible difficulties ahead. This combination often implies that one must be conscious of the risks associated with competing in the work or financial landscape. It is common to feel overwhelmed when faced with the competition of others in the same field, be it working for a job or trying to secure a loan.
At the same time, this combination also speaks to the dangers of becoming too fixated on striving for success at the expense of seeking balance and inner peace. The 7 of Wands tarot card speaks to the need to protect oneself from competition. This can often be taken too far and lead to a feeling of deep regret, as can be seen in The 5 of Cups tarot card. Striking a balance between protecting oneself from competition and remaining aware of one's own need for inner peace and balance is what this combination of cards is demanding.
It is important to remember that this combination of tarot cards does not represent a situation of hopelessness, in terms of finances and employment. What it does indicate is that it is important to be aware of the competition and the potential for feeling regret or loss if one goes too far with self-defense. Striking the right balance between taking competitive steps and staying mindful of one's own emotions is the best way to remain focused and productive when it comes to finances and jobs.
What does 7 Of Wands and 5 Of Cups mean together for your health?
The Seven of Wands and the Five of Cups tarot cards when combined, signify health concerns that involve protection from outside forces and dealing with regret or grief. This could represent physical health and protection from outside stressors such as a virus or an illness, but it could also represent emotional health and protection from competition or abandonment.
On the physical side, this tarot combination could represent a need to take measures to protect your physical health from competition or from external factors, such as viruses or illnesses. This could mean eating healthier, getting more exercise, taking vitamins and supplements, avoiding crowds, and staying informed about the latest developments in health and safety.
On the emotional side, this tarot combination may represent dealing with the regret and grief of abandonment or unhealthy or competitive relationships. It could be a sign to take time to reflect on the things that have caused you pain and to find ways to move on from them. This could take the form of healthy communication with others, journaling and therapy, setting boundaries, and taking time for self-care.
The Seven of Wands and the Five of Cups tarot combination is an invitation to protect your physical and emotional health from competition and outside forces. It also encourages you to take the time to grieve losses, honor your pain, and find a sense of healing and closure.
The meaning of the cards will depend on what kind of reading you are doing and the question you asked the deck. This is a guide covering the general meanings of the cards and how they relate to each other.
Common 2-card spreads
Whilst it's great to know who these two cards interact with each other, it's important to note that the meaning will depend on the context of your spread
The most common 2 card spreads I recommend to newer readers are:
The 2 card cross (otherwise known as "The Fool's Journey")
The 2 card "Yes or No"
"The Fool's Journey"
Setup: The two card cross is where you place two cards face up, one placed vertically and with one laying horizontally over
Interpretation: The 2 cards represent a "situation" and a "challenge". The first card will describe the situation you are in with the second horizontal card being the "challenge" crossing you (literally crossing you in this case!)
Reading: Using the overviews in this guide is a great way to start. First, look at the meanings of the 2 cards, and see how they might relate either as your "situation" or "challenge". Once you have that you can look at the general overview for how the two cards interact with each other.
The benefit of this spread is that it can give clarity when you're feeling uncertain or anxious. Once you have clarity of thought, and a strong idea of what your challenge is you can find solutions to help your situation
The 2 card "Yes or No"
Setup: The 2 card "Yes or No" is where you place two cards face up side by side, whilst asking your deck a "yes or no" question.
Interpretation: Each card in a tarot deck has a "yes" or a "no" meaning. Look at the meanings of each card, and you will have your answer.
The benefit of this is you get a stronger yes or no compared to a single card draw. You may find you often get a mix of "yes or no", and this is fine. It simply means there is doubt, or things are not yet clear.
Yes or No meaning
Things are a bit tricky for this combination, as 7 Of Wands and 5 Of Cups mean different things. The cards are unsure about your question, or the answer to the question has not yet been decided.
The "Yes" and "No" meanings can differ from reader to reader. The meanings here are based on what I believe are the generally accepted definitions.
What does 7 Of Wands mean?
The 7 of Wands Tarot card indicates a need to defend against outside forces that may be approaching. It suggests that one must be prepared to protect themselves and their personal interests in a situation of competition or challenge.
When it comes to health, the 7 of Wands indicates that one must take personal responsibility for their well being, and guard against potential health risks. This could mean taking measures to improve physical health, like exercise, or taking preventive measures to maintain mental health, like seeking counseling or therapy. It may also be a reminder to guard against people, environments, or situations that could potentially have a negative impact on health.
In terms of finances, the 7 of Wands suggests that it is important to protect and defend one's financial resources. This could include taking measures to ensure that investments are secure, or defending against potential financial risks. It may also mean protecting yourself against fraud or financial scams.
When it comes to relationships, the 7 of Wands indicates that one needs to be aware of any potential competitors, or any sources of conflict in the relationship. It suggests that one should protect their personal interests, or the interests of their partner, in the relationship. It could also mean defending against any outside sources that could potentially damage the relationship, such as gossip or slander.
What does 5 Of Cups mean?
For Health: The 5 of Cups Tarot card indicates loss, regret, and grief in connection to one's health. It implies that a person has endured a physical or mental setback that has caused them to become despondent. This card can be a warning to prepare for a challenging period in terms of health, but it can also indicate that the individual has made bad health choices in the past and must learn from them in order to heal.
For Finances: The 5 of Cups Tarot card symbolizes loss, regret, and grief in relation to one's finances. It is often a message to be more mindful of how money is spent and to prepare for a period of financial hardship. This card can also be a warning that challenges may arise due to poor investments or financial decisions made in the past.
For Relationships: The 5 of Cups Tarot card can be interpreted as a warning of difficulties in relationships. It may suggest feelings of abandonment or loneliness, or that the individual has experienced a loss and is struggling to cope. This card can indicate that the person must come to terms with any pain or grief associated with past relationships in order to move forward and build new, healthier relationships.
Conclusion
Understanding how the meaning of a reading changes once you start involving more than one card can be tricky. This will come with time and practice, however I hope this guide on what your cards might be telling you when you draw 7 Of Wands and 5 Of Cups has helped you.