A key aspect of reading your own tarot is interpreting cards. For a beginner interpreting a single card can be fine, as there are plenty of resources to help you out, however interpreting two or more can be very tricky.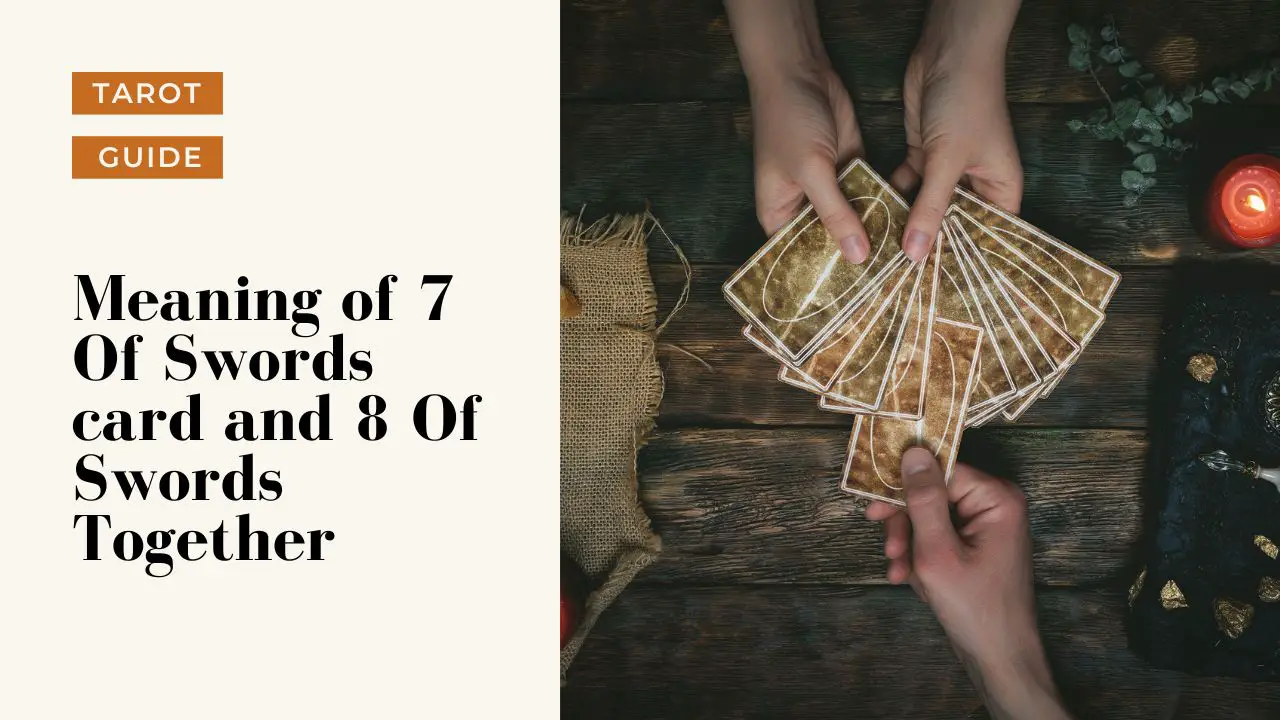 However, if you have been practising single card readings for a while a 2 card spread will be a great introduction into reading multiple cards.
As you've found this page, you're probably wondering how to interpret the 7 Of Swords card and 8 Of Swords card together in particular.
The 7 Of Swords card and 8 Of Swords have unique qualities and will interact with each other in different ways depending on what kind of reading you are doing.
What does 7 Of Swords and 8 Of Swords mean together?
The 7 of Swords and 8 of Swords tarot cards together suggest that you may be feeling like you are in a difficult situation that you can't escape. Faced with difficult choices and a lack of trustworthy allies, there is a sense of betrayal and dishonesty that could be leading you to feel trapped. You may be feeling restricted in your situation and isolated, which can be a difficult thing to face. However, this situation can also offer the potential for growth and to learn important lessons if you can look at it objectively.
The meaning may differ depending on what you are asking. Here are some common questions and their possible meanings
What does 7 Of Swords and 8 Of Swords mean together for your love life?
When the 7 of Swords tarot card and 8 of Swords tarot card appear together in a love reading, it can suggest that an act of dishonesty has been perpetrated and it may have led to a sense of restriction or imprisonment in your relationship. There could be a feeling of betrayal and abandonment that has caused you to isolate yourself from your partner, shutting your emotions off and detaching yourself emotionally in order to protect yourself from further hurt. You may be asking yourself why you are in this situation and feeling overwhelmed by the thought of ever having to be vulnerable again.
It is important in this situation to take a step back and identify why you are feeling so restricted. Has your partner been dishonest in some way? Do you feel betrayed or hurt by something your partner has done? It is important to be honest with yourself and your partner about the hurt caused by their actions. This is the only true way to restore trust in your relationship.
On the flip side, the cards also show that this situation can be rectified and there is hope for the future. To make this happen, it is essential to examine why the dishonesty occurred in the first place. Is it linked to a fear of opening up or to lack of communication? It is also key to focus on rebuilding your trust, even if this means taking baby steps to get there.
By looking to the future, it is possible to turn this difficult situation around and use it as an opportunity to develop a stronger, more honest and more connected relationship. With the right amount of effort and communication, you can work together to resolve issues and work towards a more fulfilling and satisfying love life.
What does 7 Of Swords and 8 Of Swords mean together for your finances?
The 7 of Swords and 8 of Swords tarot cards indicate that financial difficulties and problems at work are looming. The thief represented by the 7 of Swords is a warning that someone may be trying to take advantage of your vulnerability or resources. Be sure to keep your financial information secure, as someone might be attempting to gain access to it for their own personal gain. This card is also a sign of betrayal and dishonesty, so watch out for people that come across as friendly and trustworthy, but in reality would be more than happy to take advantage of you.
The 8 of Swords' message of self-imposed restrictions and isolation further adds to this sense of foreboding. Even if there is not an immediate financial danger, you should be very cautious in how you handle your finances. Make sure that you are taking the necessary steps to protect yourself, such as having a budget and tracking your spending. It is also important to make sure that you are not letting yourself become too isolated, as this could lead to further financial difficulties.
When taken together, the 7 of Swords and 8 of Swords are an indication that financial danger and job troubles could be on the horizon. Be mindful of your finances and make sure that you are not letting yourself become too isolated. With the right protections in place and an awareness of potential risks, you can stop financial difficulties before they become a major problem.
What does 7 Of Swords and 8 Of Swords mean together for your health?
When looking at the 7 of Swords and the 8 of Swords together, it can be a bit disconcerting. The 7 of Swords suggests a sense of dishonesty and betrayal, while the 8 of Swords indicates self-imposed restrictions and isolation. This is a message to be careful of who you trust and to be aware of any feeling of being a victim or feeling too restricted.
For your physical health, it can be interpreted as a warning against allowing yourself to become so desperate for change or freedom that you allow yourself to become vulnerable to betrayal or theft. It can also suggest that you may be confining yourself and removing yourself from the support of a larger community or network. This feeling of isolation can have serious implications for both your physical and mental health.
The 7 and 8 of Swords together can encourage you to take steps to relieve yourself from the pressure of self-imposed restrictions and to think carefully before trusting someone too quickly, while still maintaining a healthy social circle and seeking out opportunities to further your goals. Look for new opportunities that can create a sense of freedom and encourage a healthy balance of risk and responsibility.
This card combination encourages you to remain vigilant and mindful of your physical health. Take care of yourself by engaging in activities that make you feel connected to yourself and to those around you. This card combination can also be a reminder that while it is important to trust yourself, you must also trust the people in your life; those who are worthy of your trust can help lift you up and support you in times of need.
The meaning of the cards will depend on what kind of reading you are doing and the question you asked the deck. This is a guide covering the general meanings of the cards and how they relate to each other.
Common 2-card spreads
Whilst it's great to know who these two cards interact with each other, it's important to note that the meaning will depend on the context of your spread
The most common 2 card spreads I recommend to newer readers are:
The 2 card cross (otherwise known as "The Fool's Journey")
The 2 card "Yes or No"
"The Fool's Journey"
Setup: The two card cross is where you place two cards face up, one placed vertically and with one laying horizontally over
Interpretation: The 2 cards represent a "situation" and a "challenge". The first card will describe the situation you are in with the second horizontal card being the "challenge" crossing you (literally crossing you in this case!)
Reading: Using the overviews in this guide is a great way to start. First, look at the meanings of the 2 cards, and see how they might relate either as your "situation" or "challenge". Once you have that you can look at the general overview for how the two cards interact with each other.
The benefit of this spread is that it can give clarity when you're feeling uncertain or anxious. Once you have clarity of thought, and a strong idea of what your challenge is you can find solutions to help your situation
The 2 card "Yes or No"
Setup: The 2 card "Yes or No" is where you place two cards face up side by side, whilst asking your deck a "yes or no" question.
Interpretation: Each card in a tarot deck has a "yes" or a "no" meaning. Look at the meanings of each card, and you will have your answer.
The benefit of this is you get a stronger yes or no compared to a single card draw. You may find you often get a mix of "yes or no", and this is fine. It simply means there is doubt, or things are not yet clear.
Yes or No meaning
Both 7 Of Swords and 8 Of Swords mean "No". If you are asking a direct question, then be under no illusions, the answer is a negative one. If you draw 7 Of Swords and 8 Of Swords the answer to your question is "NO".
The "Yes" and "No" meanings can differ from reader to reader. The meanings here are based on what I believe are the generally accepted definitions.
What does 7 Of Swords mean?
Health
The 7 of Swords Tarot card, when it appears in a reading about health, can be a warning that you need to take extra care of your overall wellbeing. It suggests that an illness, ailment or condition may be caused by a person who has acted recklessly and dishonestly, leading to betrayal. For instance, a partner may have transmitted a virus or virus-like infection without your knowledge or consent. In cases such as these, it is important to take necessary precautions to protect yourself and your health.
Finances
The 7 of Swords Tarot card is a reminder to take extra care in your financial dealings. When this card appears, it is an indicator that a dishonest or fraudulent act may have been committed against you, whether a partner has deceived you or someone else has stolen from you. A call to caution and vigilance is advised so that you can protect yourself and your finances. Ensure that any investments you make are sound and that you do your due diligence in order to avoid any pitfalls.
Relationships
The 7 of Swords Tarot card is an indication that a deception or betrayal may have taken place in your relationship. It could also mean that someone is being dishonest with you or is withholding information, leading to feelings of mistrust. This card is a reminder to take extra care when it comes to your relationships and to be aware of any suspicious behaviour. It's also a warning to watch out for someone who may be running away or trying to get away with something. It is important to stay vigilant and to confront any ill intentions or untruths so that trust can be restored.
What does 8 Of Swords mean?
Health
When it comes to health, the 8 of Swords Tarot card stands for being stuck in a mental prison. This card can be an indication of an illness or health problems that exist due to stress or anxiety that you are keeping in. This card suggests that you are isolating yourself from others, and your own self-imposed restrictions are preventing you from being able to access the help and support that you need to get better. It could be a sign of being overwhelmed by thoughts and worries that are causing you physical pain and exhaustion.
Finances
In terms of finances, the 8 of Swords Tarot card is telling you that you have trapped yourself in a mental prison. It can indicate that you are too restricted by your own beliefs and fears to be able to make smart and informed financial decisions. This card suggests that it's time to break away from these restrictions and trust in the knowledge that you already possess, or seek out knowledge or advice from others that can help you move forward financially.
Relationships
The 8 of Swords Tarot card suggests that when it comes to relationships, you may feel trapped in a mental prison. You may be self-isolating or protecting yourself from emotional pain, by creating emotional walls and setting up restrictions that limit you from forming meaningful connections. This card advises that you break away from these limitations, so that you can explore and nurture intimacy and trust with yourself and others.
Conclusion
Understanding how the meaning of a reading changes once you start involving more than one card can be tricky. This will come with time and practice, however I hope this guide on what your cards might be telling you when you draw 7 Of Swords and 8 Of Swords has helped you.