A key aspect of reading your own tarot is interpreting cards. For a beginner interpreting a single card can be fine, as there are plenty of resources to help you out, however interpreting two or more can be very tricky.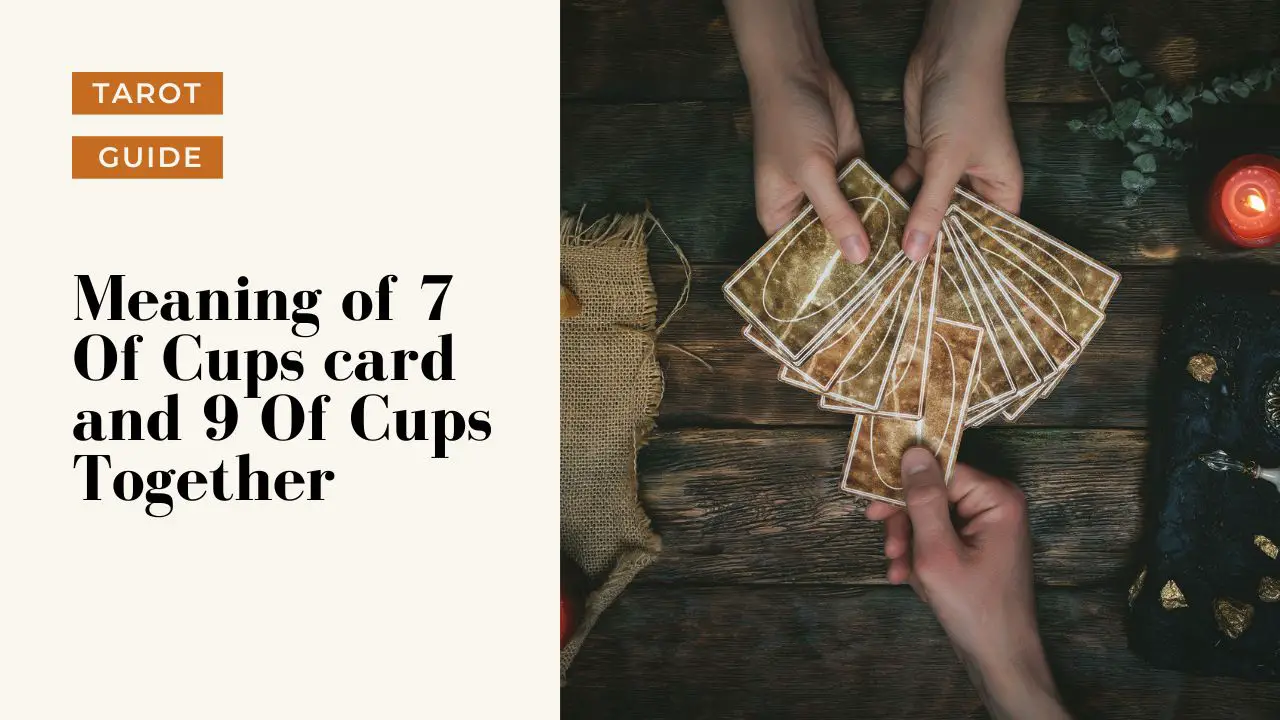 However, if you have been practising single card readings for a while a 2 card spread will be a great introduction into reading multiple cards.
As you've found this page, you're probably wondering how to interpret the 7 Of Cups card and 9 Of Cups card together in particular.
The 7 Of Cups card and 9 Of Cups have unique qualities and will interact with each other in different ways depending on what kind of reading you are doing.
What does 7 Of Cups and 9 Of Cups mean together?
The 7 Of Cups and The 9 Of Cups tarot card together symbolizes a difficult decision filled with abundance and good health. The 7 Of Cups brings forth the warning of having too many choices, and the commitment issues that come with it, while the 9 Of Cups symbolizes the potential for wishes to come true and material abundance. This combination of cards is an opportunity to recognize that you may have too many options available to you, but that if you can make the right commitment and focus on the most fruitful path forward, your wishes can come true and you will be blessed with health, wealth, and fulfillment.
The meaning may differ depending on what you are asking. Here are some common questions and their possible meanings
What does 7 Of Cups and 9 Of Cups mean together for your love life?
The 7 of Cups and the 9 of Cups tarot cards together in your love life can mean that you have a lot of choices in front of you, but you are struggling with committing to one. You may feel overwhelmed and unable to choose which path to take. It's important to slow down and carefully consider your options before making a decision. Doing so can be difficult, but in the end, it will bring you closer to manifesting your wishes in the area of love.
Other interpretations of the two cards suggest that this is a time of material abundance and good health in your love life. Your efforts may be paying off, and you can reap the rewards of your labor. You may be feeling loved and appreciated in a relationship, or about to enter into a new relationship with someone special.
This card combination also warns against getting too wrapped up in the materialistic aspects of your love life and neglecting the emotional connection between you and your partner. It is important to maintain balance and take time to nurture the relationship. Make sure that you and your partner are communicating regularly and that expectations of each other aren't getting out of hand.
Overall, having the 7 of Cups and the 9 of Cups together in your love life can be an indication of abundance and good luck. However, be mindful of your choices and make sure to put in the effort to stay committed to the relationship. This will ensure that you can enjoy the rewards of your love life in the long term.
What does 7 Of Cups and 9 Of Cups mean together for your finances?
The combination of the 7 of Cups tarot card and the 9 of Cups tarot card is a powerful one for those who are looking for financial advice and guidance. Together, these two cards signify an abundance of choices and commitments, as well as a profound opportunity for those to come true.
This combination can be seen as a call to action, as the 7 of Cups often encourages one to make wise decisions and commitments in order to achieve their desired outcome. The 9 of Cups, on the other hand, represents that these hard choices and decisions may actually result in material abundance and good health. In other words, this combination suggests that if you are prepared to put in the effort, then you may well receive the rewards.
So what does this mean for your finances and job? Firstly, it implies that if you are willing to explore all available options and commit to those which are most likely to benefit you, then the outcome could be extremely advantageous. In addition, the combination of these cards suggests that it is only through focus and determination that your dreams and wishes will be met. This is good news for those looking to reach their financial and career goals as it implies that they need to dedicate themselves to their ambitions and that this could pay off handsomely.
In conclusion, the combination of the 7 of Cups tarot card and the 9 of Cups tarot card can be an incredibly powerful and positive omen if used correctly. It suggests that with focus, determination and commitment to the right choices, one could experience a great amount of material abundance and good health. This is definitely worth considering, particularly if one is looking to achieve financial and career success.
What does 7 Of Cups and 9 Of Cups mean together for your health?
When the 7 of Cups and the 9 of Cups appear together in a reading related to health and wellbeing, it is a reminder that one must take their time to carefully consider the many options and choices that are available. The 7 of Cups cautions us against making hasty decisions or commitments, as the pursuit of the wrong path can lead to long-term health problems. In order to make the best choice for our health, we must take the time to assess our options, be open to new approaches, and trust our intuition when making decisions.
At the same time, the 9 of Cups is a reminder that with the right approach and care, our desires can also come true. Material abundance and good health are within reach, and if we are open minded and patient, we will be able to find the right path for ourselves. The card encourages us to have faith that our dreams will come true and that we can be successful in our health journey.
The combination of the 7 and 9 of Cups signify that with a mindful approach, balanced outlook, and careful consideration, our wishes for a healthy and prosperous future can be fulfilled. With an open mind and patience, we can find the right path and choices that lead to optimal health and wellbeing. With the right approach, we can create meaningful and lasting change in our lives.
The meaning of the cards will depend on what kind of reading you are doing and the question you asked the deck. This is a guide covering the general meanings of the cards and how they relate to each other.
Common 2-card spreads
Whilst it's great to know who these two cards interact with each other, it's important to note that the meaning will depend on the context of your spread
The most common 2 card spreads I recommend to newer readers are:
The 2 card cross (otherwise known as "The Fool's Journey")
The 2 card "Yes or No"
"The Fool's Journey"
Setup: The two card cross is where you place two cards face up, one placed vertically and with one laying horizontally over
Interpretation: The 2 cards represent a "situation" and a "challenge". The first card will describe the situation you are in with the second horizontal card being the "challenge" crossing you (literally crossing you in this case!)
Reading: Using the overviews in this guide is a great way to start. First, look at the meanings of the 2 cards, and see how they might relate either as your "situation" or "challenge". Once you have that you can look at the general overview for how the two cards interact with each other.
The benefit of this spread is that it can give clarity when you're feeling uncertain or anxious. Once you have clarity of thought, and a strong idea of what your challenge is you can find solutions to help your situation
The 2 card "Yes or No"
Setup: The 2 card "Yes or No" is where you place two cards face up side by side, whilst asking your deck a "yes or no" question.
Interpretation: Each card in a tarot deck has a "yes" or a "no" meaning. Look at the meanings of each card, and you will have your answer.
The benefit of this is you get a stronger yes or no compared to a single card draw. You may find you often get a mix of "yes or no", and this is fine. It simply means there is doubt, or things are not yet clear.
Yes or No meaning
Things are a bit tricky for this combination, as 7 Of Cups and 9 Of Cups mean different things. The cards are unsure about your question, or the answer to the question has not yet been decided.
The "Yes" and "No" meanings can differ from reader to reader. The meanings here are based on what I believe are the generally accepted definitions.
What does 7 Of Cups mean?
For health, The 7 of Cups Tarot card represents too many options leading to feelings of uncertainty and confusion, which can lead to a lack of commitment to any particular health goal. This card can warn against restlessness and coming up with too many ideas to improve your health without actually taking any tangible steps to do so. It is important to be mindful of the fact that too many options can lead to a feeling of paralysis and an inability to decide, or an idea overload that can be difficult to manage. In the long-term, this can lead to a lack of focus and an unclear direction in terms of taking care of your health.
For finances, The 7 of Cups Tarot card can represent the feeling of being overwhelmed by options and potential paths to take, which can lead to a lack of commitment to any of them and difficulty actually taking tangible steps to improve one's financial situation. This card can also represent a tendency towards impulsivity and making decisions without considering the long-term ramifications, which can be detrimental to one's financial health. On the other hand, it is possible to use the message from this card to be more mindful of the choices you make and to take the time to weigh the pros and cons of any major financial decision.
For relationships, The 7 of Cups Tarot card can represent difficulty in committing to a relationship, either due to feelings of wanting too many options or feeling as if there are too many possibilities at once. It can also represent a fear of commitment or difficulty trusting and opening up to someone, leading to difficulty forming meaningful and deep relationships. This card can also indicate a tendency towards impulsivity or constantly seeking out new relationships and experiences instead of focusing on deepening existing connections. To combat this, it is important to take the time to explore what the relationships mean to you and to focus on appreciating and nurturing the relationships that matter to you.
What does 9 Of Cups mean?
The 9 of Cups tarot card speaks to wishes coming true, and this message applies in all aspects of life. When it comes to health, the potential outcome of the message of this card is joyous recovery from any kind of illness or aliment, physical or mental. The feeling here is that one is poised to come out on top and enjoy a renewed level of health and well-being. The message of the card can be seen as an opportunity to take the time to enjoy the time ahead free of the worries of past ailments.
In terms of finances, this card speaks to abundances of money, investments and riches. It is indicative of a financial windfall or even simply a surplus of funds. It is a reminder to be generous, to give back to those who may be in need and to enjoy the fruits of one's labor. It also speaks to the comfort of having enough for one's own needs and being able to share that abundance with others.
In relationship to relationships, the 9 of Cups tarot card speaks to warm and loving connections. It is a sign of the joy that can be found when one is truly connected with others. It is a reminder to look for the good in others and to go out of one's way to connect with them. It speaks to the power of close and loving friendships and partnerships, and it encourages one to invest in these relationships and nurture them over time. It suggests that the reward in doing so will be a deep and lasting happiness that is shared with those near and dear.
Conclusion
Understanding how the meaning of a reading changes once you start involving more than one card can be tricky. This will come with time and practice, however I hope this guide on what your cards might be telling you when you draw 7 Of Cups and 9 Of Cups has helped you.