A key aspect of reading your own tarot is interpreting cards. For a beginner interpreting a single card can be fine, as there are plenty of resources to help you out, however interpreting two or more can be very tricky.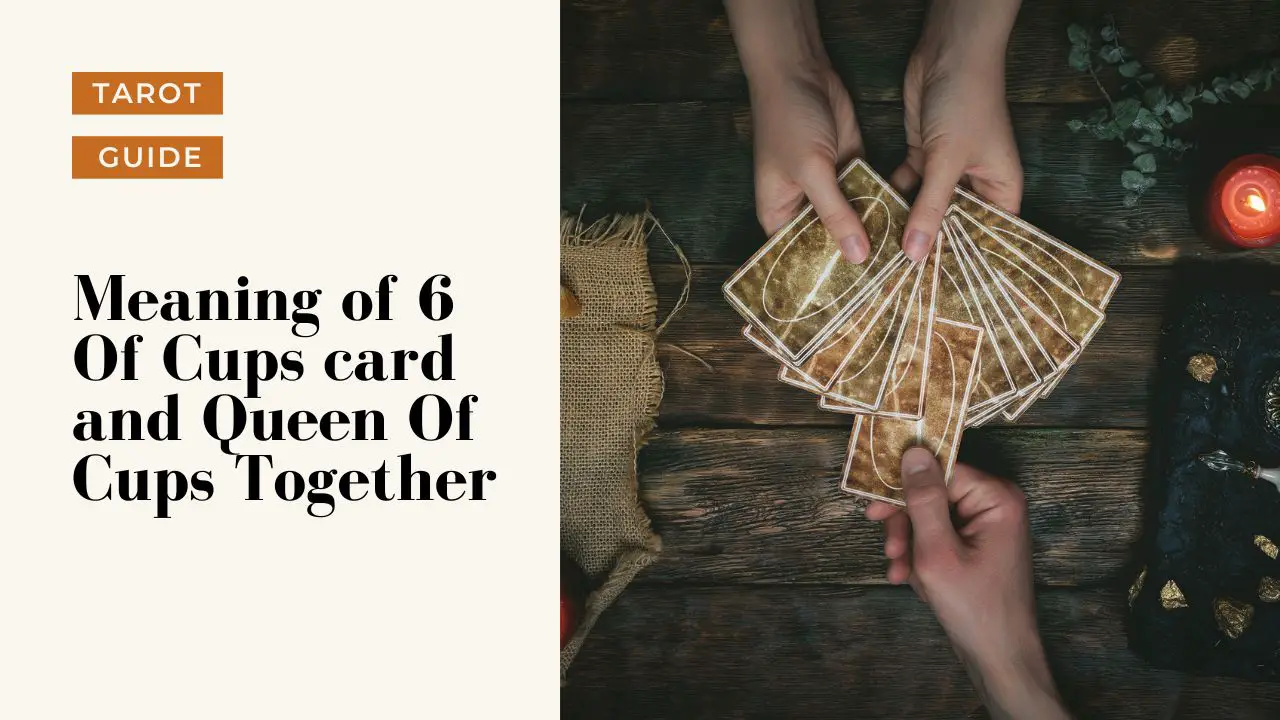 However, if you have been practising single card readings for a while a 2 card spread will be a great introduction into reading multiple cards.
As you've found this page, you're probably wondering how to interpret the 6 Of Cups card and Queen Of Cups card together in particular.
The 6 Of Cups card and Queen Of Cups have unique qualities and will interact with each other in different ways depending on what kind of reading you are doing.
What does 6 Of Cups and Queen Of Cups mean together?
The 6 Of Cups tarot card and The Queen Of Cups tarot card together represent a warmth of nostalgia and healing. It suggests a time for reconnecting with old friends and rekindling relationships, with the Queen Of Cups being a nurturing presence and support throughout. It could also mean that you could be the recipient of a variety of gifts from those around you, reminding you of the innocence of your past. The combination of these two cards suggests that now may be the perfect moment for reunions, going back in time and healing any wounds from the past.
The meaning may differ depending on what you are asking. Here are some common questions and their possible meanings
What does 6 Of Cups and Queen Of Cups mean together for your love life?
The 6 of Cups and the Queen of Cups together in a love reading can symbolize a nostalgic relationship that is healing and supportive. It could be a reunion of sorts with an ex-partner or a beloved family member, or a connection that has been rekindled after a long period apart. It symbolizes a bond that has been nurtured with love and care throughout the time that has passed.
This pairing signifies a relationship that is filled with innocence, genuine care, and understanding. The connection has the potential to give both parties a sense of unconditional love and security. It can be a single moment or a whole lifetime of joy and shared experiences.
This card pairing is symbolic of gifts or kindness being exchanged or shared between parties. It could be a gesture of love or a heartfelt gift symbolizing a reconnection or rekindling of a relationship. It expresses that the gifts in this situation are not necessary, but come from the heart.
The 6 of Cups and Queen of Cups together in a love reading is indicative of a gradual healing process taking place. These two cards mean that both parties in the relationship are nurturing each other, providing a safe space for both of them to grow, heal, and fully recover from the pain of the past. The connection between them is gentle and full of respect, a bond that is slowly and surely strengthening over time.
What does 6 Of Cups and Queen Of Cups mean together for your finances?
The 6 of Cups and the Queen of Cups tarot cards together indicate a sense of comforting nostalgia in regards to your finances and job. This could mean going back to your roots, where you were rewarded and praised for your hard work and dedication to advancing in your professional endeavors. The 6 of Cups signifies reminiscing on the past and this could bring you back to a time when your career was just starting out, when it was exciting and inspiring to work towards success. This could mean going back and re-evaluating old positions you had and see if there is potential for a reunion and rejuvenation of the same career path, or finding new opportunities.
The Queen of Cups represents someone who is nurturing, supportive and in tune with the feelings of others. This could mean finding supportive mentors and guides who are willing to help you in your career and financial endeavors. They have the knowledge and expertise to guide you in the right direction, and will know the best way to manage your finances and provide helpful advice. This person could be someone like a financial manager, a career coach, or even just a supportive friend.
The 6 of Cups and the Queen of Cups tarot cards together speak of a bright and auspicious future for finances and job. The 6 of Cups signifies gifts, so you may find that you are presented with new financial or career opportunities that you would have never expected. The Queen of Cups is a symbol of healing and support, so you can expect to gain from wise counsel and be comforted by the words of those who empathize with your situation. This combination could also point to job promotions, salary raises, and improvements in your career outlook. Overall, this combination of cards points to a prosperous future for your finances and job.
What does 6 Of Cups and Queen Of Cups mean together for your health?
When the 6 of Cups and the Queen of Cups appear together in your health reading, it denotes a time of nostalgic reflection and healing. You may be feeling the urge to remember the innocence of your youth, to reconnect with people from your past, and to give and receive gifts of love, support, and understanding. You may find yourself reconnecting with old friends or family members who can offer you help and comfort during this time.
The Queen of Cups encourages you to take a nurturing approach to your health. She encourages you to focus on acceptance and compassion, rather than judgment and criticism. She reminds you to take the time to love and care for yourself, to provide the support and healing you need. It is important to find balance between taking care of others and taking care of yourself.
By exploring the nostalgia of the 6 of Cups, you may be able to learn a great deal about yourself and your own needs. You can look back fondly on past experiences and develop an understanding of why they have had such an impact on your health. As you go forward, take time to nurture yourself and your relationships.
The combination of the 6 of Cups and the Queen of Cups in your health reading can be a powerful reminder to take a thoughtful approach to health and wellness. It is possible to focus on the positive aspects of your past and to learn to provide yourself with the love, support, and healing that you need today.
The meaning of the cards will depend on what kind of reading you are doing and the question you asked the deck. This is a guide covering the general meanings of the cards and how they relate to each other.
Common 2-card spreads
Whilst it's great to know who these two cards interact with each other, it's important to note that the meaning will depend on the context of your spread
The most common 2 card spreads I recommend to newer readers are:
The 2 card cross (otherwise known as "The Fool's Journey")
The 2 card "Yes or No"
"The Fool's Journey"
Setup: The two card cross is where you place two cards face up, one placed vertically and with one laying horizontally over
Interpretation: The 2 cards represent a "situation" and a "challenge". The first card will describe the situation you are in with the second horizontal card being the "challenge" crossing you (literally crossing you in this case!)
Reading: Using the overviews in this guide is a great way to start. First, look at the meanings of the 2 cards, and see how they might relate either as your "situation" or "challenge". Once you have that you can look at the general overview for how the two cards interact with each other.
The benefit of this spread is that it can give clarity when you're feeling uncertain or anxious. Once you have clarity of thought, and a strong idea of what your challenge is you can find solutions to help your situation
The 2 card "Yes or No"
Setup: The 2 card "Yes or No" is where you place two cards face up side by side, whilst asking your deck a "yes or no" question.
Interpretation: Each card in a tarot deck has a "yes" or a "no" meaning. Look at the meanings of each card, and you will have your answer.
The benefit of this is you get a stronger yes or no compared to a single card draw. You may find you often get a mix of "yes or no", and this is fine. It simply means there is doubt, or things are not yet clear.
Yes or No meaning
Things are a bit tricky for this combination, as 6 Of Cups and Queen Of Cups mean different things. The cards are unsure about your question, or the answer to the question has not yet been decided.
The "Yes" and "No" meanings can differ from reader to reader. The meanings here are based on what I believe are the generally accepted definitions.
What does 6 Of Cups mean?
The 6 of Cups Tarot card symbolizes a period of nostalgia, when memories are relived, and people and experiences of the past are celebrated. It also speaks to the idea of innocence, a time when people look to the past and remember with fondness, and a hint of joy. It could signify a reunion, either with a person, a place, or an event, with an overall feeling of heartfelt warmth.
Health: The 6 of Cups Tarot card encourages us to look back to our past and look for any insights that can help us in the present. It reminds us to be mindful and appreciate the journey that has provided us with a unique perspective on our health and how it can be managed from a place of gratitude. It is a call to honestly assess how our health has evolved, and to think about what we can do to continue to improve it going forward.
Finances: The 6 of Cups Tarot card is a reminder to be mindful of how our finances have developed over time. It encourages us to reflect on our past hardships, our experiences with building wealth, and our successes and failures. This can help us make wiser decisions about money in the present and going forward. It can also serve as a reminder to be generous with our resources and take the time to give back.
Relationships: The 6 of Cups Tarot card speaks to the importance of looking back and taking the time to appreciate the relationships we have in our lives. It encourages us to nurture the connections we have with old friends and loved ones, as they have a special place in our hearts. It can also remind us to be open to the possibility of new relationships, as we can never underestimate the impact they can have on our lives.
What does Queen Of Cups mean?
The Queen Of Cups Tarot card can represent health in many ways. It can symbolize the individual's own inner wisdom and the ability to nurture themselves in order to take care of their physical health. It is a reminder to look beyond the physical and focus on the mental and emotional health as well. The Queen Of Cups reminds us to tap into our own intuition and nurture ourselves with compassion and understanding so that we may better take care of our bodies.
The Queen Of Cups also speaks to finances. This card can represent the ability to be open and receive abundance. It speaks to self-care when it comes to finances, by establishing healthy boundaries and making wise decisions. When we are emotional secure and centered within, it can support our ability to be in touch with our intuition and make decisions that serve our highest good.
Finally, when it comes to relationships, the Queen of Cups Tarot card speaks of emotional and spiritual nourishment. It can represent the ability to nurture another person with integrity and trust. This card can also be a reminder to nurture our own emotional vulnerability. By allowing ourselves to be seen for who we are, we can build healthy relationships and cultivate connection with those around us.
Conclusion
Understanding how the meaning of a reading changes once you start involving more than one card can be tricky. This will come with time and practice, however I hope this guide on what your cards might be telling you when you draw 6 Of Cups and Queen Of Cups has helped you.
Get the Ultimate Tarot Card Combinations Pack
The Tarot Happy eBook Pack is available now for instant download.
With 78 eBooks covering all tarot pair meanings, this pack is a comprehensive guide on using tarot for introspection, self-understanding and inner growth.
$4.99 $24.99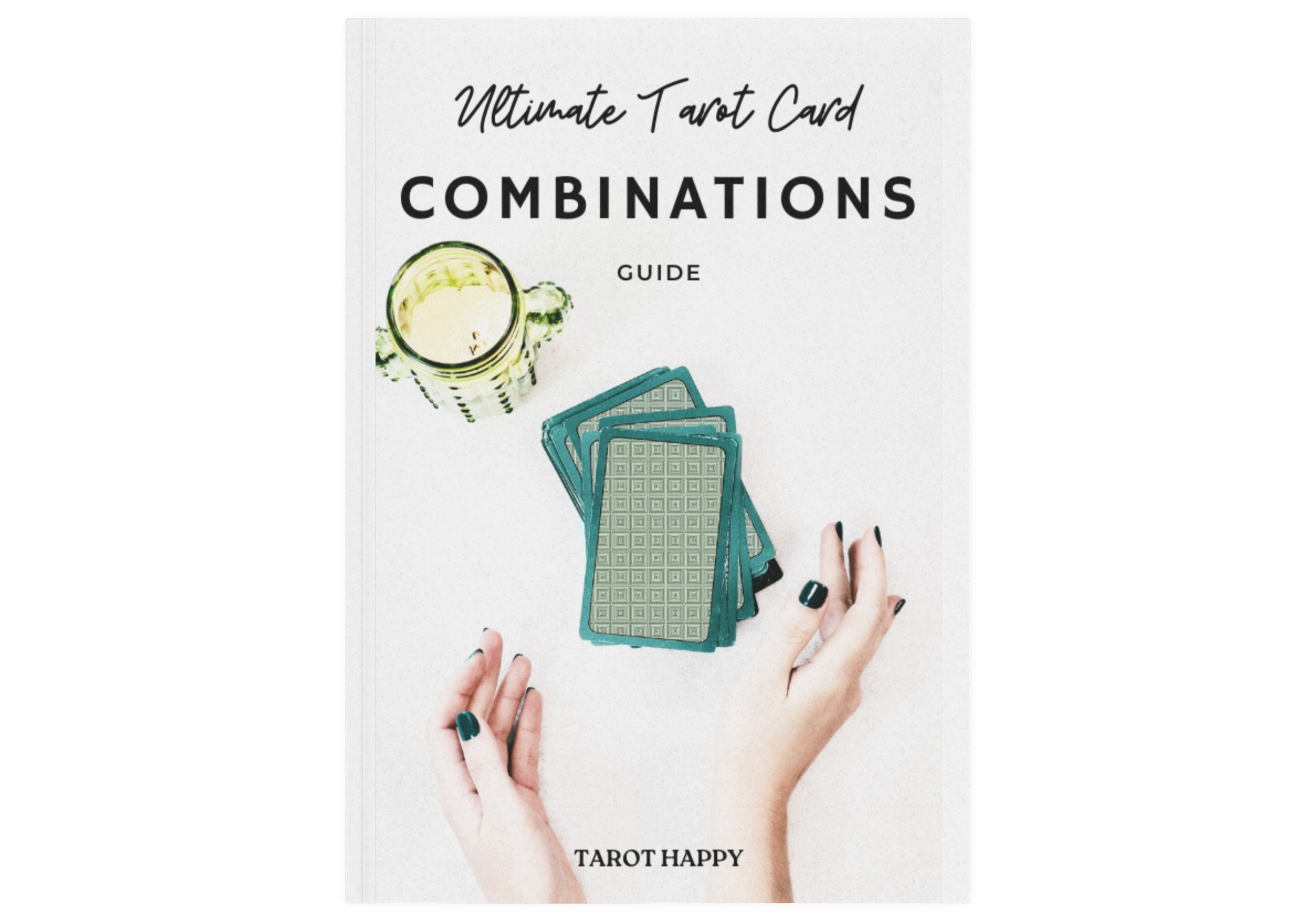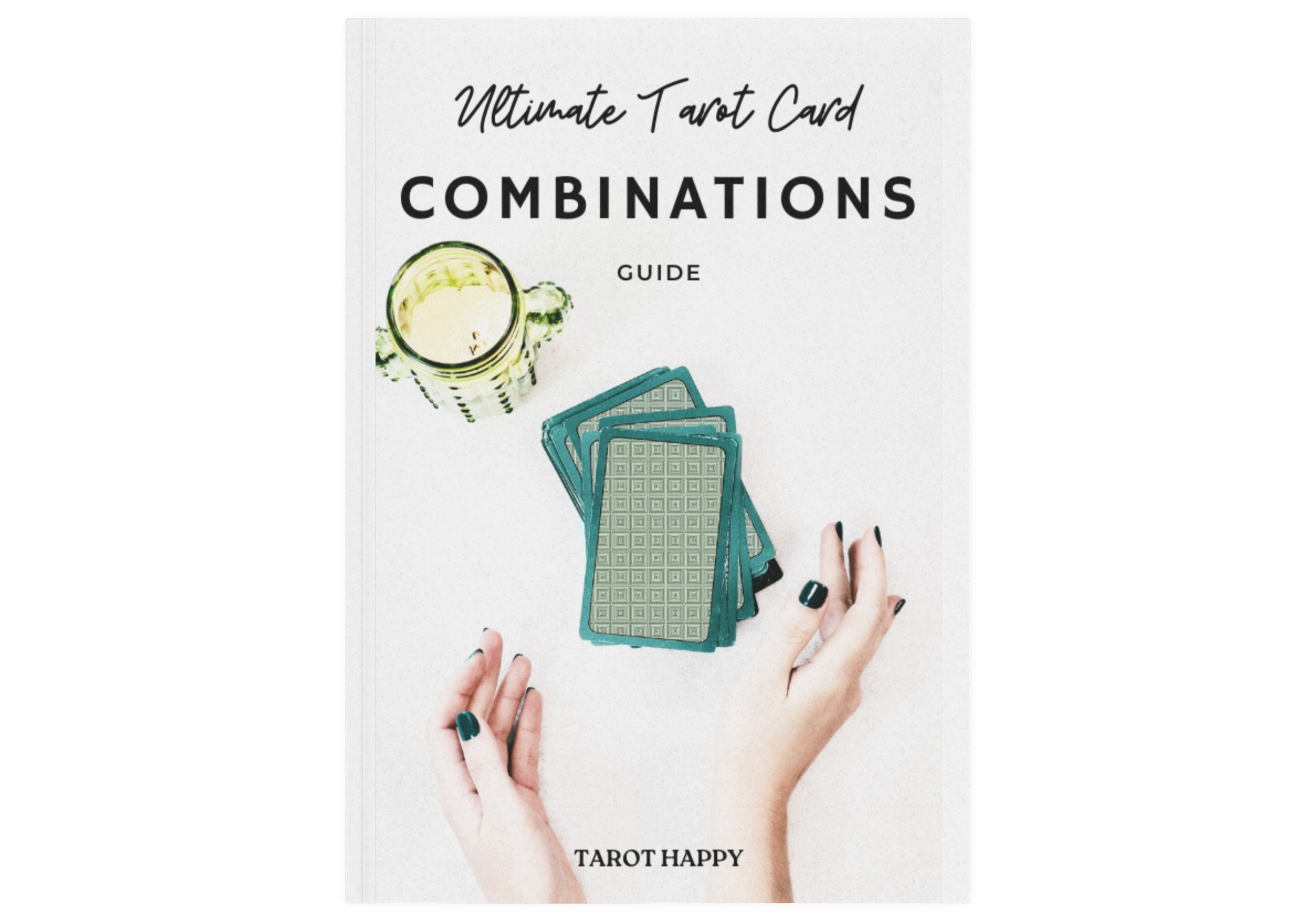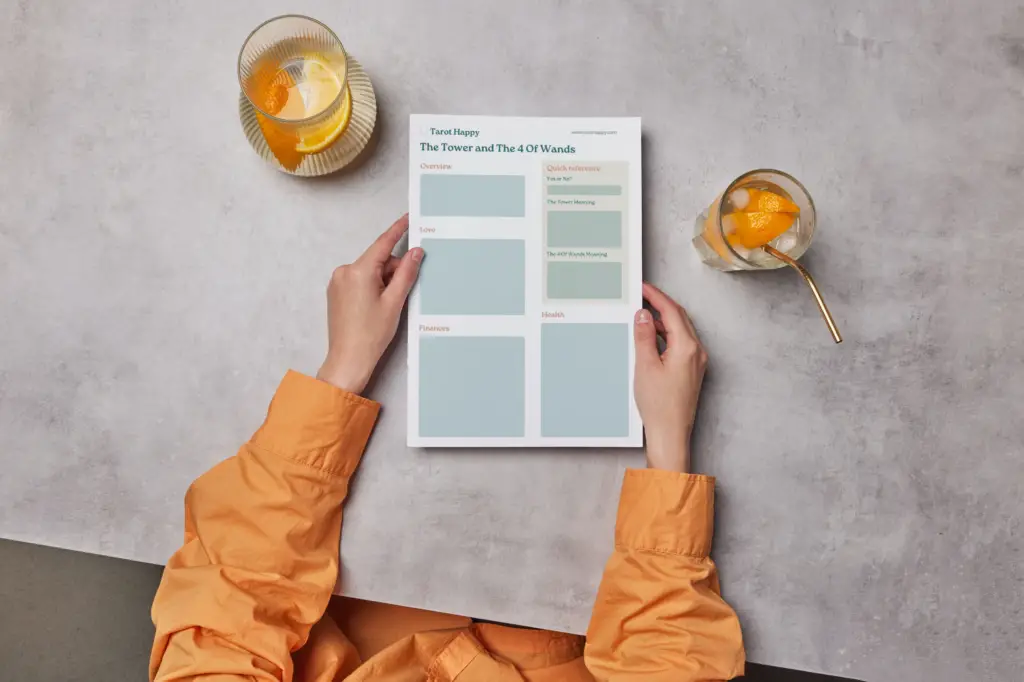 The pack contains an eBook for each of the 78 cards in a tarot pack.
Each eBook focuses on all the combinations for a single card, with overview of meanings for:
"Yes or No"
Key words and phrases that describe the combination
Meaning for Love
Meaning for Finance
Meaning for Health and Relationships
Unlock the Mysteries of Tarot with Our Comprehensive 78 eBook Pack
Are you ready to take your Tarot reading abilities to the next level? It's time to upgrade your spiritual toolbox with our extensive 78 eBook Pack. Each eBook is crafted to detail the meaning of every single Tarot card combination!
Venture beyond the basic meanings of the cards and delve into the intricate, layered symbolism each combination offers.
From beginner enthusiasts to advanced practitioners, this ultimate Tarot eBook pack will enhance your understanding, foster deeper connections with the cards, and improve your readings in a way that no other guide can.
Save $20 if you buy today!
$4.99 $24.99