A key aspect of reading your own tarot is interpreting cards. For a beginner interpreting a single card can be fine, as there are plenty of resources to help you out, however interpreting two or more can be very tricky.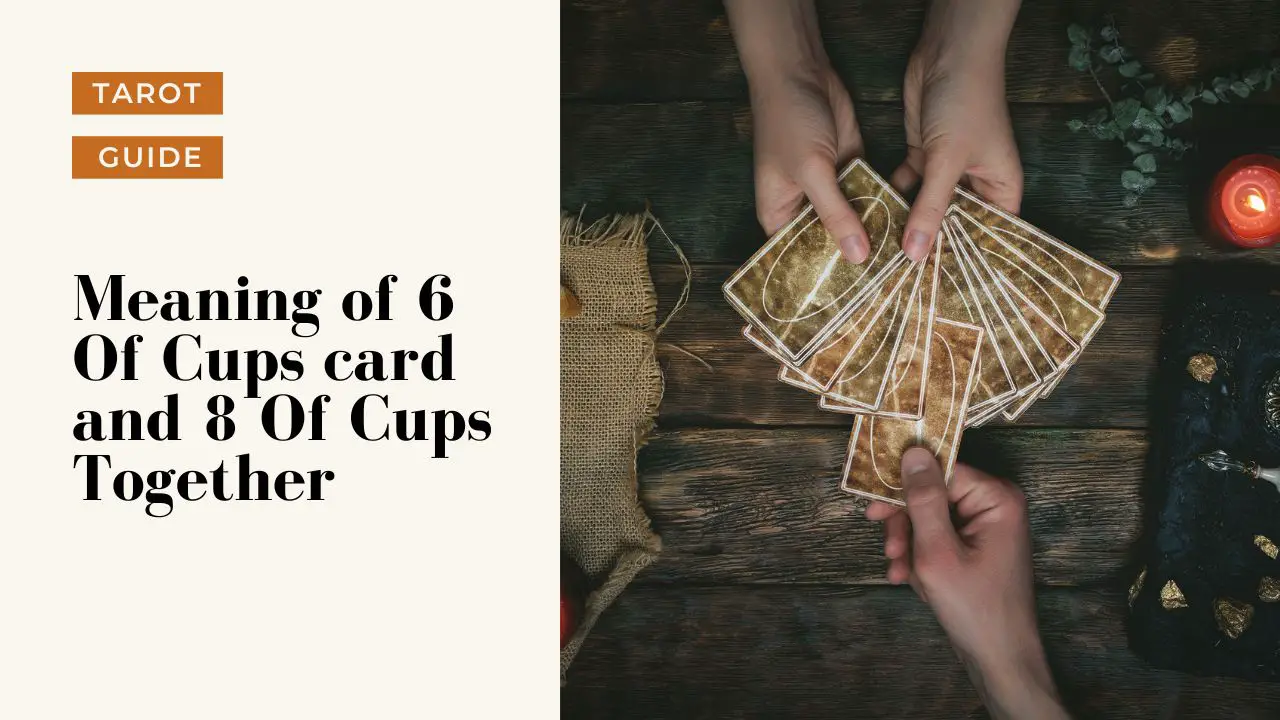 However, if you have been practising single card readings for a while a 2 card spread will be a great introduction into reading multiple cards.
As you've found this page, you're probably wondering how to interpret the 6 Of Cups card and 8 Of Cups card together in particular.
The 6 Of Cups card and 8 Of Cups have unique qualities and will interact with each other in different ways depending on what kind of reading you are doing.
What does 6 Of Cups and 8 Of Cups mean together?
The 6 of Cups and the 8 of Cups tarot cards suggest that you will experience a mixture of nostalgia and a need to move on. The 6 of Cups card implies that you may be presented with an opportunity to revisit the past, renew a connection, and potentially receive a gift in the process. However, the 8 of Cups card warns that the journey will be one of self-reflection and withdrawal, during which you may choose to abandon some aspects of the past in service of your own growth. Ultimately, you will be given the opportunity to enjoy innocence and reunions, but you'll need to make a conscious decision to keep moving forward in order to get the most out of the experience.
The meaning may differ depending on what you are asking. Here are some common questions and their possible meanings
What does 6 Of Cups and 8 Of Cups mean together for your love life?
The 6 Of Cups tarot card and The 8 Of Cups tarot card when looked at together in the context of love can reflect on the idea of a sweet reunion. It suggests that there is a fondness for something or someone from the past that is still an indelible part of your life. This may be an old flame that you have not seen in some time, or a time when things were better in your relationship. It could also be a time when your relationship was in a state of innocence, perhaps during the honeymoon period.
The 6 of Cups encourages you to remember the past fondly, but also to build upon it in the present. The 8 of Cups implies that it may be time to move on from the past and make a new start. Instead of being stuck in the nostalgia of past relationships, it's time to embrace the new possibilities that lie ahead. The 8 of Cups may be a sign to take the lessons you have learnt from past loves and apply them to any new relationships you may have.
No matter what your current love life may look like, the 6 of Cups and 8 of Cups suggest there is a sweet balance to be achieved between remembering the past and looking towards the future. They represent the idea that while it is important to recognize the nostalgia of the past, it's also necessary to let go and welcome what the future may bring. New relationships may flourish as a result of the lessons learnt and nurtured through previous relationships. It is time to take the gifts from the past and the promise of the future to create a strong, beautiful relationship for the present.
What does 6 Of Cups and 8 Of Cups mean together for your finances?
The 6 of Cups and the 8 of Cups tarot cards together can be a symbol of making meaningful connections with the past and recognizing that it's time to move on in terms of your finances and job. The 6 of Cups is a card of nostalgia and can represent past joys and the gift of memories that have stayed with you. It reminds you to appreciate those memories and all that has come before. It is a card of innocence and joy, a reminder to stay true to yourself and your ideals.
The 8 of Cups, on the other hand, is a card of withdrawal and retreat. It is a card of letting go and moving on, away from what is no longer working for you. It speaks to a sense of abandonment, but also to a sense of freedom, a new beginning. A realization that it is time to turn away from the past and look towards the future.
When combined, these two cards can act as a reminder that it is time to make peace with the past, be mindful of our connections to nostalgia, and move forward in our finances and job. It's a card of new beginnings, and of knowing when it is time to walk away and make a fresh start. It is an ode to nostalgia, but also a recognition that it is time to move on. While there are always hard choices to be made and difficult decisions to be faced, these cards apply to all aspects of our finances and job. They can be seen as signposts pointing the way, showing when it's time to stay and when it's time to move on.
What does 6 Of Cups and 8 Of Cups mean together for your health?
When the 6 of Cups and the 8 of Cups appear together in a Tarot reading, it suggests a time of both nostalgia and renewal. On one hand, nostalgia can be a helpful reminder of the past, providing us with the opportunity to reconnect with the wisdom and experiences we've gained from our life journey thus far. On the other hand, it can also be a source of painful and damaging memories. The 6 of Cups reminds us to be gentle with ourselves – to give ourselves permission to grieve as needed, and to recognize that some things are just beyond our control.
The 8 of Cups brings with it a sense of closure and detachment, allowing us to let go of the past and move on to new possibilities. It's an invitation to retreat into our own inner world, to discover what lies beyond the memories of the past and reclaim our freedom. It reminds us to focus on the present and embrace the potential of the future.
When the 6 of Cups and the 8 of Cups intersect in a Tarot reading, they bring the message that it's time to take a step back and reconnect with our roots. There is great healing in taking the time to reflect on the gifts we've received from our past, while also understanding that it's time to make room for new growth. While it's important to honor the feelings of nostalgia that inevitably arise, it's also important to practice self-care and remember that we don't have to stay stuck in the same place. Like a phoenix, the 6 of Cups and the 8 of Cups represent resilience and renewal, teaching us to embrace the healing powers of both nostalgia and detachment. By connecting to our past while leaving space for new possibilities, we create a strong foundation for our overall health and wellbeing.
The meaning of the cards will depend on what kind of reading you are doing and the question you asked the deck. This is a guide covering the general meanings of the cards and how they relate to each other.
Common 2-card spreads
Whilst it's great to know who these two cards interact with each other, it's important to note that the meaning will depend on the context of your spread
The most common 2 card spreads I recommend to newer readers are:
The 2 card cross (otherwise known as "The Fool's Journey")
The 2 card "Yes or No"
"The Fool's Journey"
Setup: The two card cross is where you place two cards face up, one placed vertically and with one laying horizontally over
Interpretation: The 2 cards represent a "situation" and a "challenge". The first card will describe the situation you are in with the second horizontal card being the "challenge" crossing you (literally crossing you in this case!)
Reading: Using the overviews in this guide is a great way to start. First, look at the meanings of the 2 cards, and see how they might relate either as your "situation" or "challenge". Once you have that you can look at the general overview for how the two cards interact with each other.
The benefit of this spread is that it can give clarity when you're feeling uncertain or anxious. Once you have clarity of thought, and a strong idea of what your challenge is you can find solutions to help your situation
The 2 card "Yes or No"
Setup: The 2 card "Yes or No" is where you place two cards face up side by side, whilst asking your deck a "yes or no" question.
Interpretation: Each card in a tarot deck has a "yes" or a "no" meaning. Look at the meanings of each card, and you will have your answer.
The benefit of this is you get a stronger yes or no compared to a single card draw. You may find you often get a mix of "yes or no", and this is fine. It simply means there is doubt, or things are not yet clear.
Yes or No meaning
Things are a bit tricky for this combination, as 6 Of Cups and 8 Of Cups mean different things. The cards are unsure about your question, or the answer to the question has not yet been decided.
The "Yes" and "No" meanings can differ from reader to reader. The meanings here are based on what I believe are the generally accepted definitions.
What does 6 Of Cups mean?
Health: The 6 of Cups Tarot card is symbolic of nostalgia and innocence, and it can indicate a fondness for the simpler things in life. In terms of health, this card reminds us to appreciate our body and to find joy in the simple things – from taking a leisurely stroll to enjoying a cup of tea in the morning sunshine. Focusing on our physical and mental health can bring us a sense of balance and peace. Taking time out of our busy schedules to reconnect with ourselves and our bodies can bring about greater vitality and wellness.
Finances: The 6 of Cups Tarot card can represent the need for financial security, as well as the ability to give generously. When this card appears, it may be a reminder to stay grounded and manage our resources wisely. Consider the long-term implications of each financial move we make. Put ourselves first and trust that by taking care of our finances, we can ensure our future stability and wellbeing.
Relationships: The 6 of Cups Tarot card reminds us to reconnect with the people we love. This card can express joy and nostalgia, representing reunions, gifts, and innocent love. As we maintain our relationships, we should strive to keep a sense of balance – honoring our own heart, while also opening ourselves to the hearts of others. Spend quality time with our loved ones, allowing the essence of the 6 of Cups to bring us peace, joy and understanding.
What does 8 Of Cups mean?
Health
The 8 of Cups Tarot card represents a need to withdraw in order to find better health. This can mean taking a break from certain routines, giving up unhealthy habits, or reaching out for help. In some cases, it can mean taking a step back from one's job or other commitments to find the energy and focus needed to take care of one's health. The card suggests taking a break from the hustle and bustle of everyday life to find some inner peace and wellbeing.
Finances
The 8 of Cups Tarot card suggests that a change of financial habits is in order. This could mean taking a more cautious approach and being more mindful with spending. It can also suggest walking away from a situation that isn't working out, or leaving a job that's not providing enough financial stability for the future. In either case, it's important to take a step back and look at the bigger picture when it comes to money.
Relationships
The 8 of Cups Tarot card is a reminder to take a step back and assess our relationships. It can mean walking away from those that no longer serve us, taking a break, or making time for self-care. It's also a sign to be mindful of the boundaries we set in relationships and be open to taking a break if we need to. The 8 of Cups suggests a need to retreat and evaluate our relationships, so that we can move forward in healthier, more fulfilling ways.
Conclusion
Understanding how the meaning of a reading changes once you start involving more than one card can be tricky. This will come with time and practice, however I hope this guide on what your cards might be telling you when you draw 6 Of Cups and 8 Of Cups has helped you.
Get the Ultimate Tarot Card Combinations Pack
The Tarot Happy eBook Pack is available now for instant download.
With 78 eBooks covering all tarot pair meanings, this pack is a comprehensive guide on using tarot for introspection, self-understanding and inner growth.
$4.99 $24.99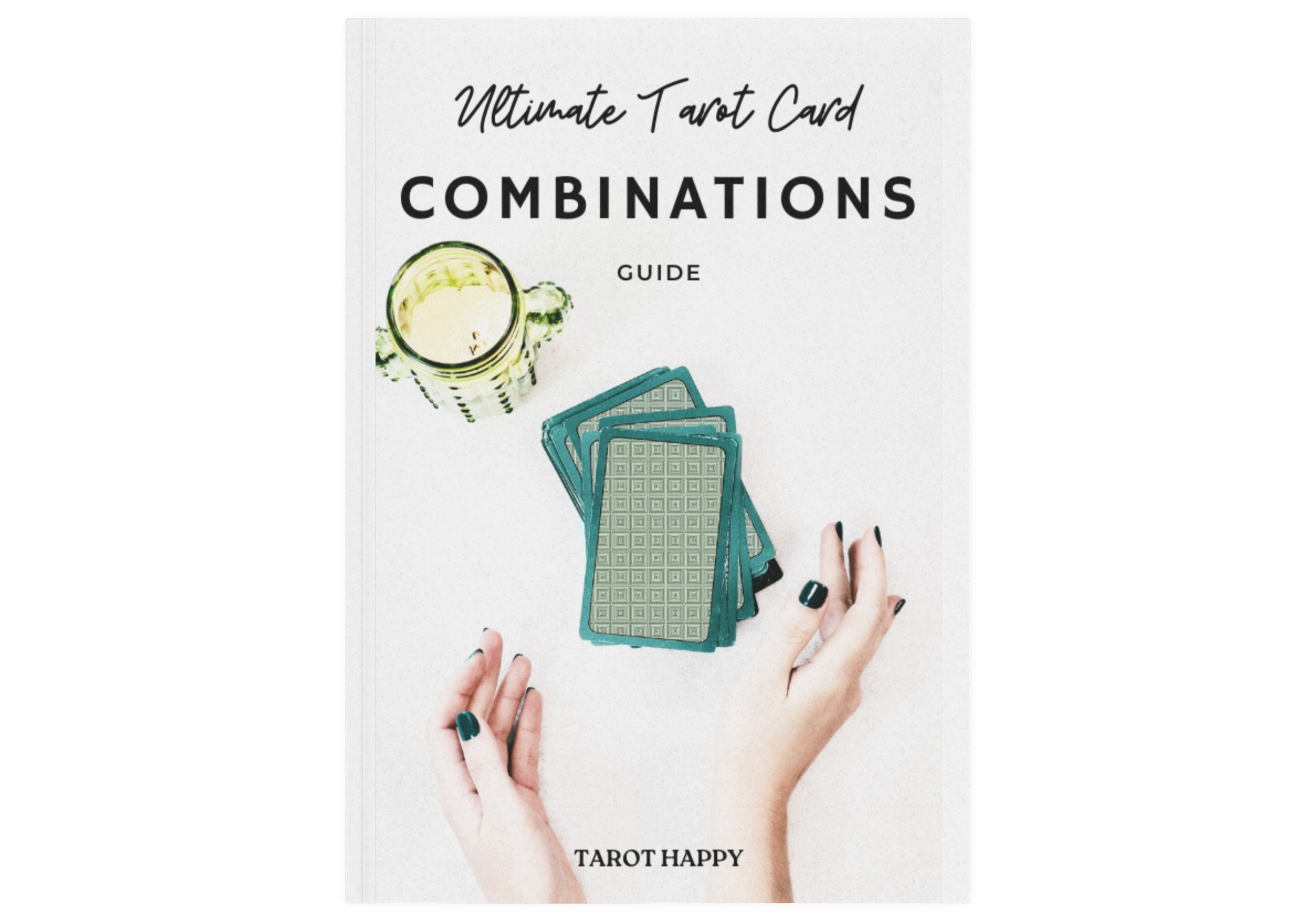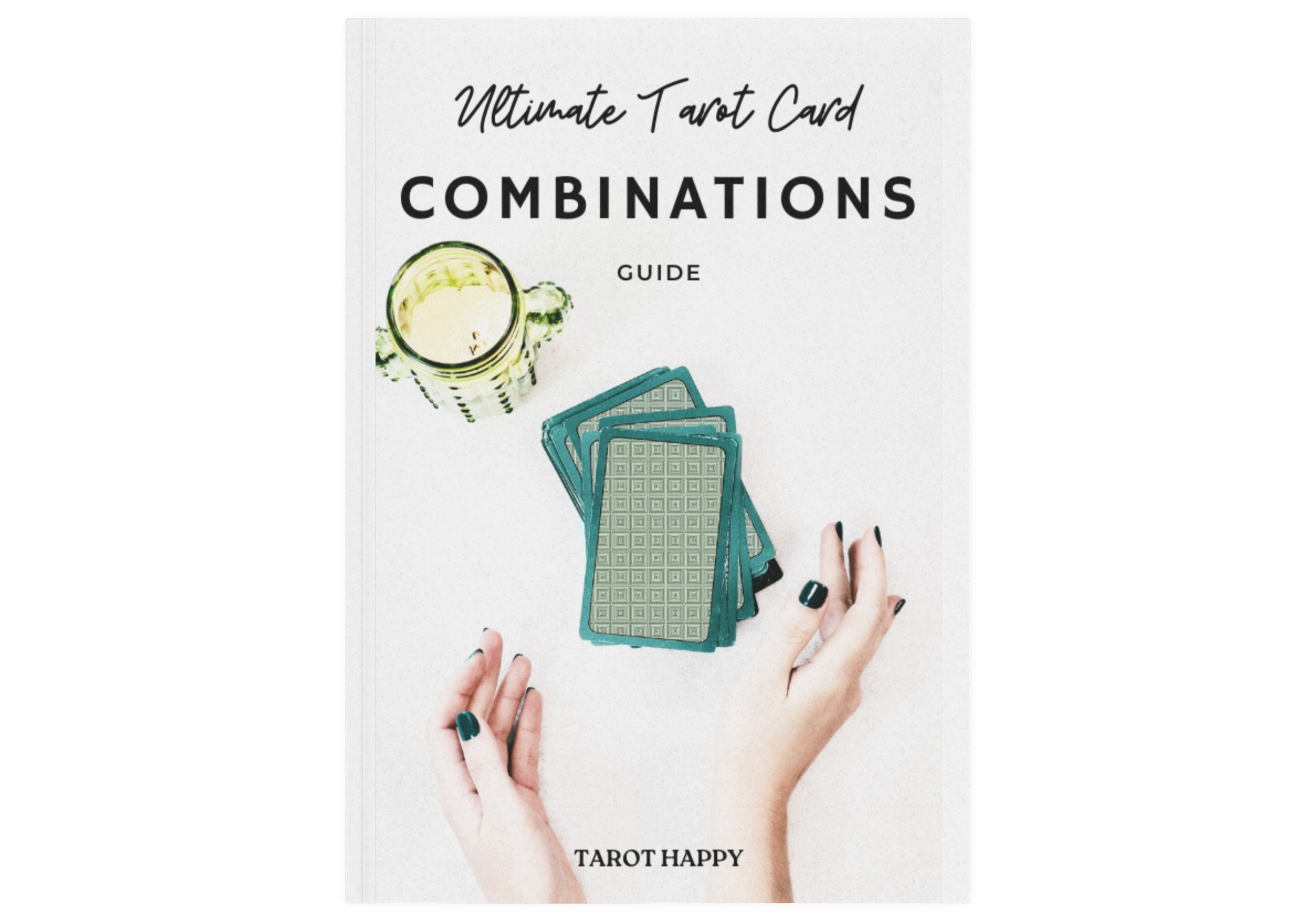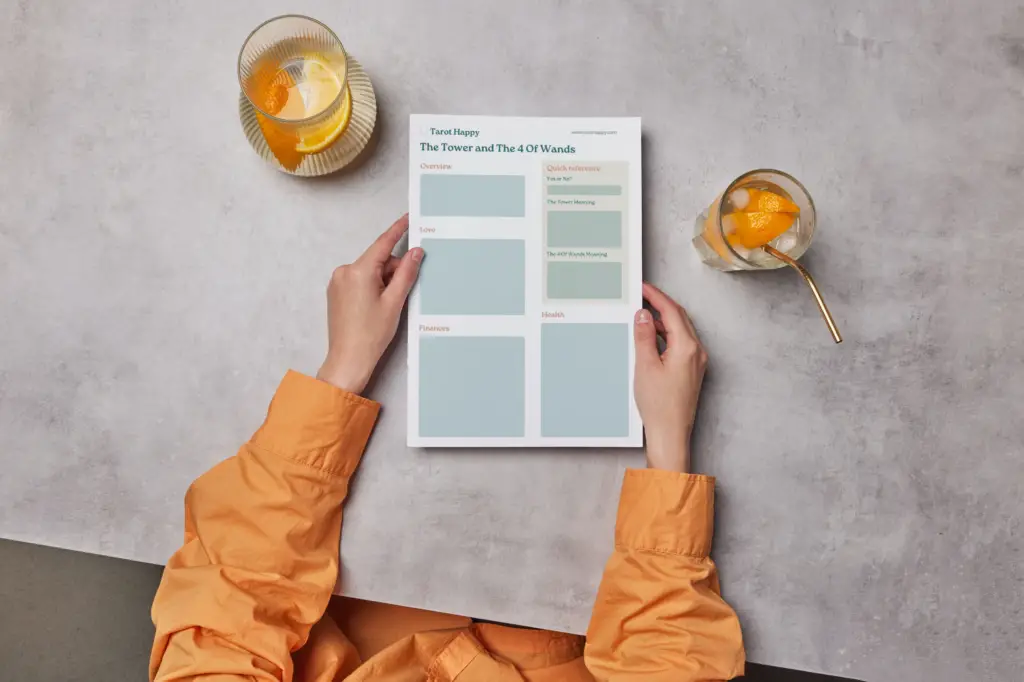 The pack contains an eBook for each of the 78 cards in a tarot pack.
Each eBook focuses on all the combinations for a single card, with overview of meanings for:
"Yes or No"
Key words and phrases that describe the combination
Meaning for Love
Meaning for Finance
Meaning for Health and Relationships
Unlock the Mysteries of Tarot with Our Comprehensive 78 eBook Pack
Are you ready to take your Tarot reading abilities to the next level? It's time to upgrade your spiritual toolbox with our extensive 78 eBook Pack. Each eBook is crafted to detail the meaning of every single Tarot card combination!
Venture beyond the basic meanings of the cards and delve into the intricate, layered symbolism each combination offers.
From beginner enthusiasts to advanced practitioners, this ultimate Tarot eBook pack will enhance your understanding, foster deeper connections with the cards, and improve your readings in a way that no other guide can.
Save $20 if you buy today!
$4.99 $24.99