A key aspect of reading your own tarot is interpreting cards. For a beginner interpreting a single card can be fine, as there are plenty of resources to help you out, however interpreting two or more can be very tricky.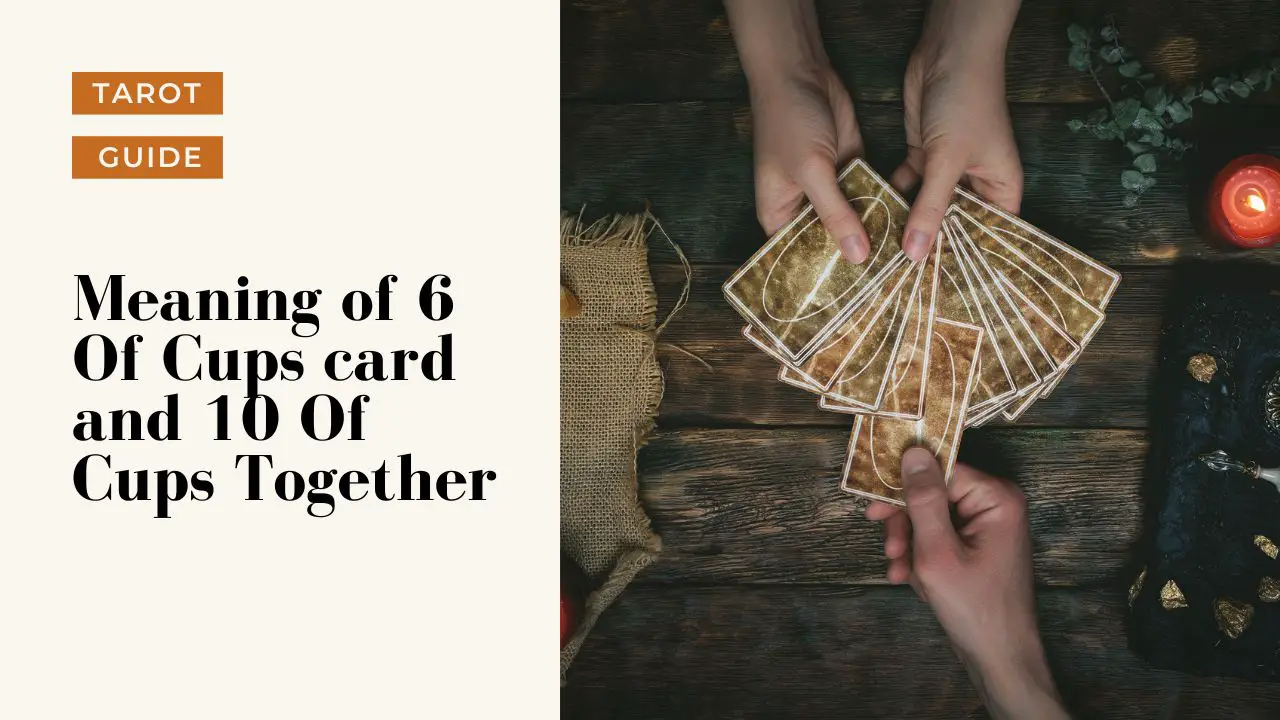 However, if you have been practising single card readings for a while a 2 card spread will be a great introduction into reading multiple cards.
As you've found this page, you're probably wondering how to interpret the 6 Of Cups card and 10 Of Cups card together in particular.
The 6 Of Cups card and 10 Of Cups have unique qualities and will interact with each other in different ways depending on what kind of reading you are doing.
What does 6 Of Cups and 10 Of Cups mean together?
The 6 Of Cups tarot card and The 10 Of Cups tarot card coming together for me means a beautiful reunion of family and friends, surrounded by a sense of nostalgia, pleasure, and warmth. It is a perfect representation of the strong family ties and unconditional love which provide us with great strength and security. The nostalgia of the 6 Of Cups brings many joys, whether it is the gift of memories past, or perhaps even a physical gift of some kind. The 10 Of Cups tarot card indicates that this reunion is bringing a deep sense of family contentment, along with the reassurance of total love and support for all. Together, these two tarot cards offer the promise of a delightful and meaningful gathering, full of joy and love.
The meaning may differ depending on what you are asking. Here are some common questions and their possible meanings
What does 6 Of Cups and 10 Of Cups mean together for your love life?
The 6 of Cups tarot card and the 10 of Cups tarot card together in your love life point to a feeling of nostalgia and contentment, as well as fulfillment and security. When these two cards appear in a reading together, they can signify both the gifts and innocence of new love, as well as a strong sense of family and security that comes with being in an established relationship.
When these two cards appear in combination in a reading, it can indicate a time of reuniting with a past love or the power of a strong existing bond. On the one hand, it can suggest that you have the potential to look back fondly to a past relationship with openness and understanding, and on the other, it can signify that your current love is providing you with a sense of security, comfort and a safe haven.
Remember that the 10 of Cups indicates a feeling of total love and support. This indicates that your love life is harmonious, your partner accepts and loves you as you are, and you can rely on them completely. The 6 of Cups encourages you to be aware of your past relationships and to remember your old loves with nostalgia and fondness. It also speaks to the importance of giving and receiving gifts in your relationship, so not just the physical ones, but the gifts of time and attention that you give your partner.
These two cards together in a reading for your love life are a powerful reminder of the many blessings of love and relationships. They remind you to cherish the ones you love and to embrace the present, knowing that you have the security of your past experiences to rely on in the future. Remember to always give thanks for the gifts of love and contentment that you have in your life.
What does 6 Of Cups and 10 Of Cups mean together for your finances?
When the 6 of Cups and the 10 of Cups Tarot card appear together in a reading, it is a reminder that family and tradition should be an integral part of your life. This combination of cards is often seen in readings related to finances and careers, as it indicates that your decisions should be based on the values instilled in you by your family.
The 6 of Cups can indicate a nostalgia for the past, so it is important to remember that some of the lessons you have learned could be useful in your financial and career decisions. This card is a reminder to honor your family values, so as you make difficult decisions you should think about how your family would want you to act.
The 10 of Cups is a sign of contentment and family support, reminding you that your family should always be there for you. This card stresses that working hard and taking care of the ones you love should be at the center of your life. The 10 of Cups suggests that financial and career decisions should be made in accordance with your most important values.
When these two cards appear together, it is a sign that there is a great potential for success if you make sure that your decisions are in line with your family values. Although it's easy to get distracted by money and career, you should remember to make decisions that honor your family heritage. The 10 of Cups card signifies that if you do, your family will always be there to support you.
What does 6 Of Cups and 10 Of Cups mean together for your health?
The 6 Of Cups and The 10 Of Cups tarot cards together are associated with positive growth in your health and relationships. The 6 Of Cups tarot card speaks of nostalgia and a longing for the past. It also indicates that you're in the process of healing and transforming, as you come to terms with your own life path. The card also speaks of gifts and reunions, which may be the key to unlocking a sense of inner peace.
The 10 Of Cups tarot card signals the end of a journey and a time of contentment and acceptance. It suggests that family and relationships, from the past and present, play an important role in your health and wellbeing. The 10 Of Cups is also associated with love, support, and fulfillment, as well as knowing that you are surrounded by people who truly understand and care for you.
When the two cards are interpreted together, they suggest that you are comfortable with who you are and how you've come to be. You won't be looking for validation or attention from others, as you'll be content in your own skin. The cards also remind you to take time to appreciate the people in your life, be it family or friends. You should also never forget to show yourself the same level of care and compassion, as you understand and accept your own life path. By allowing yourself to feel the love and support of the people around you, you will be able to experience true health and wellbeing.
The meaning of the cards will depend on what kind of reading you are doing and the question you asked the deck. This is a guide covering the general meanings of the cards and how they relate to each other.
Common 2-card spreads
Whilst it's great to know who these two cards interact with each other, it's important to note that the meaning will depend on the context of your spread
The most common 2 card spreads I recommend to newer readers are:
The 2 card cross (otherwise known as "The Fool's Journey")
The 2 card "Yes or No"
"The Fool's Journey"
Setup: The two card cross is where you place two cards face up, one placed vertically and with one laying horizontally over
Interpretation: The 2 cards represent a "situation" and a "challenge". The first card will describe the situation you are in with the second horizontal card being the "challenge" crossing you (literally crossing you in this case!)
Reading: Using the overviews in this guide is a great way to start. First, look at the meanings of the 2 cards, and see how they might relate either as your "situation" or "challenge". Once you have that you can look at the general overview for how the two cards interact with each other.
The benefit of this spread is that it can give clarity when you're feeling uncertain or anxious. Once you have clarity of thought, and a strong idea of what your challenge is you can find solutions to help your situation
The 2 card "Yes or No"
Setup: The 2 card "Yes or No" is where you place two cards face up side by side, whilst asking your deck a "yes or no" question.
Interpretation: Each card in a tarot deck has a "yes" or a "no" meaning. Look at the meanings of each card, and you will have your answer.
The benefit of this is you get a stronger yes or no compared to a single card draw. You may find you often get a mix of "yes or no", and this is fine. It simply means there is doubt, or things are not yet clear.
Yes or No meaning
Both 6 Of Cups and 10 Of Cups mean "Yes" when being asked a question. There is no doubt here, if you draw 6 Of Cups and 10 Of Cups the answer to your query is "YES".
The "Yes" and "No" meanings can differ from reader to reader. The meanings here are based on what I believe are the generally accepted definitions.
What does 6 Of Cups mean?
The Six of Cups Tarot card can represent many meanings in terms of health, finances, and relationships. In terms of health, it can represent a time of healing and rejuvenation. It can signify that any physical ailments or health issues one may be facing will be healed and cured, and one will return to a healthier state. It can symbolize the need to take some time for self-care and to take a break from any stressful or difficult situations.
When it comes to finances, the Six of Cups can signify a time of plenty and abundance. It can mean that one may receive unexpected financial gifts or windfalls. It can be an indication of financial stability, or it can represent the idea of providing gifts and help to those in need. It can be interpreted as a time of giving and receiving, when one can benefit from generosity and goodwill.
In terms of relationships, the Six of Cups can represent reunions and reuniting with those who are close to us. It can be a sign of reconnecting with old friends or even family members, and finding joy in revisiting memories of the past. It can also mean that one is ready to forgive and forget any past mistakes, and to move forward in a more positive direction. The Six of Cups can represent a time of renewal and fresh beginnings in our relationships.
What does 10 Of Cups mean?
The 10 of Cups Tarot Card is a highly positive card that signifies a joyful outlook on life. It is often associated with a feeling of contentment, security, and emotional fulfillment, as well as a strong sense of family and community. When health, finances and relationships are concerned, The 10 of Cups can bring an abundance of blessings, as well as hope and optimism, as it symbolizes a unification of one's highest aspirations.
When it comes to health, The 10 of Cups brings a message that all of one's health goals are attainable. It encourages you to take care of your body and mind in order to feel your best. On a physical level, it may suggest finding balance in diet, exercise and lifestyle. On an emotional level, it can signify finding peace and joy in life that comes with feeling spiritually fulfilled.
When finances are concerned, The 10 of Cups is a great card to receive. It suggests that your hard work and dedication will bring you great rewards and financial stability. Even if you are struggling financially, it can bring encouragement and hope that better days are ahead.
In terms of relationships, The 10 of Cups is usually a sign of strong and supportive relationships, either with family and friends, or with your romantic partner. Having strong relationships can contribute to feeling fulfilled, content and secure. However, it is important to remember that relationships are a two-way street, and that you need to make an effort to build strong, healthy and supportive relationships both in and out of the home.
The 10 of Cups Tarot card offers a message of support and hope within all areas of life. It suggests that, with dedication and a positive attitude, you can reach all of your goals, both on a physical, financial, and relationship level.
Conclusion
Understanding how the meaning of a reading changes once you start involving more than one card can be tricky. This will come with time and practice, however I hope this guide on what your cards might be telling you when you draw 6 Of Cups and 10 Of Cups has helped you.
Get the Ultimate Tarot Card Combinations Pack
The Tarot Happy eBook Pack is available now for instant download.
With 78 eBooks covering all tarot pair meanings, this pack is a comprehensive guide on using tarot for introspection, self-understanding and inner growth.
$4.99 $24.99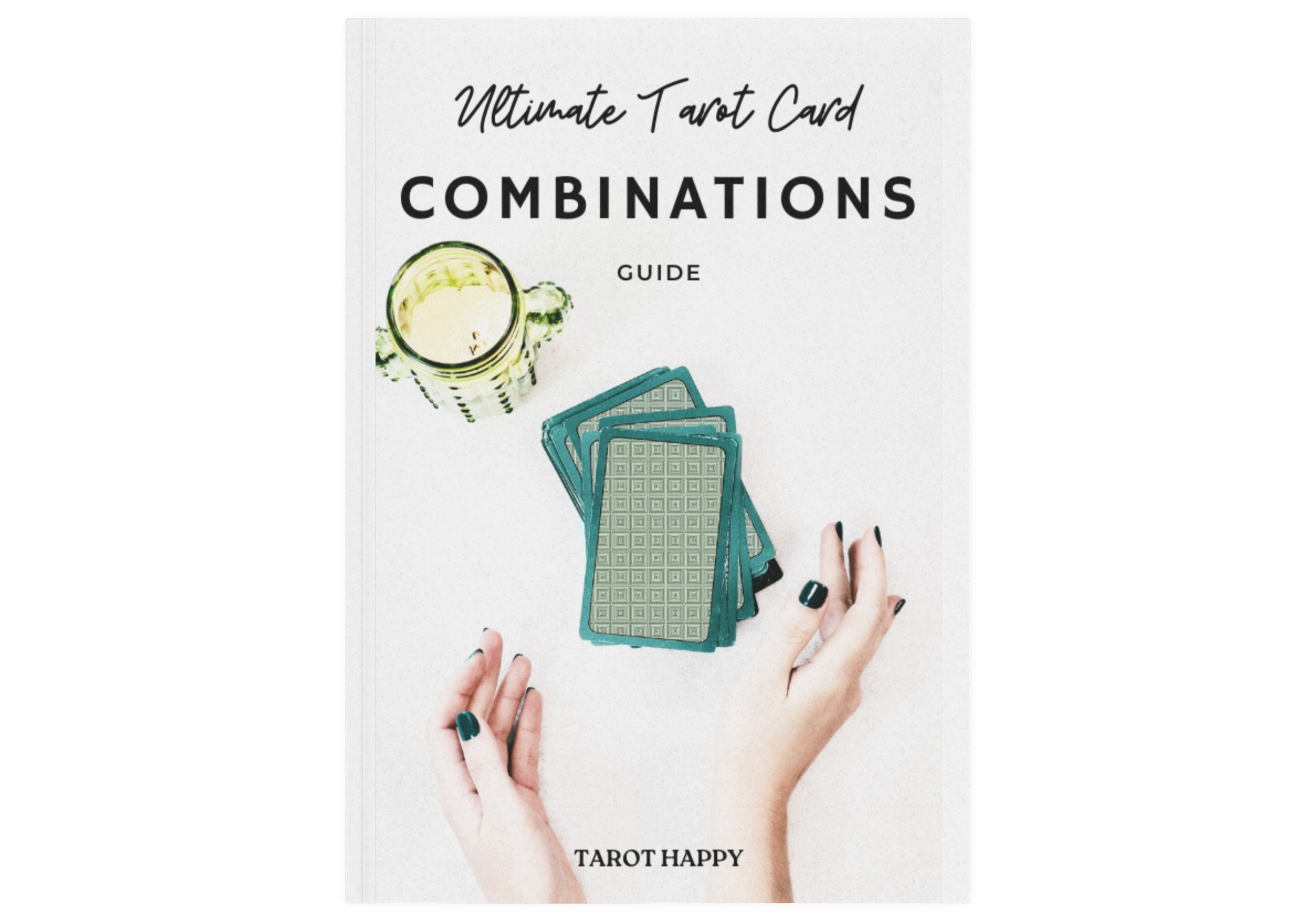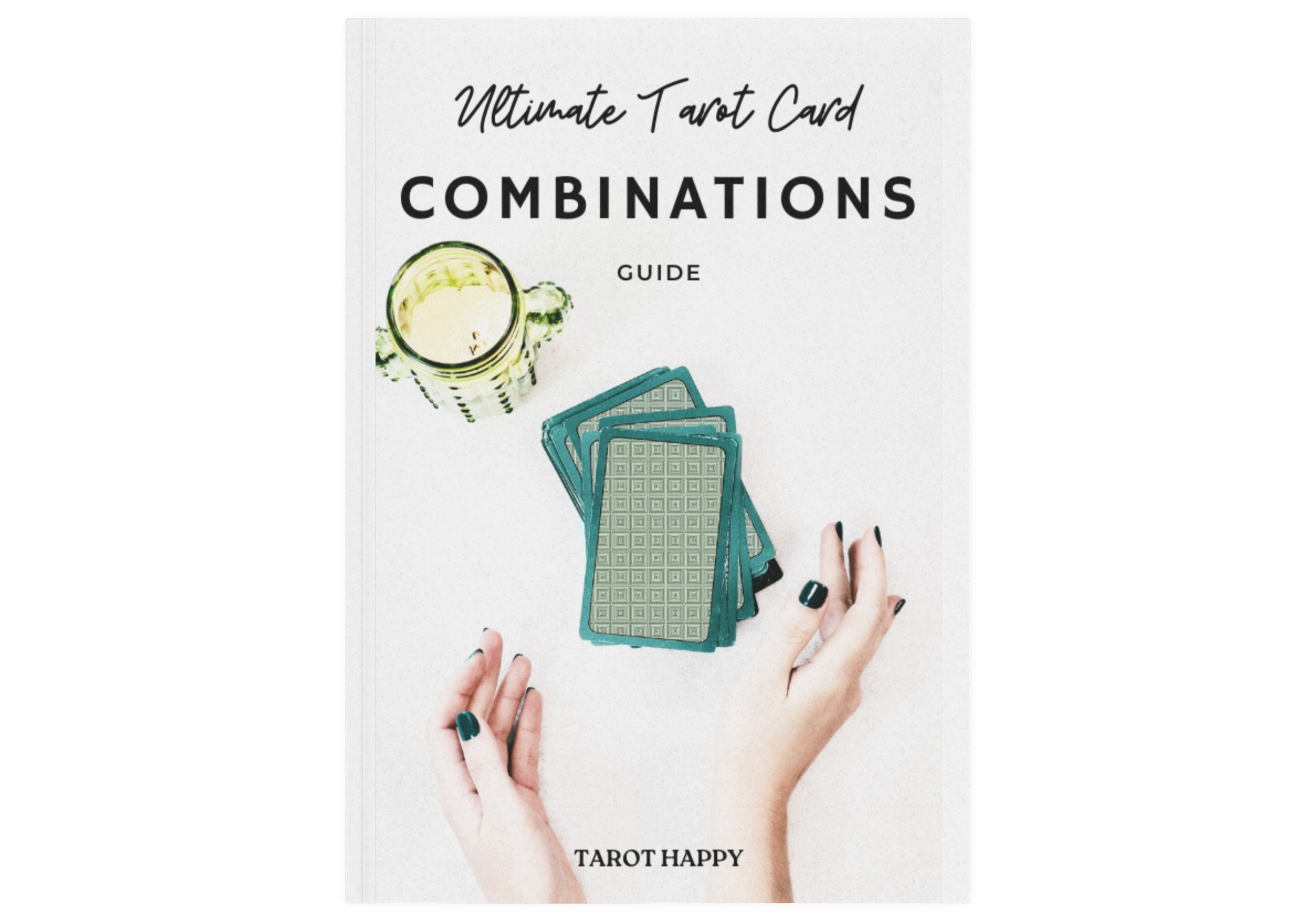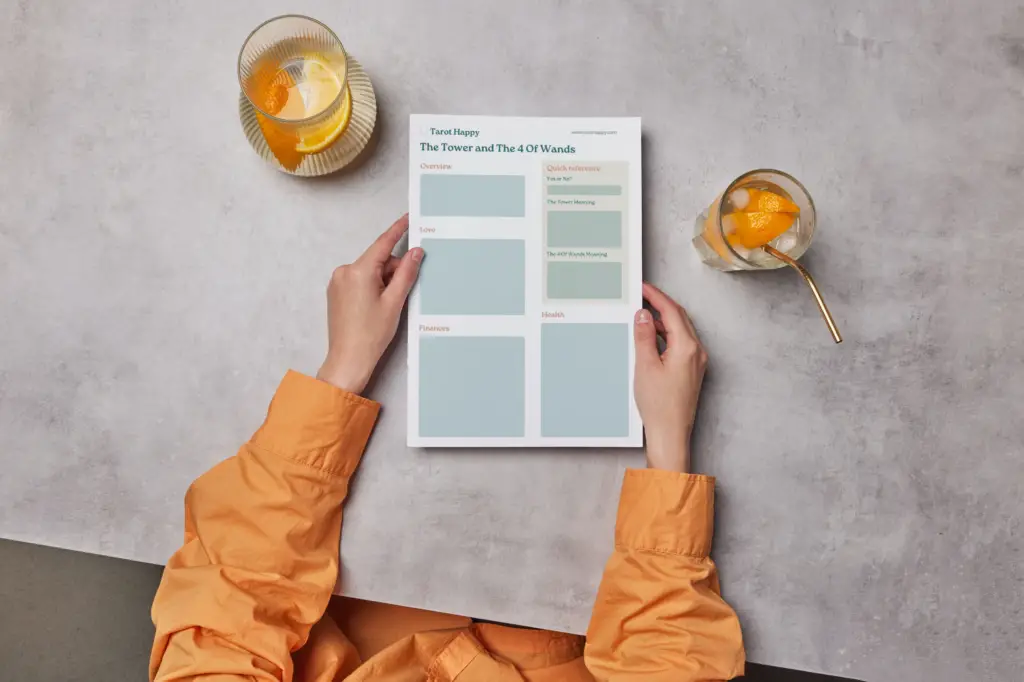 The pack contains an eBook for each of the 78 cards in a tarot pack.
Each eBook focuses on all the combinations for a single card, with overview of meanings for:
"Yes or No"
Key words and phrases that describe the combination
Meaning for Love
Meaning for Finance
Meaning for Health and Relationships
Unlock the Mysteries of Tarot with Our Comprehensive 78 eBook Pack
Are you ready to take your Tarot reading abilities to the next level? It's time to upgrade your spiritual toolbox with our extensive 78 eBook Pack. Each eBook is crafted to detail the meaning of every single Tarot card combination!
Venture beyond the basic meanings of the cards and delve into the intricate, layered symbolism each combination offers.
From beginner enthusiasts to advanced practitioners, this ultimate Tarot eBook pack will enhance your understanding, foster deeper connections with the cards, and improve your readings in a way that no other guide can.
Save $20 if you buy today!
$4.99 $24.99