A key aspect of reading your own tarot is interpreting cards. For a beginner interpreting a single card can be fine, as there are plenty of resources to help you out, however interpreting two or more can be very tricky.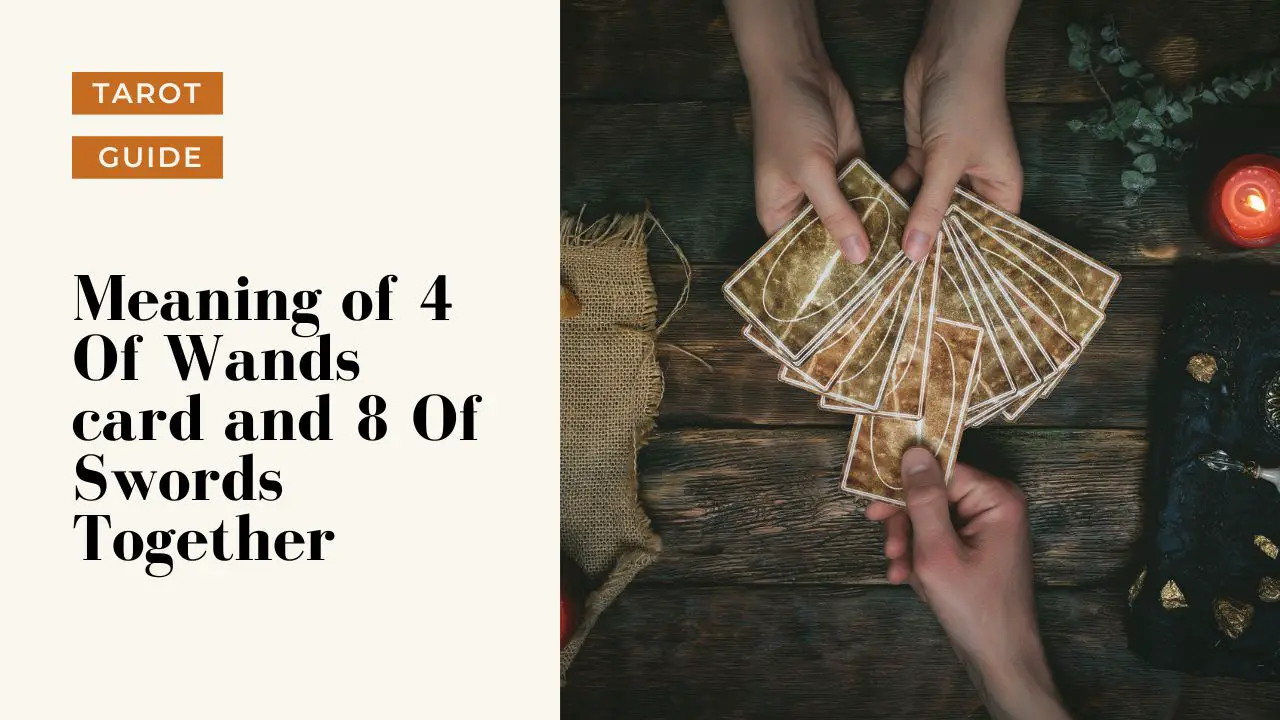 However, if you have been practising single card readings for a while a 2 card spread will be a great introduction into reading multiple cards.
As you've found this page, you're probably wondering how to interpret the 4 Of Wands card and 8 Of Swords card together in particular.
The 4 Of Wands card and 8 Of Swords have unique qualities and will interact with each other in different ways depending on what kind of reading you are doing.
What does 4 Of Wands and 8 Of Swords mean together?
The 4 of Wands tarot card and the 8 of Swords tarot card, when combined, suggest a situation of contrast. The 4 of Wands evokes feelings of homecoming, joyous celebrations, connection with family and friends, and reunions. Meanwhile, the 8 of Swords suggests a feeling of self-imposed restrictions, isolation, and imprisonment. Together, these cards imply that, while we seek connection and joy, there can be a tension between feeling confined and wanting to break away; this could be seen as a struggle to remain independent while relying on the support of others. Ultimately, it is important to remember that it is possible to move forward with a balance between connecting with your loved ones and honoring your own needs.
The meaning may differ depending on what you are asking. Here are some common questions and their possible meanings
What does 4 Of Wands and 8 Of Swords mean together for your love life?
The 4 of Wands and the 8 of Swords tarot card together in your love life can be interpreted as a time of confronting the self-imposed restrictions that have been created and recognizing that peace and joy are within reach. This combination of cards suggests that it is time to celebrate and recognize what you have achieved in life so far and to also focus on your relationships and the value they have brought you.
The 4 of Wands suggests that this is a time of homecoming and reuniting with friends and family, and it indicates that it is time to reconnect with one's inner social circle and providing support and celebration. It may be a strong reminder to invite loved ones to your celebrations, appreciate the support they bring, and enjoy the positive atmosphere of family and friends.
At the same time, the 8 of Swords suggests that one should consider how the self-imposed restrictions can be released. It indicates that this is a period of self-reflection where one must acknowledge their negative feelings, recognize the emotions which are preventing them from enjoying life to the fullest, and remove the obstacles that have been created because of negative thinking.
It is suggested that one should take the time to honestly reflect on the boundaries they have set and make changes accordingly. The 4 of Wands and the 8 of Swords together in your love life can signify a time to open up, be courageous, and focus on the joy and pleasure that relationships can bring. It is a reminder to open up to love, to celebrate and find happiness in the present moment.
What does 4 Of Wands and 8 Of Swords mean together for your finances?
The 4 of Wands and 8 of Swords tarot card combination indicates a situation of conflicting forces. On the one hand, you are feeling celebratory and surrounded by the abundance and positivity of friends and family. But on the other hand, you feel instability and isolation on the job front, which is restricting your financial aspirations.
It could mean that while you may have had some successes recently and have been celebrating them with those closest to you, you seem to be feeling overwhelmed when it comes to your finances and job situation. You may be feeling constrained by the expectations and responsibilities you face, and are restricting yourself in order to try and control your environment and make it better. This can lead to a feeling of being trapped and isolated from the opportunities you need and want.
In order to break out of this cycle and begin to move forward again, it may be helpful to take an honest look at the situation and ask yourself what is really holding you back. Identifying the source of the isolation and the self-imposed restraints can be the first step in creating a plan to do something about it. Additionally, it would be beneficial to reach out to friends and family or even take on a job mentor to get a more positive perspective. With a clearer idea of the goals you want to achieve and a strong support system in place, you can start to break down the barriers standing in your way and work towards a better financial situation.
Overall, the combination of tarot cards is a reminder to remain hopeful and confident in your abilities to turn the situation around and reach your goals. With the right mindset and the help of those around you, the obstacles you face can not only be overcome, but also provide a valuable learning experience.
What does 4 Of Wands and 8 Of Swords mean together for your health?
The 4 Of Wands and The 8 Of Swords tarot cards together can be interpreted as a call to nourish your health and wellbeing through connecting with your closest relationships. This card combination can indicate a time filled with celebration and joy as you come back together with your family, friends, and home. It is about breaking out of old patterns of self-imposed restrictions and isolation, to nurture and nourish your health through the people closest to you.
The 4 Of Wands brings the idea of homecoming to life, signaling a time filled with love, celebration and joy. This card encourages us to open our hearts and our homes to the people who matter the most, allowing us to be surrounded by their warmth and love. It is often seen as a card of reunion, so if you are apart from your family or somebody who is close to you, it may be a sign that it is time to come back together.
The 8 Of Swords tarot card on the other hand, is a reminder that in order to fully enjoy the homecoming and reunions, it is important to be mindful of your own self-imposed restrictions and boundaries. This card encourages us to confront our own fears, anxieties and doubts, unpacking the feelings that could be causing us to isolate ourselves from the people around us. It is a call to break away from these thought patterns and take a step towards connecting with our closest relationships.
This card combination paints a picture of health and wellbeing that is nourished and supported by the family and friends that we have in our lives. It is a reminder to break away from the self-imposed restrictions that could be preventing us from properly reconnecting with those closest to us, so that we can fully enjoy the celebrations and joy that comes with homecoming.
The meaning of the cards will depend on what kind of reading you are doing and the question you asked the deck. This is a guide covering the general meanings of the cards and how they relate to each other.
Common 2-card spreads
Whilst it's great to know who these two cards interact with each other, it's important to note that the meaning will depend on the context of your spread
The most common 2 card spreads I recommend to newer readers are:
The 2 card cross (otherwise known as "The Fool's Journey")
The 2 card "Yes or No"
"The Fool's Journey"
Setup: The two card cross is where you place two cards face up, one placed vertically and with one laying horizontally over
Interpretation: The 2 cards represent a "situation" and a "challenge". The first card will describe the situation you are in with the second horizontal card being the "challenge" crossing you (literally crossing you in this case!)
Reading: Using the overviews in this guide is a great way to start. First, look at the meanings of the 2 cards, and see how they might relate either as your "situation" or "challenge". Once you have that you can look at the general overview for how the two cards interact with each other.
The benefit of this spread is that it can give clarity when you're feeling uncertain or anxious. Once you have clarity of thought, and a strong idea of what your challenge is you can find solutions to help your situation
The 2 card "Yes or No"
Setup: The 2 card "Yes or No" is where you place two cards face up side by side, whilst asking your deck a "yes or no" question.
Interpretation: Each card in a tarot deck has a "yes" or a "no" meaning. Look at the meanings of each card, and you will have your answer.
The benefit of this is you get a stronger yes or no compared to a single card draw. You may find you often get a mix of "yes or no", and this is fine. It simply means there is doubt, or things are not yet clear.
Yes or No meaning
Things are a bit tricky for this combination, as 4 Of Wands and 8 Of Swords mean different things. The cards are unsure about your question, or the answer to the question has not yet been decided.
The "Yes" and "No" meanings can differ from reader to reader. The meanings here are based on what I believe are the generally accepted definitions.
What does 4 Of Wands mean?
The 4 of Wands Tarot card is an auspicious card that symbolizes homecoming, celebrations, family, friends and reunions. This card represents the attainment of joy, security and well-being through partnerships and community involvement. In terms of health, The 4 of Wands Tarot card signifies increased physical and mental well-being. When this card appears in a reading, it is a sign that you are making positive lifestyle changes that will result in improved health and wellbeing. Additionally, this card encourages you to focus on preventive care, such as nutrition and exercise, to keep your body and mind in top condition.
In terms of finances, The 4 of Wands Tarot card indicates that investments made in the past have yielded positive results. This card signifies financial stability and abundance, as well as the potential for future financial success. When this card appears in a reading, it is an indication that it is time to take stock of your finances and make necessary changes to ensure your future prosperity.
The 4 of Wands Tarot card is also an indication of improved relationships. This card symbolizes the coming together of friends and family to celebrate life's special moments and to form meaningful connections. Additionally, this card encourages open and honest communication between romantic partners to ensure that their relationship is strong and healthy. With this card, it is also important to consider how you can be of service to those in your community, as cooperation and collaboration are essential for a thriving and harmonious collective.
What does 8 Of Swords mean?
Health
The 8 of Swords Tarot card represents self-imposed limitations or restrictions in regards to health. This card suggests that one is limiting themselves or blocking progress in regards to their own health. It could be that they are feeling emotionally trapped, or they are holding themselves back in some way. This card is a warning to take a step back and assess the situation, and to examine any mental, emotional or physical blocks that might be preventing them from achieving good health.
Finances
The 8 of Swords Tarot card is an indication that the querent is stuck in an unhelpful financial cycle and stuck in situations that are hindering their growth. Money troubles are often tied to a sense of being trapped, and this card is a reminder to look at any patterns that could be preventing financial success. It could also mean that the querent needs to take a step back and look at their current financial situation objectively so that they can make positive changes.
Relationships
The 8 of Swords Tarot card indicates that a person may be in a situation that is preventing them from having meaningful relationships. They may be feeling mentally, emotionally, or physically unable to move on or progress in matters of love. This card is a sign to take a step back, reassess the situation, and look at the ways in which the querent might be blocking themselves from having the relationship they desire. It could be that they are allowing insecurities, doubts, or fears to prevent them from connecting with another person, or they may be staying in a toxic relationship out of fear of the unknown. It is important to look at any self-imposed limitations that could be preventing genuine connection with others.
Conclusion
Understanding how the meaning of a reading changes once you start involving more than one card can be tricky. This will come with time and practice, however I hope this guide on what your cards might be telling you when you draw 4 Of Wands and 8 Of Swords has helped you.
Get the Ultimate Tarot Card Combinations Pack
The Tarot Happy eBook Pack is available now for instant download.
With 78 eBooks covering all tarot pair meanings, this pack is a comprehensive guide on using tarot for introspection, self-understanding and inner growth.
$1.99 $24.99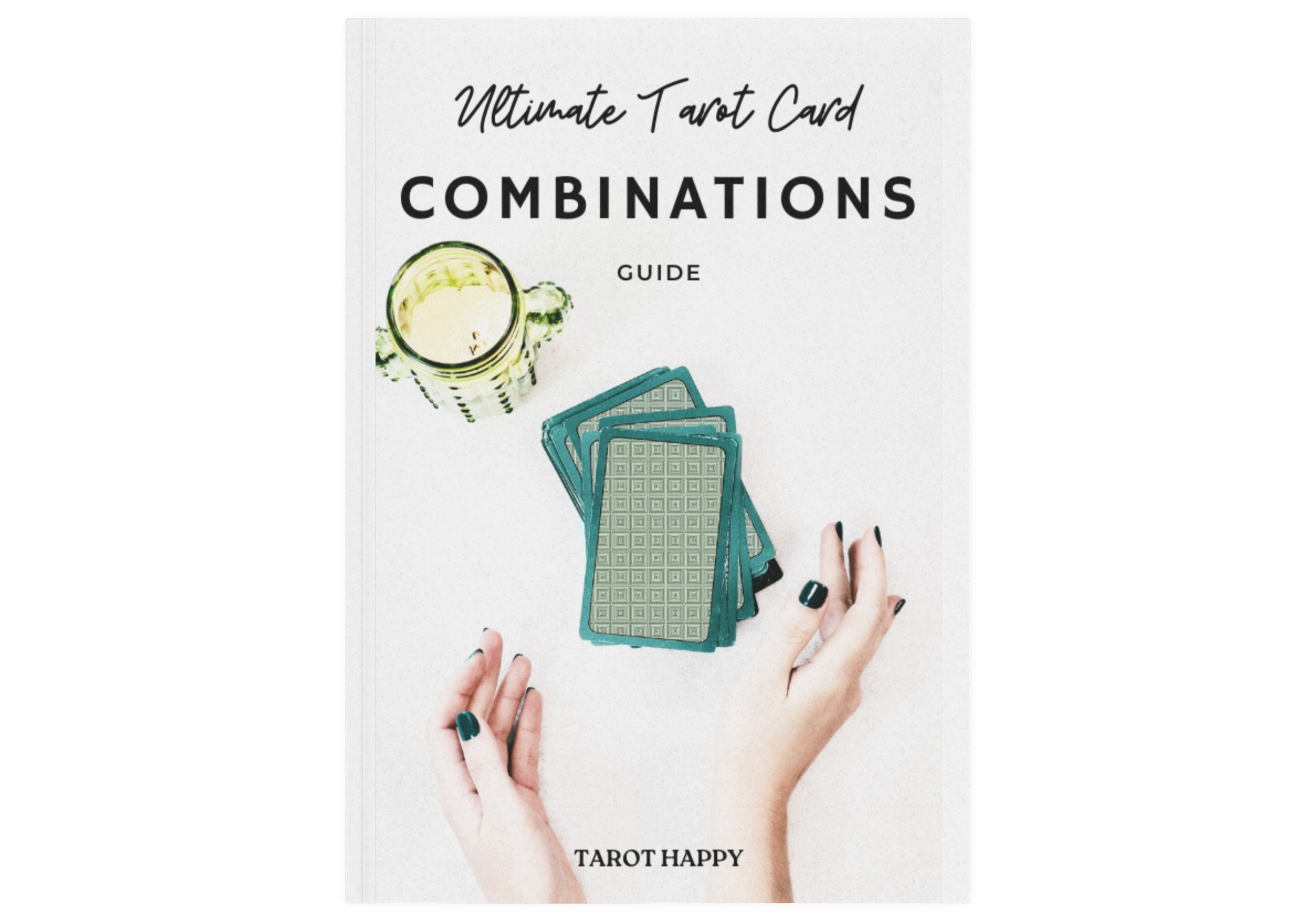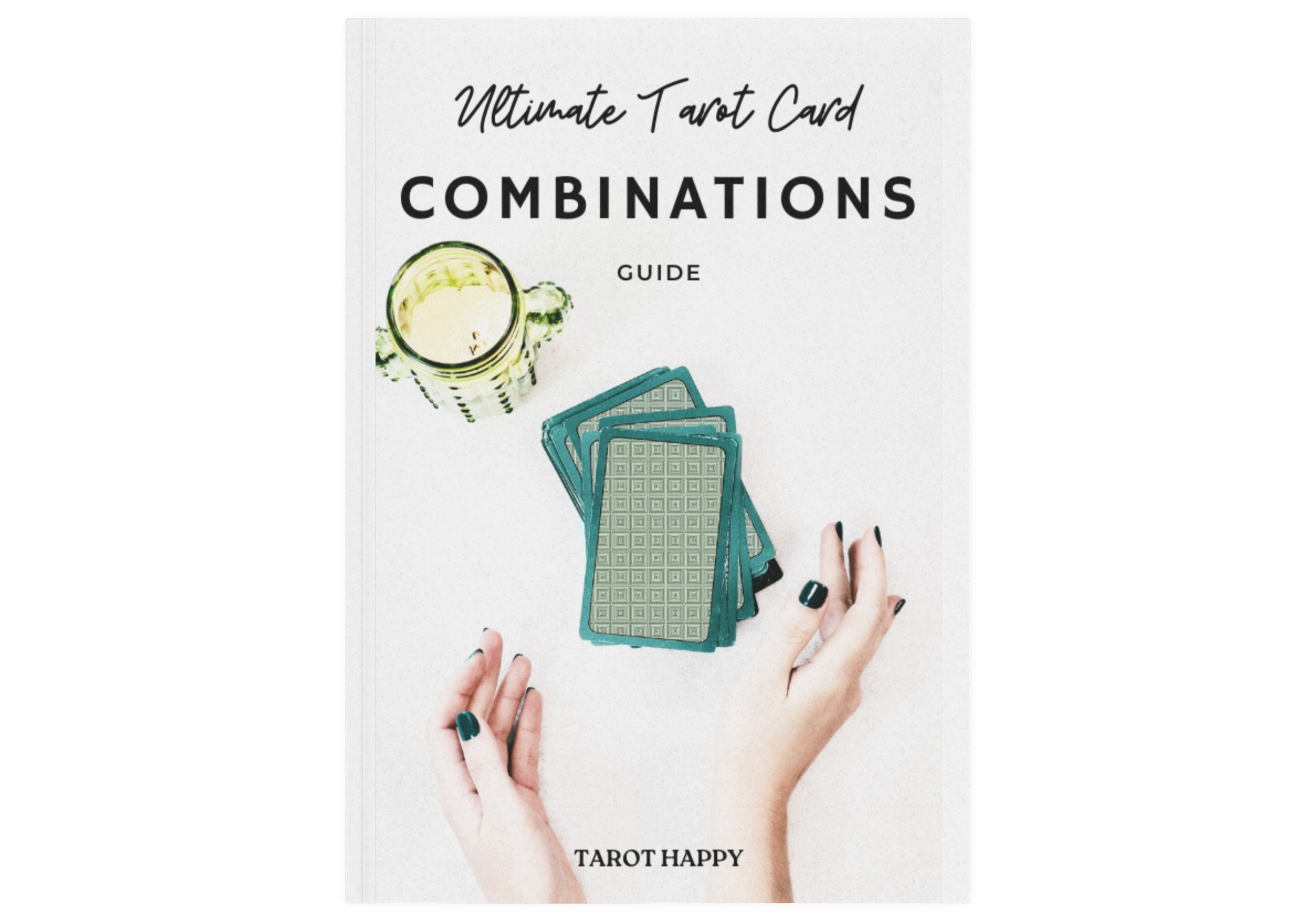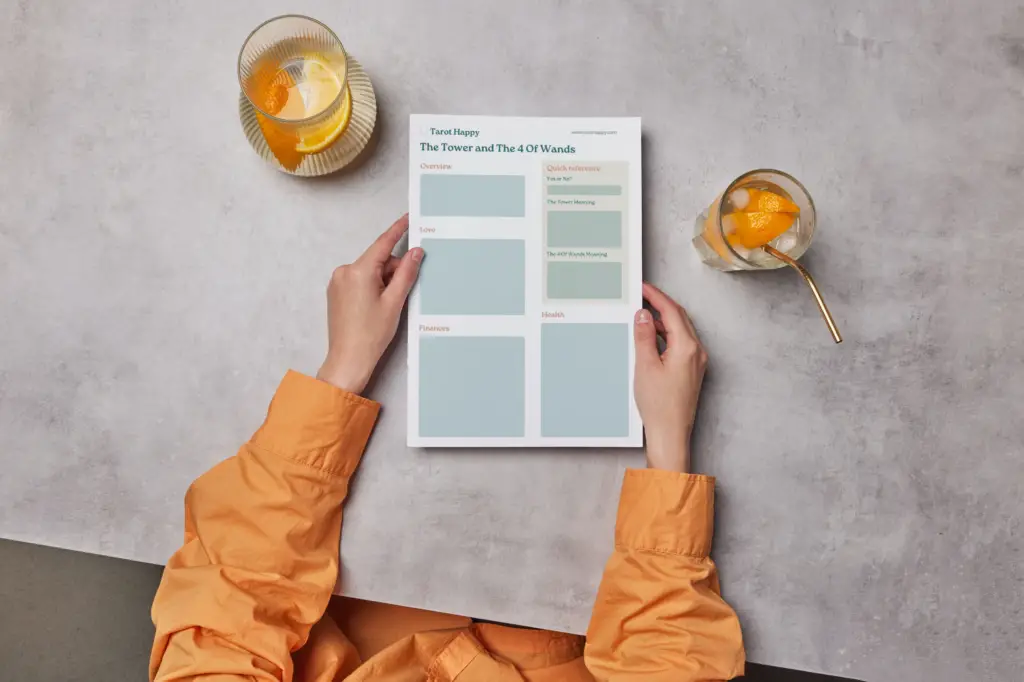 The pack contains an eBook for each of the 78 cards in a tarot pack.
Each eBook focuses on all the combinations for a single card, with overview of meanings for:
"Yes or No"
Key words and phrases that describe the combination
Meaning for Love
Meaning for Finance
Meaning for Health and Relationships
Unlock the Mysteries of Tarot with Our Comprehensive 78 eBook Pack
Are you ready to take your Tarot reading abilities to the next level? It's time to upgrade your spiritual toolbox with our extensive 78 eBook Pack. Each eBook is crafted to detail the meaning of every single Tarot card combination!
Venture beyond the basic meanings of the cards and delve into the intricate, layered symbolism each combination offers.
From beginner enthusiasts to advanced practitioners, this ultimate Tarot eBook pack will enhance your understanding, foster deeper connections with the cards, and improve your readings in a way that no other guide can.
Save over $20 if you buy today!
$1.99 $24.99