A key aspect of reading your own tarot is interpreting cards. For a beginner interpreting a single card can be fine, as there are plenty of resources to help you out, however interpreting two or more can be very tricky.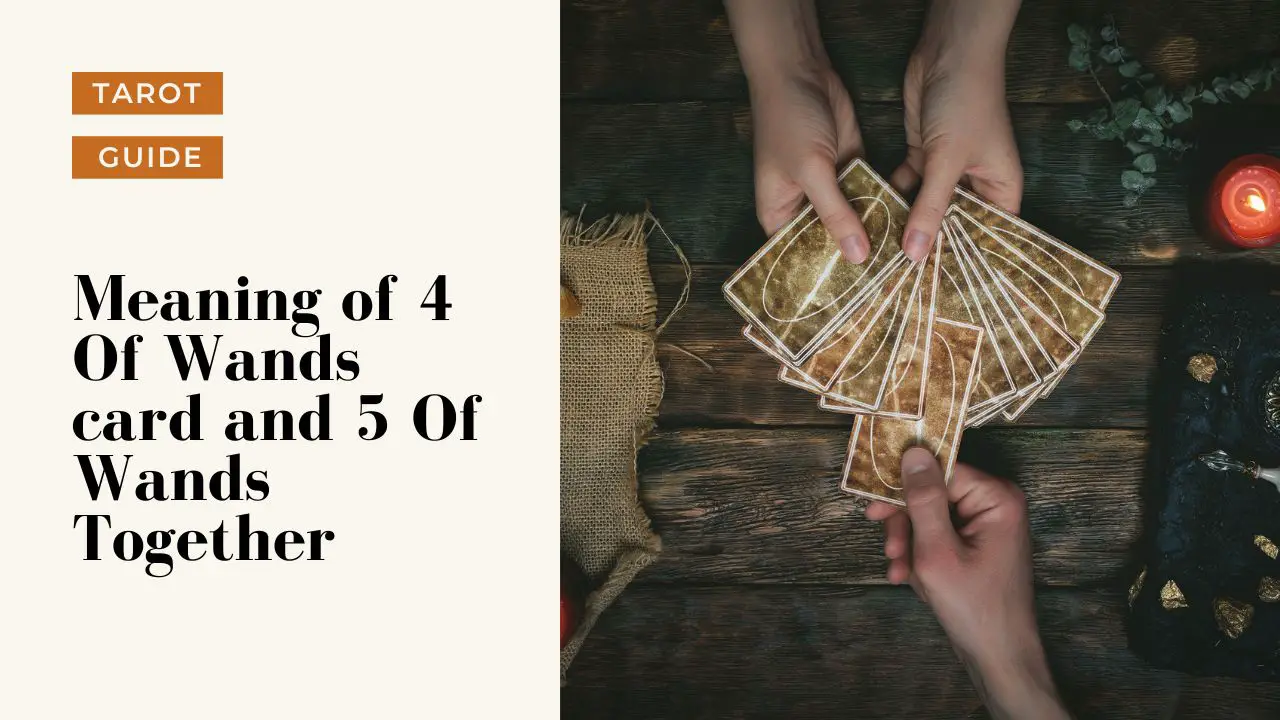 However, if you have been practising single card readings for a while a 2 card spread will be a great introduction into reading multiple cards.
As you've found this page, you're probably wondering how to interpret the 4 Of Wands card and 5 Of Wands card together in particular.
The 4 Of Wands card and 5 Of Wands have unique qualities and will interact with each other in different ways depending on what kind of reading you are doing.
What does 4 Of Wands and 5 Of Wands mean together?
The 4 Of Wands tarot card and The 5 Of Wands tarot card together signify a time of rejoicing and anticipation for you. You may be looking forward to reuniting with family and friends and celebrating a happy occasion. The 5 Of Wands can signify a challenge you will face as you prepare for the homecoming. You may need to overcome obstacles that threaten to dampen the joy of your reunion. This can make it feel like a competition, so it's important to remember to stay strong and focus on the reward of being reunited with those you love.
The meaning may differ depending on what you are asking. Here are some common questions and their possible meanings
What does 4 Of Wands and 5 Of Wands mean together for your love life?
When The 4 Of Wands and The 5 Of Wands come together in your love life, it can point to both homecomings and challenges. This card combination is associated with abundance and growth, but there are some obstacles on the path. This can symbolize the process of creating a home with your partner, although it may come with some difficulties.
In order to build this home and to make it a source of joy and comfort, you will often have to overcome a few hurdles. These could be related to both the external and the internal – perhaps adjustments of expectations brought about by your own past experiences. No matter what the hurdle is, though, it's essential for both of you to work together to get past it.
The 4 of Wands and the 5 of Wands combination suggests that a process of compromise and collaboration may be needed to reach a point of stability. This allows both of you to work on creating a secure and comfortable home environment – both material and emotional. It's a matter of strengthening the bond between you and learning to accept one another's differences.
It's also important to recognize that celebration and reunion can still occur during this process. Celebrations can be a way to recognize the progress already made, as well as a way to build excitement for the next steps you will take together. It can be a time to appreciate the friends and family that have been part of the process and have supported you during this time.
At its heart, the 4 of Wands and the 5 of Wands combination suggests that any difficulties you have in the present can be worked through and the two of you can build a strong, fulfilling home environment that is incomparable to anything else.
What does 4 Of Wands and 5 Of Wands mean together for your finances?
When the 4 of Wands and the 5 of Wands appear together in a reading about finances and jobs, it is an indication that you may be in for some very difficult and competitive times. This could be a situation where success will depend on your competitive skills and ability to face adversity. In order to be successful, you will need to work hard and stay positive in the face of any challenges.
Financially, this could mean that you will face some competitive opportunities with regards to your line of work or business. These could be in the form of higher wages or bonuses that you must compete for, or even investment opportunities that require you to be quick to take advantage of. On the job front, you may find that you are pitted against other competitors for a promotion or a position within your company. You will need to be proactive and embrace the competition in order to come out on top.
The 4 of Wands, however, can also signify that you and your family or friends are coming together in celebration. This could be a reunion of sorts, and it could be a great time to have a financial conversation with those close to you. This could be an opportunity to ask for advice and gain insight into the competitive job market from those who have gone through it before.
In conclusion, the combination of the 4 of Wands and the 5 of Wands in your reading about finances and jobs could mean that you are in for a period of hard work, but also one of celebration. Embrace the competitive environment in order to succeed, and use the opportunity to seek advice and guidance from those who have already gone through this process.
What does 4 Of Wands and 5 Of Wands mean together for your health?
The 4 of Wands and the 5 of Wands suggest a reunion of sorts. This could manifest in a few different ways. On the one hand, it could represent the reuniting of yourself with healthy habits and practices. After times of challenge and focus on your goals, the 4 of Wands often heralds a time of celebration and reward, a moment when you can choose to reconnect with yourself and those around you in a healthy way. Whether it's gathering family around the table for a special meal, or meeting up with friends for a physical activity, this homecoming can be a way to re-ground yourself in your healthy habits.
On the other hand, the 5 of Wands can also imply competition and rivalry. If you're looking to stay healthy, this could mean challenging yourself to try something new or pushing yourself to reach a goal. This could be done either alone or with friends, as long as it's something that you're doing for the purpose of improving your health. Working with others can help to encourage and motivate you to stay the course and keep your fitness levels and habits in check, while at the same time providing an outlet for friendly competition.
In conclusion, the 4 of Wands and the 5 of Wands together suggest a healthy balance between celebration and challenge, rest and effort. In order to achieve the best results and maintain a healthy lifestyle, it's important to recognize and embrace a variety of paths that can help you stay healthy. Whether it's taking the time to relax with family and friends or challenging yourself to reach an ambitious goal, the 4 of Wands and 5 of Wands can provide the push you need stay healthy and fit.
The meaning of the cards will depend on what kind of reading you are doing and the question you asked the deck. This is a guide covering the general meanings of the cards and how they relate to each other.
Common 2-card spreads
Whilst it's great to know who these two cards interact with each other, it's important to note that the meaning will depend on the context of your spread
The most common 2 card spreads I recommend to newer readers are:
The 2 card cross (otherwise known as "The Fool's Journey")
The 2 card "Yes or No"
"The Fool's Journey"
Setup: The two card cross is where you place two cards face up, one placed vertically and with one laying horizontally over
Interpretation: The 2 cards represent a "situation" and a "challenge". The first card will describe the situation you are in with the second horizontal card being the "challenge" crossing you (literally crossing you in this case!)
Reading: Using the overviews in this guide is a great way to start. First, look at the meanings of the 2 cards, and see how they might relate either as your "situation" or "challenge". Once you have that you can look at the general overview for how the two cards interact with each other.
The benefit of this spread is that it can give clarity when you're feeling uncertain or anxious. Once you have clarity of thought, and a strong idea of what your challenge is you can find solutions to help your situation
The 2 card "Yes or No"
Setup: The 2 card "Yes or No" is where you place two cards face up side by side, whilst asking your deck a "yes or no" question.
Interpretation: Each card in a tarot deck has a "yes" or a "no" meaning. Look at the meanings of each card, and you will have your answer.
The benefit of this is you get a stronger yes or no compared to a single card draw. You may find you often get a mix of "yes or no", and this is fine. It simply means there is doubt, or things are not yet clear.
Yes or No meaning
Things are a bit tricky for this combination, as 4 Of Wands and 5 Of Wands mean different things. The cards are unsure about your question, or the answer to the question has not yet been decided.
The "Yes" and "No" meanings can differ from reader to reader. The meanings here are based on what I believe are the generally accepted definitions.
What does 4 Of Wands mean?
The 4 of Wands Tarot card signifies a time of celebration, rejoicing and feeling at home. It is a reminder that life should be savored and enjoyed, and to also appreciate the home that has been built, be it a physical location or an emotional state of being. When it comes to health, this card encourages one to focus on cultivating a healthy lifestyle that can be sustained, and to find joy in the reward of taking care of one's body.
When it comes to finances, the 4 of Wands Tarot card is a reminder to create a balance between spending and saving. It also inspires one to build a strong financial foundation and to be open to generating wealth and abundance in multiple ways. This card suggests a need to focus on creating a sense of security and stability through financial planning and responsibility.
When it comes to relationships, the 4 of Wands Tarot card encourages one to build strong, healthy and supportive relationships. It is a reminder to appreciate the network of people in one's life and to create healthy boundaries. This card also encourages the development of meaningful and trusting relationships that are rooted in a sense of support and stability. Ultimately, the 4 of Wands Tarot card is a reminder that good things come to those who build a strong home for themselves and those around them.
What does 5 Of Wands mean?
Health:
The 5 of Wands tarot card symbolizes that there may be obstacles or challenges to overcome in regards to achieving some level of health. It suggests that a person may need to take part in some form of rivalry or competition to get the results they desire. This could mean that the person needs to make healthy lifestyle changes, such as exercising regularly, eating nutritious foods, and avoiding unhealthy behaviors. It also implies that the person needs to be persistent and determined in order to succeed in their goals; difficult paths sometimes must be taken in order to achieve success.
Finances:
The 5 of Wands tarot card foretells that there may be difficulties to overcome when it comes to your finances. This card suggests that you must ready yourself to compete and challenge yourself with regard to money-making opportunities. You may need to compete with others to obtain certain resources or advantages that lead to success. Your persistence and determination are needed to reach your financial goals. This card encourages you to strive for financial security by creating plans, setting goals, and budgeting wisely.
Relationships:
The 5 of Wands tarot card implies that there may be difficulties in your relationships. It suggests that this could involve competition or challenges that arise as you interact with others. Whether it's an issue of loyalty, trust, or some other matter, this card warns that it is necessary to stay on top of the situation and be prepared to take a stand or compete with others if the situation calls for it. You must be prepared to confront obstacles and adversaries if necessary to ensure that the relationships in your life are strong, meaningful, and lasting.
Conclusion
Understanding how the meaning of a reading changes once you start involving more than one card can be tricky. This will come with time and practice, however I hope this guide on what your cards might be telling you when you draw 4 Of Wands and 5 Of Wands has helped you.
Get the Ultimate Tarot Card Combinations Pack
The Tarot Happy eBook Pack is available now for instant download.
With 78 eBooks covering all tarot pair meanings, this pack is a comprehensive guide on using tarot for introspection, self-understanding and inner growth.
$1.99 $24.99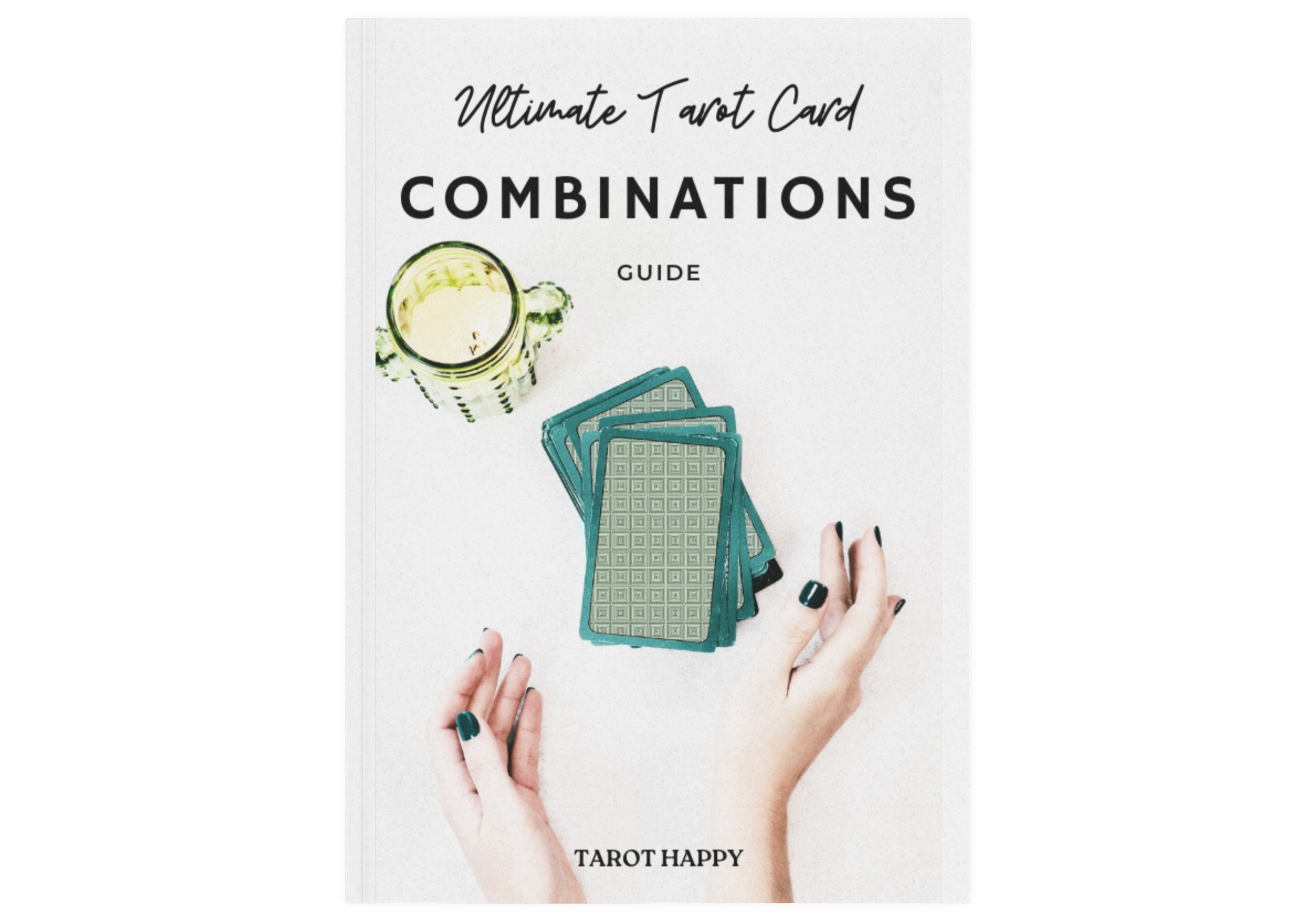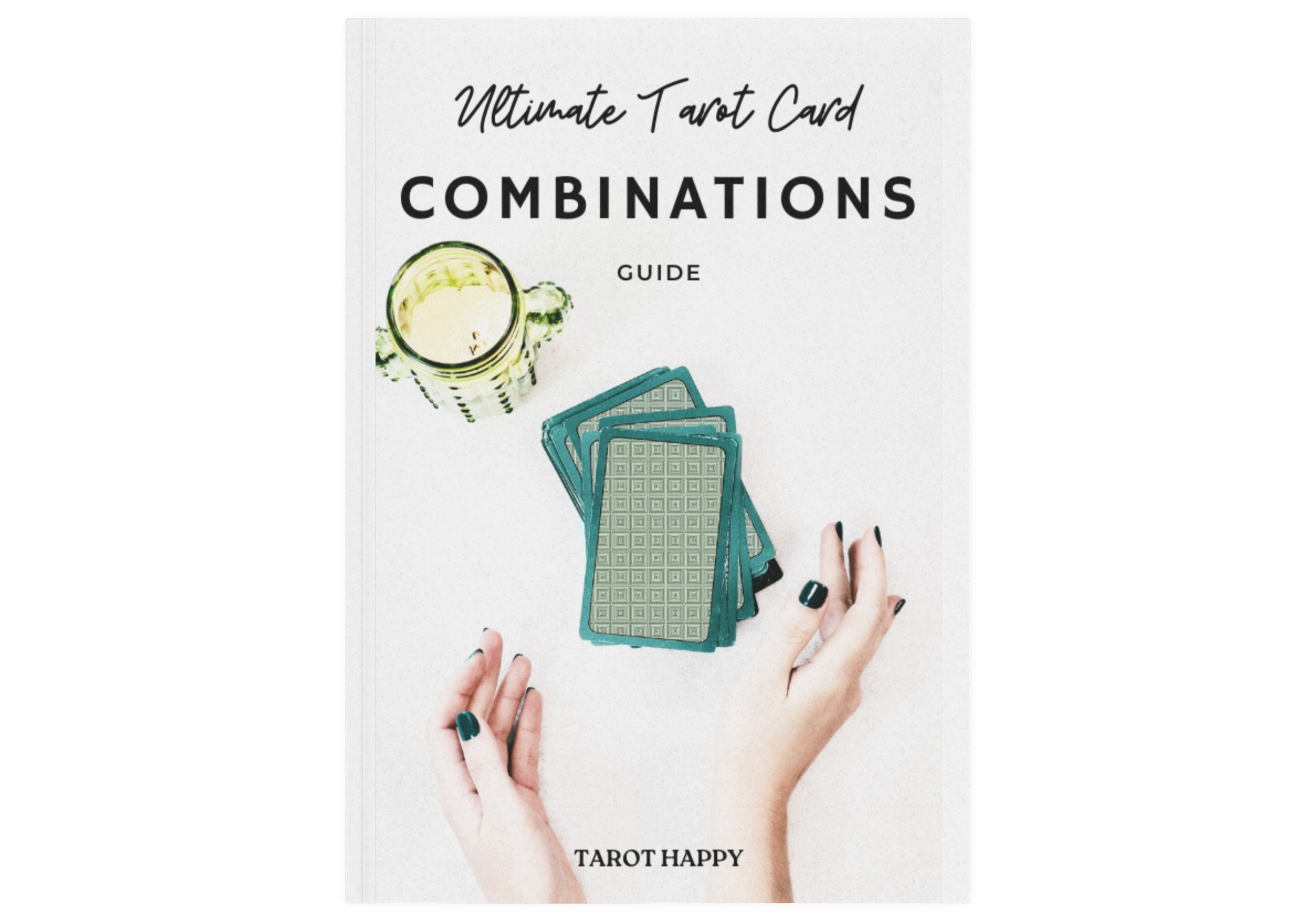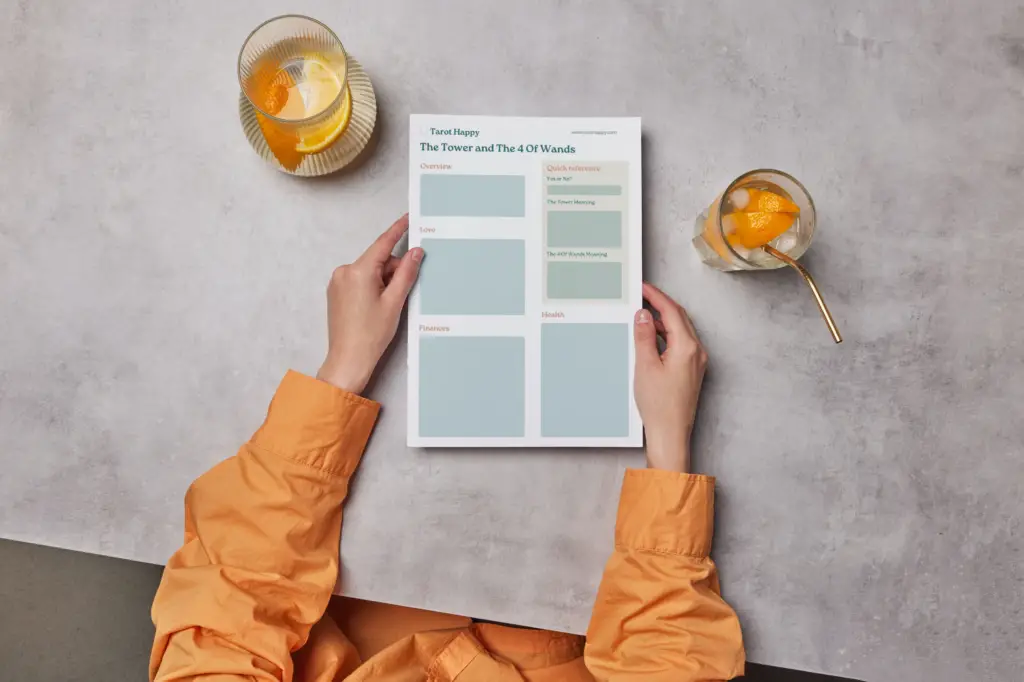 The pack contains an eBook for each of the 78 cards in a tarot pack.
Each eBook focuses on all the combinations for a single card, with overview of meanings for:
"Yes or No"
Key words and phrases that describe the combination
Meaning for Love
Meaning for Finance
Meaning for Health and Relationships
Unlock the Mysteries of Tarot with Our Comprehensive 78 eBook Pack
Are you ready to take your Tarot reading abilities to the next level? It's time to upgrade your spiritual toolbox with our extensive 78 eBook Pack. Each eBook is crafted to detail the meaning of every single Tarot card combination!
Venture beyond the basic meanings of the cards and delve into the intricate, layered symbolism each combination offers.
From beginner enthusiasts to advanced practitioners, this ultimate Tarot eBook pack will enhance your understanding, foster deeper connections with the cards, and improve your readings in a way that no other guide can.
Save over $20 if you buy today!
$1.99 $24.99