A key aspect of reading your own tarot is interpreting cards. For a beginner interpreting a single card can be fine, as there are plenty of resources to help you out, however interpreting two or more can be very tricky.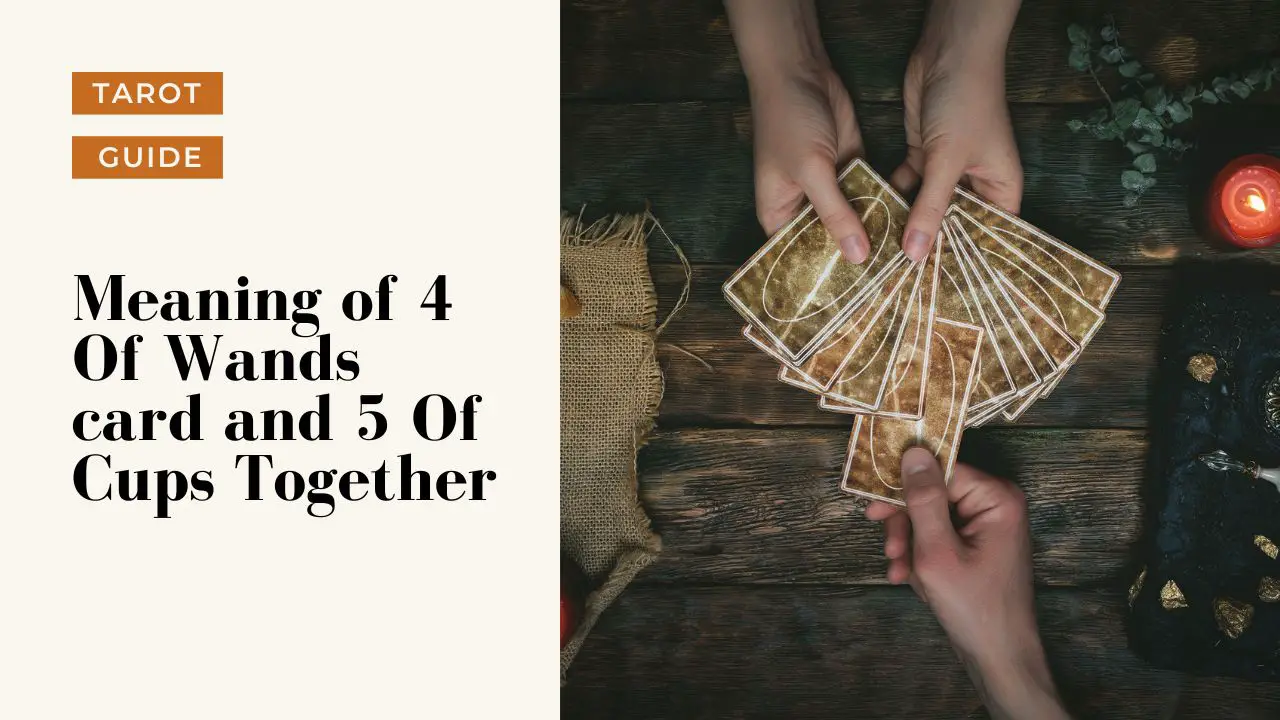 However, if you have been practising single card readings for a while a 2 card spread will be a great introduction into reading multiple cards.
As you've found this page, you're probably wondering how to interpret the 4 Of Wands card and 5 Of Cups card together in particular.
The 4 Of Wands card and 5 Of Cups have unique qualities and will interact with each other in different ways depending on what kind of reading you are doing.
What does 4 Of Wands and 5 Of Cups mean together?
The 4 Of Wands tarot card and The 5 Of Cups tarot card can mean a bittersweet reunion. This could be a reunion of family or friends, but with a feeling of loss or regret in the air. Even though you may have the comfort of being with your loved ones, the absence of someone who was once close to you may be felt deeply. You may recognize the joy of the reunion, yet at the same time also feel sadness or grief at who or what is missing. These two cards reflect an emotional complexity and remind us that life is never entirely just one feeling or the other.
The meaning may differ depending on what you are asking. Here are some common questions and their possible meanings
What does 4 Of Wands and 5 Of Cups mean together for your love life?
The 4 Of Wands tarot card and The 5 Of Cups tarot card together can represent mixed feelings in your love life. It could mean that you are feeling a sense of homecoming, celebration and reunion with a loved one, yet you also have a sense of loss and grief, feeling abandoned or unloved. Perhaps you have experienced a time of distance or separation between you and your partner, and although you are feeling joy and gratitude for the reconnection, there are still some lingering feelings of sorrow.
It could suggest that you are looking back at past events or conflicts between you and your lover and feeling regretful that things have ended. You may be feeling a tug in your heart for what could have been, for the connection and love that you had with them. The 5 Of Cups card indicates that the sadness of the past has not been forgotten, and although you are now feeling joy and a sense of homecoming, you may be struggling to reconcile the two.
It is important to look at this card combination as a reminder to stay present and focused on the joy of the reconnection. Let go of any lingering grief or regret and focus on the present moment. Now is the time to forgive and move forward, to create a new connection and share joy between you two. Each of you has had time to reflect and grow alone, and now that you are reunited, use the shared understanding and knowledge to create a new, strong and loving bond.
What does 4 Of Wands and 5 Of Cups mean together for your finances?
When the Tarot cards The 4 of Wands and The 5 of Cups appear together in a Tarot reading, it can be a message from the Universe that you need to take a step back and reflect on what is truly important in your life. It can be easy to become consumed by the pressures of everyday life and our finances and job can take up a large part of our mental and emotional energy. It is important to remember that there are other things in life that are valuable and of great importance.
The 4 of Wands is a card of celebration and homecoming, which is a reminder that we should cherish the people in our lives and the support they give us. The 5 of Cups on the other hand, is a card that speaks of loss, regret and grief. It can be a sign that you have been feeling overwhelmed and lost in the stresses of your professional life. It is a gentle reminder to take time to reconnect with the people who matter most and to be honest with yourself about your current situation.
In terms of your finances and job, the combination of The 4 of Wands and The 5 of Cups cards is a gentle reminder to take a step back, reassess your situation, and reflect on what truly matters in your life beyond your job and money. It is an opportunity to evaluate how your job and finances are impacting your personal life and relationships and to take a moment to recognize and appreciate the people in your life who continue to love and support you.
Finally, this combination of cards is also a sign that you must make sure you don't get too attached to your job and money. There is more to life than just work and money and it is important that you find other sources of joy and fulfillment, as well as having a healthy relationship with your job and finances.
What does 4 Of Wands and 5 Of Cups mean together for your health?
The 4 of Wands tarot card and the 5 of Cups tarot card together suggest that there is both joy and sorrow in your life right now. This combination of cards emphasizes the importance of looking at these experiences through a balanced lens.
The 4 of Wands implies that homecomings, celebrations, and reuniting with family and friends is just as important as dealing with sorrow, regret, and grief. It is a reminder to not feel guilty or ashamed for feeling joy when life has been hard.
The 5 of Cups brings an awareness of the feeling of loss, abandonment, or unloved. It suggests an emotional challenge as life is full of both highs and lows, and it is important to give yourself time to grieve, heal, and experience all of your emotions with self-compassion and understanding.
The 4 of Wands and the 5 of Cups together remind us to honor all aspects of our lives, from the laughter and joy to the tears and sorrow. It is a reminder to practice self-care in both times of celebration and difficulty.
This combination of cards can have a positive influence on your health; it encourages you to take time to process your emotions in a healthy and supportive manner, to reach out to those who love and care for you, and to not be ashamed of your emotions. It is a reminder to be kind to yourself and to remember that life is full of both joy and sorrow.
The meaning of the cards will depend on what kind of reading you are doing and the question you asked the deck. This is a guide covering the general meanings of the cards and how they relate to each other.
Common 2-card spreads
Whilst it's great to know who these two cards interact with each other, it's important to note that the meaning will depend on the context of your spread
The most common 2 card spreads I recommend to newer readers are:
The 2 card cross (otherwise known as "The Fool's Journey")
The 2 card "Yes or No"
"The Fool's Journey"
Setup: The two card cross is where you place two cards face up, one placed vertically and with one laying horizontally over
Interpretation: The 2 cards represent a "situation" and a "challenge". The first card will describe the situation you are in with the second horizontal card being the "challenge" crossing you (literally crossing you in this case!)
Reading: Using the overviews in this guide is a great way to start. First, look at the meanings of the 2 cards, and see how they might relate either as your "situation" or "challenge". Once you have that you can look at the general overview for how the two cards interact with each other.
The benefit of this spread is that it can give clarity when you're feeling uncertain or anxious. Once you have clarity of thought, and a strong idea of what your challenge is you can find solutions to help your situation
The 2 card "Yes or No"
Setup: The 2 card "Yes or No" is where you place two cards face up side by side, whilst asking your deck a "yes or no" question.
Interpretation: Each card in a tarot deck has a "yes" or a "no" meaning. Look at the meanings of each card, and you will have your answer.
The benefit of this is you get a stronger yes or no compared to a single card draw. You may find you often get a mix of "yes or no", and this is fine. It simply means there is doubt, or things are not yet clear.
Yes or No meaning
Things are a bit tricky for this combination, as 4 Of Wands and 5 Of Cups mean different things. The cards are unsure about your question, or the answer to the question has not yet been decided.
The "Yes" and "No" meanings can differ from reader to reader. The meanings here are based on what I believe are the generally accepted definitions.
What does 4 Of Wands mean?
The 4 of Wands Tarot card represents stability and security in both health and finances. It signifies a period of physical, mental, and emotional well-being, with improved energy and clarity of mind. It can also be a sign of financial stability, with long-term investments offering increased security and a feeling of peace of mind.
In relationships, the 4 of Wands Tarot card stands for tremendous harmony and connection. It can represent a happy and stable bond between a couple, a strong bond between friends and family, or a harmonious working environment. It may indicate a reunion of long lost friends, or an engagement or marriage. The 4 of Wands represents being surrounded by those who know and love you, creating a strong sense of belonging.
In other aspects of life, the 4 of Wands Tarot card can signify setting into motion goals and plans, and celebrating the creative accomplishments of your labour. It can also signify that a period of struggle is coming to an end, and that hard work will soon be rewarded with a harvest of stability and security. The 4 of Wands can be a reminder that we must celebrate our successes, and the hard work of our labour, so that we can continue to find joy and happiness in our lives.
What does 5 Of Cups mean?
Health:
The 5 of Cups Tarot card can represent a time of physical and emotional exhaustion. This could be due to recent losses, feelings of defeat or sorrow, and a general feeling of being overwhelmed and depleted. In terms of physical health, this could mean that the individual is more prone to fatigue and illness, due to their weakened state. It may also be indicative of suppressed emotions which are causing physical pain or discomfort. The individual may be able to restore their physical health and energy levels through healthy self-care techniques, such as rest and relaxation.
Finances:
The 5 of Cups Tarot card signifies that a person may have suffered a major financial setback recently. There may have been a substantial expense or loss incurred due to a misjudgment or miscalculation. This could lead to feelings of despair and regret, and the individual may be feeling unable to get back on their feet financially. It can be important for the individual to take a step back and reflect on the lessons they have learned from this experience. They should then devise a plan and use their resources to rebuild their finances in a more secure and efficient manner.
Relationships:
The 5 of Cups Tarot card can be a sign of feeling unloved and abandoned by loved ones. It could have been caused by a recent argument or misunderstanding, or a feeling of being emotionally drained or disconnected from others. The individual may be feeling overwhelmed by their own emotions, so it is important for them to take some time alone to process what they are feeling and take care of themselves. This can help to restore balance in their relationships and they may find that, in time, their relationships can heal and be strengthened.
Conclusion
Understanding how the meaning of a reading changes once you start involving more than one card can be tricky. This will come with time and practice, however I hope this guide on what your cards might be telling you when you draw 4 Of Wands and 5 Of Cups has helped you.
Get the Ultimate Tarot Card Combinations Pack
The Tarot Happy eBook Pack is available now for instant download.
With 78 eBooks covering all tarot pair meanings, this pack is a comprehensive guide on using tarot for introspection, self-understanding and inner growth.
$1.99 $24.99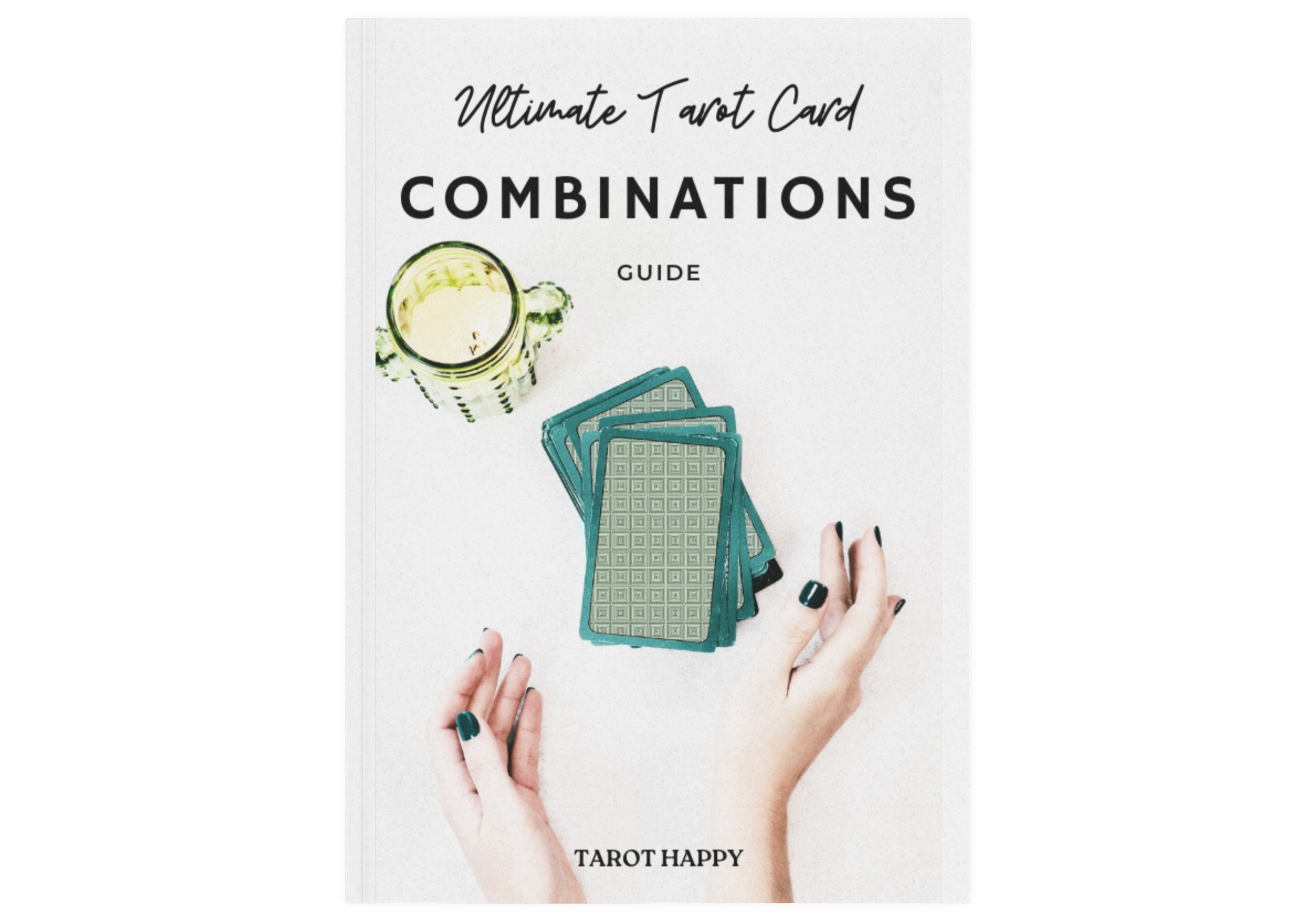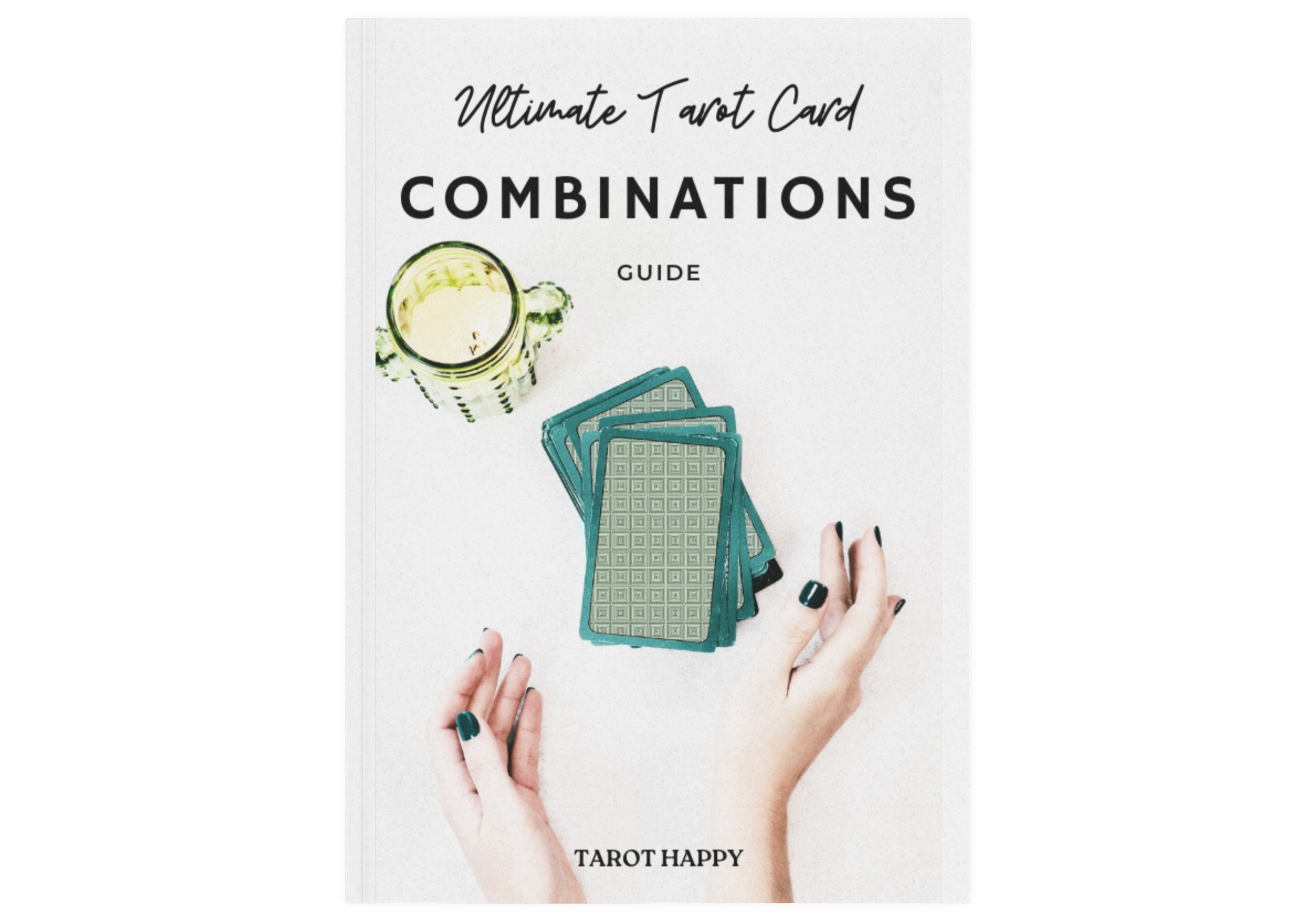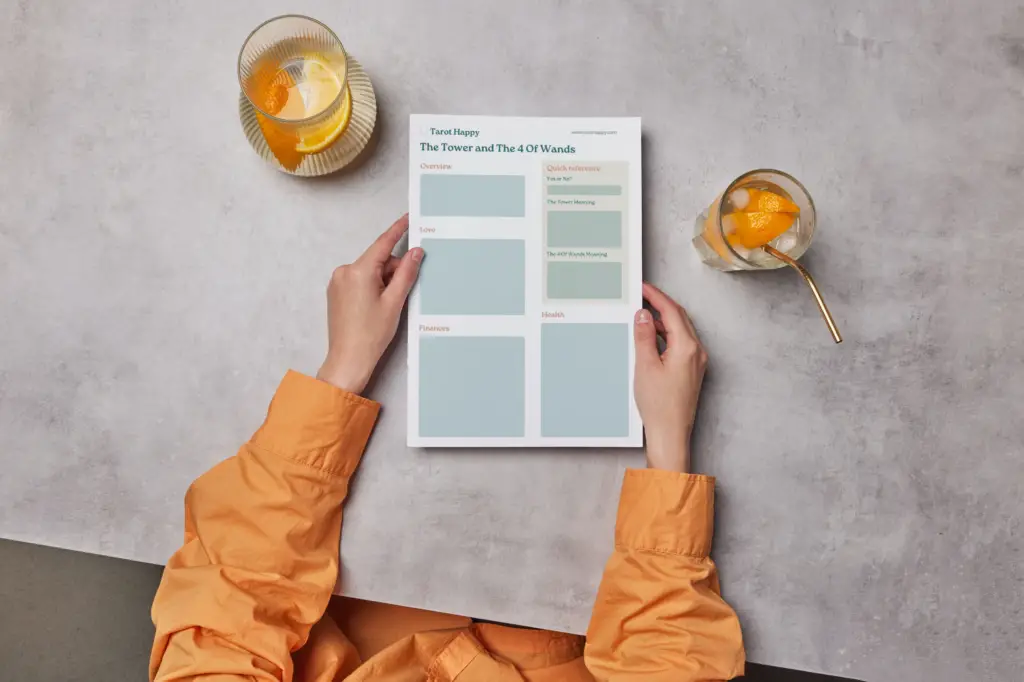 The pack contains an eBook for each of the 78 cards in a tarot pack.
Each eBook focuses on all the combinations for a single card, with overview of meanings for:
"Yes or No"
Key words and phrases that describe the combination
Meaning for Love
Meaning for Finance
Meaning for Health and Relationships
Unlock the Mysteries of Tarot with Our Comprehensive 78 eBook Pack
Are you ready to take your Tarot reading abilities to the next level? It's time to upgrade your spiritual toolbox with our extensive 78 eBook Pack. Each eBook is crafted to detail the meaning of every single Tarot card combination!
Venture beyond the basic meanings of the cards and delve into the intricate, layered symbolism each combination offers.
From beginner enthusiasts to advanced practitioners, this ultimate Tarot eBook pack will enhance your understanding, foster deeper connections with the cards, and improve your readings in a way that no other guide can.
Save over $20 if you buy today!
$1.99 $24.99