A key aspect of reading your own tarot is interpreting cards. For a beginner interpreting a single card can be fine, as there are plenty of resources to help you out, however interpreting two or more can be very tricky.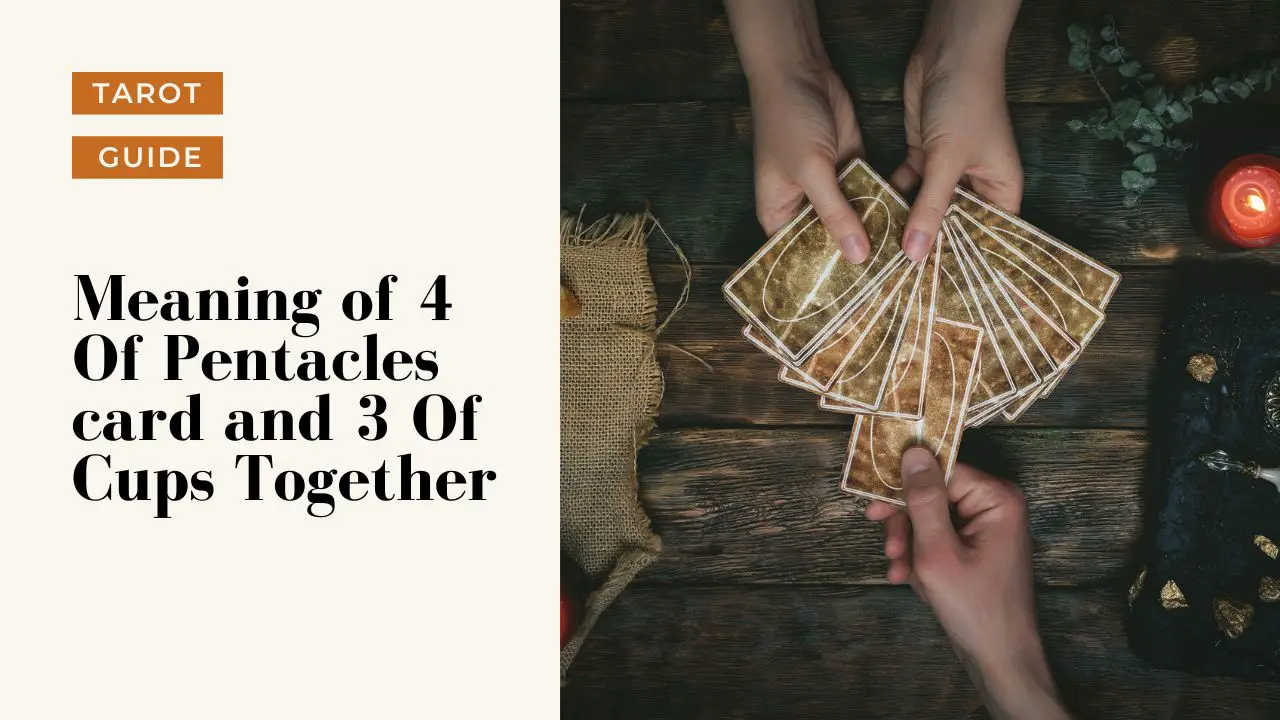 However, if you have been practising single card readings for a while a 2 card spread will be a great introduction into reading multiple cards.
As you've found this page, you're probably wondering how to interpret the 4 Of Pentacles card and 3 Of Cups card together in particular.
The 4 Of Pentacles card and 3 Of Cups have unique qualities and will interact with each other in different ways depending on what kind of reading you are doing.
What does 4 Of Pentacles and 3 Of Cups mean together?
The 4 Of Pentacles and The 3 Of Cups tarot cards represent a balance between wanting a secure future and being part of a supportive community. It's a reminder that we can strive for our goals and have our needs met while also relying on and celebrating with others. Enough financial security is important, but it's not the only measure of success. Having supportive friends, family and loved ones to share the journey is equally important. The combination of these two cards is a reminder to appreciate what we have while also reaching out and connecting with those in our lives.
The meaning may differ depending on what you are asking. Here are some common questions and their possible meanings
What does 4 Of Pentacles and 3 Of Cups mean together for your love life?
When the 4 of Pentacles and the 3 of Cups tarot cards appear together in your love life, it could mean that you may be feeling very insecure about your current relationship and you tend to horde what you have rather than enjoying it and building together. This may be a sign that your relationship is stagnant and lacks excitement.
On the other hand, it could also be a sign that you are trying to find a way to build security in your relationship. This could be a sign that you are looking for stability and for ways to build a lasting relationship. You may be looking for someone whom you can trust and rely on.
The 3 of Cups tarot card indicates that you are surrounded by friends and family who support your relationship. It could also be an indication that it is time to look beyond the material aspects of your relationship, and focus on the emotional and spiritual aspects instead. The 3 of Cups encourages you to enjoy the company of your beloved, and to look at what you have in the present rather than worrying about the future.
In summary, the 4 of Pentacles and the 3 of Cups tarot cards combined urge you to take a step back and reassess your relationship. You need to find balance between security and celebration. Find ways to make your relationship secure while also celebrating it and enjoying the present moment. With the right balance, you could have a relationship that offers support, stability and joy.
What does 4 Of Pentacles and 3 Of Cups mean together for your finances?
The 4 of Pentacles and the 3 of Cups tarot cards together often refer to a need for both short-term security and long-term stability. This combination of cards suggests that having a secure feeling about your financial situation is important for you. You may be looking for a job or career that provides you with financial security, stability, and a sense of accomplishment.
At the same time, these tarot cards suggest that you should also focus on the positive aspects of your life, such as the people who support you and the rewards that come along with having them in your life. The presence of the 3 of Cups indicates that you can find a lot of joy, comfort, and connection through the relationships you share with your friends, family, and colleagues.
You need to make sure that you strike a balance between pursuing your financial goals and enjoying the company of friends and family. The 4 of Pentacles may signify a desire for long-term security, but it doesn't mean you should forget about having moments for fun and relaxation. It is important to understand that having a secure lifestyle doesn't mean sacrificing your relationships and social life.
The message here is equally clear: find a job that gives you both financial security and a sense of satisfaction and joy. When you make decisions about your financial situation and career, consider which ones will not just benefit you in the short-term, but will also give you long-term stability and peace of mind. Surround yourself with supportive people, celebrate your successes, and make sure you are taking good care of yourself during the journey.
What does 4 Of Pentacles and 3 Of Cups mean together for your health?
The 4 Of Pentacles and The 3 Of Cups tarot card, when combined, represent the idea that good health can be achieved through both hard work and enjoyment. The 4 of Pentacles represents the idea of greed and a desire for a secure future, suggesting that when it comes to our health and well-being, we should be putting in the effort to ensure our long-term health and security. This includes making healthy lifestyle choices and staying consistent in our regime.
At the same time, the 3 of Cups reminds us that health is not just about the individual, but about the support of our friends, family and community. Celebrating our successes, making time for fun, and being connected to others is just as important for our health as our diet and exercise. Building a circle of support, taking time to celebrate our achievements and embracing joy helps to nourish our spirits, energize our bodies and brighten our perspective.
Through the combination of these two cards, we are reminded that to achieve good health, we must be disciplined in our efforts and realistic in our expectations, while at the same time allowing ourselves to connect, celebrate and enjoy life. A good balance of both will help us to maintain and improve our well-being.
The meaning of the cards will depend on what kind of reading you are doing and the question you asked the deck. This is a guide covering the general meanings of the cards and how they relate to each other.
Common 2-card spreads
Whilst it's great to know who these two cards interact with each other, it's important to note that the meaning will depend on the context of your spread
The most common 2 card spreads I recommend to newer readers are:
The 2 card cross (otherwise known as "The Fool's Journey")
The 2 card "Yes or No"
"The Fool's Journey"
Setup: The two card cross is where you place two cards face up, one placed vertically and with one laying horizontally over
Interpretation: The 2 cards represent a "situation" and a "challenge". The first card will describe the situation you are in with the second horizontal card being the "challenge" crossing you (literally crossing you in this case!)
Reading: Using the overviews in this guide is a great way to start. First, look at the meanings of the 2 cards, and see how they might relate either as your "situation" or "challenge". Once you have that you can look at the general overview for how the two cards interact with each other.
The benefit of this spread is that it can give clarity when you're feeling uncertain or anxious. Once you have clarity of thought, and a strong idea of what your challenge is you can find solutions to help your situation
The 2 card "Yes or No"
Setup: The 2 card "Yes or No" is where you place two cards face up side by side, whilst asking your deck a "yes or no" question.
Interpretation: Each card in a tarot deck has a "yes" or a "no" meaning. Look at the meanings of each card, and you will have your answer.
The benefit of this is you get a stronger yes or no compared to a single card draw. You may find you often get a mix of "yes or no", and this is fine. It simply means there is doubt, or things are not yet clear.
Yes or No meaning
Both 4 Of Pentacles and 3 Of Cups mean "Yes" when being asked a question. There is no doubt here, if you draw 4 Of Pentacles and 3 Of Cups the answer to your query is "YES".
The "Yes" and "No" meanings can differ from reader to reader. The meanings here are based on what I believe are the generally accepted definitions.
What does 4 Of Pentacles mean?
The 4 of Pentacles Tarot card indicates greed and a desire for long-term security. The 4 of Pentacles is a warning to be careful with how you handle your money and resources. This card is a reminder to be sensible and practical in your financial management. It suggests making decisions that will bring lasting stability, rather than simply chasing the immediate gratification of short-term gains.
When it comes to health, the 4 of Pentacles indicates that greed and a desire for security can lead to unhealthy practices and habits, especially when it comes to diet and exercise. It can be easy to become overly focused on maintaining a certain degree of health through restricted diets and intense exercise regimens, which can lead to unhealthy extremes. This card warns to be mindful of this and avoid excessive restrictions that are not sustainable in the long-term.
In terms of relationships, the 4 of Pentacles reminds us to be mindful of our priorities. Greed and a desire for security can lead to possessiveness and jealousy and a desire to control the people and things around us. This card can be a reminder to maintain balance, and to be mindful of not letting our desire for stability to lead to manipulation and greed.
Finally, the 4 of Pentacles suggests that we take the time to evaluate our financial security and how it contributes to our overall well-being. This card advises us to take a long-term approach to managing our finances, rather than trying to quickly gain short-term gains. By engaging in responsible and sustainable financial practices, we can ensure long-term security and stability.
What does 3 Of Cups mean?
Health: The 3 of Cups Tarot card is a symbol of good health, balance and harmony. When this card appears in a reading, it can be a sign that you are well-nourished, in good physical condition and that your lifestyle is well balanced. The card can also be a reminder to take time out for yourself to enjoy and pamper yourself, allowing you to gain renewed energy, strength and vitality.
Finances: The 3 of Cups Tarot card symbolizes financial success, abundance and prosperity. This can be an indicator of the potential for increased wealth and improved financial situations, but it is important to remember that it's not just about luck or chance. The card can also indicate that your financial management and planning skills are in check, allowing you to make sound decisions and smart investments.
Relationships: The 3 of Cups Tarot card is a symbol of strong, lasting relationships and a sense of belonging. It can indicate that your relationships are based on mutual trust, respect and understanding. It is a reminder to never take your relationships for granted and to invest time and effort into nurturing connections. It can also symbolize emotional support, which is essential for a fulfilling and healthy relationship.
Conclusion
Understanding how the meaning of a reading changes once you start involving more than one card can be tricky. This will come with time and practice, however I hope this guide on what your cards might be telling you when you draw 4 Of Pentacles and 3 Of Cups has helped you.
Get the Ultimate Tarot Card Combinations Pack
The Tarot Happy eBook Pack is available now for instant download.
With 78 eBooks covering all tarot pair meanings, this pack is a comprehensive guide on using tarot for introspection, self-understanding and inner growth.
$1.99 $24.99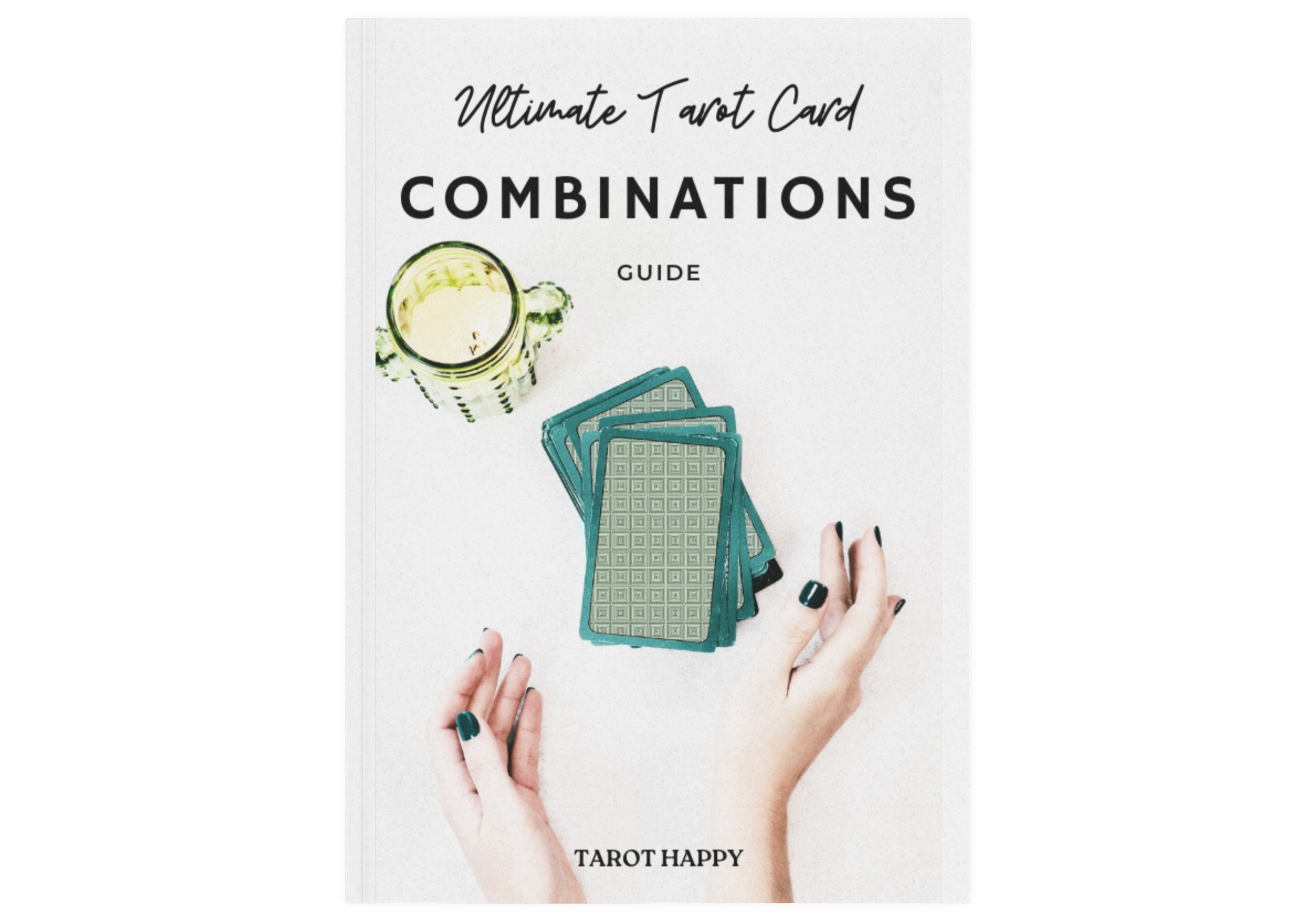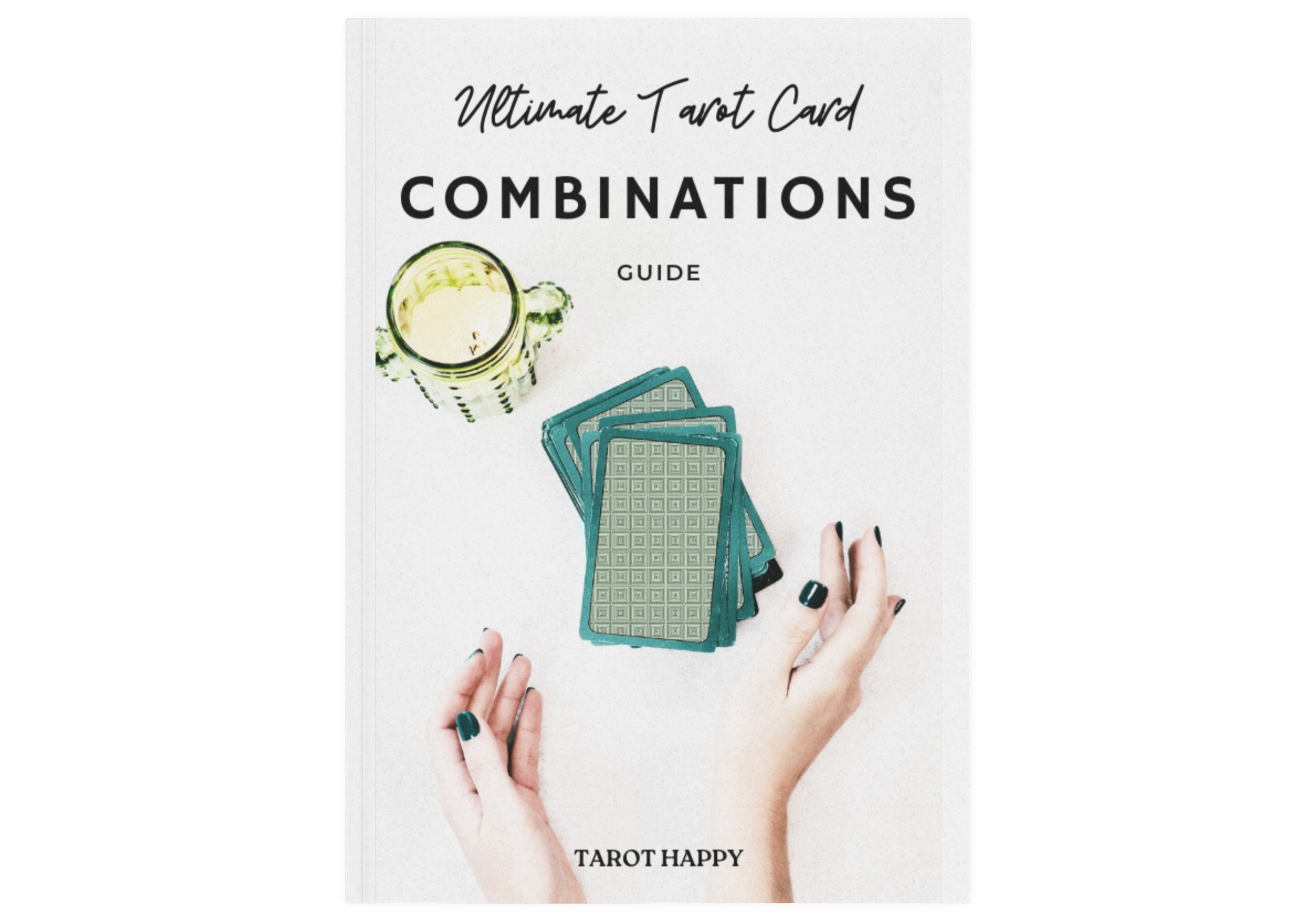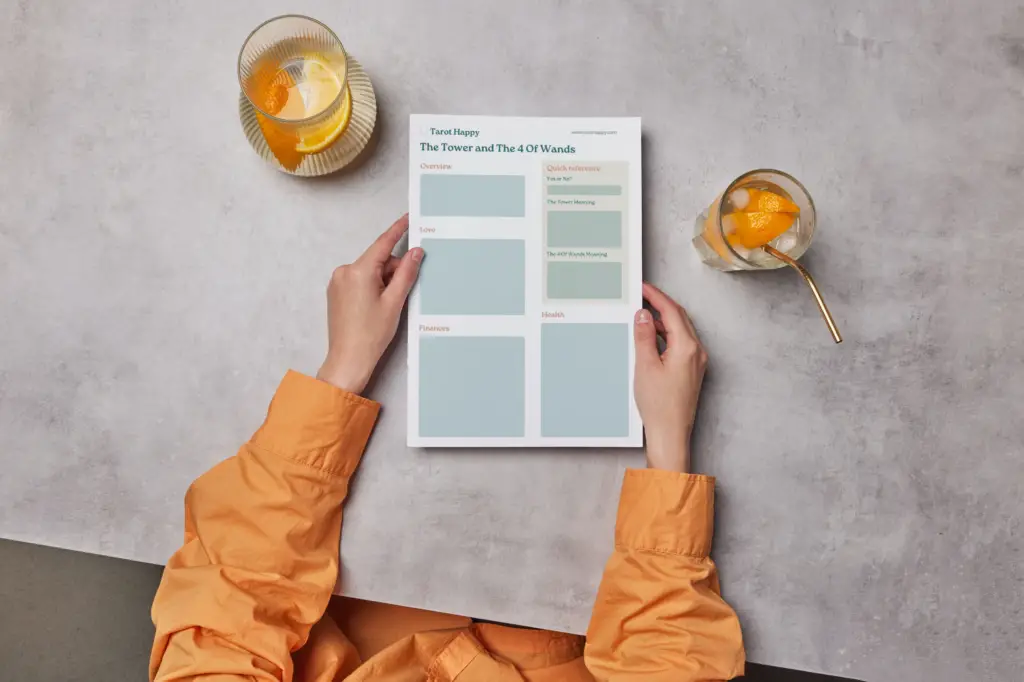 The pack contains an eBook for each of the 78 cards in a tarot pack.
Each eBook focuses on all the combinations for a single card, with overview of meanings for:
"Yes or No"
Key words and phrases that describe the combination
Meaning for Love
Meaning for Finance
Meaning for Health and Relationships
Unlock the Mysteries of Tarot with Our Comprehensive 78 eBook Pack
Are you ready to take your Tarot reading abilities to the next level? It's time to upgrade your spiritual toolbox with our extensive 78 eBook Pack. Each eBook is crafted to detail the meaning of every single Tarot card combination!
Venture beyond the basic meanings of the cards and delve into the intricate, layered symbolism each combination offers.
From beginner enthusiasts to advanced practitioners, this ultimate Tarot eBook pack will enhance your understanding, foster deeper connections with the cards, and improve your readings in a way that no other guide can.
Save over $20 if you buy today!
$1.99 $24.99