A key aspect of reading your own tarot is interpreting cards. For a beginner interpreting a single card can be fine, as there are plenty of resources to help you out, however interpreting two or more can be very tricky.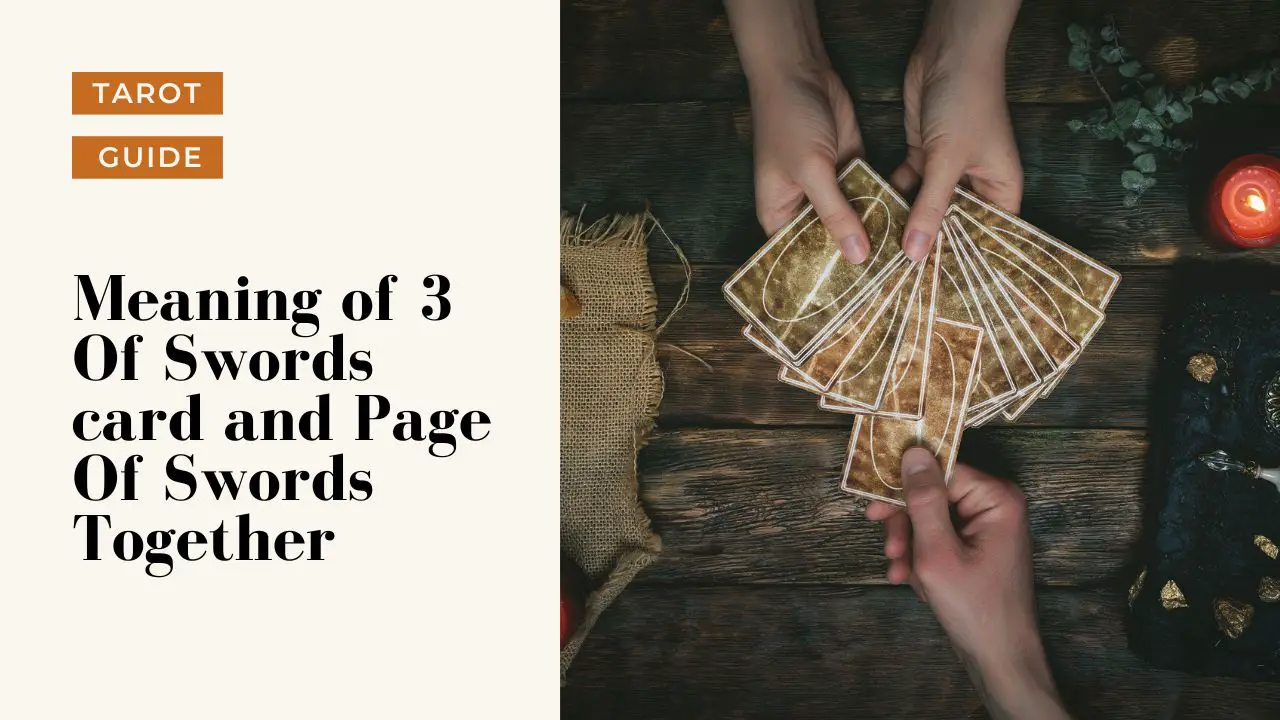 However, if you have been practising single card readings for a while a 2 card spread will be a great introduction into reading multiple cards.
As you've found this page, you're probably wondering how to interpret the 3 Of Swords card and Page Of Swords card together in particular.
The 3 Of Swords card and Page Of Swords have unique qualities and will interact with each other in different ways depending on what kind of reading you are doing.
What does 3 Of Swords and Page Of Swords mean together?
When looking at the 3 of Swords and the Page of Swords together, it suggests a period of heartache and loss. There is a feeling of hurt, betrayal, and feelings of being emotionally vulnerable, as if being cut open. This may relate to an end of a relationship or divorce, but it could also be something else, such as the loss of a job, a medical procedure, or a death. There is also a feeling of being watched or judged and secrets being uncovered, as the Page of Swords is associated with gossip, spies, and prying eyes. Taking the two cards together, it is a time of deep hurt, where painful feelings need to be released in order to be set free.
The meaning may differ depending on what you are asking. Here are some common questions and their possible meanings
What does 3 Of Swords and Page Of Swords mean together for your love life?
When The 3 Of Swords tarot card and The Page Of Swords tarot card appear together in a reading regarding love, they indicate a difficult situation. This combination can represent heartbreak, divorce, or the loss of a relationship, as well as depression and surgery. It suggests that there is some kind of underlying sadness or trauma that is blocking the path to a healthy, loving relationship.
The Page of Swords card indicates that the underlying problem may be related to some kind of miscommunication or lack of understanding between the couple. Perhaps there's a lot of suspicion and mistrust, or a lack of transparency and honesty with one another. It reflects an unwillingness to open up and be vulnerable with each other. The combination of these two cards also suggests that gossip and prying eyes are present, and that the only way out of this situation is to uncover the truth.
In order to move forward in a healthy and meaningful relationship, both parties must be willing to make an effort to communicate honestly and openly. They must learn to trust one another, make an effort to open up, and be willing to confront difficult truths. This can be a difficult process, but ultimately, it will be worth it if they wish to make their relationship stronger.
What does 3 Of Swords and Page Of Swords mean together for your finances?
The 3 of Swords and the Page of Swords tarot card together create a picture of a difficult financial journey, one that involves loss, heartbreak and hard times. When taken together, these cards can represent a period of job loss, sudden financial hardship, and financial depression. This could mean a period of heavy debt, having to remain in a job that no longer serves you, or a period of job loss as a result of a layoff. If the 3 of Swords and the Page of Swords appear together for your finances and job, it is an indication that you must be prepared to make some difficult choices and sacrifices to get through these tough times.
The Page of Swords could also represent gossip and prying eyes, thus indicating that this period of financial misfortune could come as a result of rumors and backstabbing, either from your co-workers or from people close to you. This could mean having to make hard decisions to protect yourself from people who don't have your best interests at heart.
In a more positive light, the Page of Swords can also represent a curious kid, which could indicate a period of learning and growing. This could be a period of adversity that leads to personal and financial growth, if you are willing to take a risk and make decisions that will lead you to success.
Although the 3 of Swords and the Page of Swords together can portray a difficult financial situation, it doesn't have to mean the end. By listening to your intuition, and taking steps to move forward, this could be a time of healing and growth, leading you to success and prosperity.
What does 3 Of Swords and Page Of Swords mean together for your health?
The 3 Of Swords tarot card and The Page Of Swords tarot card together can signify major healing and transition in your health. It suggests that it is time to take action and address any emotional pain that you may be experiencing. It could mean that a major life event such as divorce or the passing of a loved one has deeply affected you. You must take steps to process and honor your losses in a healthy way.
The Page Of Swords emphasizes the need to focus on the truth and be aware of your surroundings. Pay attention to any gossip or prying eyes who may be trying to interfere with your healing. While it is important to be aware of potential harm, it is also crucial to trust yourself to protect your own wellbeing.
The 3 Of Swords and Page Of Swords together suggest that you have the power to make the necessary changes to start feeling better. This can be a time of great personal growth and self-improvement as you must confront any negative emotions and external influences that are preventing you from healing.
Be kind to yourself during this time. You may not be able to control everything that is happening, but you can make conscious decisions to help you move forward. Allow yourself to feel the pain, but also recognize that you are stronger than the difficult situations you may find yourself in. Find solace in knowing that you will come out of this stronger and more resilient than ever.
The meaning of the cards will depend on what kind of reading you are doing and the question you asked the deck. This is a guide covering the general meanings of the cards and how they relate to each other.
Common 2-card spreads
Whilst it's great to know who these two cards interact with each other, it's important to note that the meaning will depend on the context of your spread
The most common 2 card spreads I recommend to newer readers are:
The 2 card cross (otherwise known as "The Fool's Journey")
The 2 card "Yes or No"
"The Fool's Journey"
Setup: The two card cross is where you place two cards face up, one placed vertically and with one laying horizontally over
Interpretation: The 2 cards represent a "situation" and a "challenge". The first card will describe the situation you are in with the second horizontal card being the "challenge" crossing you (literally crossing you in this case!)
Reading: Using the overviews in this guide is a great way to start. First, look at the meanings of the 2 cards, and see how they might relate either as your "situation" or "challenge". Once you have that you can look at the general overview for how the two cards interact with each other.
The benefit of this spread is that it can give clarity when you're feeling uncertain or anxious. Once you have clarity of thought, and a strong idea of what your challenge is you can find solutions to help your situation
The 2 card "Yes or No"
Setup: The 2 card "Yes or No" is where you place two cards face up side by side, whilst asking your deck a "yes or no" question.
Interpretation: Each card in a tarot deck has a "yes" or a "no" meaning. Look at the meanings of each card, and you will have your answer.
The benefit of this is you get a stronger yes or no compared to a single card draw. You may find you often get a mix of "yes or no", and this is fine. It simply means there is doubt, or things are not yet clear.
Yes or No meaning
Things are a bit tricky for this combination, as 3 Of Swords and Page Of Swords mean different things. The cards are unsure about your question, or the answer to the question has not yet been decided.
The "Yes" and "No" meanings can differ from reader to reader. The meanings here are based on what I believe are the generally accepted definitions.
What does 3 Of Swords mean?
The 3 Of Swords Tarot card is a challenging card to draw. On the surface it is associated with heartbreak, divorce, loss, depression, and surgery. However, the deeper meaning of this card is that it represents the pain of change and transition. It also serves as a reminder to take time to heal and to grieve any losses we have experienced.
The 3 Of Swords Tarot card can have an impact on many areas of our life, including our health, finances, and relationships.
When it comes to our health, the 3 Of Swords Tarot card can be a reminder to take care of our physical and mental health. This card can symbolize the need for deep healing and rest. In addition, it can be a reminder to seek medical help if needed during difficult times.
In terms of finances, this card can suggest that loss and unexpected changes may be in store. There may be a need to take a step back and review any financial plans and goals. This can be a time to regroup and reassess our goals before setting out on a new path.
Finally, in terms of relationships, the 3 Of Swords Tarot card can suggest that it may be time to reassess our relationships and to make changes. This card can also symbolize grief and heartbreak, especially if a relationship has ended or gone through a difficult transition. It is important to take time to heal and to find courage and strength in order to move forward.
The 3 Of Swords Tarot card can be a difficult card to draw, but it can also be a reminder to take the necessary steps to heal and to make positive changes in our lives. It is a sign that we may need to make difficult decisions, but that in the end, we will be stronger for it.
What does Page Of Swords mean?
Health
The Page of Swords Tarot card is a reminder to take care of your health and make sure to pay attention to details, as this card often implies a change in health or a need for attention. This card is a warning to watch for any physical symptoms and to be proactive about your health. It may suggest implementing a healthier lifestyle, including adequate rest, physical exercise, and taking better nutrition. Additionally, it can symbolize a searching for deeper truths, a curiosity into your health that may be hidden or overlooked. It is asking you to take a closer look at what's going on in your body and to find out more.
Finances
The Page of Swords Tarot card is a sign that you need to be alert and discerning with your finances. It may be a warning to pay attention to your budget and to not be fooled by the allure of instant gratification, which can often lead to financial ruin. It can also suggest that you look for deeper meanings, investigate your finances more closely, and take control of your personal financial situation. It implies that you should be mindful of the information you are being fed and double check the facts.
Relationships
The Page of Swords Tarot card implies that it is time to take a closer look at your relationships. It may be asking you to be more aware of any gossip and to look for deeper truths. It can be a reminder to not let other people's opinions or actions affect your decisions and your relationships. Additionally, it may symbolize a need to be mindful of how much personal information you are sharing and to be mindful of the privacy of those you love. It also implies that we should be aware of our own intuition and trust our gut when it comes to our relationships.
Conclusion
Understanding how the meaning of a reading changes once you start involving more than one card can be tricky. This will come with time and practice, however I hope this guide on what your cards might be telling you when you draw 3 Of Swords and Page Of Swords has helped you.