A key aspect of reading your own tarot is interpreting cards. For a beginner interpreting a single card can be fine, as there are plenty of resources to help you out, however interpreting two or more can be very tricky.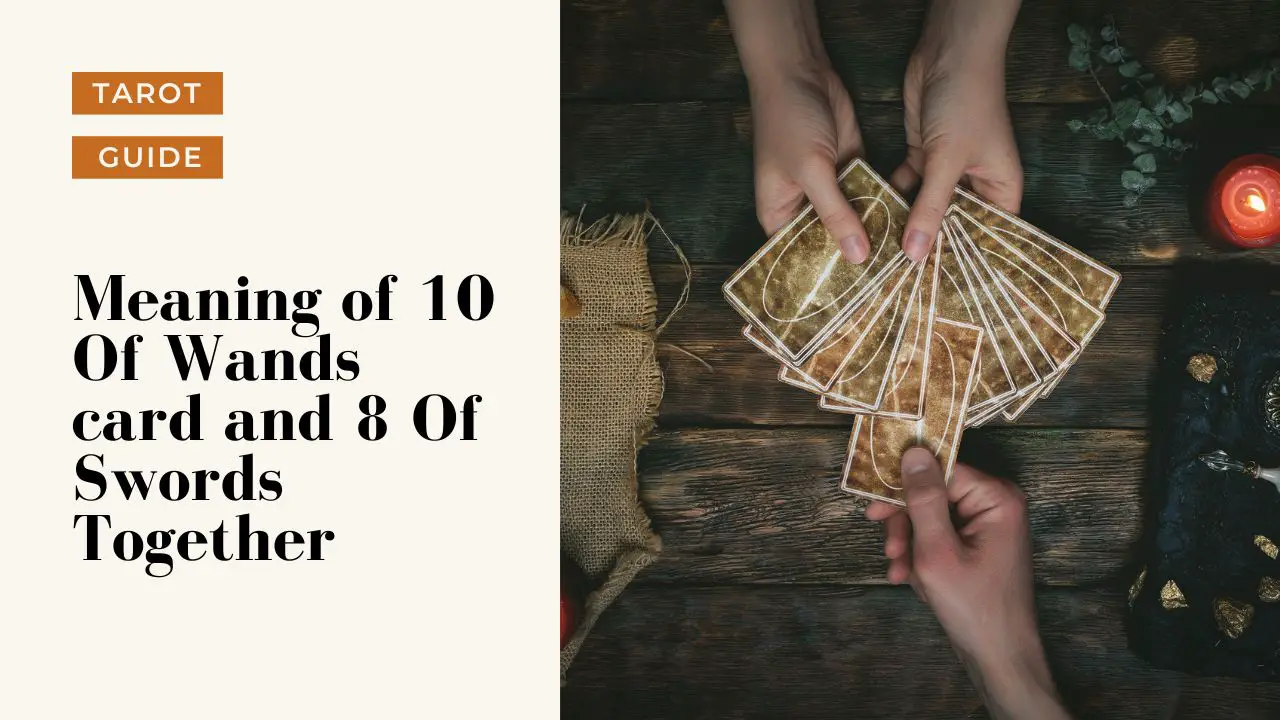 However, if you have been practising single card readings for a while a 2 card spread will be a great introduction into reading multiple cards.
As you've found this page, you're probably wondering how to interpret the 10 Of Wands card and 8 Of Swords card together in particular.
The 10 Of Wands card and 8 Of Swords have unique qualities and will interact with each other in different ways depending on what kind of reading you are doing.
What does 10 Of Wands and 8 Of Swords mean together?
The 10 Of Wands tarot card and The 8 Of Swords tarot card together symbolize the feeling of being overwhelmed and weighed down with too many responsibilities and obligations. The stress and exhaustion associated with carrying a heavy burden is further compounded by the self-imposed limitations of the 8 Of Swords tarot card. The incarceration of the mind on the 8 Of Swords tarot card leaves you feeling isolated and trapped, as if your own thoughts and beliefs are preventing you from making progress. This oppressive sensation can leave you feeling helpless and hopeless, unable to find the motivation to move forward.
The meaning may differ depending on what you are asking. Here are some common questions and their possible meanings
What does 10 Of Wands and 8 Of Swords mean together for your love life?
The 10 Of Wands tarot card and The 8 Of Swords tarot card represent an overwhelming sense of restriction in your love life, making you feel like you carry a heavy load of responsibility. It appears that you have taken on too many obligations for your relationship, or even set too many expectations for yourself or your partner. This energy can create a sense of stagnation or a fear of commitment.
The 10 Of Wands card can make you feel like you are carrying a heavy burden of expectation. You may be feeling the pressure to make your relationship perfect, or to meet all the demands of your partner. This card shows that you may be trying to do too much at once, leaving you feeling exhausted, stressed and unfulfilled in your love life.
The 8 Of Swords tarot card is an indication that you have put yourself in an emotional prison. You may have imposed certain limits and boundaries on yourself and your partner that have become suffocating. This card suggests that you have lost sight of what it is that you actually desire from your relationship, and are instead feeling confined by the expectations you have set for yourself.
Together, these two cards can be interpreted as a call for you to loosen your grip and let go of the need for control and perfection. It may be time for you to step back and reassess your relationship, allowing for flexibility and freedom. Clear communication and open dialogue with your partner will help you to recognize the areas in which you can ease up and improve your situation. Taking a step back to reassess the situation will help you to move forward with a sense of clarity and purpose.
What does 10 Of Wands and 8 Of Swords mean together for your finances?
The 10 of Wands and the 8 of Swords tarot cards together provide a warning about the risks of taking on too much, both professionally and financially. They suggest that when we take on too much responsibility and too many burdens, it can take a toll, leading to exhaustion and overwhelm. This could hinder our ability to make informed decisions and could potentially lead to financial strain.
On the other hand, the 8 of Swords can also be an indicator of self-imposed restrictions, isolation, and even imprisonment. This could mean that, despite our best intentions to take on more in order to better support ourselves financially, it may be causing us to be stuck in a cycle of guilt, fear, and self-doubt. This could be preventing us from allowing ourselves to find a way out of our financial woes.
The combination of these two cards can act as a warning sign to make sure that we don't overextend ourselves financially or in our career. Instead, it's important to recognize our limitations and strive to be aware of our emotions so that we can make informed and confident decisions. We should create a financial plan that we can stick to in order to avoid financial strain, while still allowing ourselves to take on new opportunities and challenges should they arise.
It's also important to remember that feeling overwhelmed occasionally is normal, and that we should take time to take care of ourselves. We can do this by taking breaks and taking time to focus on our emotional and psychological wellbeing. This will help ensure that our finances and job won't suffer due to taking on too much or feeling trapped by self-imposed restrictions.
What does 10 Of Wands and 8 Of Swords mean together for your health?
The 10 Of Wands and the 8 of Swords tarot cards, when combined, can represent a time of great stress, exhaustion and too many burdens for your health. This can be a metaphor for how we exhaust ourselves with too much on our plate, taking on the responsibility of more than we can handle. This can be felt mentally, emotionally, and physically and it can be hard to find ways to cope with the overwhelming stress and strain.
The 8 Of Swords can also represent a time of self-imposed restrictions and imprisoning yourself with your own thoughts and worries. This combination of cards can be a warning to take a step back, reassess the situation and see what areas need to be addressed, as it is easy to feel overwhelmed and out of control. It is important to be mindful of your feelings and how the burdens and stresses of life can creep in without warning, leading to feelings of restlessness, sadness and powerlessness.
It may take some time to deal with the emotions associated with this combination of cards, but some strategies that can be helpful include taking time for yourself, engaging in activities that bring joy and peace, mindfulness and meditation, and seeking help from a mental health professional if needed. Taking the time to truly care for your health, both mentally and physically, should be a priority in times of great stress and strain.
The meaning of the cards will depend on what kind of reading you are doing and the question you asked the deck. This is a guide covering the general meanings of the cards and how they relate to each other.
Common 2-card spreads
Whilst it's great to know who these two cards interact with each other, it's important to note that the meaning will depend on the context of your spread
The most common 2 card spreads I recommend to newer readers are:
The 2 card cross (otherwise known as "The Fool's Journey")
The 2 card "Yes or No"
"The Fool's Journey"
Setup: The two card cross is where you place two cards face up, one placed vertically and with one laying horizontally over
Interpretation: The 2 cards represent a "situation" and a "challenge". The first card will describe the situation you are in with the second horizontal card being the "challenge" crossing you (literally crossing you in this case!)
Reading: Using the overviews in this guide is a great way to start. First, look at the meanings of the 2 cards, and see how they might relate either as your "situation" or "challenge". Once you have that you can look at the general overview for how the two cards interact with each other.
The benefit of this spread is that it can give clarity when you're feeling uncertain or anxious. Once you have clarity of thought, and a strong idea of what your challenge is you can find solutions to help your situation
The 2 card "Yes or No"
Setup: The 2 card "Yes or No" is where you place two cards face up side by side, whilst asking your deck a "yes or no" question.
Interpretation: Each card in a tarot deck has a "yes" or a "no" meaning. Look at the meanings of each card, and you will have your answer.
The benefit of this is you get a stronger yes or no compared to a single card draw. You may find you often get a mix of "yes or no", and this is fine. It simply means there is doubt, or things are not yet clear.
Yes or No meaning
Both 10 Of Wands and 8 Of Swords mean "No". If you are asking a direct question, then be under no illusions, the answer is a negative one. If you draw 10 Of Wands and 8 Of Swords the answer to your question is "NO".
The "Yes" and "No" meanings can differ from reader to reader. The meanings here are based on what I believe are the generally accepted definitions.
What does 10 Of Wands mean?
The 10 of Wands in Tarot can often denote a feeling of being overwhelmed. It can represent an individual feeling the weight of multiple responsibilities coming down on them from all sides, leading to a sense of stress, exhaustion, and depleted energy reserves. When considering the implications for health, finances, and relationships, this card could be a warning about the potential for over-stretching oneself in all aspects of life.
Health: If this card appears in connection to someone's health, it could be an indication that they're feeling overwhelmed by the many demands being placed upon them. This could be a physical burden, such as someone feeling burned out due to working more than they can manage and not taking adequate breaks. It could also be a psychological burden, such as the feeling of being pulled in too many directions on top of a full-time job and other obligations. In either case, this card could signify that it's time to take a step back and evaluate the load they're carrying, taking a break if necessary.
Finances: The 10 of Wands could be a sign of financial overstretch. Money is a huge stressor for many individuals, and this card could represent someone feeling the burden of too much debt from carrying too much month to month. This could be a result of not managing one's money properly and taking on more than they can handle, or it could be due to an unexpected expense that has pushed their budget to breaking point. The key with this card is to assess the situation and look at ways to lighten the load, such as by consolidating debt or bargaining with creditors.
Relationships: With regards to relationships, this card could signify a feeling of being pulled in too many directions. This could be a feeling of not having enough time for one's partner or loved ones, or of having expectations to meet that are too much for one person to handle. This could be a sign of a partner feeling overwhelmed, or it could also be a warning to take a step back and evaluate the situation, making sure that both parties in the relationship are giving and receiving the attention they need.
What does 8 Of Swords mean?
Health:
The 8 of Swords tarot card is often associated with health issues. It signifies an inability to heal or move forward, as well as an inability to recognize or accept your own weak points. This could mean a lack of self-care, an unhealthy diet, or an unwillingness to seek proper medical help. It could also represent a lack of self-awareness or a tendency to ignore physical symptoms. All of these issues can prevent one from experiencing total health and wholeness.
Finances:
The 8 of Swords tarot card is often related to financial troubles. This card can denote a lack of financial responsibility or a tendency to overspend and make bad financial decisions. It can also suggest a fear of financial security and a lack of understanding of personal finance matters. These issues can lead to further financial instability and a struggle to make ends meet.
Relationships:
The 8 of Swords tarot card is often associated with difficult relationships. It can represent a tendency to isolate oneself from others and to put up emotional and mental walls. It can also suggest a struggle to communicate effectively, leading to misunderstandings and hurt feelings. This can make it very difficult to form meaningful connections or to maintain healthy relationships. It can also lead to a feeling of loneliness, frustration and powerlessness.
Conclusion
Understanding how the meaning of a reading changes once you start involving more than one card can be tricky. This will come with time and practice, however I hope this guide on what your cards might be telling you when you draw 10 Of Wands and 8 Of Swords has helped you.
Get the Ultimate Tarot Card Combinations Pack
The Tarot Happy eBook Pack is available now for instant download.
With 78 eBooks covering all tarot pair meanings, this pack is a comprehensive guide on using tarot for introspection, self-understanding and inner growth.
$1.99 $24.99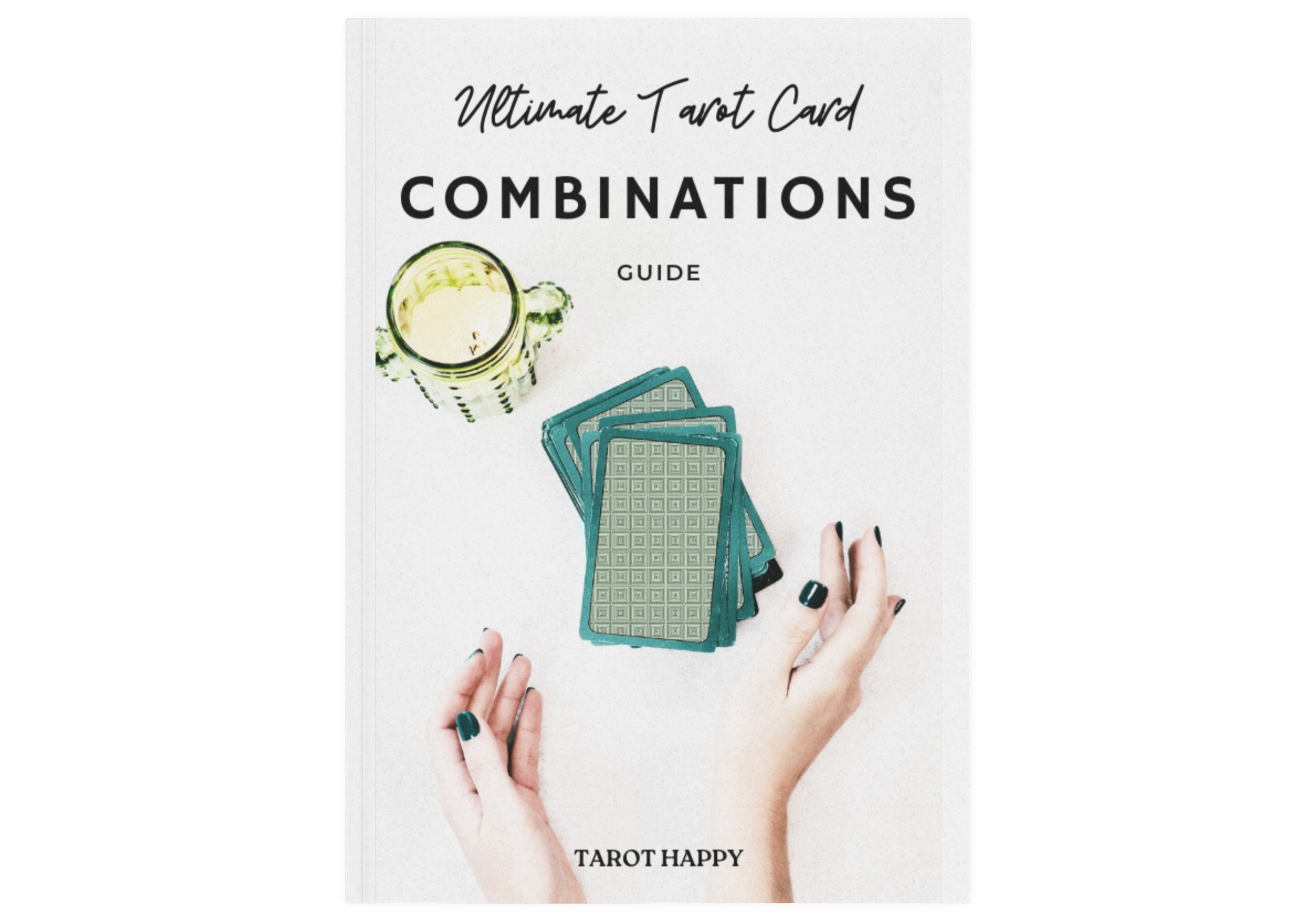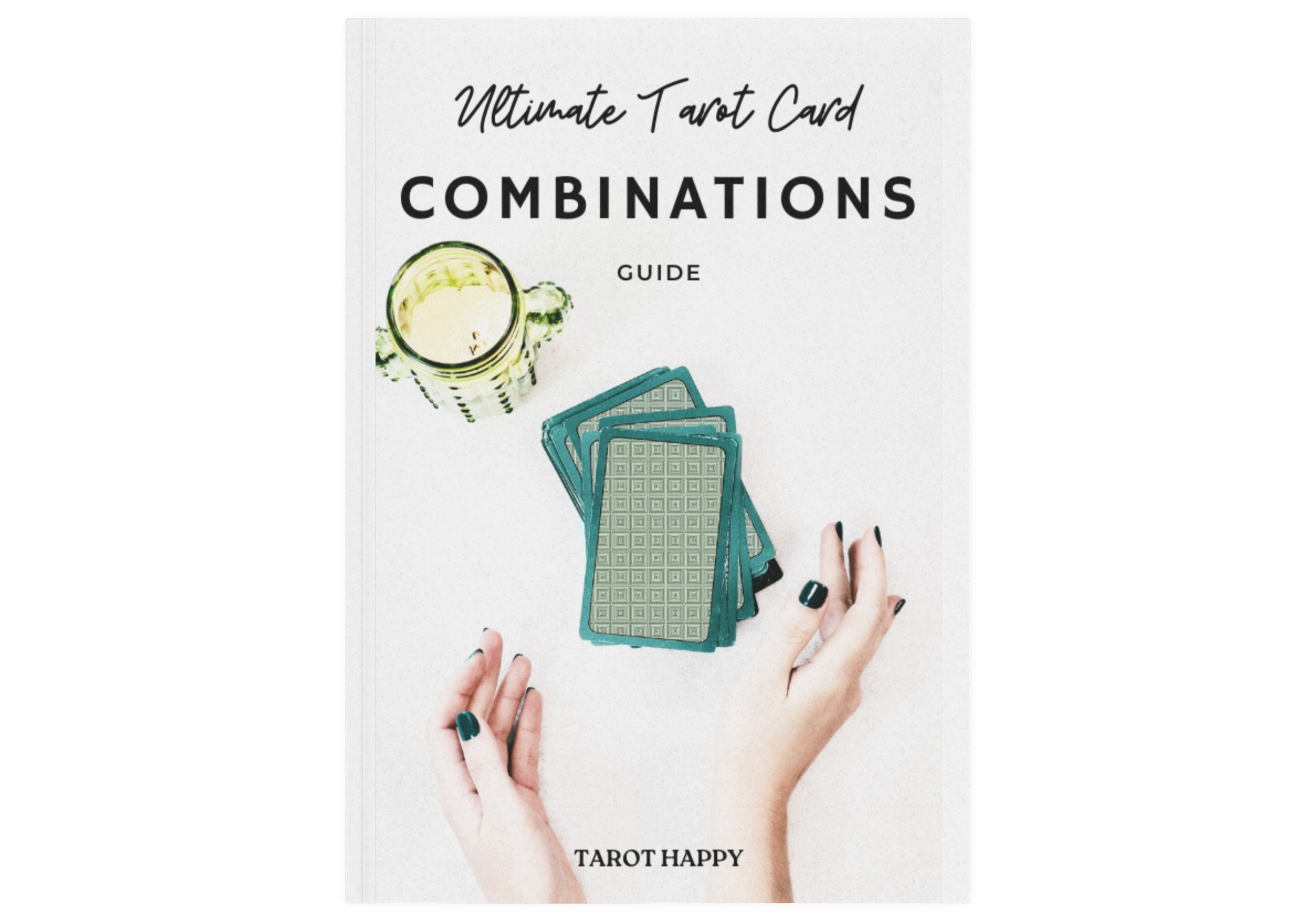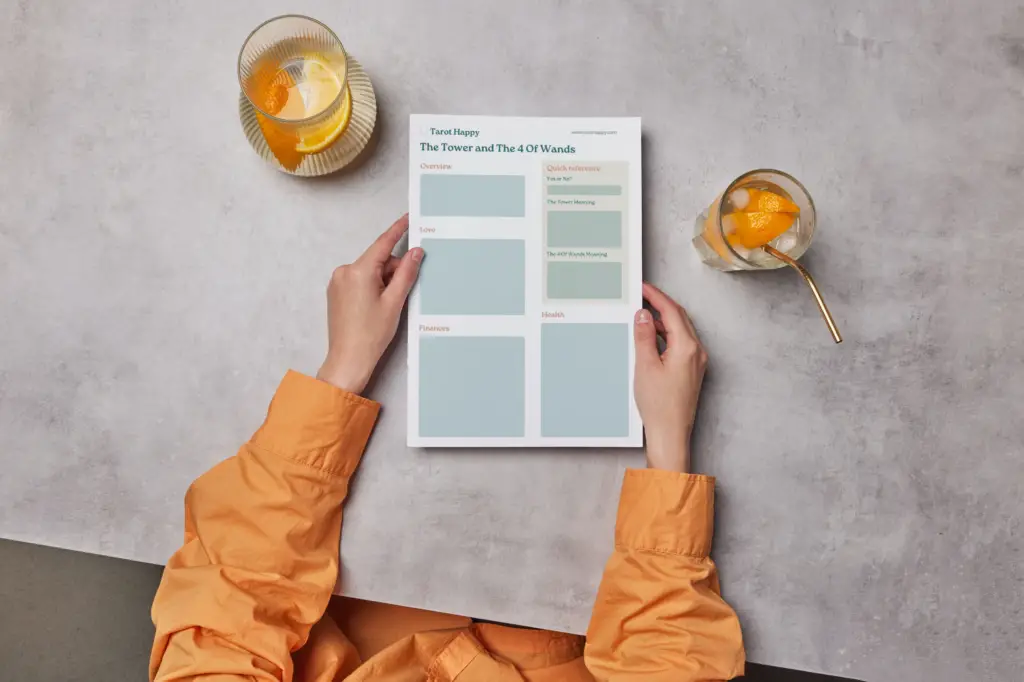 The pack contains an eBook for each of the 78 cards in a tarot pack.
Each eBook focuses on all the combinations for a single card, with overview of meanings for:
"Yes or No"
Key words and phrases that describe the combination
Meaning for Love
Meaning for Finance
Meaning for Health and Relationships
Unlock the Mysteries of Tarot with Our Comprehensive 78 eBook Pack
Are you ready to take your Tarot reading abilities to the next level? It's time to upgrade your spiritual toolbox with our extensive 78 eBook Pack. Each eBook is crafted to detail the meaning of every single Tarot card combination!
Venture beyond the basic meanings of the cards and delve into the intricate, layered symbolism each combination offers.
From beginner enthusiasts to advanced practitioners, this ultimate Tarot eBook pack will enhance your understanding, foster deeper connections with the cards, and improve your readings in a way that no other guide can.
Save over $20 if you buy today!
$1.99 $24.99