A key aspect of reading your own cards is interpreting meanings. For a beginner interpreting a single card can be fine, as there are plenty of resources to help you out, however interpreting two or more can be very tricky.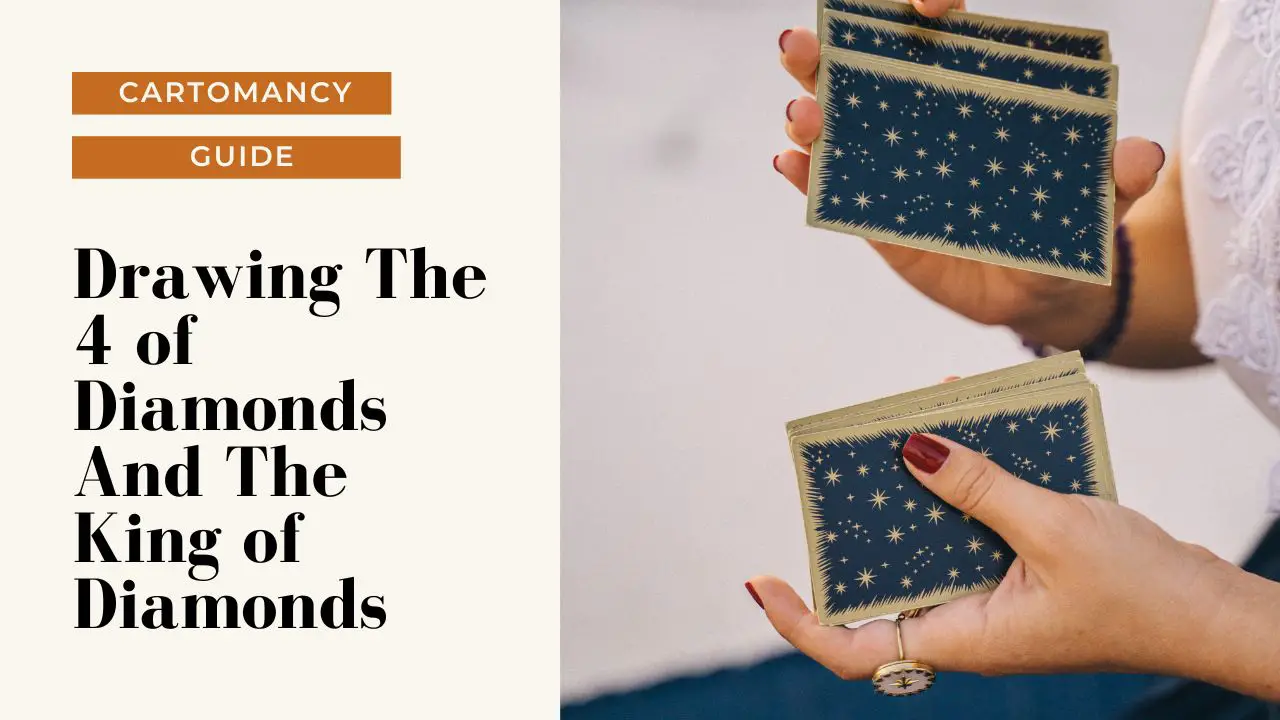 However, if you have been practising single card readings for a while a 2 card spread will be a great introduction into reading multiple cards.
As you've found this page, you're probably wondering how to interpret the 4 Of Diamonds card and King Of Diamonds card together in particular.
The 4 Of Diamonds card and King Of Diamonds have unique qualities and will interact with each other in different ways depending on what kind of reading you are doing.
What does 4 Of Diamonds and King Of Diamonds mean together?
In a cartomancy reading, the appearance of both the 4 of Diamonds and the King of Diamonds cards indicates a solid period of satisfaction and resourcefulness ahead, particularly with regard to material or financial matters.
The 4 of Diamonds symbolizes an inheritance or a sense of deep satisfaction, perhaps indicating a coming into wealth or fulfillment in the material world.
This could be an anticipated inheritance or unexpected windfall.
Complementing this, the King of Diamonds represents a resourceful individual, signaling the presence or the need for a person with practical wisdom and skill to handle these newfound resources.
As both cards are associated with the season of Fall and the element Air, this signifies a period of transformation, reaping the rewards of past efforts, and intellectual strategizing.
Altogether, this combination strongly suugests that you will come across a period of financial growth or gain and you will need to harness your resourcefulness to effectively handle and grow this wealth.
The meaning may differ depending on what you are asking. Here are some common questions and their possible meanings
What does 4 Of Diamonds and King Of Diamonds mean together for your love life?
In a cartomancy reading, the appearance of The 4 Of Diamonds signifies an inheritance or satisfaction.
When related to your love life, this card suggests the inheritance of traditions, behaviors, or beliefs from a previous relationship.
This may be a heritage of love and respect that is beneficial for your current relationship, bringing a strong sense of satisfaction.
The season of fall indicates a time of change and transformation – as nature prepares for the harshness of winter, so too, your relationship may be preparing for a time of challenge or change.
As an Air symbol, it speaks about communication, intellect, and action, indicating a need to convey your thoughts and ideas more clearly.
Meanwhile, the King Of Diamonds represents a resourceful individual, interpreting the presence of someone with practicality and wisdom in your love life.
The King of Diamonds can symbolize your partner or even aspects of yourself.
This person's presence in your love life is a positive aspect, promoting resourcefulness and creativity to resolve conflicts or challenges.
Like the 4 of Diamonds, the King of Diamonds is connected with the season of Fall and the Air element.
Therefore, it may imply a time of transformation where the actions you take are crucial for future outcomes.
In essence, combining the 4 and King Of Diamonds suggests a time in your love life where you will gain satisfaction from addressing inherited patterns or issues, using communication and resourcefulness.
It's a period of self-realization, transformation, and overall growth.
What does 4 Of Diamonds and King Of Diamonds mean together for your finances?
In a cartomancy reading, the 4 of Diamonds card represents inheritance and satisfaction.
This card could symbolize that you may receive a family inheritance or a financial windfall that significantly changes your financial situation for the better.
It could also hint towards finally reaching a point of satisfaction in your financial state, where your income and savings are finally making you feel secure and content.
Since the 4 of Diamonds card is associated with the season of fall, it could mean that these potential financial changes may happen during this season.
With the element Air, this also reinforces the idea of new beginnings and creative ideas that can lead to financial gain.
The King of Diamonds card symbolizes a resourceful person.
In the context of a job or career, this card may suggest that you may get into a position where you will be utilizing and honing your resourcefulness and adaptability.
Moreover, you might encounter or be surrounded by resourceful people who can teach you new, smart ways to improve your performance at work or your business.
Just like the 4 of Diamonds, the King of Diamonds is associated with the season of fall and the element Air, reinforcing the themes of innovation, balance, and intellectual growth.
This is indicative of a period where your intellectual growth could drive your career forward, potentially leading to promotions and raises.
Combined, the 4 of Diamonds and King of Diamonds suggest a period of financial and professional growth brought by unexpected wealth and innovative thinking.
What does 4 Of Diamonds and King Of Diamonds mean together for your health?
In a Cartomancy reading about health, the 4 of Diamonds, a card associated with inheritance and satisfaction, can indicate an inherited predisposition towards certain health conditions or traits.
The element of Air suggests respiratory issues or problems related to thought, perception, and communication.
It could be pointing towards health issues that you've inherited from your ancestors, such as a predisposition towards asthma, lung issues, or even mental health issues.
However, the idea of satisfaction suggests that these concerns may already be identified and controlled – there is an aspect of acceptance and understanding around these inherited issues.
The King of Diamonds, a symbol of a resourceful person, in the context of health, implies your or a helpful individual's resourcefulness in finding solutions or coping strategies for health issues.
It suggests that you have the tools you need to address and manage any health complications that come your way.
The Air element further indicates that these solutions may be related to mental health or respiratory conditions.
In overall, when these cards are drawn together in a health reading, they suggest an ability to successfully manage and cope with inherited health issues, particularly those relating to the respiratory system or mental health conditions.
The meaning of the cards will depend on what kind of reading you are doing and the question you asked the deck. This is a guide covering the general meanings of the cards and how they relate to each other.
Yes or No meaning
Both 4 Of Diamonds and King Of Diamonds mean "Yes" when being asked a question. There is no doubt here, if you draw 4 Of Diamonds and King Of Diamonds the answer to your query is "YES".
The "Yes" and "No" meanings can differ from reader to reader. The meanings here are based on what I believe are the generally accepted definitions.
What does 4 Of Diamonds mean?
In the domain of health, The 4 of Diamonds is a card that brings good tidings.
It implies immense satisfaction from ongoing health-related endeavors and general wellness.
It can symbolize overcoming a recurring health issue or finally finding an effective treatment for a chronic condition, leading to a massive relief and sense of satisfaction.
In the context of mental health, the card can suggest a phase where one feels content and at peace with themselves and their surroundings, acknowledging harmony and balance.
When it comes to finances, the 4 of Diamonds often suggests an inheritance or a significant financial gain, highlighting a time of contentment and security.
It could point towards the influx of money from unexpected sources or the successful conclusion of a financial venture that leads to sizable profit.
In the context of relationships, this card indicates stability and contentment.
It implies a strong bond that brings immense satisfaction and happiness.
It might even suggest an addition to the family, such as a newborn or a marriage, that will bring joy and gratification.
This card advocates for harmonious relationships that are based on mutual respect and affections.
What does King Of Diamonds mean?
In terms of health, the King of Diamonds suggests a dynamic individual with the capability to overcome health challenges.
Drawing this card may mean that the person is in a situation where they need to leverage their resourcefulness to navigate a health crisis, or they could be at a point where an improved lifestyle is required for better health.
It could also signal the presence of a medical professional who will play a key role in resolving health issues.
Being associated with the element air, it signifies agility and flexibility in dealing with such issues.
Financially, the King of Diamonds often symbolizes a savvy businessperson or a successful entrepreneur.
This card indicates a time of financial stability and prosperity.
It could be suggesting shrewd decisions and smart investments that may lead to financial success.
This may also be the time to use their keen senses and creativity to capitalize on new financial opportunities.
As for relationships, the King of Diamonds may symbolize a person who is practical, reliable, and committed.
This card can suggest strong relationships built on trust and mutual respect.
However, it could also signify a need to be more open and less focused on material aspects in relationships.
Conclusion
Understanding how the meaning of a reading changes once you start involving more than one card can be tricky. This will come with time and practice, however I hope this guide on what your cards might be telling you when you draw 4 Of Diamonds and King Of Diamonds has helped you.
Get the Ultimate Tarot Card Combinations Pack
The Tarot Happy eBook Pack is available now for instant download.
With 78 eBooks covering all tarot pair meanings, this pack is a comprehensive guide on using tarot for introspection, self-understanding and inner growth.
$1.99 $24.99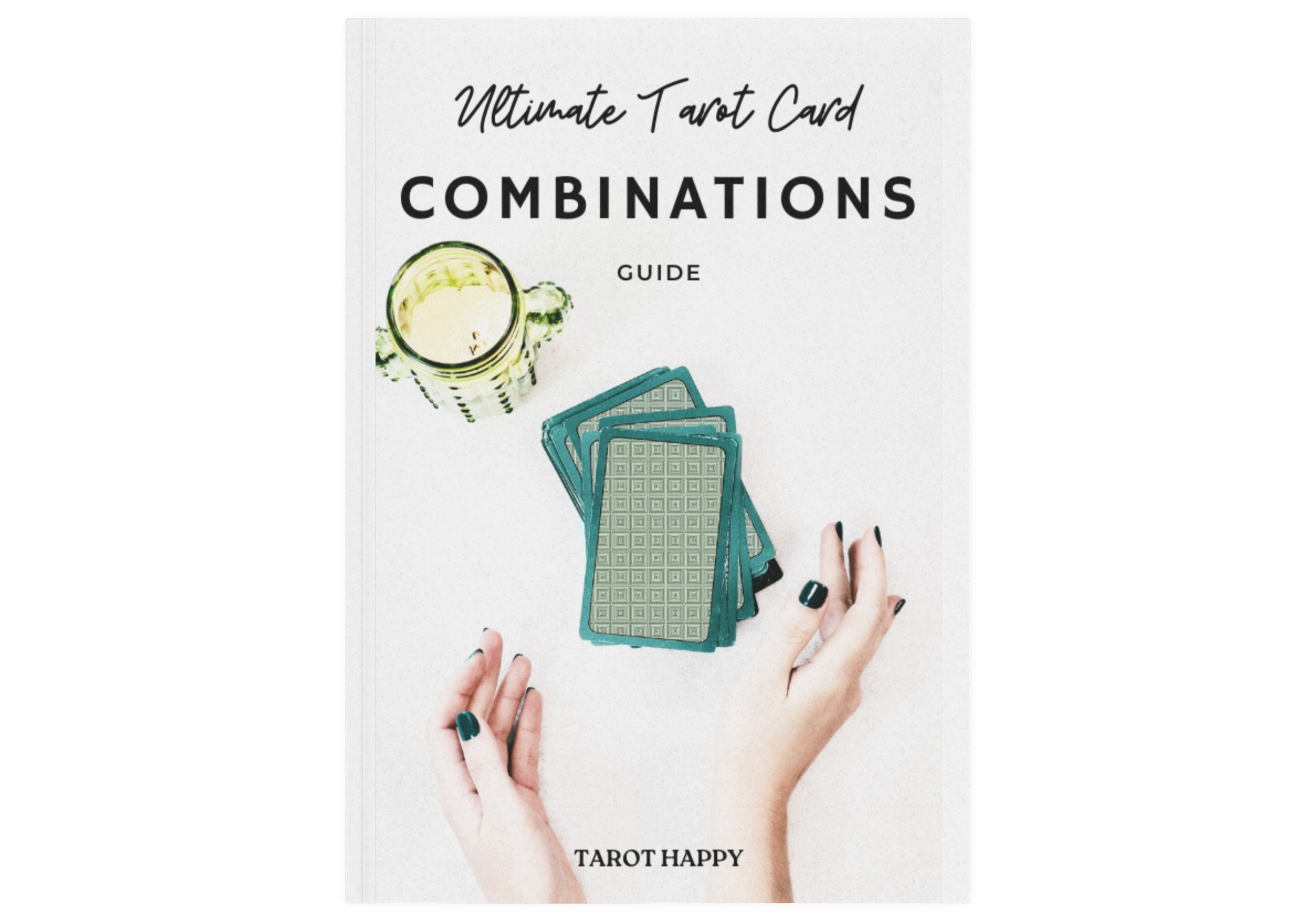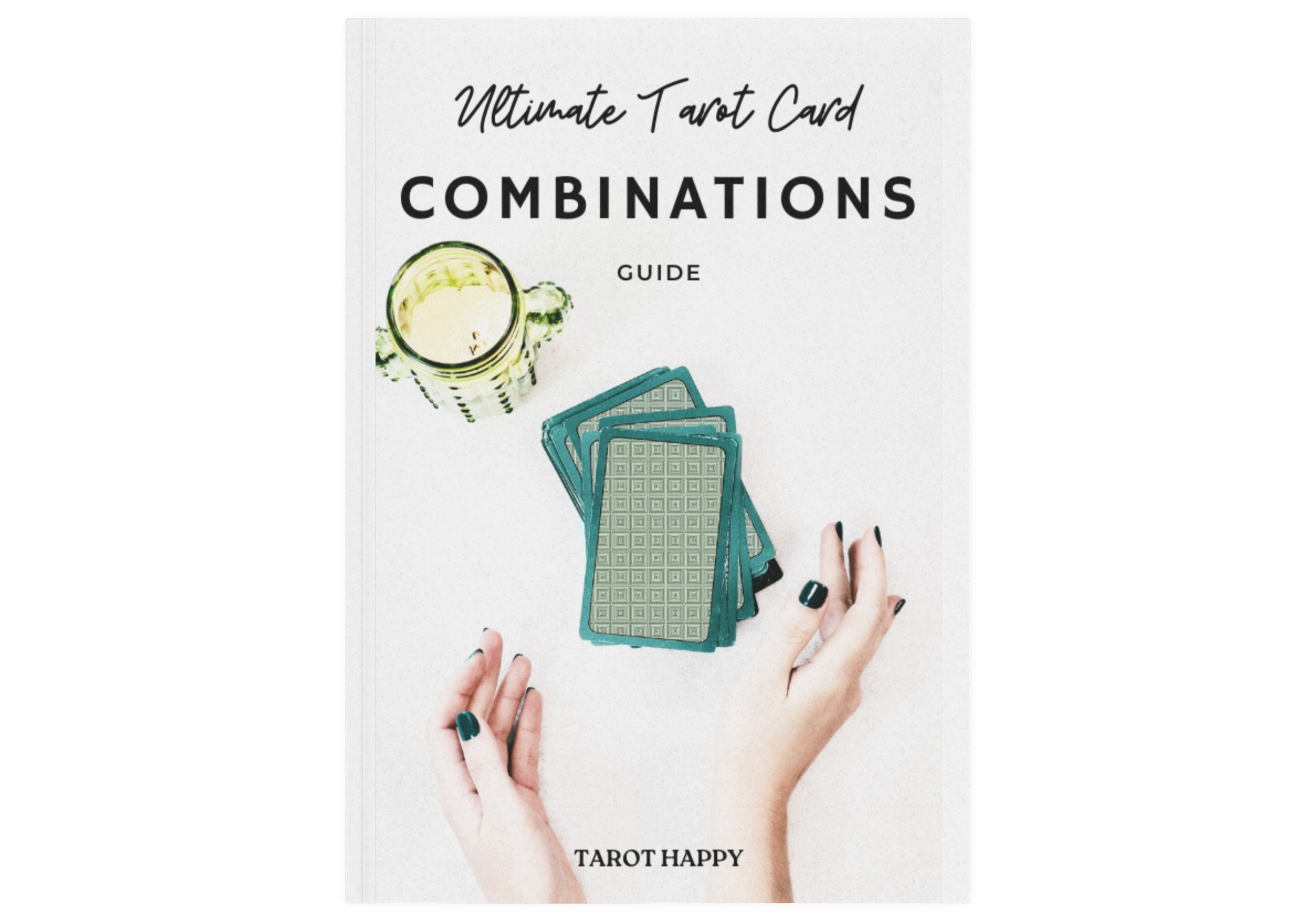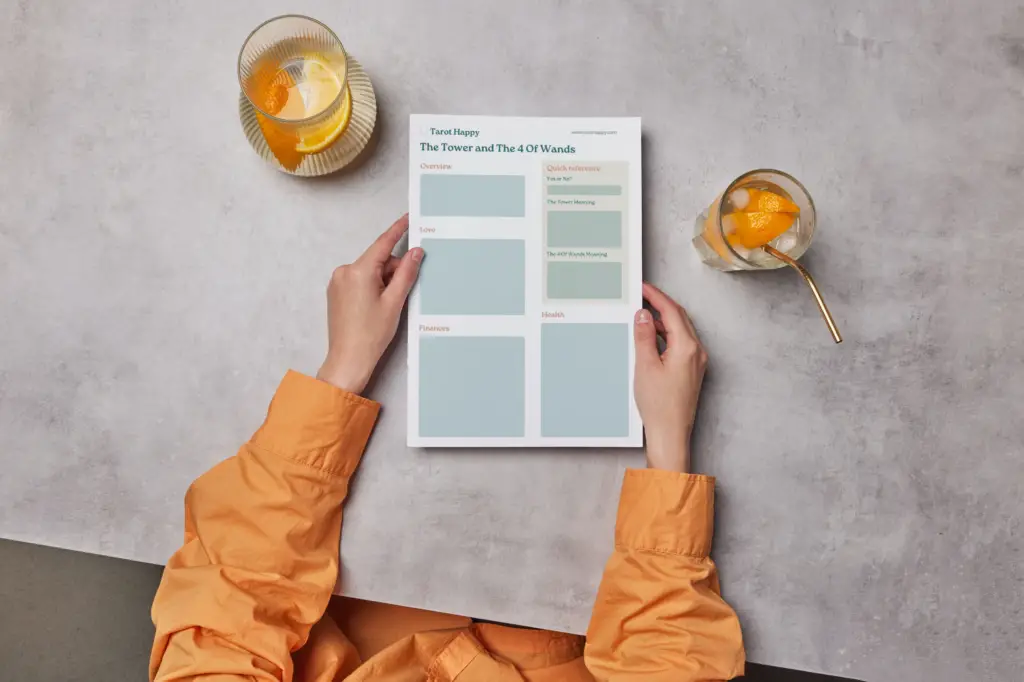 The pack contains an eBook for each of the 78 cards in a tarot pack.
Each eBook focuses on all the combinations for a single card, with overview of meanings for:
"Yes or No"
Key words and phrases that describe the combination
Meaning for Love
Meaning for Finance
Meaning for Health and Relationships
Unlock the Mysteries of Tarot with Our Comprehensive 78 eBook Pack
Are you ready to take your Tarot reading abilities to the next level? It's time to upgrade your spiritual toolbox with our extensive 78 eBook Pack. Each eBook is crafted to detail the meaning of every single Tarot card combination!
Venture beyond the basic meanings of the cards and delve into the intricate, layered symbolism each combination offers.
From beginner enthusiasts to advanced practitioners, this ultimate Tarot eBook pack will enhance your understanding, foster deeper connections with the cards, and improve your readings in a way that no other guide can.
Save over $20 if you buy today!
$1.99 $24.99